Windows users usually install Sophos Home to protect their system from advanced viruses, malware, exploits, and ransomware attacks. However, sometimes Sophos Home may not work properly. You may experience unexpected crashes or freezes while using Sophos Home because it uses too much memory or CPU resources. Or you may keep getting error messages when you open this program. For this matter, some people are considering switching to another anti-virus program while some prefer to reinstall Sophos Home to fix its corrupted files. Either way requires you to completely uninstall Sophos Home from your PC first. Here are the best ways that help you remove Sophos Home with no traces left behind.

What is Sophos Home?

Sophos Home is a relatively new cloud-based security suite that available for both Windows and Mac. You can use it to detect and block advanced malware, viruses, worms, potentially unwanted apps and Ramsomware using its artificial intelligence detection technology. The Sophos Home installation is straightforward. Upon installation, it will automatically start scanning the computer telling you whether your computer is secure. Its auto-update feature will keep its antivirus protection up-to-date and there are other features include Real Time Protection, Parental Web Filtering, Banking Protection, Identity Protection, Privacy Protection etc to let you protect your PC with multiple layers of security. It is worth mentioning that Sophos Home service allows you to get access to an online dashboard which displays information about all the systems protected. From there, you can manage all of the computers under your account. You can check and change software settings, as well as run remote scans for viruses at other locations. Now Sophos Home offers both Free and Premium products. The Free version includes parental web filtering, always-on antivirus, and remote management and you can use it to protect three devices. Sophos Home Premium version delivers advanced real-Time threat prevention and helps you stop the latest ransomware from encrypting your files and drive while also letting you avoid phishing sites to have a safe browsing for up to 10 devices. For more information, you can visit Sophos Home official website.
Having Problems in Uninstalling Sophos Home?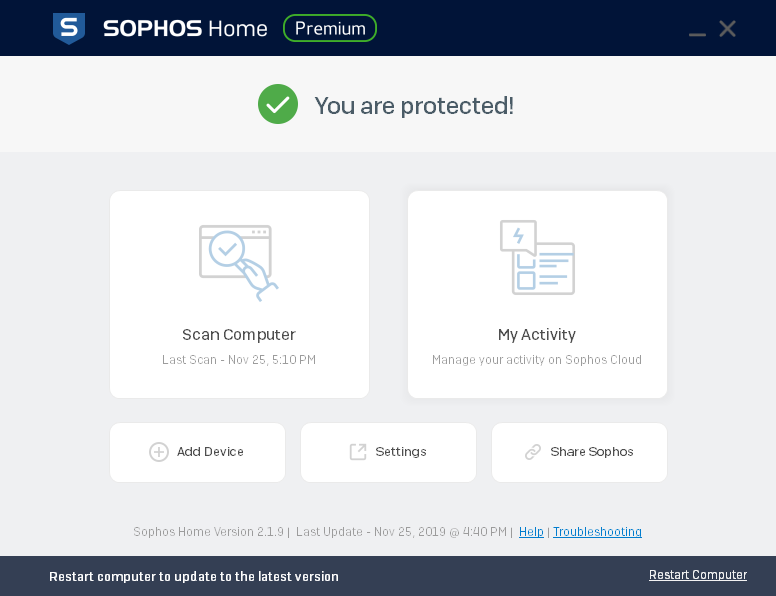 Sometimes Sophos Home is just not working for you. Perhaps it's beginning to cause problems, or you want to try out another security tool. That's the main reasons you want to remove Sophos Home from your PC. But, it can be difficult to uninstall Sophos Home in some cases. The problems you may meet when uninstalling Sophos Home include: there is no uninstall option given, Sophos Home doesn't remove completely with traces left behind, or Sophos Home appears again and again after uninstalling. Why is Sophos Home so hard to remove from a computer? First, you need to understand that Sophos Home is designed to protect your system from malware and it usually brings more files and components on the computer than regular programs when you install it. If it is set to easy to remove, then any viruses and malware can easily wipe Sophos Home off and let your computer be vulnerable. In other words, in order to resist virus attacks, most antivirus programs can't be uninstalled the "normal way." If you need to completely uninstall Sophos Home, you can choose to manually delete all the associated files, program folders and registry entries, or use a powerful third-party uninstaller to complete the removal instead.
How to Uninstall Sophos Home Completely from Windows 10?
Method 1: Removal from Start Menu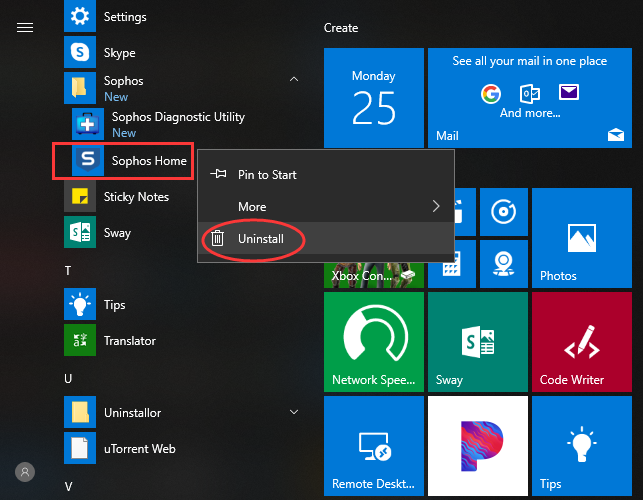 You can uninstall Sophos Home directly from the Start menu. To do this, go to Start > All apps and find the Sophos Home. Right-click on it and then click Uninstall from the drop-down menu that appears. If you can't find Sophos Home in the Start menu, you can try other methods listed below.
Method 2: Removal from The Settings Menu
In some cases, you cannot find an app or program that you want to uninstall in the Start menu. So, you can try this way to remove it from the Settings Menu.
Here's what you need to do:
1. Go to Start->Settings.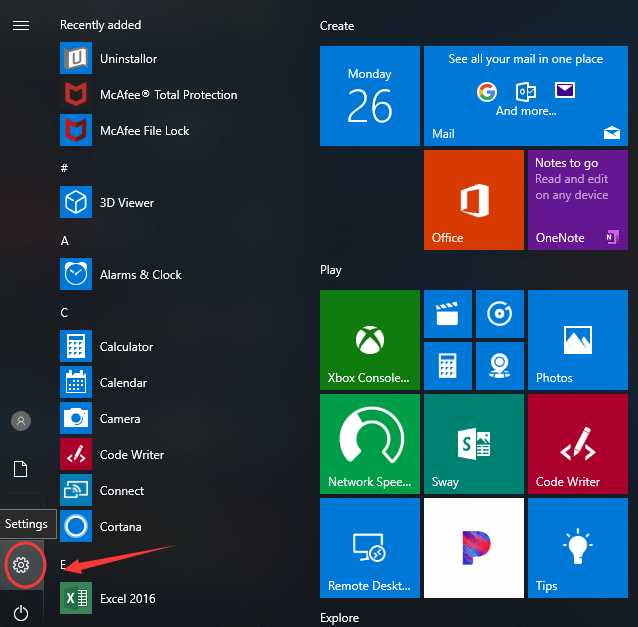 2. Choose System and then click Apps & features. Here, you'll see a full list of applications and programs on your computer. Locate Sophos Home and click on Uninstall option.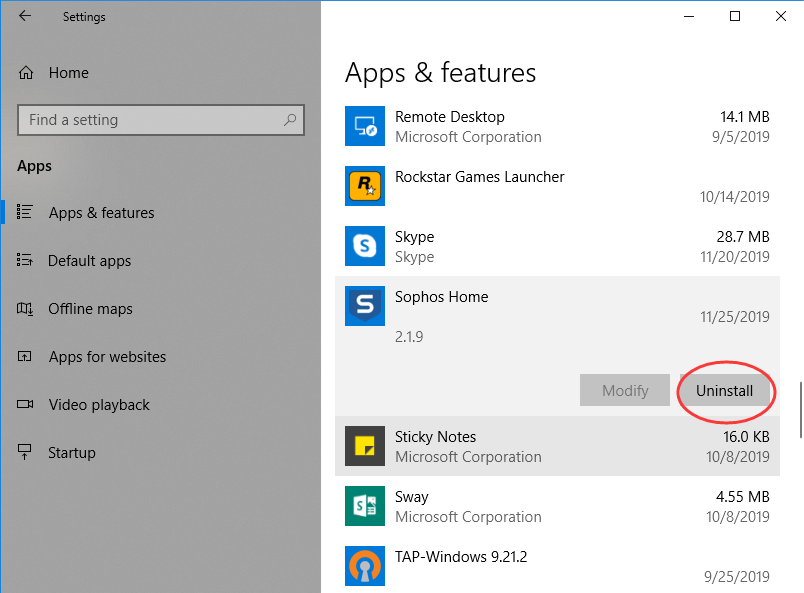 3. Next, you will see a pop-up window informing you that this app and its related info will be uninstalled. Hit Uninstall to complete the process.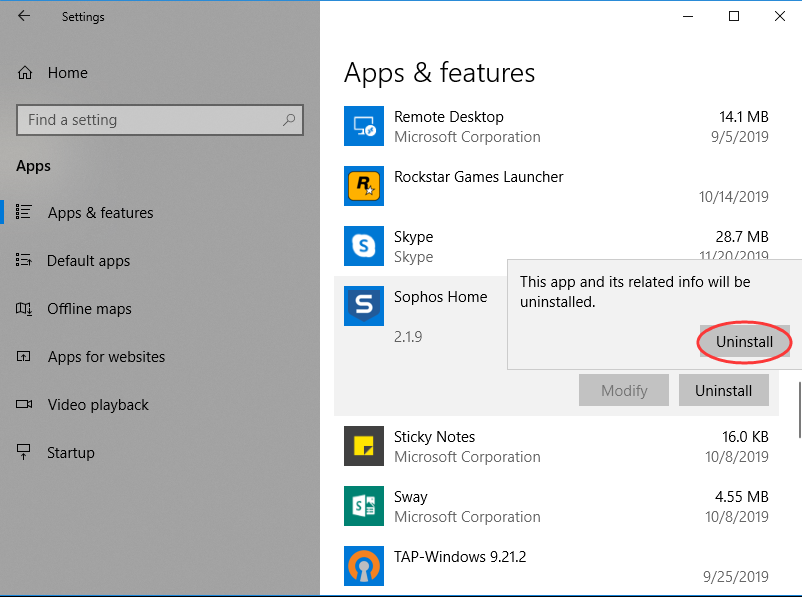 Method 3: Removal through the Add/Remove Programs Control Panel
If you prefer using Control Panel, that option is still available in the latest edition of Windows 10. However, from the Control Panel, you can only uninstall the desktop programs, not apps. Do the following:
1. Right-click on the Start button (Windows logo button at the bottom-left corner of the desktop) and then click Control Panel to open it.
2. Go to Programs and Features (or go to Uninstall a Program if your Control Panel is in the category view).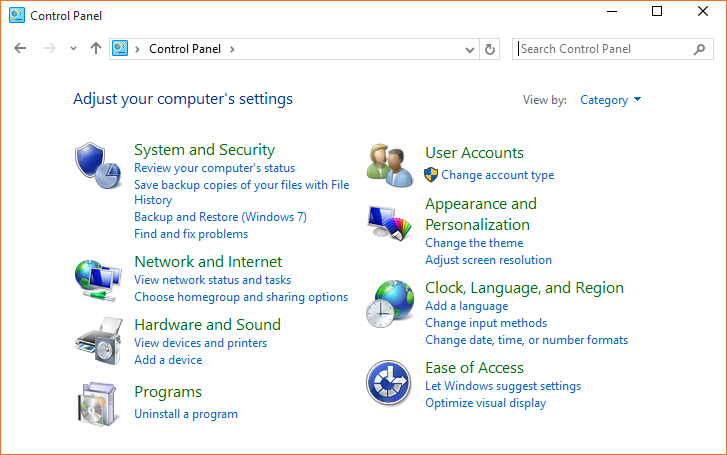 3. Find Sophos Home and click Uninstall. You'll see a pop-up window asking if you're sure you want to uninstall this program, click Yes and click through the uninstall wizard, if applicable.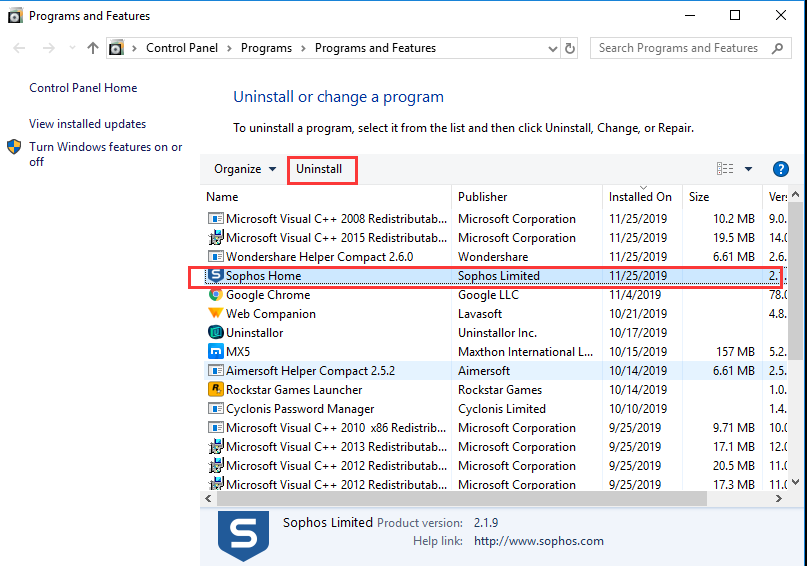 Almost done. Next, you need to Delete Sophos Home Leftovers Manually.
When you're installing a new antivirus program, you'll need to make sure Sophos Home is completely uninstalled first. Multiple antivirus programs will interfere with each other if they're installed on the same system. So, this is an important step. Remember to back up the registry before you make any changes to it because incorrect changes to the registry can result in permanent data loss or corrupted files. If you are not good at computers, you can skip this step and use Method 4 to uninstall Sophos Home with a tool.

Check the following folders and delete associated files first.
%programfiles%
%programfiles(x86)%
%appdata%
Next, you have to delete Sophos Home entries from Windows registry:
Press Windows + R, and type in regedit in RUN box, then press Enter. It'll open Registry Editor.
Locate the following keys:
HKEY_CURRENT_USER\Software
HKEY_LOCAL_MACHINE\SOFTWARE
HKEY_LOCAL_MACHINE\SOFTWARE\Wow6432Node (64-bit system users will also need to check this extra key)
If you can find any keys with the name of Sophos Home, just delete such keys.
Don't know how to use the Windows Registry and how to view and delete system and program files? Contact Experts for instant help, or you can try download Uninstallor to complete the Sophos Home removal with just a few clicks.
Method 4: Uninstall Sophos Home Using A Removal Tool (Recommended)
Uninstallor is a powerful uninstaller designed to remove any unwanted software in one click, including the bundled programs, Windows apps, toolbar, browser plug-ins and more. It can automatically scan your computer and analyze all connections of Sophos Home, then it deletes the program, its folders and files, and its registry entries entirely without efforts. Uninstallor is easy-to-use and the installation is straightforward. It is now available on Windows and Mac.

Here's how it works:
1. Install & Run Uninstallor.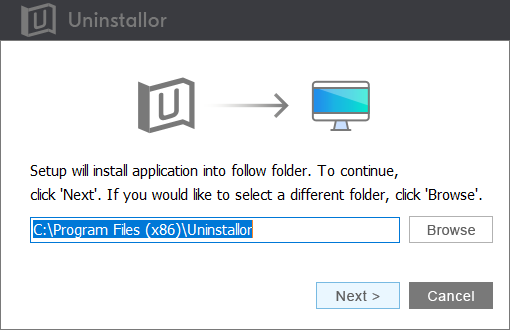 2. Analyze all the data associated with Sophos Home and searches for its leftover files. All you need to do is to click on "Analyze Now" button.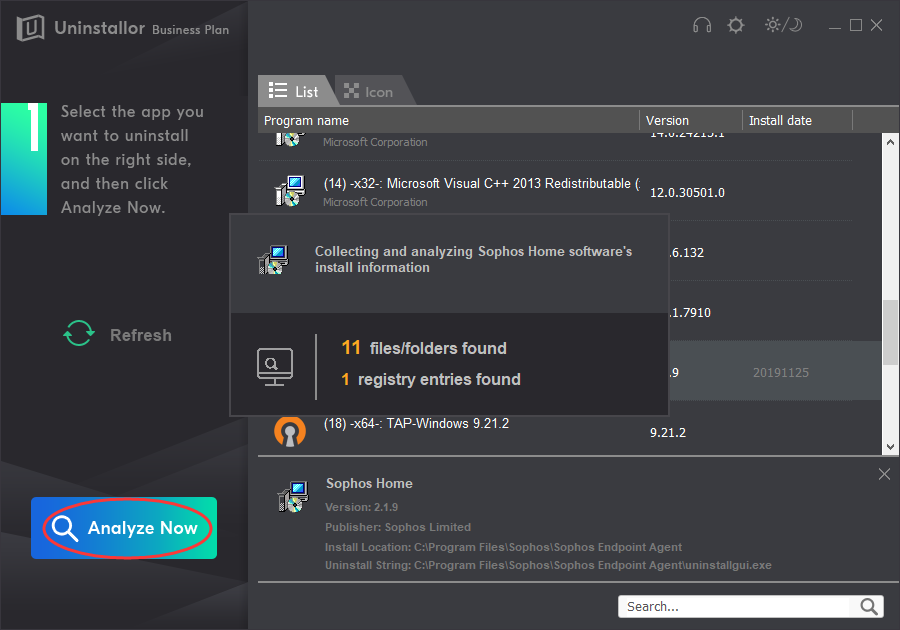 3. Uninstall Sophos Home Program. Click on "Uninstall Now" button to uninstall Sophos Home completely. Next, you need to click on "Yes" to confirm the removal.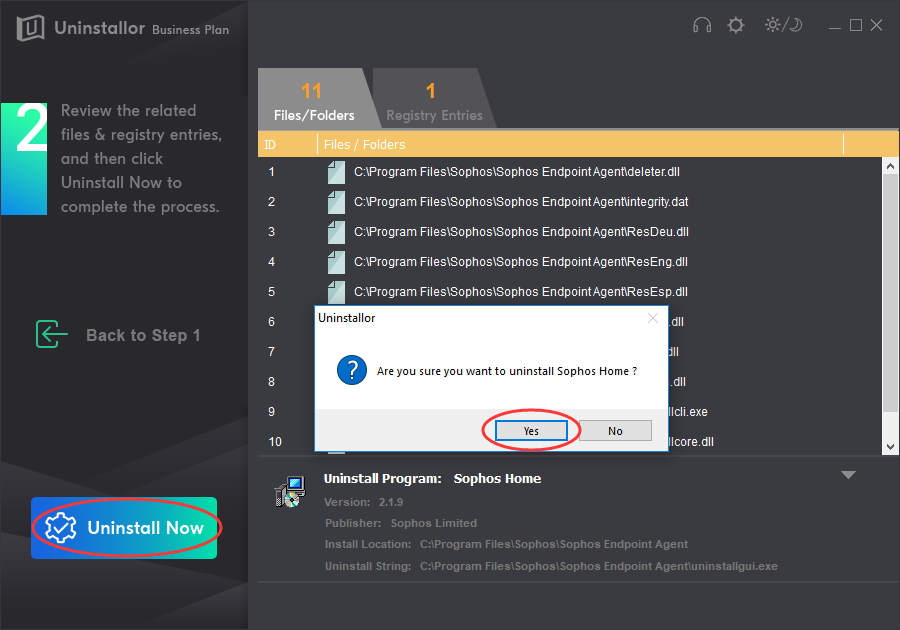 4. Remove Sophos Home leftover files and registry entries by hitting the "Remove Now" button.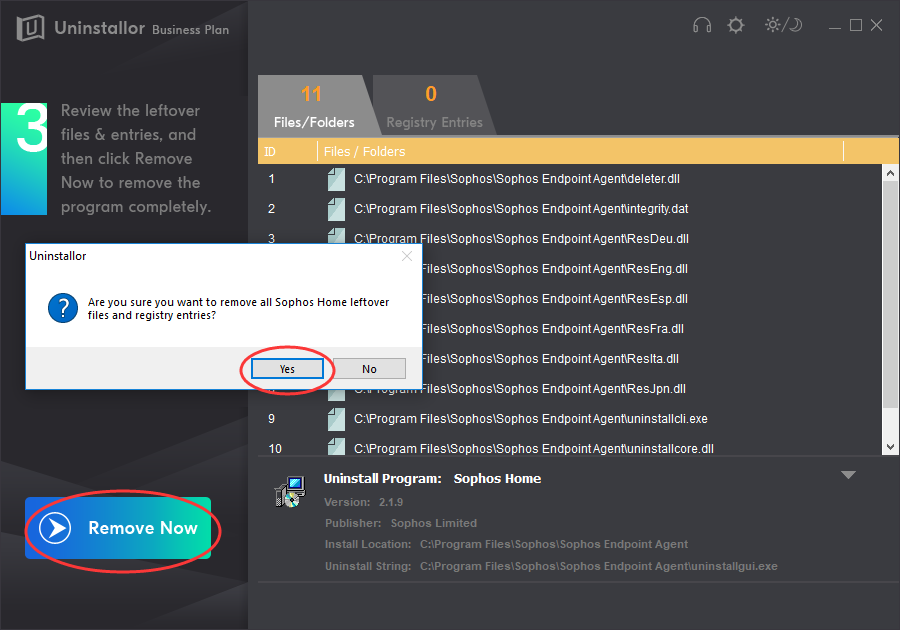 5. All done. Now you will get a report showing you how many items related to Sophos Home have been deleted and cleaned up.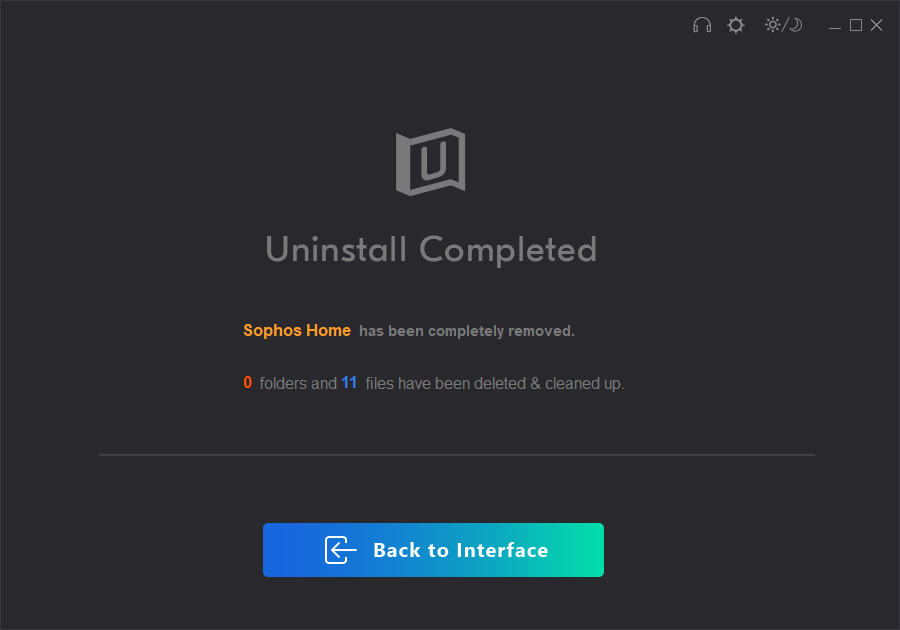 Video Guide on How to Uninstall Sophos Home
Conclusion:
Sophos Home takes a long time to uninstall or gets stuck during uninstallation procedure? What is the best way to remove Sophos Home from a Windows PC? Is there an uninstall utility that lets me get rid of Sophos Home easily? These days many people have been seeking help in all kinds of forums in order to uninstall Sophos Home. When they attempted to uninstall Sophos Home, they faced unexpected problems like getting stuck, system crash, BSOD, leftover files, reboot loops, improper uninstallation, etc. In fact, anti-virus programs are often difficult to completely remove from computers. That's why those well-known anti-virus vendors have created tools that are specially crafted to remove their programs from computers. A perfect solution to uninstall Sophos Home from Windows PC should involve in removing the software itself as well as its associated files and registry entries. Now you have learned how to remove Sophos Home and its registration files, empty folders, dll files, invalid registry entries etc completely from Windows. Just be careful before you take action. And if you are not an advanced user and have difficult in doing so, you can try a third-party uninstaller instead.
Uninstallor helps you uninstall Sophos Home while also taking care of all the leftovers. It deeply scans your system and removes several leftovers like the empty registry keys, folders in your C drive, program data, application shortcuts, etc. Uninstallor offers all users a 30 days money-back guarantee, if for any reason you're not completely satisfied with their product, they will refund your money within 30 days of the purchase date. Why not give it a try? Uninstall Sophos Home in the easiest way!

Published by Tony Shepherd & last updated on December 6, 2019 2:35 am