Can't seem to remove Segurazo Antivirus? Why not uninstall Segurazo Antivirus? I need to have all Segurazo Antivirus 2020 uninstalled so that I can do a clean install of the program. I ran a program and then tried to install it and it still does not work properly. I need everything removed for a clean install. How to uninstall Segurazo Antivirus completely from the PC if it is still displayed after you try to remove it from Add/Remove Programs? Many people found that Segurazo Antivirus installed itself without their permission, and the worse thing is they can't find a proper way to uninstall it completely. If you're unable to uninstall Segurazo Antivirus through Add or Remove Programs, or you still find the traces of the program after it's uninstalled, then follow the guides here to fully remove everything related to Segurazo Antivirus. Here we are going to provide the most comprehensive removal steps to uninstall Segurazo Antivirus and remove all traces of this program from your Windows computer.
About Segurazo Antivirus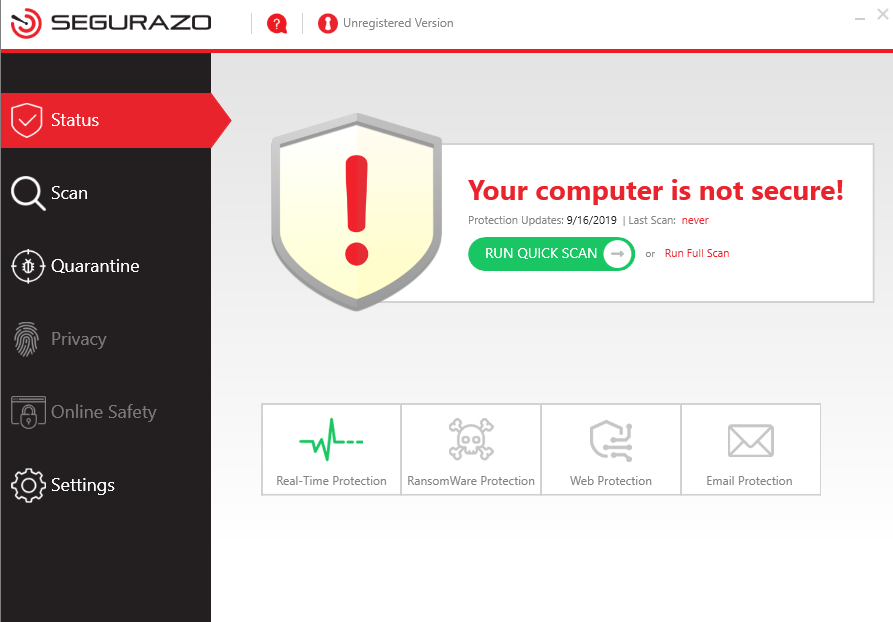 Segurazo Antivirus is advertised as an effective antivirus suite that implements cutting-edge technology to help people stay safe from internet security threats, but it turns out to be a potentially unwanted program that usually installs on a target PC without any permission. Segurazo Antivirus offers both a Free Plan and a Pro Plan. Their Free Plan claims to offer real-time protection, and the ability to scan for both malware and performance disruptions while the Pro Plan adds more features like Privacy Protection, Web Protection, Email Protection and Ransomware Protection. However, the tool does nothing like it advertises. It just masquerades as legitimate software to scan your computer and display annoying pop-up windows that warn the user their computer is not secure. Often, those pop-up windows include a button to activate Segurazo Antivirus full version or contain a link to redirect you to a site that sells its software. All Segurazo Antivirus needs is to extort money from you to "fix" your computer. If unfortunately you agree to the purchase, you will end up with your credit card details and other personal information getting exposed, and of course you get nothing but this nasty program in return. Segurazo Antivirus doesn't help protect your PC, so don't fall for its fake alerts that could compromise your personal and financial information, you have to get rid of Segurazo Antivirus as quickly as possible.
Segurazo Antivirus Removal: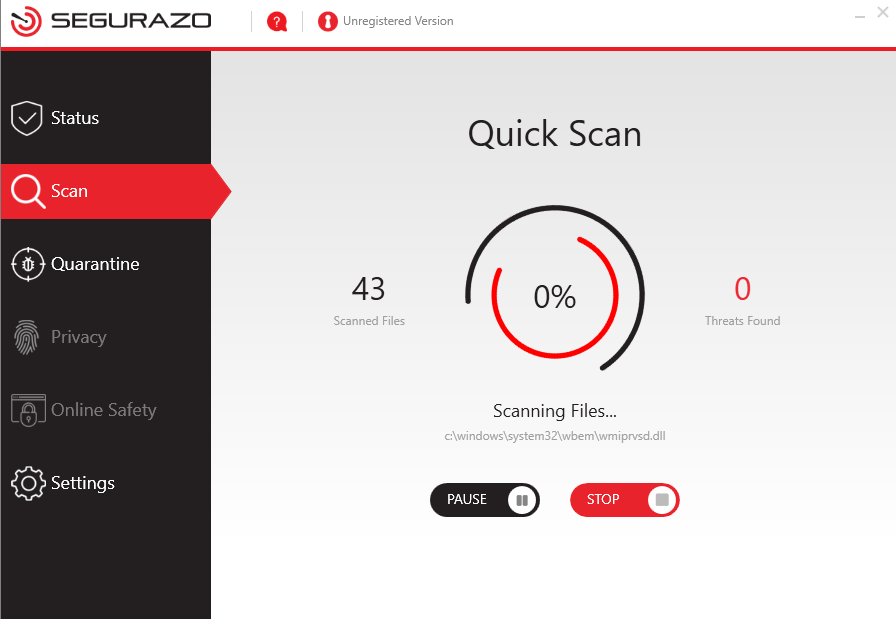 Have you already tried all the ways you can to uninstall Segurazo Antivirus but it's still there and won't go away? Sometimes Segurazo Antivirus is difficult to uninstall. You may find the program is not listed under Programs and Features wizard in the Control Panel. Even if Segurazo Antivirus is shown there in some cases, the "Uninstall" option is not available and there is also not the option to let you uninstall Segurazo Antivirus from the start menu. From the moment Segurazo Antivirus installs on your PC, it modifies the registry to make sure it can launch itself after a reboot, to better hide, or to integrate with an existing legitimate process. In addition, it adds many malicious files and folders to take up your system resouces or even change system settings. If you don't remove Segurazo Antivirus and all its leftovers in time, it will mess up your computer soon. Thankfully we've got the instructions to help you remove Segurazo Antivirus and all of its associated files and components completely. You can follow the instructions below to delete it manually, or use a third-party uninstaller to get rid of Segurazo Antivirus automatically with just a few clicks.
How to Completely Uninstall Segurazo Antivirus Pro from Windows 10?
Method 1: Removal from Start Menu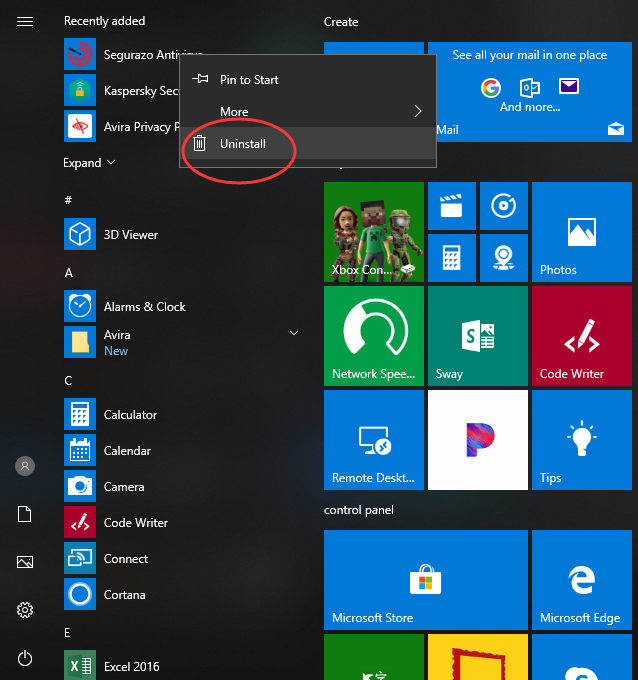 You can uninstall Segurazo Antivirus directly from the Start menu. To do this, go to Start & All apps and find the Segurazo Antivirus. Right-click on it and then click Uninstall from the drop-down menu that appears. If you can't find Segurazo Antivirus in the Start menu, you can try other methods listed below.
Method 2: Removal from The Settings Menu
In some cases, you cannot find an app or program that you want to uninstall in the Start menu. So, you can try this way to remove it from the Settings Menu.
Here's what you need to do:
1. Go to Start & Settings.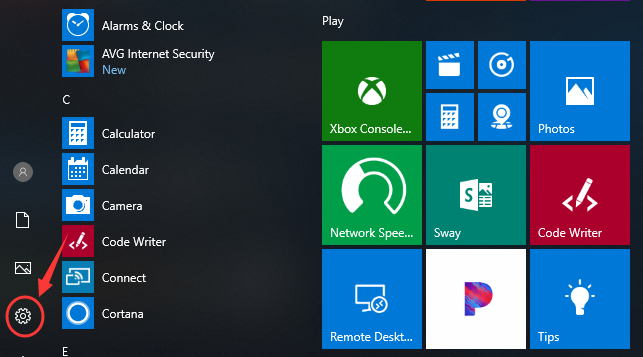 2. Choose System and then click Apps & features. Here, you'll see a full list of applications and programs on your computer, sorted by size. You can use the search box at the top of the screen to search for apps, and you can resort the list by name or by install date.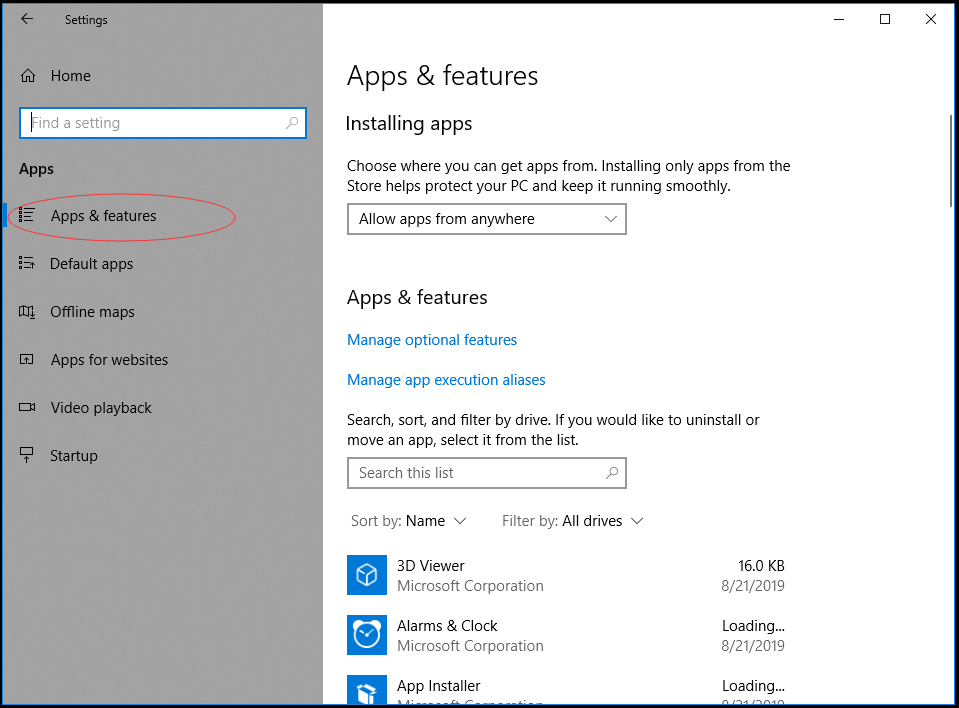 3. Select Segurazo Antivirus and Click Uninstall to start the removal process. You will see a pop-up window informing you that the app and its related info will be uninstalled. Hit Uninstall to complete the process.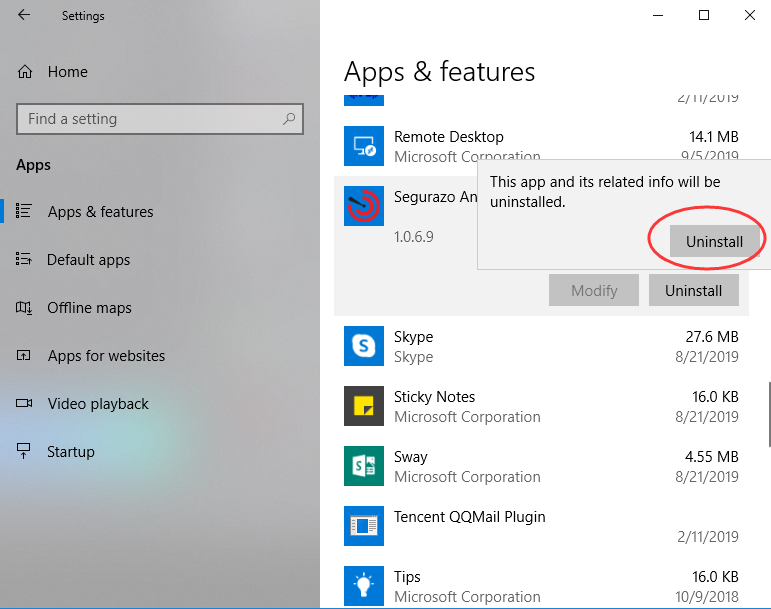 Method 3: Removal through the Add/Remove Programs Control Panel
If you prefer using Control Panel, that option is still available in the latest edition of Windows 10. However, from the Control Panel, you can only uninstall the desktop programs, not apps. Do the following:
1. Right-click on the Start button (Windows logo button at the bottom-left corner of the desktop) and then click Control Panel to open it.
2. Go to Programs and Features (or go to Uninstall a Program if your Control Panel is in the category view).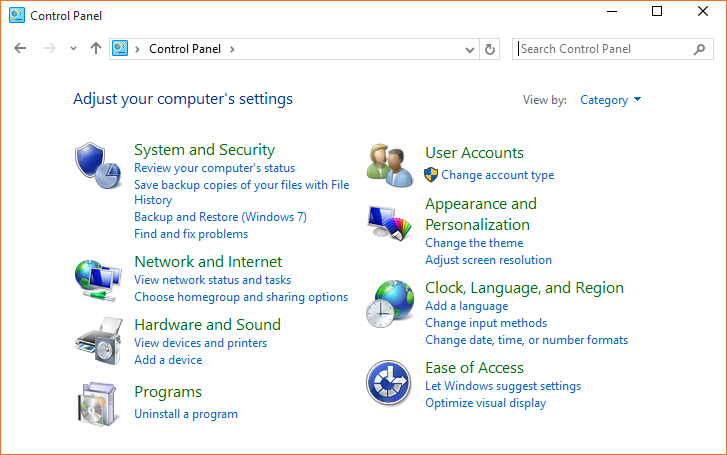 3. Right-click Segurazo Antivirus and select Uninstall. You'll see a pop-up window asking if you're sure you want to uninstall this program, click Yes and click through the uninstall wizard, if applicable. After it is done, it will prompt the users to Reboot their computer to take effect.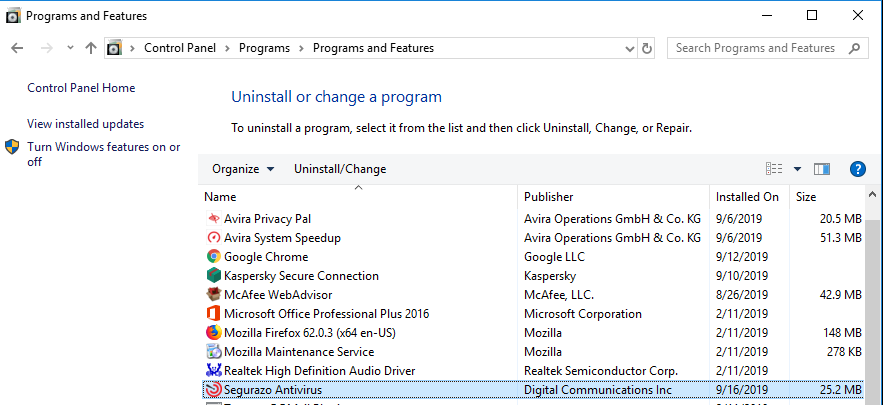 WARNING:
The above three methods may help you get rid of Segurazo Antivirus, but they may NOT clear it completely out of your system. So, in the next step, you have to manually delete leftover file system and registry items. Be sure to backup up all your important data before uninstalling Segurazo Antivirus as explained in this guide because incorrect changes to the registry can result in permanent data loss or corrupted files.
Check the following folders and delete associated files first.
Next, you have to delete Segurazo Antivirus entries from Windows registry:
Press Windows + R, and type in regedit in RUN box, then press Enter. It'll open Registry Editor.
Locate the following keys:
HKEY_CURRENT_USER\Software\Microsoft\Windows\CurrentVersion\
HKEY_LOCAL_MACHINE\SOFTWARE\Microsoft\Windows\CurrentVersion\
If you can find any keys with the name of Segurazo Antivirus, just delete such keys.
Please note that manually uninstalling a program involves a lot of knowledge, experience, intelligence and intuition. So, if you have never used the Windows Registry before, or you have no computer skills, you'd better not do it yourself. Use a a third-party uninstaller like Uninstallor to finish the uninstallation process instead. It only takes you a couple of minutes to get the removal done. Uninstallor is not just a program to help you uninstall any unwanted app & bloatware from your PC and Mac, it also combines with premium support team, giving you the best service to clean up your PC.
Method 4: Uninstall Segurazo Antivirus Using A Removal Tool (Recommended)
When it comes to delete Segurazo Antivirus remaining files or registry entries, there is nothing better than using a third-party uninstaller. There are so many third party uninstallers to choose from, however, that you might not know which one to get. Uninstallor is one of the best third-party uninstallers for Windows and Mac that can scrub away every trace of unwanted programs – even the really tricky ones. It makes your life much easier, letting you uninstall Segurazo Antivirus in just a few minutes while also removing any residual files and registry entries automatically. 
Here's how it works:
1. Download & Install Uninstallor on your machine. Uninstallor is quite lightweight and the installation is straightforward. The only option you have is to let you create a program shortcut to the desktop.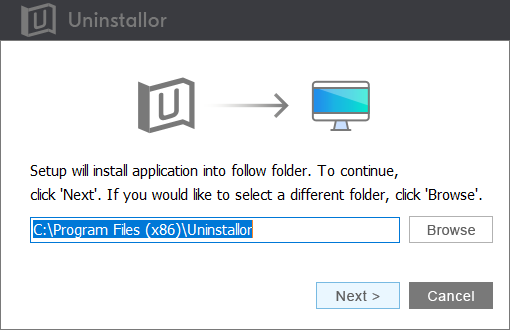 2. Launch Uninstallor. Uninstallor comes with an easy-to-use interface and it lets you switch to dark or light theme as you wish.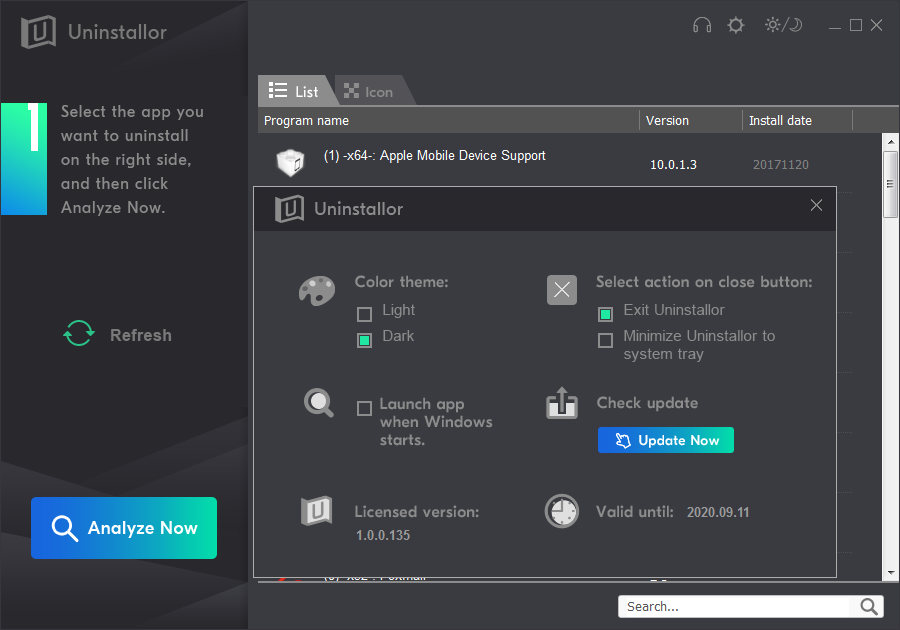 3. Scan for program components. Select the program that you want to uninstall and click on "Analyze Now" button. It will analyze all the data associated with the uninstalled program and searches for all leftover files.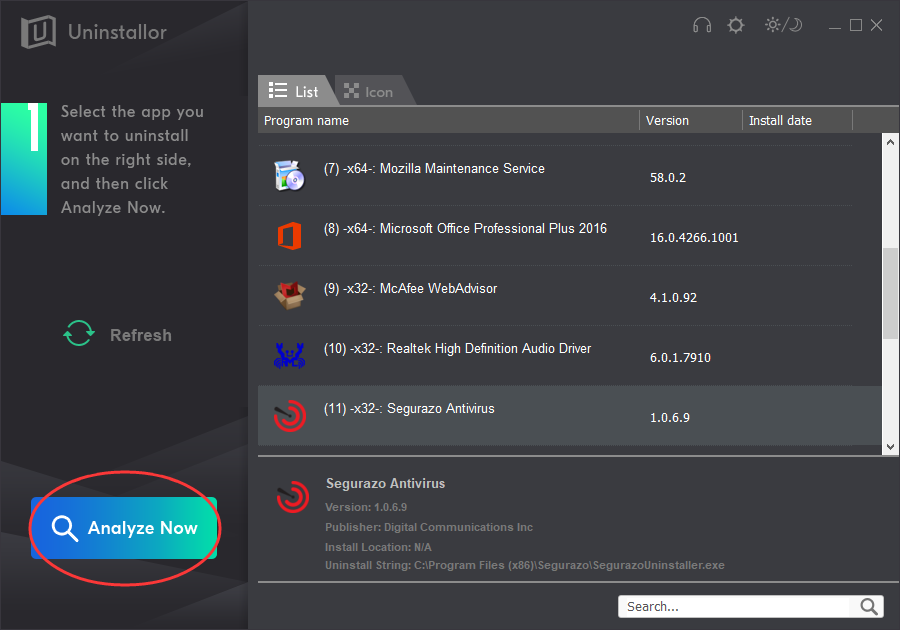 4. Perform complete removal. Click on "Uninstall Now" button to uninstall Segurazo Antivirus completely. Next, you need to click on "Yes" to confirm the removal.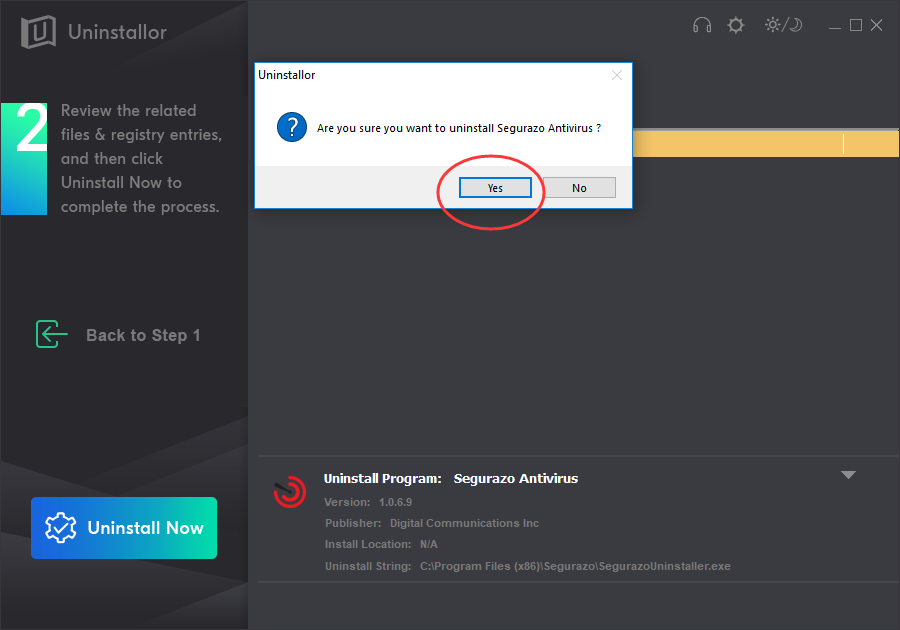 5. Wait until the uninstallation is completed. When the process is completed, restart your computer to take effect.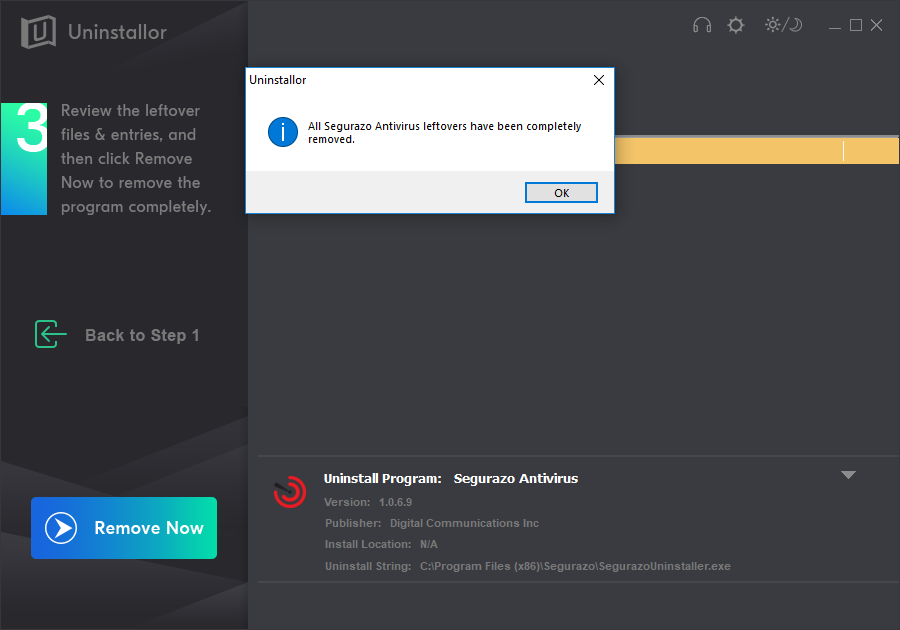 Video Guide on How to Uninstall Segurazo Antivirus in Windows 10
Conclusion:
When it comes to uninstall programs, most of us uninstall them from Control Panel but many times the default uninstallation utility provided by the program doesn't remove the program completely. Just like Segurazo Antivirus, which is a stubborn and rogue program that is impossible to uninstall normally using the Windows Add/Remove tool. Even you uninstall it from control panel, it still lefts some entries in Windows Registry, some files in various folders in your hard disk drives. With these leftovers in your system, your computer can be slower than before and occasionly pop up unexpected errors.
The above methods will guide you on how to manually remove Segurazo Antivirus and delete all its associated files. If you can't do it yourself and are afraid of accidentally deleting essential files, you can try a third-party uninstaller instead. There are many 3rd party software available on Internet and you probably don't know which one to choose. Uninstallor is a helpful software when programs don't uninstall properly or when you suspect that a program didn't uninstall completely. This uninstaller tool scans a program's leftovers automatically and performs clean removal of any program from your PC. Use Uninstallor to uninstall Segurazo Antivirus now. The whole uninstallation process only takes you less than 5 minutes!
Published by Tony Shepherd & last updated on May 6, 2020 2:39 pm