Want to know how to uninstall McAfee Total Protection completely from your computer in Windows 10? Hi there. I am having trouble in uninstalling McAfee Total Protection from my Windows 10 operating system. When I go to the Control Panel and try to uninstall McAfee Total Protection from there, my computer freezes and then PC restarts. It seems McAfee doesn't allow me to delete it. My computer has become slow and unresponsive all the time since McAfee Total Protection was installed. So I need urgent help in deleting the program and also eliminating all traces of McAfee from my system. How do I do that?
Learn More about McAfee Total Protection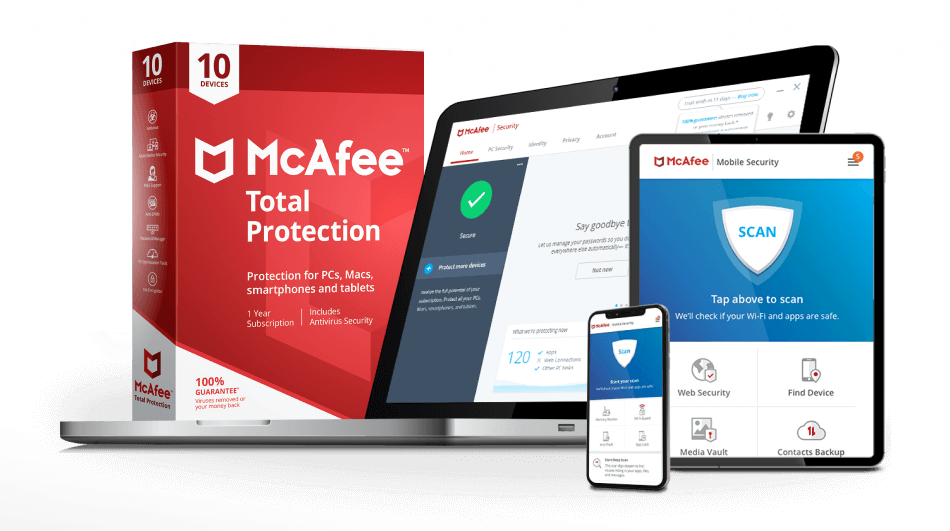 McAfee have been providing internet security solutions since 1987 and it is the world's largest company dedicated to security. McAfee Total Protection, is an awarding Antivirus software owned by McAfee which you can run on every Windows computer you own, as well as every mac OS, Android, and iOS device. McAfee Total Protection is easy to use and will ensure that any computer it is installed on is protected from malware and online threats at all times. It is more than just antivirus program. Apart from virus protection and removal, McAfee Total Protection also offers excellent password management for all your devices, parental control, and cryptocurrency protections that  watch your accounts and stop illegal cryptomining activities. In addition, it includes a personal firewall that monitors your internet connection and a vulnerability scanner that looks for weak spots in your system where hackers and ransomware can sneak in.
The prices for McAfee Total Protection start at 69.99 to cover a single device (Windows, Mac, Android or iOS) for a year. Adding more devices can further improve value. You can cover any mix of 5 Windows, Mac, Android or iOS devices for $89.99 a year, or get a 10-device license for $109.99/year. McAfee Total Protection offers 30 days free trial to let customers test their service before committing to a long-term subscription. That's why many users install McAfee Total Protection on their machine.
McAfee Total Protection Removal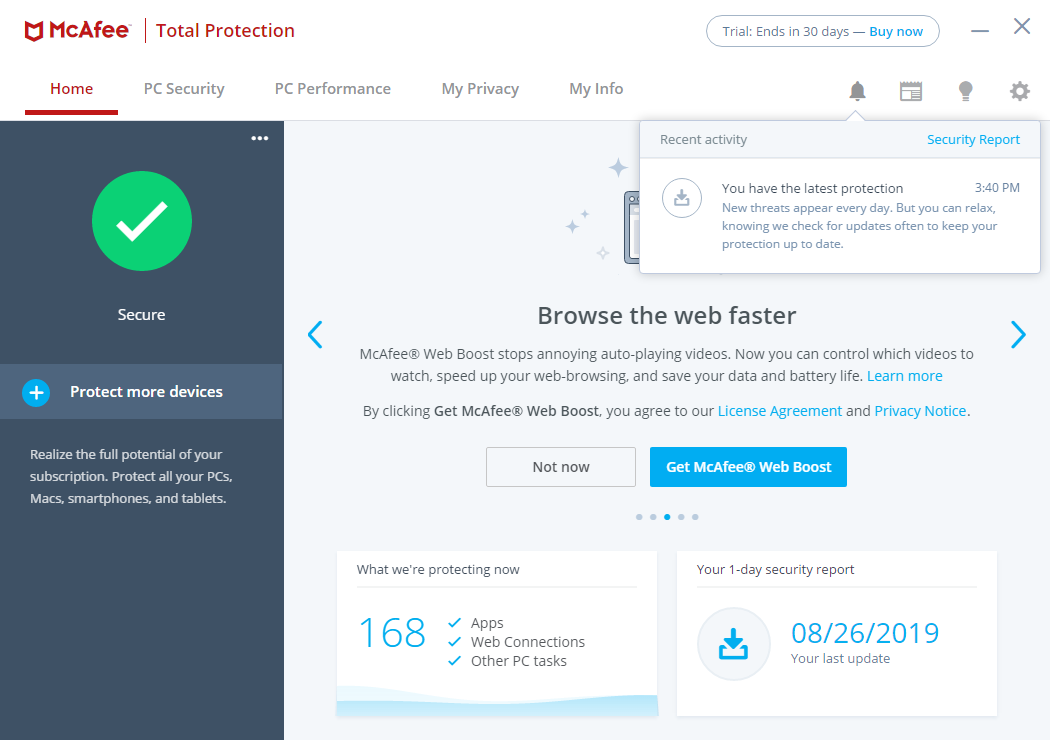 McAfee Total Protection may be good, but sometimes you may come across problems while using this software. For example, when you try to run McAfee, you get a warning telling you that a problem caused the program to stop working correctly or your computer freezes whenever McAfee Total Protection is running. Given this situation, you may need to get rid of McAfee Total Protection from your PC. However, antivirus program often brings many more files and components on the computer than the general program, so it usually causes an incomplete removal issue for the application on the computer. With remnants of McAfee Total Protection remain on your hard drive and entries for McAfee Total Protection remain in the Registry, it slows down the performance of your machine. These leftovers may not pose a major threat. But, they tend to slow down your machine and the worse thing is they may stop you from installing other new antivirus program on your machine. Therefore, there is no point of keeping them. And the most important part is, you should uninstall McAfee Total Protection completely from your machine without leaving any remaining files. Then how to uninstall McAfee Total Protection permanently from your computer? Is there an easy way to do it or is there a perfect uninstall tool can help you get it off?
How to Completely Remove McAfee Total Protection from Windows 10?
Method 1: Removal from Start Menu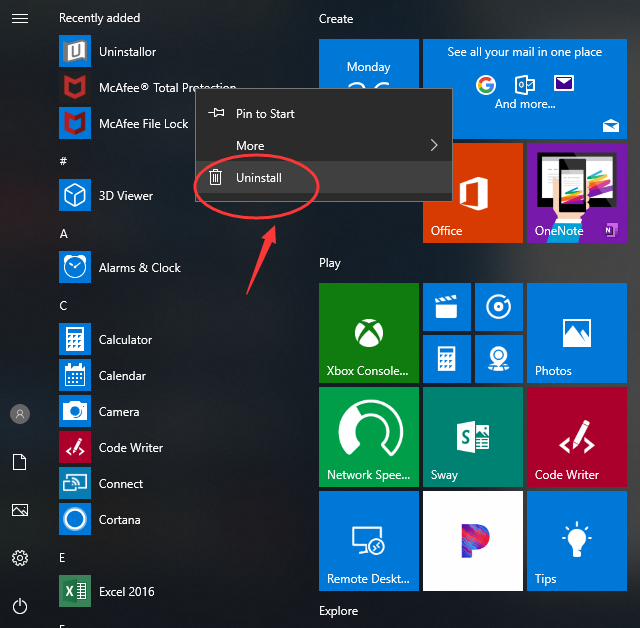 You can uninstall McAfee Total Protection directly from the Start menu. To do this, go to Start > All apps and find the McAfee Total Protection. Right-click on it and then click Uninstall from the drop-down menu that appears. If you can't find McAfee Total Protection in the Start menu, you can try other methods listed below.
Method 2: Removal from The Settings Menu
In some cases, you cannot find an app or program that you want to uninstall in the Start menu. So, you can try this way to remove it from the Settings Menu.
Here's what you need to do:
1. Go to Start & Settings.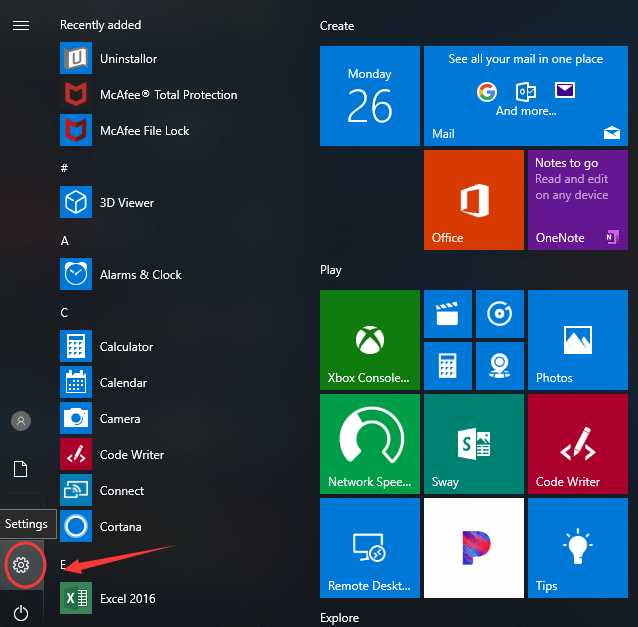 2. Choose System and then click Apps & features. Here, you'll see a full list of applications and programs on your computer, sorted by size. You can use the search box at the top of the screen to search for apps, and you can resort the list by name or by install date. Now, as you can see, McAfee Total Protection is shown on the list.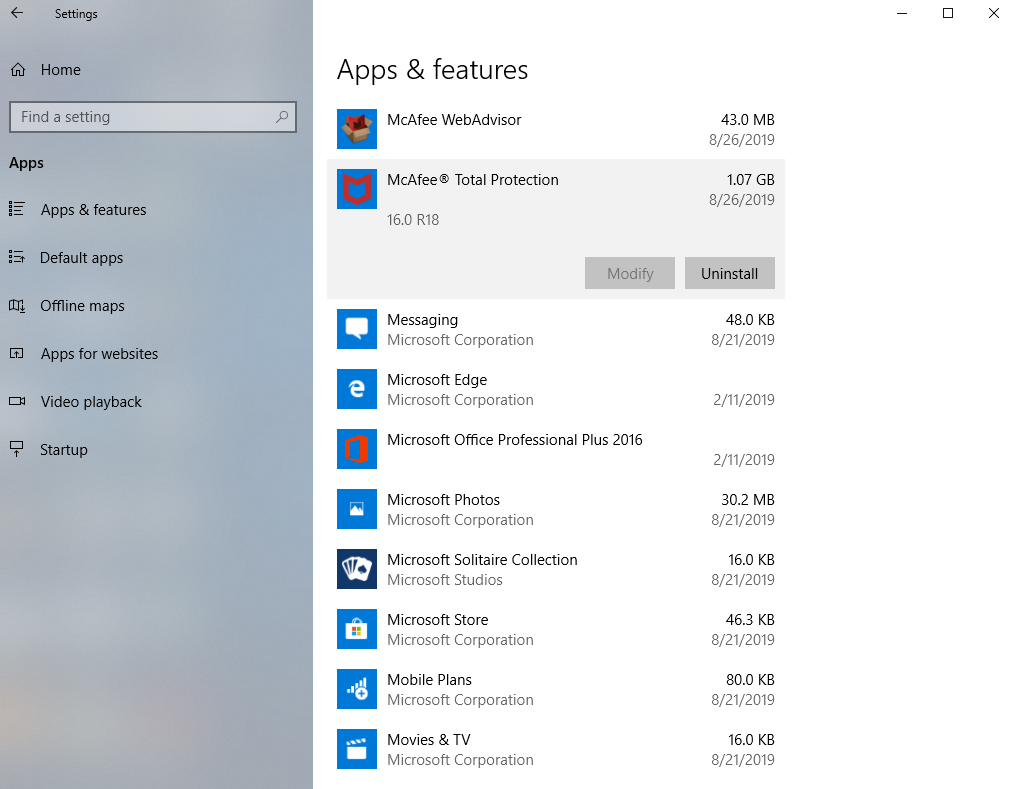 3. Click Uninstall to start the removal process. You will see a pop-up window informing you that the app and its related info will be uninstalled. Hit Uninstall to complete the process.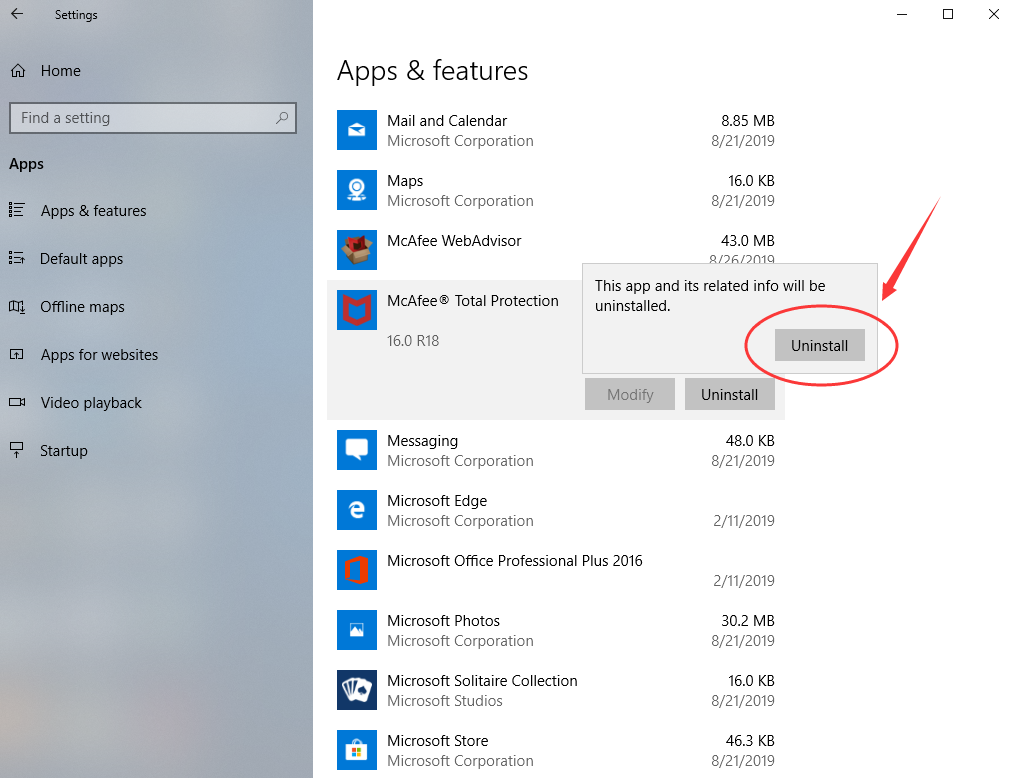 Method 3: Removal through the Add/Remove Programs Control Panel
If you prefer using Control Panel, that option is still available in the latest edition of Windows 10. However, from the Control Panel, you can only uninstall the desktop programs, not apps. Do the following:
1. Right-click the Start button and click Control Panel.
2. Go to Programs and Features (or go to Uninstall a Program if your Control Panel is in the category view).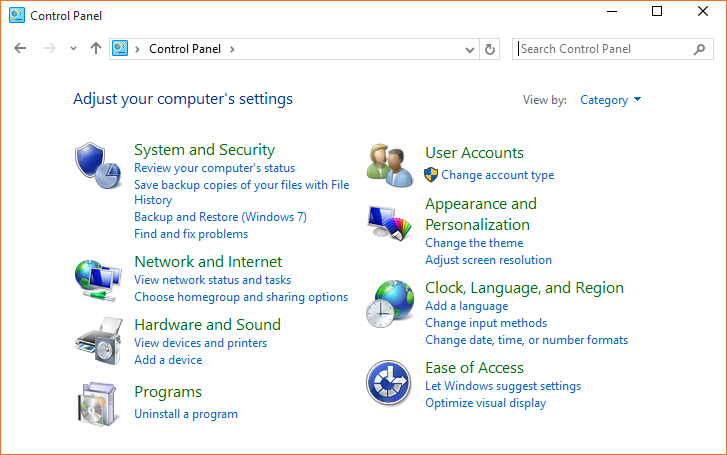 3. Find McAfee Total Protection and click Uninstall. You'll see a pop-up window asking if you're sure you want to uninstall this program, click Yes and click through the uninstall wizard, if applicable.

Note:
The above three methods may help you get rid of McAfee Total Protection, but they may not clear it completely out of your system. As you know, whenever you install a piece of software, especially a large program like McAfee Total Protection, it must install several files and probably Registry entries on the system in order to work efficiently. And this is fine as long as you are using the program. Now, the problem comes when you opt to uninstall it. Traces like registry files or program folders may remain, eating up your system resources and making your PC run slowly. To completely uninstall McAfee Total Protection or any McAfee products from your system, you have to manually delete the remaining files and folders and remove software keys from the Windows Registry. Manual removal may be tricky and difficult especially if you have never used the Registry Editor in the past. It often requires expertise to do this, and you need to be very careful and make sure the file you are going to delete isn't an important operating system file. Otherwise, you will result in the malfunction of your operating system.
Considering that Windows built-in uninstaller is basic and it just can't uninstall a program completely without leaving several leftovers like the empty registry keys, folders in your C drive, program data, application shortcuts, etc, and manual removal is a difficult task for most people, we recommend people choose a third-party uninstaller to complete the job instead.
Method 4: Uninstall McAfee Total Protection Using A Removal Tool (Recommended)
Want to get rid of multiple programs at once? Some programs are stubborn, and they don't let you uninstall? Want to delete all the corrupted registry entries and temporary junk files by  McAfee Total Protection with one click? A third-party uninstaller is the way to go. These third-party uninstallers can deeply scan your system to find and remove any leftovers. Uninstallor is one of the best third-party uninstallers for Windows and Mac. It uninstalls programs the right way, wiping every trace of an app, even the leftovers that are usually overlooked. The program analyzes all of McAfee Total Protection's connections and offer to delete each aspect: the program, its folders and files, and its registry entries. Even you are completely computer illiterate, you can use the program with no problems. Here's how it works:
1. Download & Install Uninstallor on your machine. Uninstallor is quite lightweight and the installation is straightforward. The only option you have is to let you create a program shortcut to the desktop.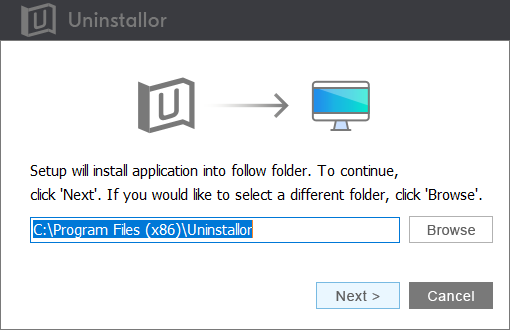 2. Launch Uninstallor. Uninstallor has a smart, clear interface that displays a list of all your installed software.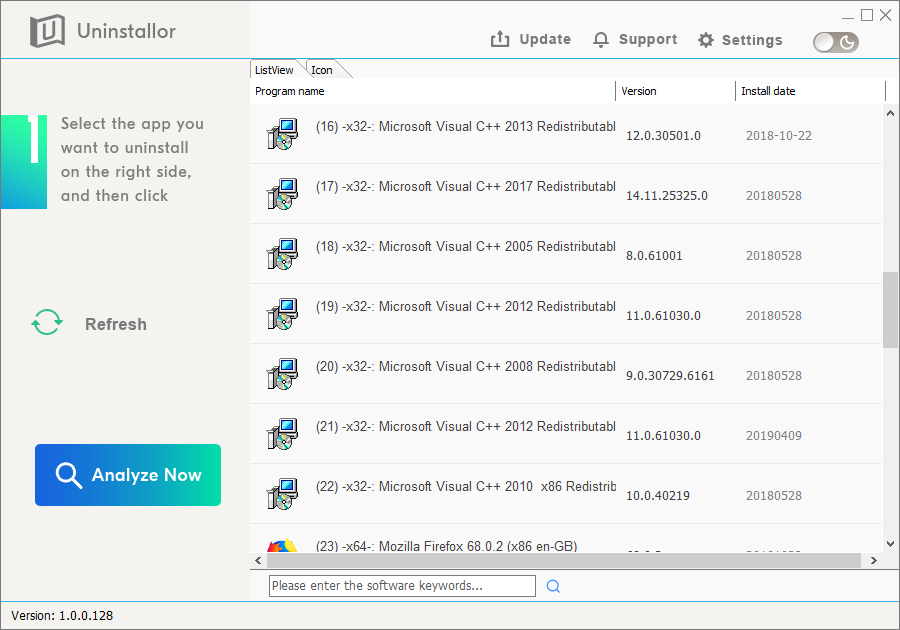 3. Scan for program components. Select the program that you want to uninstall and click on "Analyze Now" button. It will analyze all the data associated with the uninstalled program and searches for all leftover files.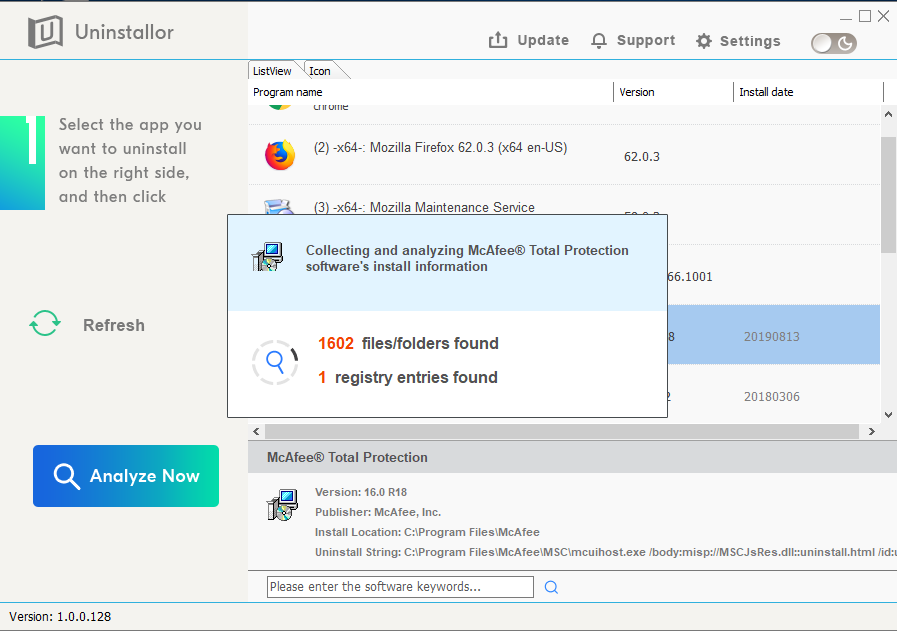 4. Perform complete removal. Click on "Uninstall Now" button to uninstall McAfee Total Protection completely.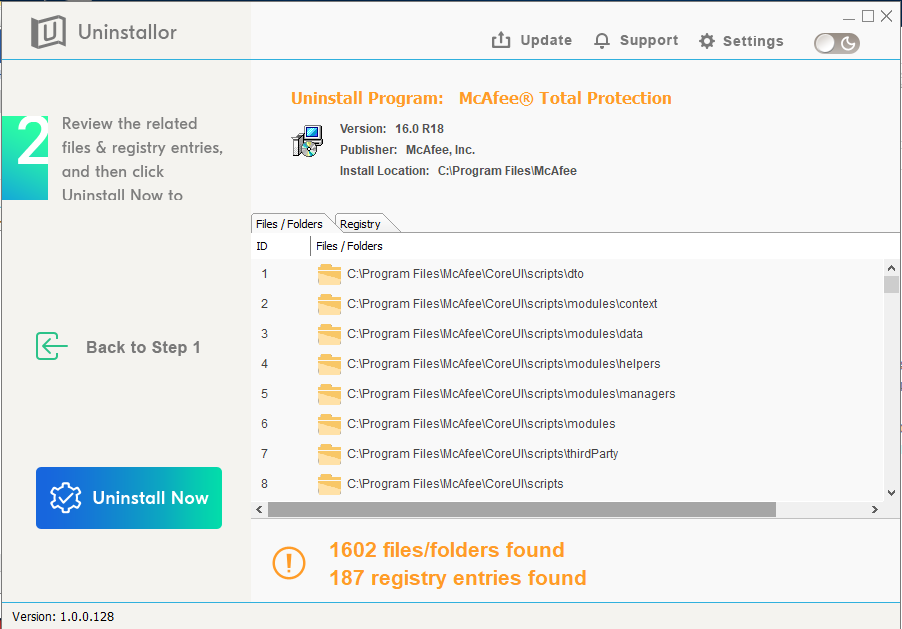 Video Guide on How to Uninstall McAfee Total Protection in Windows 10
Conclusion:
Almost all of us use anti-virus program in our system, but antivirus removal is not an easy job. Anti-virus software components insert themselves deep into the operating systems core where they install kernel mode drivers that load at boot-up and create numerous files, folders, and registry entries in various locations. Therefore, it will be more difficult to uninstall McAfee Total Protection from your system. Using the usual method of Apps & features in Windows 10 or Programs and Features (Add/Remove Programs) in Control Panel often results in incomplete removal. That's why most anti-virus vendors provide clean-up utilities (removal tools) on their web sites to remove remnants left behind after uninstalling, or for a failed uninstall or failed reinstall.
Uninstallor is a good removal tool that helps you get rid of all files, folders, and registry entries/keys that associated with McAfee Total Protection with only a few clicks. Besides, it provides custom fix solution and on-demand remote support in case users have problem in uninstalling the software by themselves. Uninstallor is always the best assistant for you to completely uninstall all stubborn unwanted programs that are failed to be removed with the Add/Remove applet. If you don't know how to uninstall McAfee Total Protection completely by manual as you are not computer savvy. Give it a try to uninstall all the leftover registry entries, program drivers and fix install/uninstall errors thoroughly!
Published by Tony Shepherd & last updated on July 22, 2020 1:54 pm