How do you uninstall ESET Security and remove its leftovers on Windows? Most people uninstall ESET product using the most straightforward solution – the Control Panel's Programs and Features. And that's a good point since for most cases it works. But, what to do if the ESET Security won't uninstall from there, or it even does not show on the program list? Uninstalling ESET doesn't always go as planned. In the Windows 10 control panel for app removal, you may see the "Uninstall" option are greyed out when selecting ESET Security. In this situation, you'll have to use alternative methods. Here we will show you the most effective method on how to remove ESET Security and its traces completely.
About ESET Security: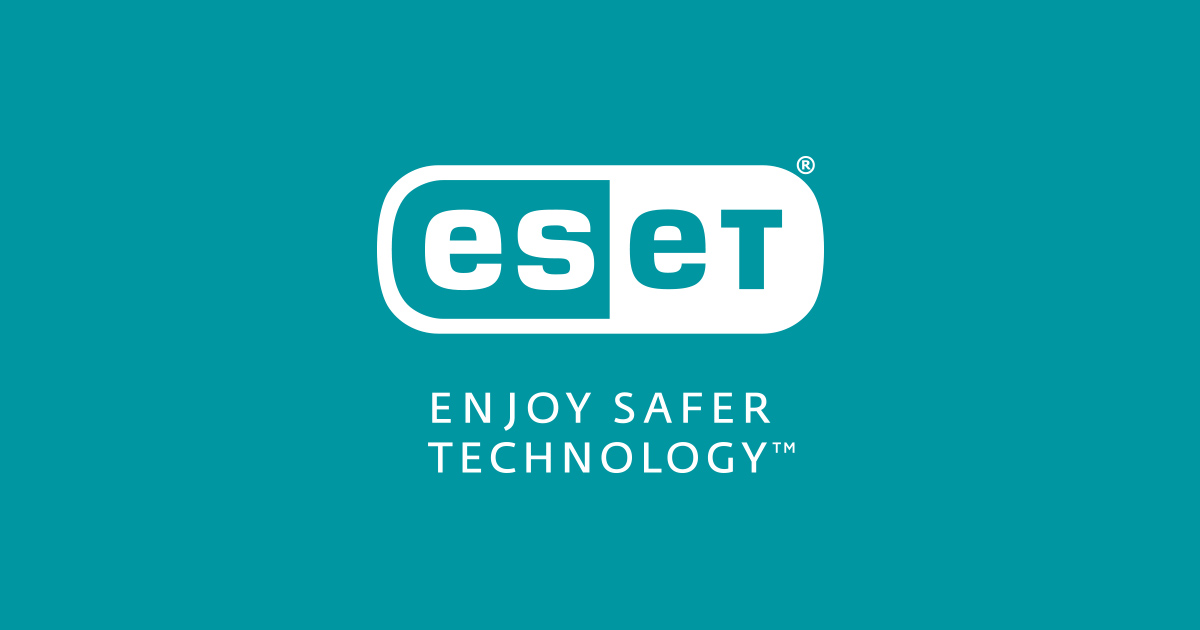 ESET is a Slovakia-based antivirus software provider that has been developing industry-leading IT security software and services for businesses and consumers worldwide for over 30 years. More than 110 million users trust and choose ESET Security, which includes ESET NOD32 Antivirus, ESET Internet Security (EIS) and ESET Smart Security Premium (ESSP). ESET Security delivers everything you need in an anti-malware package and it even brings banking protection, password management and more for its premium product to secure your digital life. It gives both consumers and businesses the peace of mind to enjoy the full potential of their technology. With ESET Security, you can securely connect to the Internet on your phone, laptop or tablet, protect your company's network with ease and stop from any kind of malware. Now ESET Security protects Windows, Mac and Android devices from 390,000+ new viruses every day.
About ESET Security Removal:
ESET Security might be a good option for most of the people, but there are still a few of people don't want to keep it on their machine. The reasons why they want to uninstall ESET Security include:
ESET Security cannot remove the virus/malware they want.
The program affects their computer performance.
ESET Security lacks of product features they need.
They only need ESET Security for trial or testing.
They want to switch to other security products.
Whatever the reason is, you need to remove ESET Security completely, which means not only uninstall ESET Security, but also its associated files and registry entries. Otherwise, you may leave its traces that affect your PC performance and the worse is, incomplete unistallation might cause conflicts when you install other antivirus programs.
Generally speaking, the correct procedure to uninstall ESET Security is from the program and features window in control panel. This launches the ESET uninstaller which then proceeds with the uninstallation. However, uninstalling ESET Security doesn't always go as planned. You might find that the "Uninstall" option is not available in control panel or Apps & Features in Windows 10. This is a big problem for people who do not need ESET anymore. So today, we're going to show you how to effectively remove ESET Security from your Windows 10 PC when it won't let you uninstall.
The Most Common Ways That You Uninstall ESET Security in Windows 10:
Method 1: Removal from Start Menu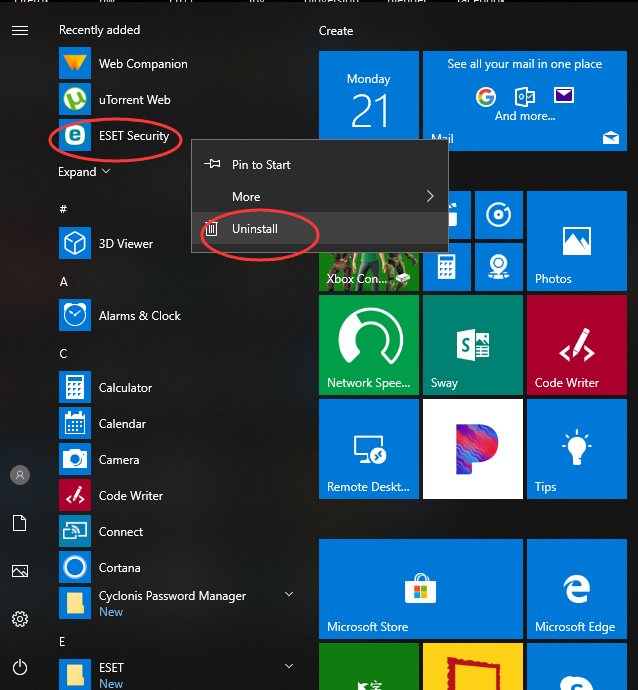 You can uninstall ESET Security directly from the Start menu. To do this, go to Start > All apps and find the ESET Security. Right-click on it and then click Uninstall from the drop-down menu that appears. If you can't find ESET Security in the Start menu, or it won't let you uninstall, you can try other methods listed below.
Method 2: Removal from The Settings Menu
In some cases, you cannot find an app or program that you want to uninstall in the Start menu. So, you can try this way to remove it from the Settings Menu.
Here's what you need to do:
1. Go to Start->Settings.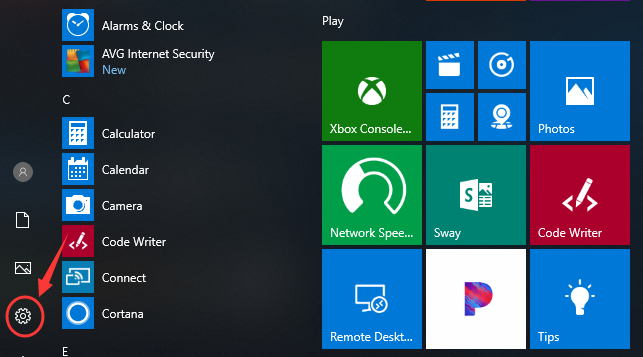 2. Choose System and then click Apps & features. Here, you'll see a full list of applications and programs on your computer, sorted by size. You can use the search box at the top of the screen to search for apps, and you can resort the list by name or by install date.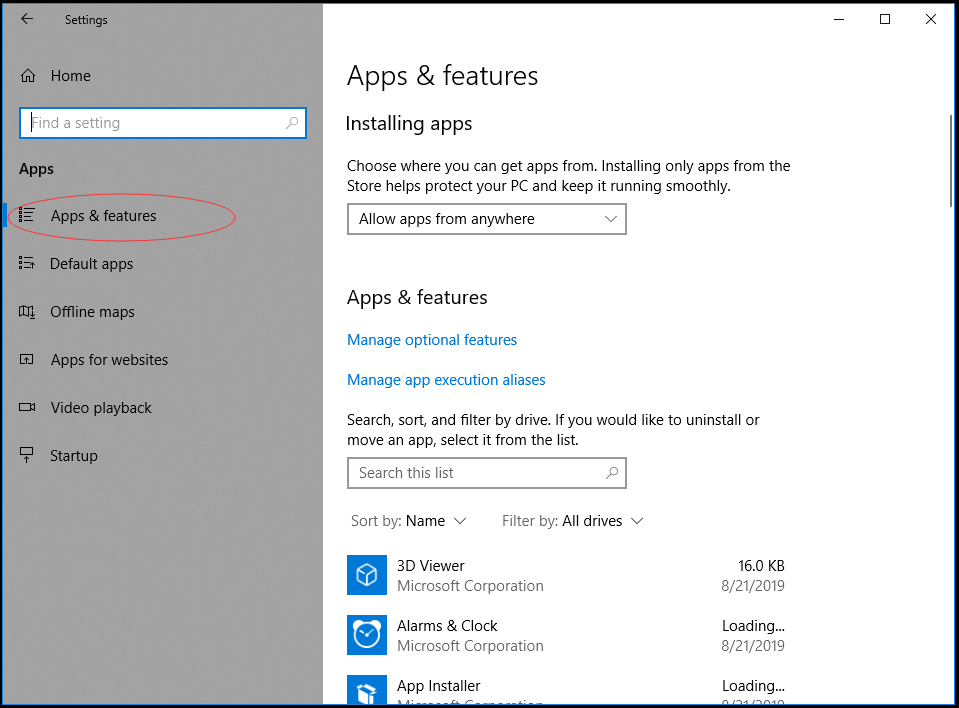 3. Select ESET Security and Click Uninstall to start the removal process. If things go well, you will see a pop-up window informing you that the app and its related info will be uninstalled, then you just need to hit Uninstall to confirm the removal. However, in some cases (like the image shows below), ESET Security won't let you uninstall and you will see the Uninstall option is grayed out. Don't worry. Keep reading and find out the proper way to remove ESET Security completely.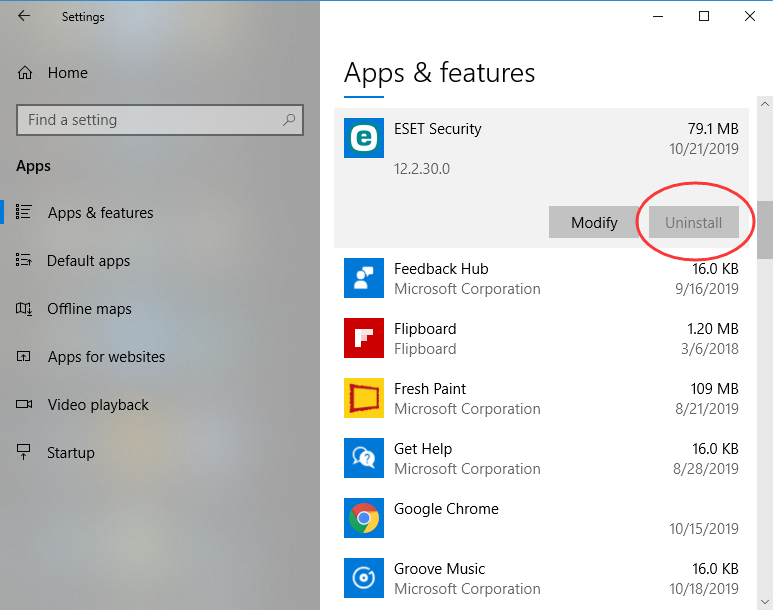 Method 3: Removal through the Add/Remove Programs Control Panel
If the above methods are not working, you can try uninstalling ESET Security from Control Panel first. Control Panel option is still available in the latest edition of Windows 10. Please note that you can only uninstall the desktop programs from here, but not apps. Do the following:
1. Right-click on the Start button (Windows logo button at the bottom-left corner of the desktop) and then click Control Panel to open it.
2. Go to Programs and Features (or go to Uninstall a Program if your Control Panel is in the category view).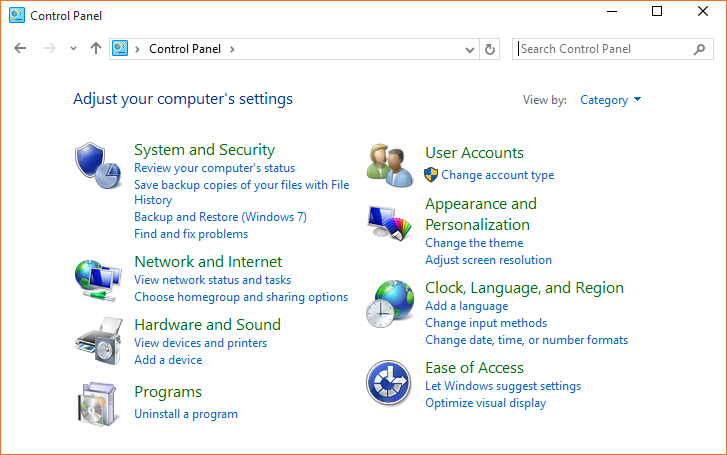 3. Right-click ESET Security and select Uninstall.
In general, you'll see a pop-up window asking if you're sure you want to uninstall this program, click Yes and click through the uninstall wizard, if applicable. After it is done, it will prompt the users to Reboot their computer to take effect.
But, in some cases, Windows may refuse you to uninstall ESET Security from control panel. You may find ESET Security is not listed in the Programs and Features window or there is no "Uninstall" option to let you perform the task. In that case, you can try to ESET Security manually instead.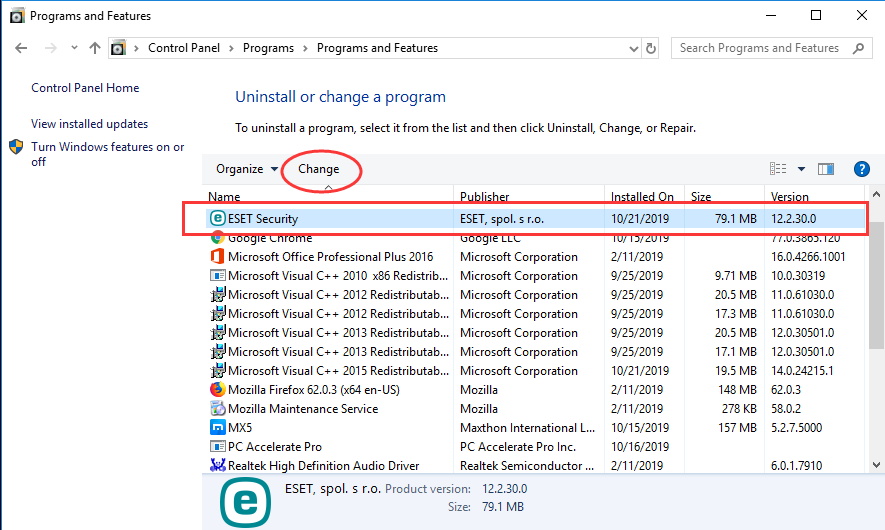 How to uninstall ESET Security manually?
When ESET Security fails to uninstall, you can manually remove the program and all its leftovers like registry keys, folders, files and shortcuts. Here is our detailed guide on how to manually remove ESET Security and all its traces:
1. Open the Start menu, type %programfiles% and %appdata% into the search bar – strictly one at a time – and hit enter.
This will open system folders where you can find the related folders for ESET Security. Delete the ones with the name of ESET Security from both system folders.
2. Next, you have to delete ESET Security entries from Windows registry:
Press Windows + R, and type in regedit in RUN box, then press Enter. It'll open Registry Editor.
Locate the following keys:
HKEY_CURRENT_USER\Software\ESET
HKEY_LOCAL_MACHINE\Software\ESET
HKEY_LOCAL_MACHINE\Software\Microsoft\Windows\CurrentVersion\
If these branches have registry entries that are responsible for ESET Security, delete them. To do this, right-click on the desired file and click Delete.
Note:
Make sure to back up before deleting anything from Windows Registry so that you can restore it later if something goes wrong. If the above-mentioned methods didn't help in uninstalling ESET Security, then it's better to rely on a third-party uninstaller.
Uninstallor is one of the most excellent uninstallers offering the de facto solution to completely uninstall any unwanted app & bloatware from your PC & Mac. No matter you want to remove regular software, stubborn crapware or even nasty toolbar, it scrubs away every trace of unwanted programs, meaning permanently deleting unnecessary files, cleaning and optimizing your Registry on your machine in just one click.
The Most Recommended Method to Uninstall ESET Security in Windows 10
Method 4: Uninstall ESET Security Using A Removal Tool (Recommended)
Compared to the Windows built-in uninstaller, Uninstallor can do a better job of deleting an application completely. Here's how it works:
1. Download & Install Uninstallor on your machine. Uninstallor is quite lightweight and the installation is straightforward. The only option you have is to let you create a program shortcut to the desktop.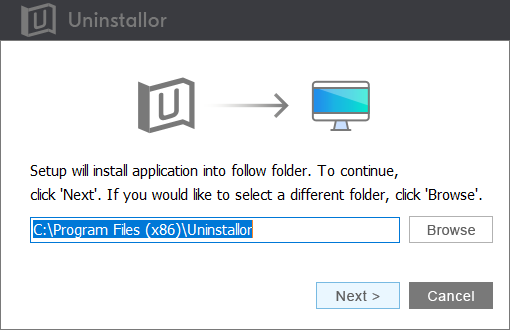 2. Launch Uninstallor. Uninstallor comes with an easy-to-use interface and it lets you switch to dark or light theme as you wish.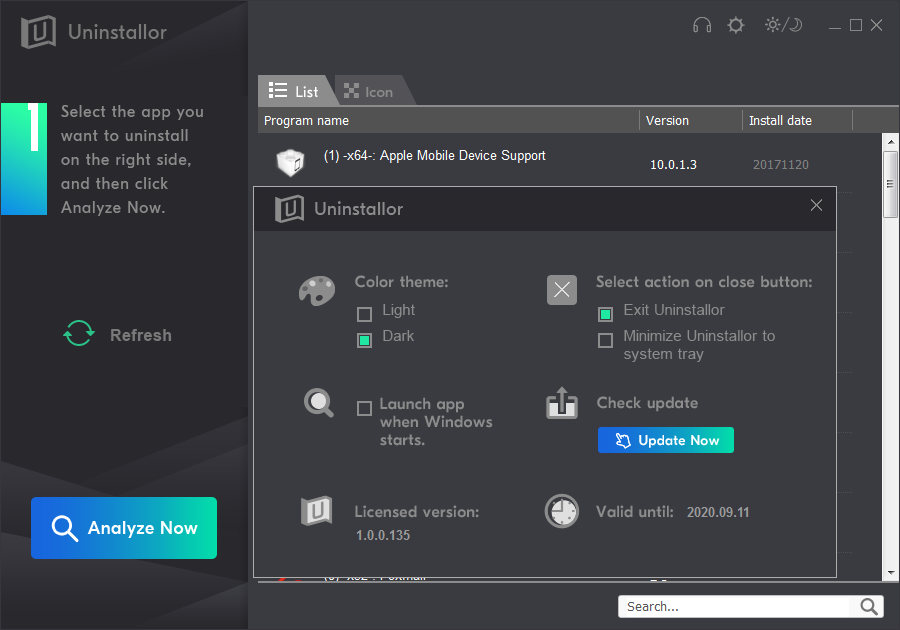 3. Scan for program components. Select the program that you want to uninstall and click on "Analyze Now" button. It will analyze all the data associated with the uninstalled program and searches for all leftover files.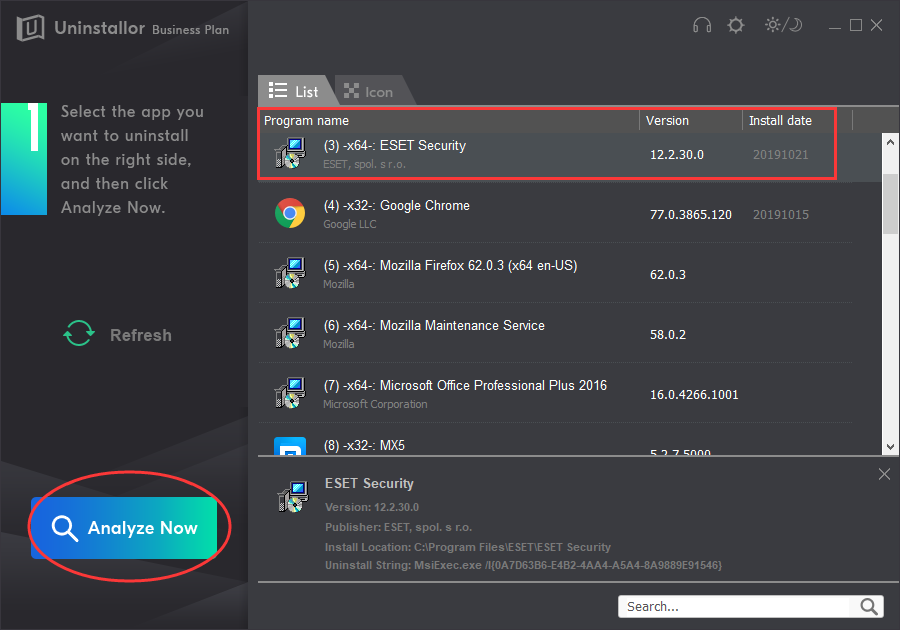 4. Perform complete removal. Click on "Uninstall Now" button to uninstall ESET Security completely. Next, you need to click on "Yes" to confirm the removal.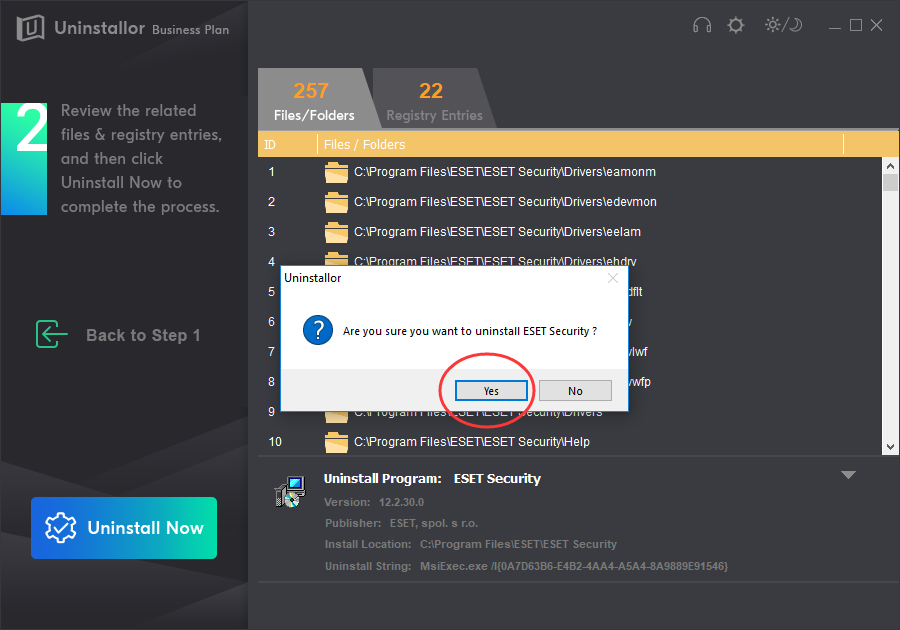 5. Wait until the uninstallation is completed. When the process is completed, restart your computer to take effect.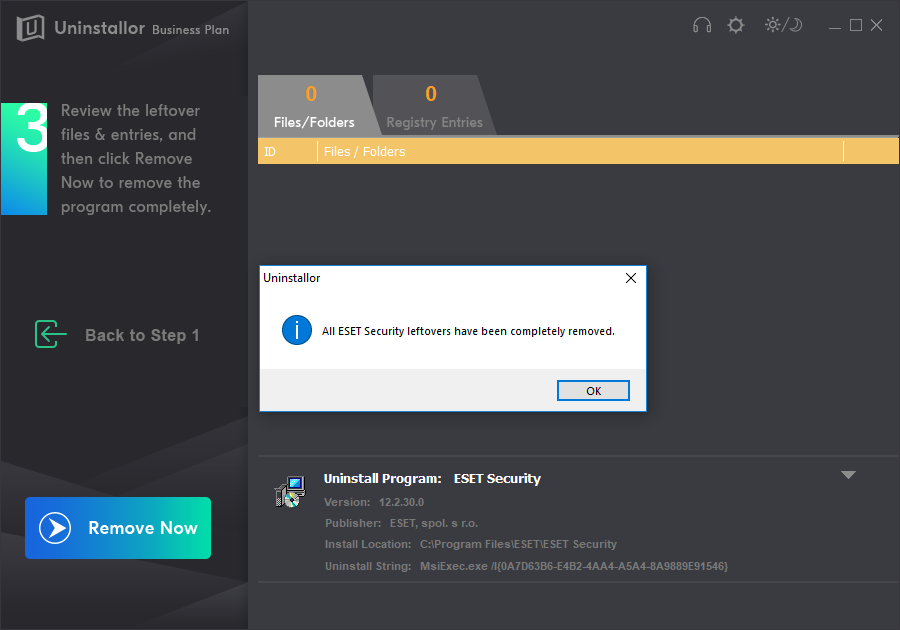 Video Guide on How to Uninstall Eset Security in Windows 10
Conclusion:
Anti-virus programs are an essential tool for protecting your Windows system from malware, which is particularly crucial on business systems with important data. ESET Security might be a good option, but there are also chances you might need to uninstall it, especially when you are switching to another new antivirus program. You'll need to make sure ESET Security is completely uninstalled first because multiple antivirus programs will interfere with each other if they're installed on the same system. By following the instructions above, you've probably mastered the right procedure to uninstall ESET Security and delete its leftovers. It is worth mentioning that if you have never edited or cleaned your registries in the past, you'd better avoid doing it yourself because any mistake could kill your server, or any of its most important functions. Uninstallor will be a better option because it can analyze all the associated files and registry of ESET, and offer a complete removal. It ensures you leave nothing behind on your Windows PC when you uninstall ESET. If you have any difficulties in uninstalling ESET, or the above methods don't work for you, you are welcome to contact our expert for instant help.
Published by Tony Shepherd & last updated on November 14, 2019 1:58 am