Can't uninstall Dropbox from Windows PC? Why Dropbox failed to uninstall? I have been trying to uninstall Dropbox from my laptop, it's a Dell with Windows 10 Pro. When I tried to Add/Remove Programs section of the Control Panel to uninstall it, it said please wait while Dropbox is being installed. There was a progress bar below but it stuck at a half complete and didn't move on anymore. I still can find Dropbox shows up in my file explorer. Can anyone tell me how to fix this? How do I uninstall Dropbox and delete all its traces from my Windows 10 computer?

What is Dropbox?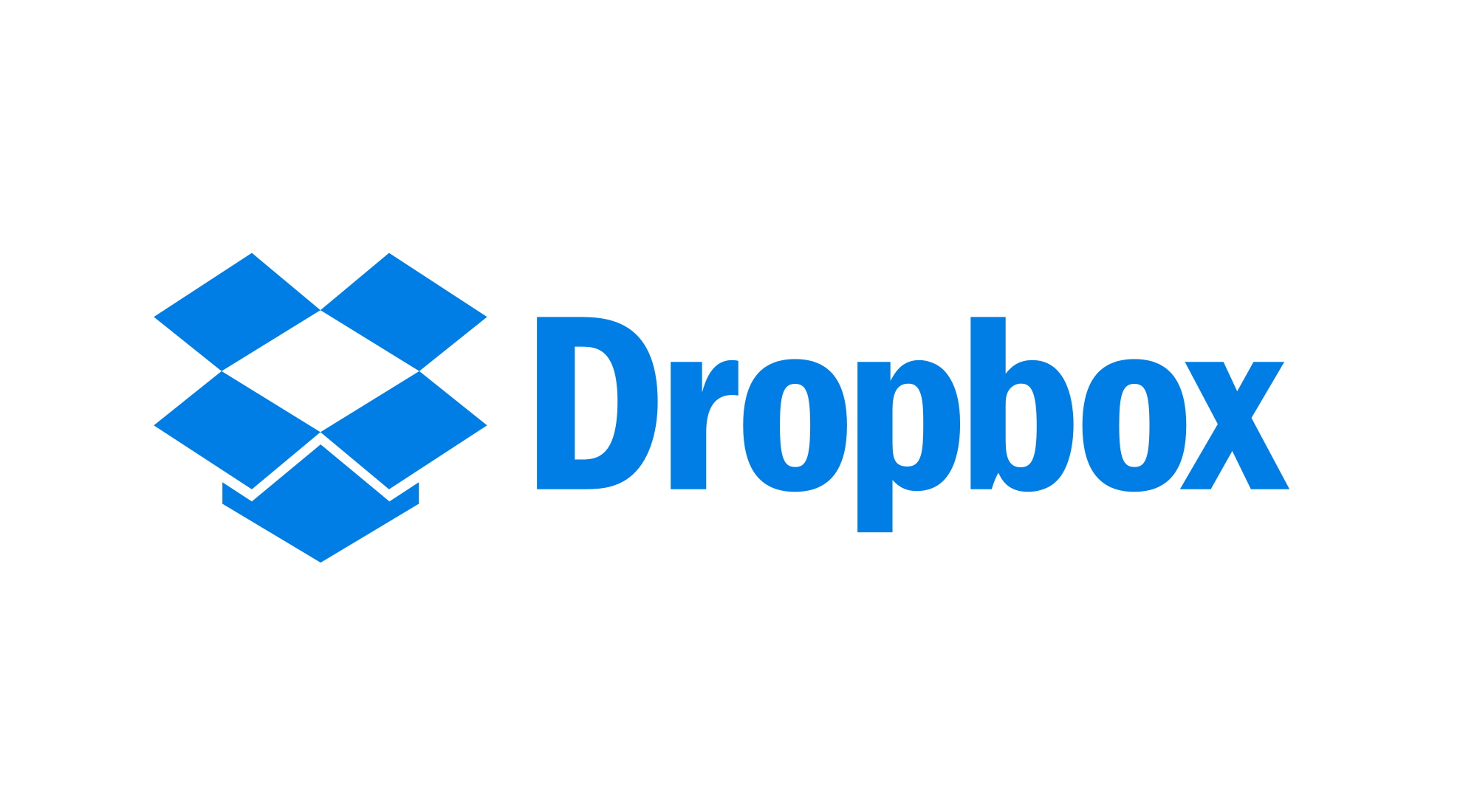 Dropbox is an easy-to-use and low-cost cloud storage platform operated by the American company Dropbox, Inc. It is headquartered in San Francisco, California. Dropbox currently has more than 500 million users worldwide and it is transforming the way people work together, from the smallest business to the largest enterprise. Storing your files in the cloud has many advantages. It lets you organize and tackle your work efficiently. With Dropbox you can easily synchronize contents between several different computers and even mobile devices. That means, you can view your files from any phone, tablet or computer that is connected to the Internet. There is no size limit on files you upload to Dropbox, but it may take serveal hours if you want to upload larger files. Besides, Dropbox lets you quickly transfer large files to anyone, without worrying about space or access. This application is availble for Mac, Windows and Linux, and the iOS, Android, BlackBerry and Kindle Fire mobile devices. It gets a lot of praise for its simple and elegant design. Dropbox is free to use if you sign up for a Basic account on its website. However, it only comes with 2GB of storage. But you can earn 500MB for each friend you refer to Dropbox who actually signs up for the service, up to 16GB total, or 32 referrals. On security front, Dropbox cloud uses AES-256 encryption to make sure data transferred using the service are protected so that users can rest assured their files are safe and secure always. If you're ready to take the plunge into storing your files, photos and more in the cloud, Dropbox is the way to go that provides a fast, efficient way to store and share files from nearly any location.
Dropbox Uninstallation Problem
Dropbox is one of the best-known cloud and file-sharing services but it is not good for everyone. The biggest Dropbox concern for people who want to uninstall Dropbox is due to the notorious hackings of Dropbox. The type of things businesses store on the cloud are usually the most likely thing targeted and exploited. In addition, for users who have a large database of files in Dropbox's cloud, they might struggle with the underwhelming search functionality and would like to try other cloud storage services instead.
Uninstalling Dropbox is supposed to be an easy task. Go to the remove/uninstall list in Control Panel and hit Uninstall button, then it will be gone. However, this method could leave a problem to your system, which is the residuals of Dropbox still stay in the PC eating up system resources. And in some case, Dropbox uninstallation doesn't work there. When you hit Uninstall option, you only get an error "Dropbox failed to uninstall". What to do then? How do you uninstall Dropbox and delete all its trace completely? Follow the instructions below & Use the most effective method to remove Dropbox and its traces from your PC now. 
How to Completely Uninstall Dropbox on Windows 10?
Method 1: Removal from Start Menu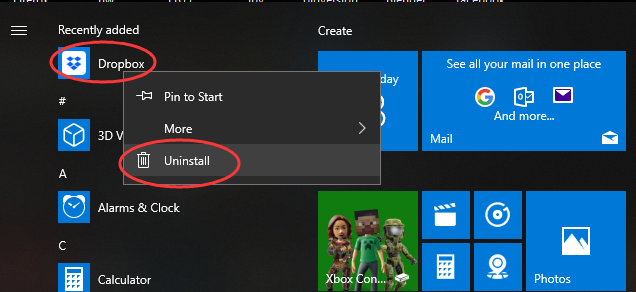 The quickest way to get rid of Dropbox from Windows 10 is to head to the Start menu. Click on Start -> All apps, then right-click on Dropbox. After that, click Uninstall from the drop-down menu that appears, follow any uninstall wizards that appear. Done! If you can't find Dropbox in the Start menu, try the alternatives below.
Method 2: Removal from The Settings Menu
In some cases, you cannot find an app or program that you want to uninstall in the Start menu. So, you can try this way to remove it from the Settings Menu.
1. Go to Start->Settings.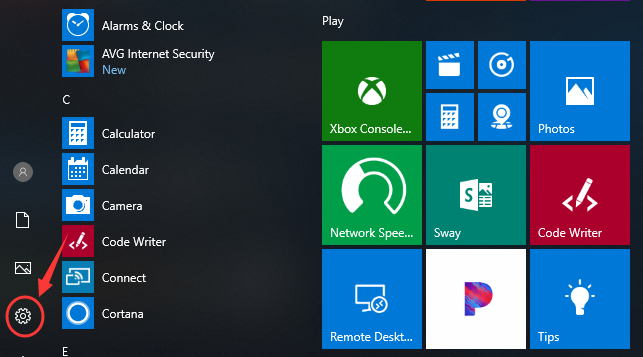 2. Choose System and then click Apps & features. Here, you'll see a full list of applications and programs on your computer. Locate Dropbox, and if you can't find it quickly, you can use the search box at the top of the screen to search for it.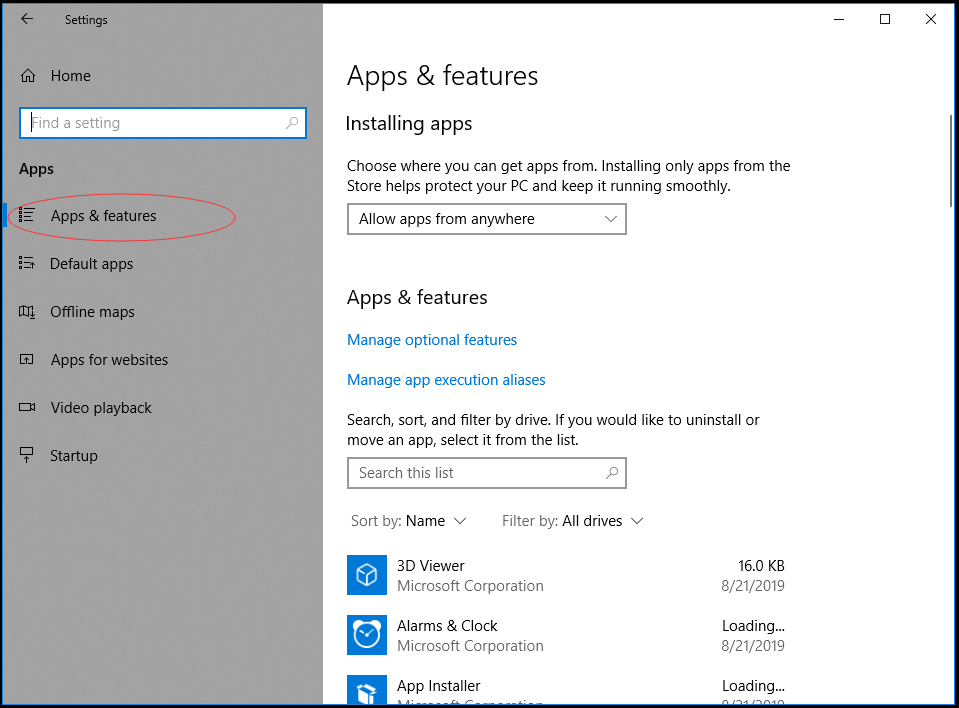 3. Highlight Dropbox and Click Uninstall to start the removal process. You will see a pop-up window informing you that the app and its related info will be uninstalled. Hit Uninstall to confirm the removal.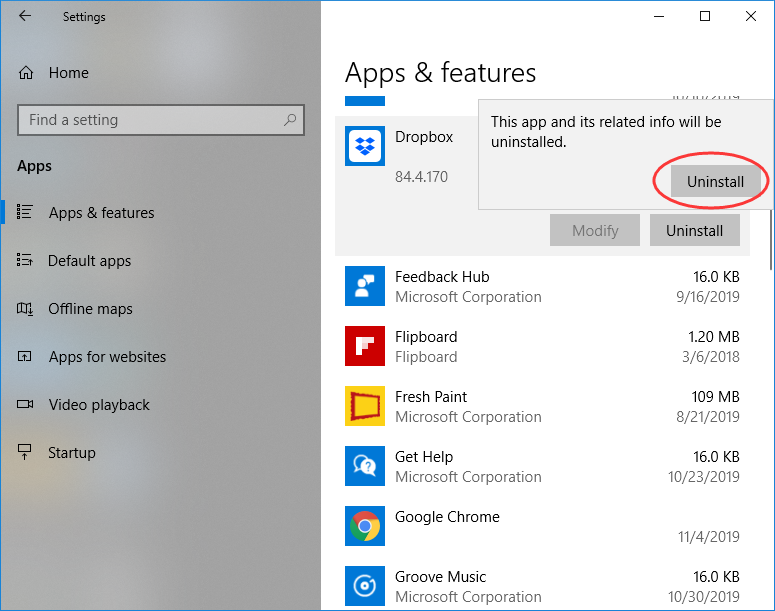 Method 3: Removal through the Add/Remove Programs Control Panel
If you prefer using Control Panel, that option is still available in the latest edition of Windows 10. However, from the Control Panel, you can only uninstall the desktop programs, not apps. Do the following:
1. Right-click on the Start button (Windows logo button at the bottom-left corner of the desktop) and then click Control Panel to open it.
2. Go to Programs and Features (or go to Uninstall a Program if your Control Panel is in the category view).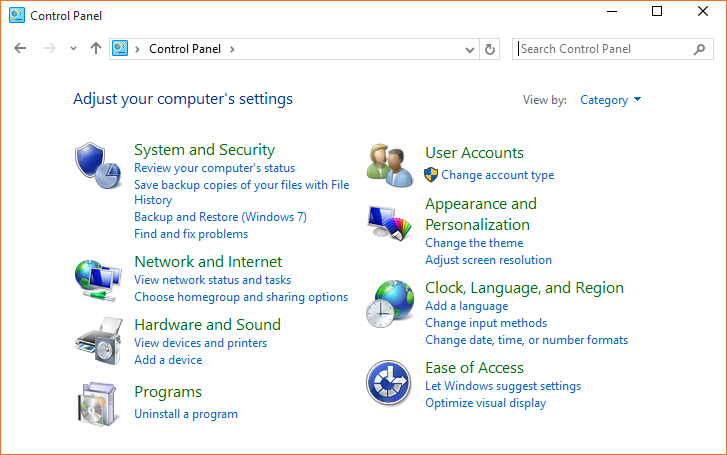 3. Right-click Dropbox and select Uninstall. You'll see a pop-up window asking if you're sure you want to uninstall this program, click Yes and click through the uninstall wizard, if applicable. After it is done, it will prompt the users to Reboot their computer to take effect.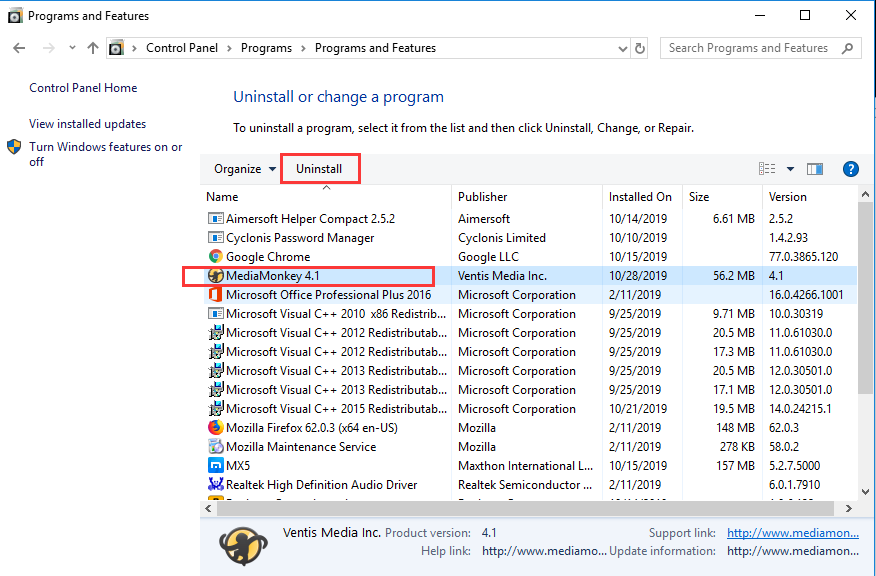 (IMPORTANT) One More Step – To Manually Delete Dropbox Leftovers:
Until now, you must have unininstalled Dropbox from your PC, but that's not enough, you have to delete all its leftovers like its folders, temp files, settings, desktop icon, registry entries etc manually. So, in the next step, you have to be very careful because it requires expertise to complete. The Windows Registry is one of the most important components of your Windows computer, because all configuration information related to hardware and software installed on your computer is stored within it. Once you delete a wrong registry key, it may crash down your PC immediately. Therefore, the manual removal instruction is for Advanced Users ONLY. And it's important to do a backup before deleting anything from the Windows registry so that if something goes wrong, you can restore the system to its earlier state.
Check the following folders and delete associated files first.
Next, you have to delete Dropbox entries from Windows registry:
Press Windows + R, and type in regedit in RUN box, then press Enter. It'll open Registry Editor.
Locate the following keys:
 HKEY_LOCAL_MACHINE\Software\Microsoft\Windows\CurrentVersion\Uninstall
If you can find any keys with the name of Dropbox, just delete such keys.
Note:
Can't locate which files or registry keys belong to Dropbox? Don't worry. Our tech will help you figure it out and get rid of Dropbox in a couple of minutes! 
Method 4: Uninstall Dropbox Using Uninstallor  (Recommended)
You can either manually remove it or use an automated tool that will carry out the uninstallation process for you. Among the two methods, it has been proven that the automatic way is the most effective process of uninstalling Dropbox. Here we recommend users download Uninstallor. This automated uninstall tool is designed to scan through your system and clean unwanted programs without leaving any trace that may have been left. Here is how it works:
1. Download & Install Uninstallor on your machine. Uninstallor is quite lightweight and the installation is straightforward. The only option you have is to let you create a program shortcut to the desktop.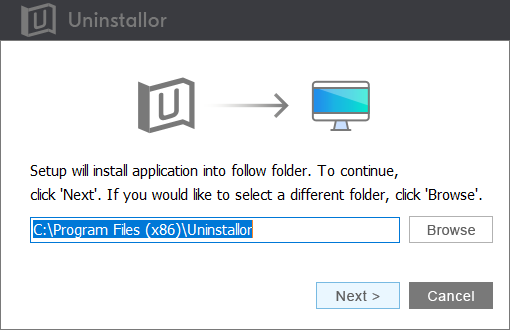 2. Launch Uninstallor. Uninstallor comes with an easy-to-use interface and it lets you switch to dark or light theme as you wish.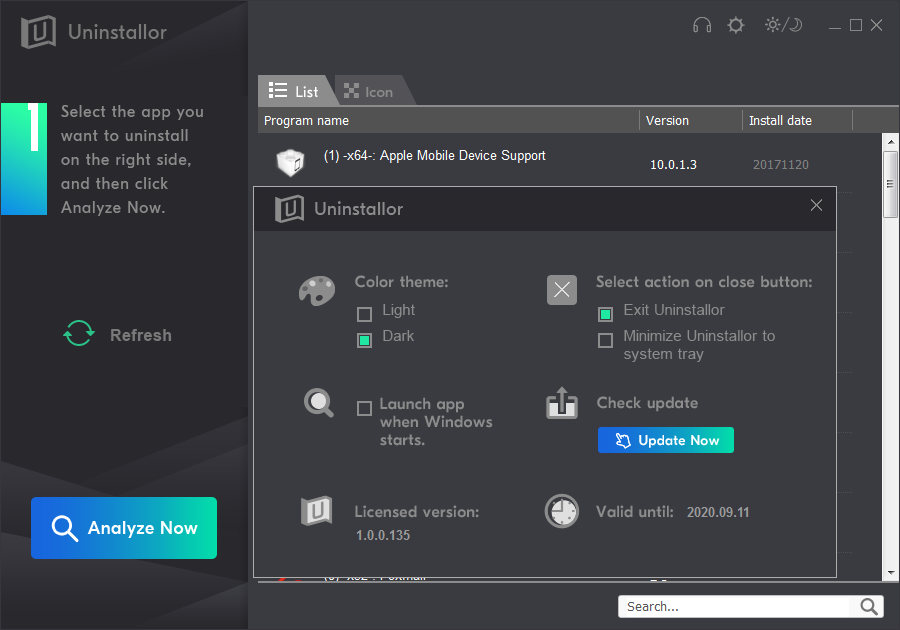 3. Scan for program components. Select Dropbox and click on "Analyze Now" button. All the Dropbox connections will be listed in the right panel automatically.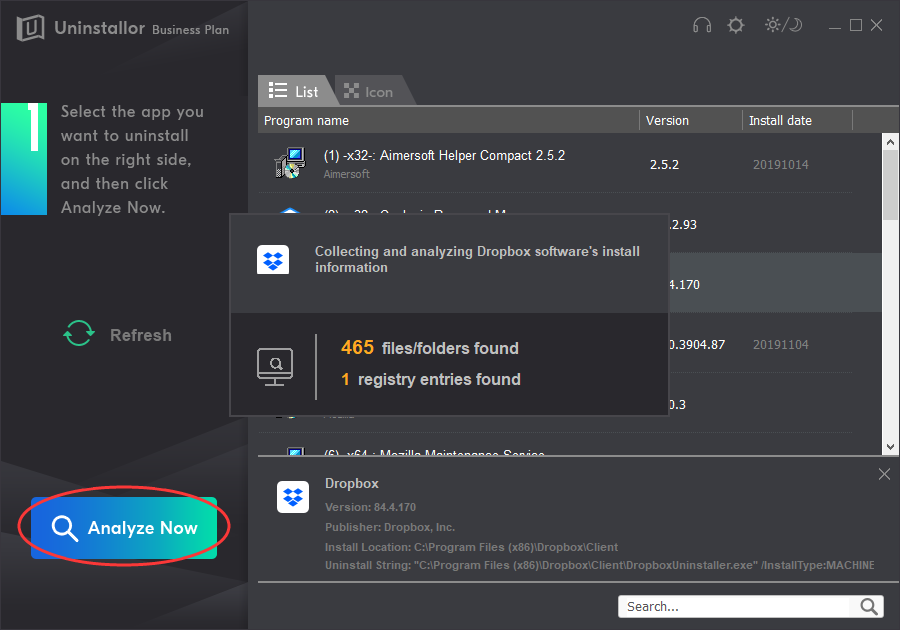 4. Delete leftovers. Click on "Uninstall Now" button to uninstall Dropbox's traces completely. Next, you need to click on "Yes" to confirm the removal.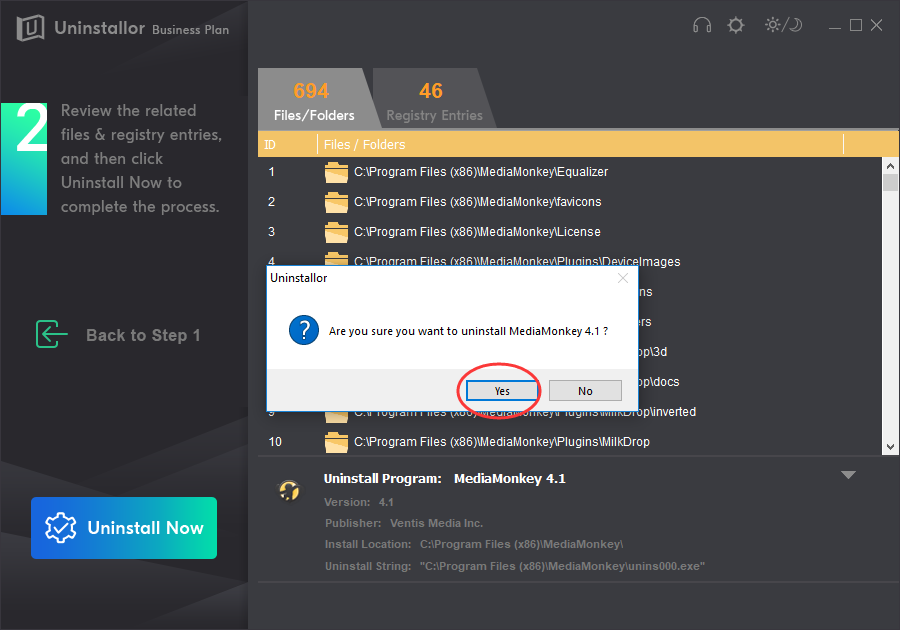 5. Uninstall completed. When the uninstalling process is completed, you will see how many items have been cleared. Just restart your computer to take effect.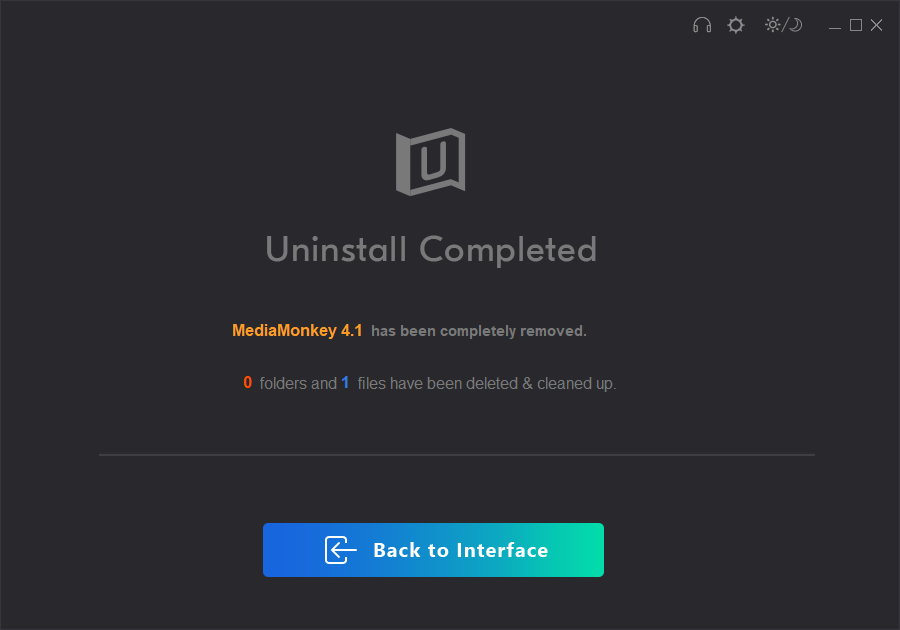 Video Guide on How to Uninstall Dropbox
Conclusion:
If you have been looking for the most effective solution to uninstall Dropbox from the hard drive, I'm sure you have found it. Once Dropbox is removed completely, the Dropbox menu will no longer appear and it will no longer sync the files in your Dropbox folder, and your file hosting service will effectively reach its end. In this post, we've mentioned the way on how to manually remove Dropbox or use an automated tool like Uninstallor. If you are not an advanced user who can handle manual removal job, you'd better try Uninstallor first. It is a lightweight, professional and fast uninstaller that helps you uninstall Dropbox or other unwanted programs without effort. You also can use it to delete nasty toolbars, or bloatware to free up the storage space on your Windows 10 PC. It can quickly scan your machine to locate Dropbox and its leftover files, which allows you to remove it without completed steps. Download & Give it a try!
Published by Tony Shepherd & last updated on December 6, 2019 2:32 am