"A couple of days ago I noticed that the Brave browser pinned in the taskbar on my Windows 10 PC. I never asked for it and it just invaded my computer in a secretive manner. I tried to unpin it and then uninstalled it from the control panel, thought I got rid of it, but this morning I found Browser folder is still in my C drive that won't let me delete it. How do I completely uninstall Brave and its leftovers?"
Brave is a fast, private and secure web browser available for all platforms including PC, Mac and even mobile. If you are having problem in uninstalling Brave browser or you suspect Brave is not fully removed, read through this tutorial and find the proper way to uninstall Brave browser permanently. The instructions below ensure no leftovers will leave behind to crud up your hard drives and clutter your system registry. Make sure that you follow these steps carefully.

Learn More About Brave Browser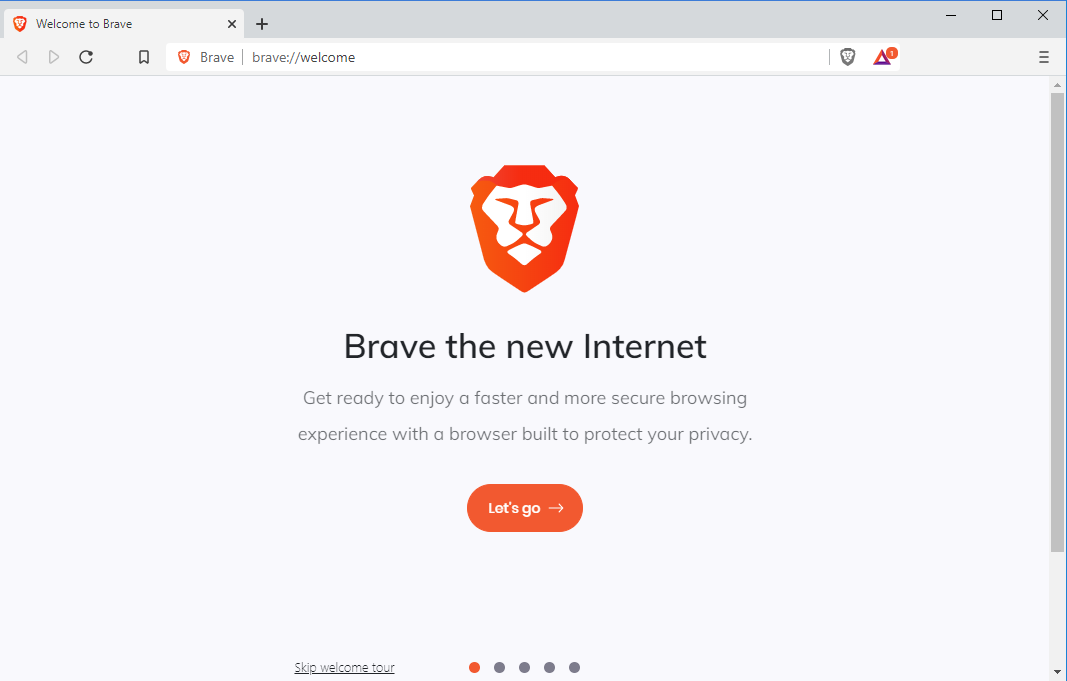 Founded in 2015, Brave is a free and open-source web browser developed by Brave Software, Inc. It is based on the Chromium web browser, the open-source code that forms the basis for Google Chrome, so it also supports for Chrome extensions and themes. The browser is available for Windows, macOS, Linux, Android, and iOS. Since its foundation, Brave has been dedicated to offering a more traditional, tabbed browser experience to its users. It promises to be a privacy-focused browser by blocking third-party ads, trackers, and autoplay videos automatically. In addition, Brave is optimized to reduce your footprint on the internet, offering a set of tools that protects you from being continuously tracked. That is why Brave has more than 10 million monthly active users today. Brave is still growing at an exponential rate.
With Brave, you can say goodbye to those annoying pop-ads or inappropriate ads while you are browsing. Apart from that, another impressive thing of Brave browser is that it is able to block tracking Pixels and tracking Cookies. Brave always keeps privacy, security, performance and ad-annoyance in mind and it has some pretty nifty privacy protections baked in. Now Brave browser offers two private modes: Private Window and Private Window with Tor. The first is like any other browser's private or incognito mode which simply blocks traces of your browsing activity from being left on your computer, but it doesn't keep your web activity or identity private from your network administrator, your ISP or the websites you visit. For added security, Brave has a private mode that uses Tor, also known as The Onion Router, a browser that hides your information by encrypting it and passing it through three relays. This makes it virtually impossible for the website you are accessing to know that the request came from your computer. Brave also has a Fingerprinting Protection mode, which is a big win towards safety and privacy. Brave works hard to ensure that you will not be tracked online and it provides users a delightful browsing experience. Brave also came with its own cryptocurrency, called BAT (or Basic Attention Token), allowing users to support their favorite and most visited websites. Although it is a much younger browser, its progress toward becoming a genuine alternative to Google Chrome, IE, Firefox and Opera browser.
Why Some People Still Need to Uninstall Brave?
Today Brave has gotten more attention than many other major browsers. However, some people still need to uninstall Brave browser from their computer. The main reasons that people get rid of Brave include:
Its compensation program and the opt-in add is not clear to people.
The interface is outdated and people don't like it anyway.
Poor plugin support.
High CPU usage when browsing the Internet.
Brave browser keeps crashing, freezing or it just somehow stops working.
Brave browser has been hijacked badly.
If you are experience any of the above problems when using Brave, you might need to completely uninstall Brave browser from your machine. However, uninstalling Brave doesn't always go as planned. You may encounter problems like: Windows refuses to uninstall Brave because of an error has occurred, the uninstall option in Windows Control Panel Add/Remove Program is grayed out and you can't click on it to start the uninstallation process. Sometimes, you even can't see Brave in the Programs and Features list. For this matter, you can follow the below instructions to remove Brave permanently from your computer.
Uninstall Brave Browser on Windows
Are you ready to uninstall Brave browser now? For Windows users, there are two methods to uninstall Brave browser completely. You can either utilize a professional uninstall utility to quickly and totally remove Brave and its leftovers, or instead, carry out a standard uninstallation and then manually delete its associated files and registry without spending a penny. However, if you choose to get rid of Brave manually, you need to have some expertise in editing the registry because if done improperly it can cause problems with your computer. Here are the steps you need to go through:
Uninstall Brave Manually on Windows 10 (For Advanced Users Only)
Step 1: Uninstall Brave software itself. (Choose one of the three options to follow)
a) Click on Windows Start menu -> Choose All Apps-> Locate Brave. Right-click on Brave and choose Uninstall.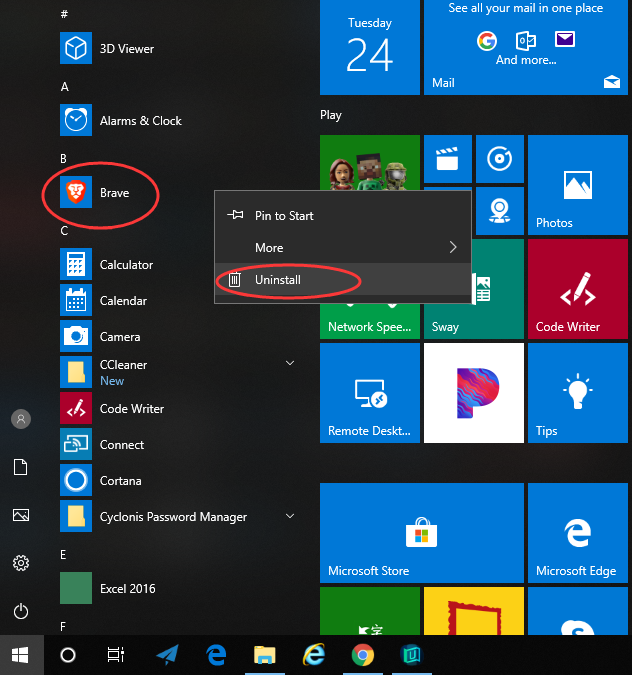 b) Or you can click Start menu -> choose Settings (the gear in the left) -> System -> Click Apps & Features. This will open a list of all your applications. Highlight Brave and select Uninstall. You will see a pop-up window informing you that the app and its related info will be uninstalled, then you just need to hit Uninstall to confirm the removal.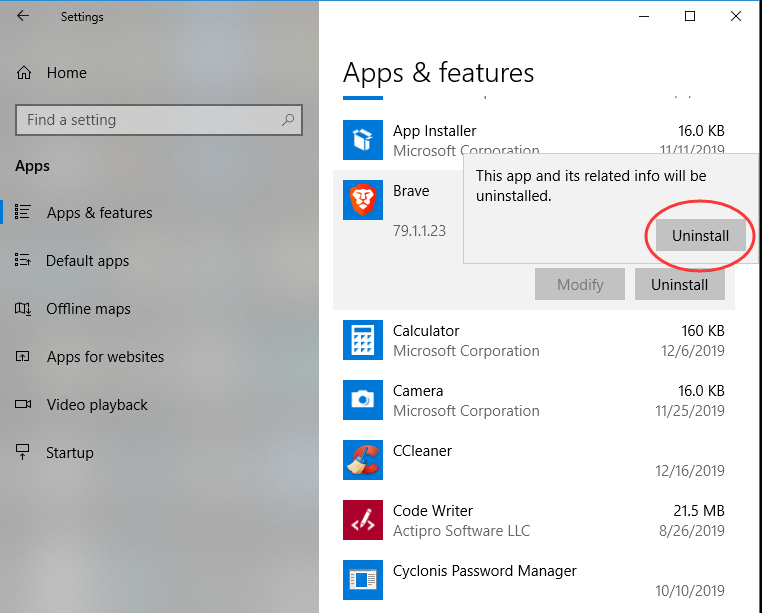 c) You also can uninstall Brave using Add/Remove Programs feature in Control Panel. To do this, Right-click on the Start button -> click Control Panel -> Click Programs and Features (or Uninstall a Program if your Control Panel is in the category view) -> Select Brave and click Uninstall. You'll see a pop-up window asking if you're sure you want to uninstall this program, click Uninstall and Check the "Also delete browsing data" box to go through the uninstall wizard.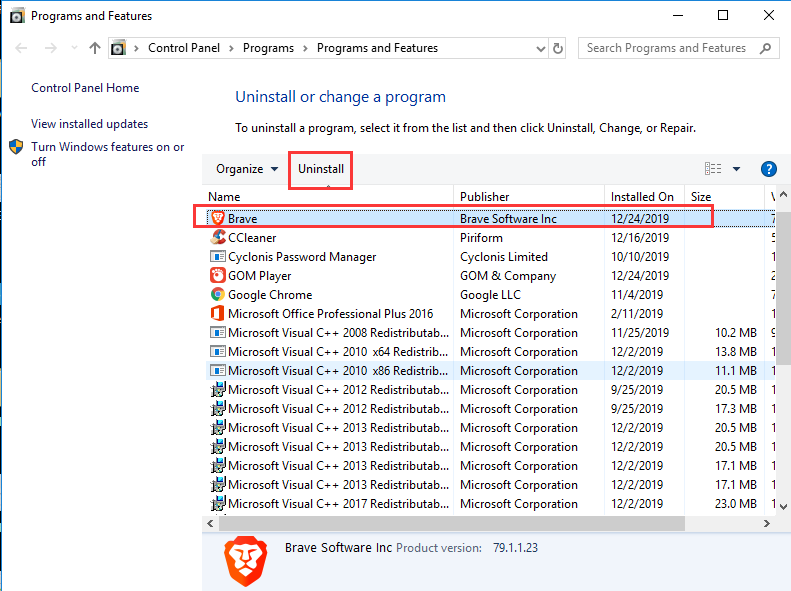 Step 2: Delete Brave browser leftovers manually. (IMPORTANT STEP)
*For added protection, please back up the registry before you modify it.*
Check the following folders and delete associated files first.
C:\Program Files (x86)\Brave
C:\Users\[Your User Name]\AppData\Roaming\
C:\ProgramData\Microsoft\Windows\Start Menu\Programs\Startup
Next, you have to delete Brave entries from Windows registry.
Press Windows + R, and type in regedit in RUN box, then press Enter. It'll open Registry Editor.
Navigate to the Registry key: (You do this by clicking on the plus sign next to each key in the path to expand the path below it. )
HKEY_LOCAL_MACHINE\Software\Microsoft\Windows\CurrentVersion\Uninstall.
HKEY_LOCAL_MACHINE\SOFTWARE\Microsoft\Windows\CurrentVersion\Uninstall\ (For 32-bit system users)
HKEY_LOCAL_MACHINE\SOFTWARE\Wow6432Node\Microsoft\Windows\CurrentVersion\Uninstall\ (For 64-bit system users)
Delete any keys related to Brave. When it asks for confirmation, click on the Yes key.
Now that you have already known how to uninstall Brave browser and all its data manually. If you need assistance, you can click the below button to contact experts for help.
Uninstall Brave Automatically with a Third-Party Uninstaller (RECOMMENDED)
Sometimes, it can be difficult to read plain text file that tells what files need to be deleted and where they are located, and if you don't have enough computer skills, you hardly find the associated registry keys that Brave browser created. In this case you can rely on a third-party uninstall software like Uninstallor instead. As a lightweight app that available for both Windows and Mac, Uninstallor uses advanced algorithms to scan all the leftovers automatically and helps you remove any unneeded, problematic or stubborn apps in a second. Wanna try it out? Let's see how it works.
1. Download & Install Uninstallor.
Uninstallor is quite lightweight and the installation is straightforward. The only option you have is to let you create a program shortcut to the desktop.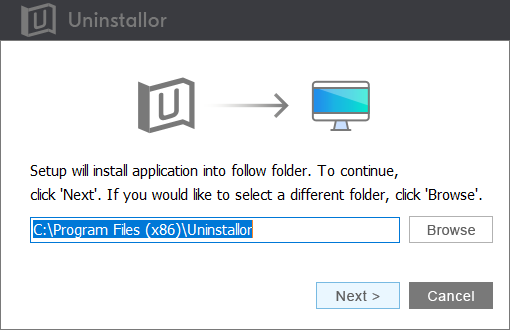 2. Analyze.
When Uninstallor is started, its main window fills with the programs installed on your computer. Select Brave and click on Analyze Now button, then it will analyze all the data associated with Brave Browser and search for all its leftover files.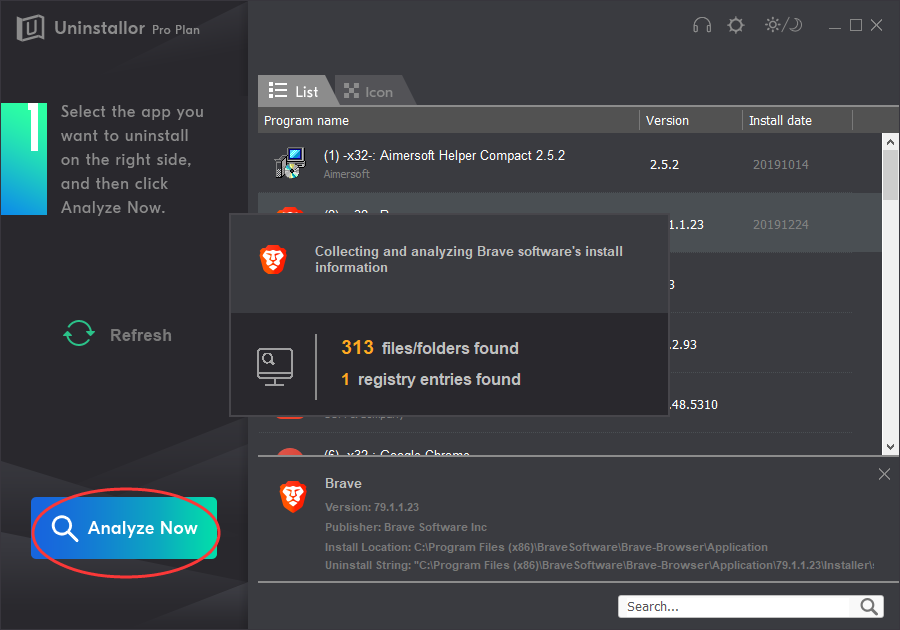 3. Uninstall.
Click on Uninstall Now button to uninstall Brave completely. Next, you need to click on "Yes" to confirm the removal.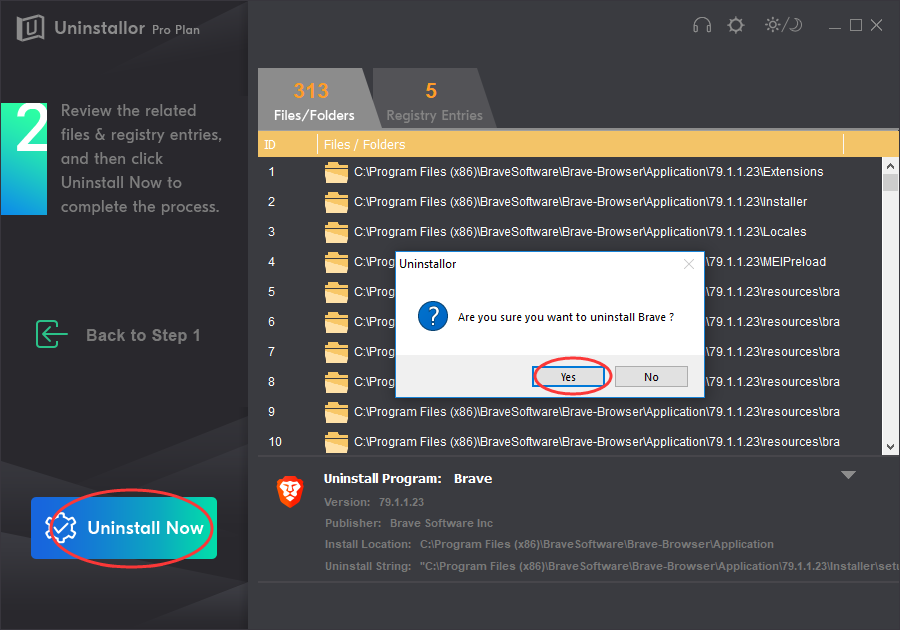 4. Remove.
Click Remove Now to clear all the components for Brave.  You will need to click Yes again to confirm the leftover files and registry entries removal. Next, reboot your PC to take effect.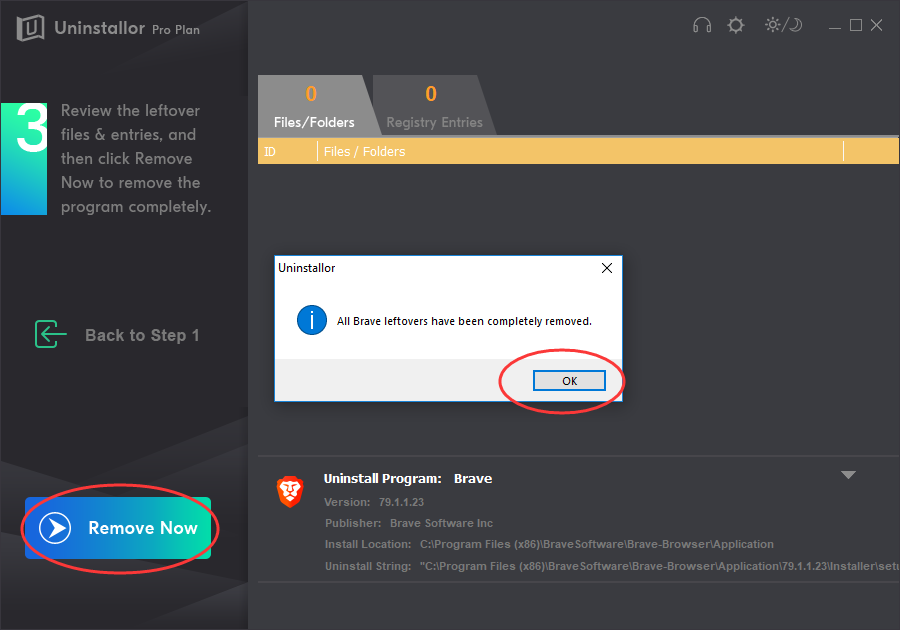 Conclusion:
Brave is an open-source browser based on the Chromium browser engine that helps to deactivate ads and remove trackers while browsing, leveraging online privacy to the next level. You may have downloaded Brave because your friends or someone else recommended it to you. You may want to try it out for yourself because you've heard many good things about it. But, when you decide to no longer use it, or you're having problems with it, you may want to uninstall it. To completely uninstall Brave, using Windows built-in uninstaller or simply drag it to the trash is not enough because whenever you install a program, it will install many files and probably some registry entries in the system. You have to delete them manually or these leftovers will slow down your computer, or worse, bring about unexpected instability. Whether you are on Windows PC or Mac, you can rely on Uninstallor to take care of all the leftovers that left behind after a program was uninstalled. It is fast and effective. Uninstallor scans and deletes every last trace of Brave automatically, saving yourself a huge amount of time and hassle while uninstalling unwanted programs. Give Uninstallor a whirl for 30 days.
Published by Tony Shepherd & last updated on January 20, 2020 7:39 am