If you are looking for the best way to uninstall Avast Secure Browser, then you've come the right place. These days many people complained that Avast Secure Browser installed itself on their PC without any permission. They said Avast Secure Browser has changed their browser settings, and attempted to set itself as the default browser. Also, the browser started automatically every time the system launched, acting aggressively like a virus. The worse thing is, Avast Secure Browser cannot be uninstalled by regular means. It seems Avast products promote this browser heavily, and it doesn't let you easily remove Avast Secure Browser. If you are experiencing problems in uninstalling Avast Secure Browser, then this removal instruction might help you easily get rid of Avast Secure Browser completely.
About Avast Secure Browser: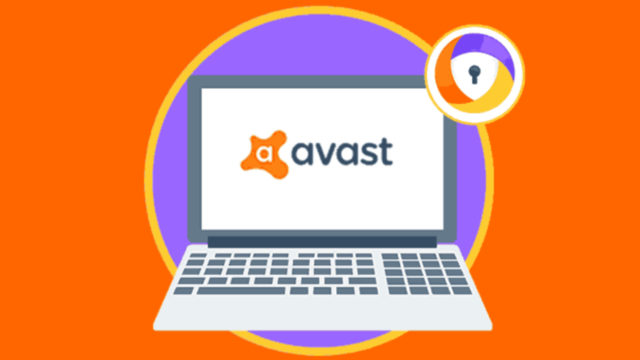 Avast Secure Browser is a free Chromium-based web browser produced by Avast – a Czech multinational cybersecurity software company. It is the successor of the Avast SafeZone Browser. Avast Secure Browser is available on Windows 10, 8.1, 8 and 7 and its purpose is to give people greater protection and control over their privacy, identity and personal data when browsing the internet. Avast Secure Browser has a simple and clutter-free interface, and it introduces many great features to provide users with a private, fast and safe browsing. For example, its enhanced Anti-Fingerprinting technology helps disguise your digital fingerprint to prevent websites from identifying and tracking you without your consent. And you can also check your email addresses and login credentials with a database of data breaches which has been integrated directly into the browser thanks to its Hack Check feature. Compared to other web browsers, Avast Secure Browser has a special function called Webcam Guard that prevents websites from getting a hold of your webcam. It also protects you while you are doing online banking or online shopping. Enable the Bank Mode and it helps stop hackers from seeing what you type, so nobody can steal your passwords, credit card numbers and other personal data. There are many extra features like Anti-Tracking, which prevents websites from tracking users online through cookies and other trackers, Extension Guard that can be used to block unwanted add-ons or plugins and more. As a fairly new browser, Avast Secure Browser's offerings are very impressive. Generally, Avast Secure Browser is offered to eligible new users of Avast Antivirus products, but you can download it separately from its official website.
Why Some People Dislike Avast Secure Browser and Need to Uninstall It?
People take it for granted that Avast Secure Browser is a good product as it is created by the global leader in digital security. But in fact, Avast Secure Browser is not much loved. Most people still prefer the most mainstream browsers, like Chrome or Firefox. On the one hand, they question about the safety and security of this new browser and they are not sure if it is ok to use Avast Secure Browser to shop online or for online banking, and on the other hand, they hate the way that Avast Secure Browser installs on their computer and its aggressive behavior. Most people find themselves unconsciously install Avast Secure Browser together with other Avast products. Apparently, Avast Secure Browser is hidden among the optional components during the installation procedure so the user downloads it without any consent. Once it gets inside a computer, it starts loading at startup and changing browser settings. This is a serious problem for people who don't need Avast Secure Browser. If you have Avast Secure Browser installed without consent and need to remove it from your PC, don't hesitate to follow the removal instructions below and restore your default browser back to your favorite one.
The Most Common Problems During Uninstallation Procedures
Can't uninstall Avast Secure Browser from your PC? What if Avast Secure Browser won't uninstall from control panel? In fact, uninstalling Avast Secure Browser doesn't always go as planned. You may encounter the following problems during the uninstallation process:
Can't find Avast Secure Browser in Programs and Features.
Avast Secure Browser is still running and it won't let you uninstall it even though you have closed everything.
Uninstall Option is grayed out in Windows Control Panel Add/Remove Program.
Avast Secure Browser traces left behind after the uninstallation.
The product remains active after uninstallation.
An error has occurred. Not all the files of Avast Secure Browser are removed entirely.
Don't worry. Whether you are having any of the above problems in uninstalling Avast Secure Browser, you can get benefits from this article which will provide you the easiest methods on how to remove Avast Secure Browser completely and quickly.
Best Ways to Uninstall Avast Secure Browser
The following contains two methods of removing the Avast Secure Browser – manually and automatically. The first method is a manual process and it involves in handling system files and registry entries. It requires you to have excellent computer skills. The second method is easier and it saves you time and energy by removing Avast Secure Browser's components and leftovers automatically. Even you are a computer illiterate, you can get Avast Secure Browser removal done quickly. Both methods are helpful when you attempt to perform the uninstall procedure outlined in using the Uninstall or Add/Remove Programs utility and it failed.
*Before you get started, make sure all your Avast Secure Browser windows and tabs are closed and export any bookmarks you want to keep.
Uninstall Avast Secure Browser Manully on Windows 10 (For Advanced Users Only)
Step 1: Uninstall Avast Secure Browser program itself. (Choose one of the three options to follow)
a) Click on Windows Start menu -> Choose All Apps-> Locate Avast Secure Browser. Right-click on Avast Secure Browser and choose Uninstall.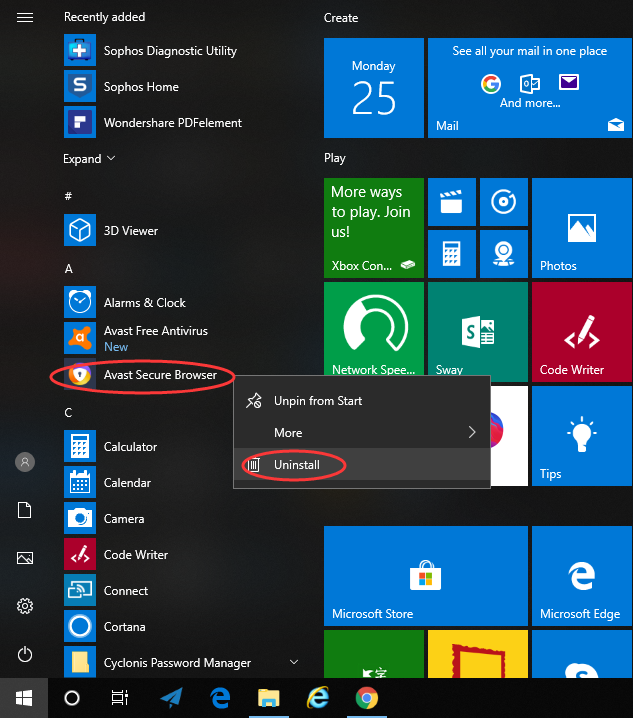 b) Or you can click Start menu -> choose Settings (the gear in the left) -> System -> Click Apps & Features. This will open a list of all your applications. Highlight Avast Secure Browser and select Uninstall. You will see a pop-up window informing you that the app and its related info will be uninstalled, then you just need to hit Uninstall to confirm the removal.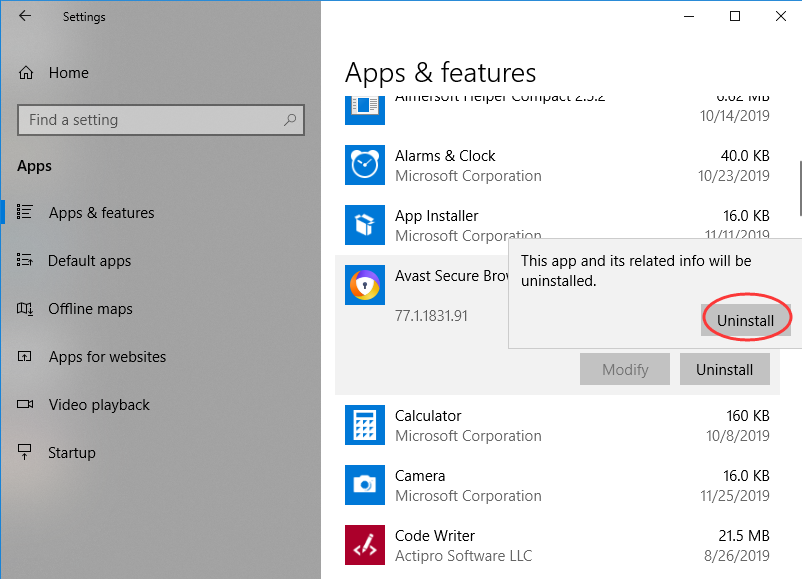 c) You also can uninstall Avast Secure Browser using Add/Remove Programs feature in Control Panel. To do this, Right-click on the Start button -> click Control Panel -> Click Programs and Features (or Uninstall a Program if your Control Panel is in the category view) -> Select Avast Secure Browser and click Uninstall. You'll see a pop-up window asking if you're sure you want to uninstall this program, click Yes and click through the uninstall wizard, if applicable. Next, wait for the progress bar to get to the end and Avast Secure Browser to disappear.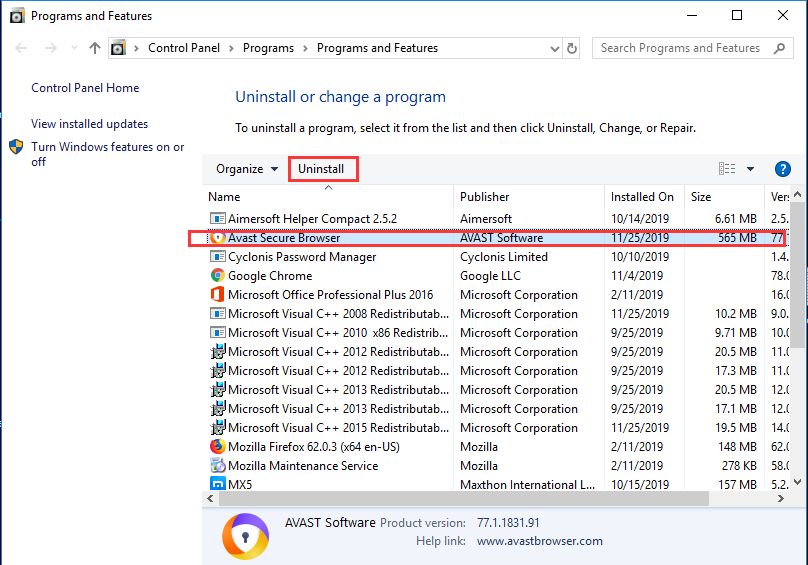 Step 2: Delete Avast Secure Browser leftovers manually. (IMPORTANT STEP)
Check the following folders and delete associated files first.
Press the Windows logo key + S shortcut on your keyboard.
Type %programfiles%, %AppData%, and %Temp% in sequence into the Search box
It will open ProgramData folder, AppData folder and Temp folder.
See if there are any folders there that have the name of Avast Secure Browser. Delete such folders.
Next, you have to delete Avast Secure Browser entries from Windows registry.
Press Windows + R, and type in regedit in RUN box, then press Enter. It'll open Registry Editor.
Locate the following keys:
HKEY_CURRENT_USER\Software\Microsoft\Windows\CurrentVersion\
HKEY_LOCAL_MACHINE\SOFTWARE\Microsoft\Windows\CurrentVersion\
HKEY_LOCAL_MACHINE\SOFTWARE\Wow6432Node (64-bit system users will also need to check this extra key)
If you can find any keys with the name of Avast Secure Browser, just delete such keys. Can't find Avast Secure Browser associated files and registry? You can try the best uninstaller to remove every trace of Avast Secure Browser automatially, leaving nothing behind. For any problems, don't hesitate to contact our expert for help.
Uninstall Avast Secure Browser Automatically with a Third-Party Uninstaller (RECOMMENDED)
Uninstalling Avast Secure Browser manually from your PC is quite a lengthy process. However, there is an easier way. Uninstallor allows you to uninstall any app, including web browsers, at the click of a button. It scans your files, folders, and/or Registry entries automatically and displays every trace of Avast Secure Browser left on your system. Here's how to use it:
1. Download & Install Uninstallor.
Uninstallor is quite lightweight and the installation is straightforward. The only option you have is to let you create a program shortcut to the desktop.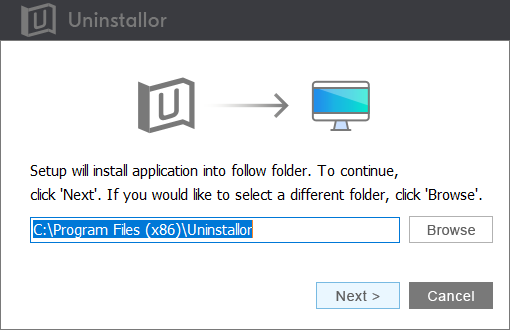 2. Analyze.
When Uninstallor is started, its main window fills with the programs installed on your computer. Select Avast Secure Browser and click on Analyze Now button, then it will analyze all the data associated with Avast Secure Browser and search for all its leftover files.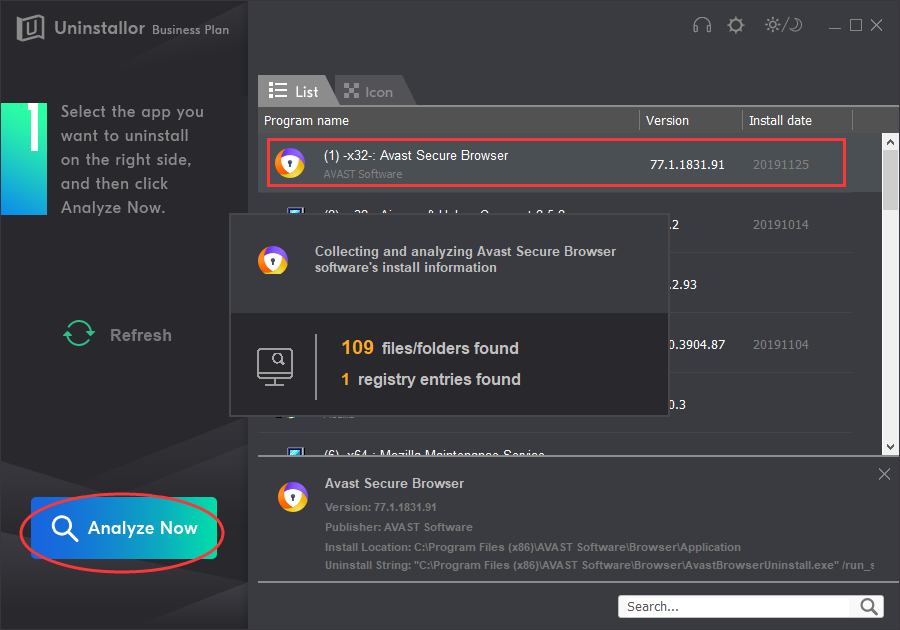 3. Uninstall.
Click on "Uninstall Now" button to uninstall Avast Secure Browser completely. Next, you need to click on "Yes" to confirm the removal.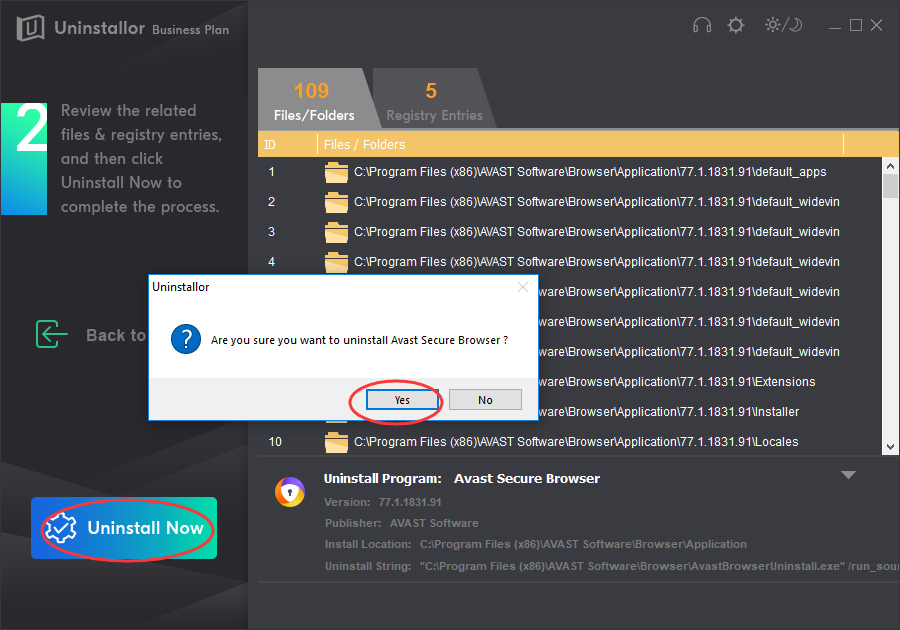 4. Remove.
Click Remove to clear all the components for Avast Secure Browser, then you'll see a report telling you how many items of Avast Secure Browser have been completely removed. Roboot your computer to take effect.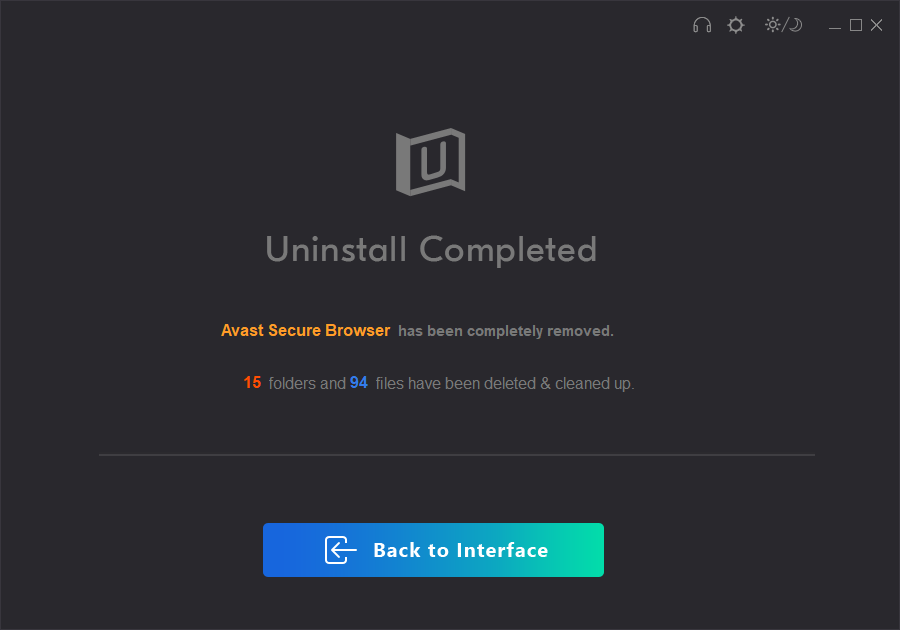 Video Guide on How to Uninstall Avast Secure Browser
Conclusion:
For most people, they will choose to uninstall a program from Start menu, Apps in the Settings, or Program and Features in the Control Panel, but that's not enough. Some users have reported that Avast Secure Browser was still loaded at startup despite being uninstalled from Programs and Features. This is because Windows uninstaller doesn't entirely remove the program. Residual files, folders, and registry settings still stay in the PC eating up system resources. If you are not experienced enough to remove Avast Secure Browser and its component manually by removing any potential registry keys from the Windows Registry, then Uninstallor will be the best option that helps you uninstall Avast Secure Browser quickly and completely. This is an all-in-one uninstallation utility that can be used to uninstall software, bundleware, browser extensions, and toolbars. It's powerful but very easy to use. Uninstallor is now available for Mac and Windows. It It is by far the best third-party uninstaller offered in the market. Download & Give it a try!
Published by Tony Shepherd & last updated on December 6, 2019 2:34 am