Adobe Photoshop 2020 uninstall failed? Why can't I uninstall Adobe Photoshop 2020 on my Windows PC? Photoshop is a wonderful program and it is the go-to image-editing tool for artists, illustrators and designers, but in some cases there is the need to completely uninstall Adobe Photoshop 2020. For example, you have to reinstall it from scratch to troubleshoot some problems, or you might want to switch to other free or cheaper software to manage and edit your images and you don't need photoshop anymore. Generally speaking, you can easily remove Photoshop by running its uninstaller in most cases. But, what if Adobe Photoshop 2020 isn't listed in the Control Panel, or you receive an error when you try to uninstall it? This article is written for those who are facing problems in uninstalling Adobe Photoshop 2020.
What's Adobe Photoshop 2020?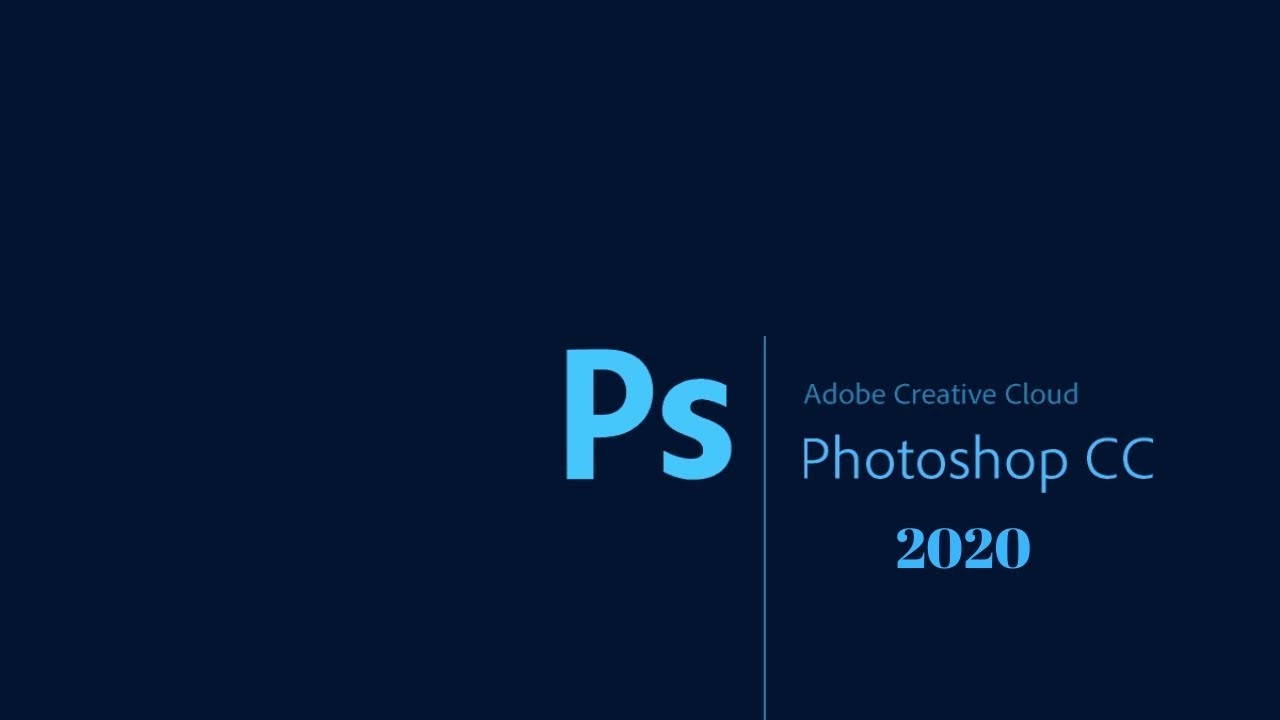 Adobe Photoshop 2020 is the most popular photo editing and manipulation software on the market that developed and manufactured by Adobe Systems Inc. It is a critical tool widely used for designers, photographers, web developers, graphic artists, and creative professionals. As one of the leaders in photo editing software, Adobe Photoshop 2020 can work across desktop and iPad, so you can do everyday edits or total image transformations wherever inspiration strikes. Adobe Photoshop 2020 provides a full of tools to let you better manipulate and edit images. For example, Photoshop's clone stamp tool allows you to duplicate part of an image; the shape tool allows you to create your own custom shapes; the pen tool enables you to fill, stroke or make selections from whatever you draw. Other tools include cropping, slicing, magic wand, lasso, eraser and marquee, among others. With Adobe Photoshop 2020, you can manipulate the color of an image, repair flaws, such as dust on the lens or red eyes, crop and draw images, play with color and effects, and remove people or objects within an image. When your image is edited or created, you can save or export it in a variety of file formats.
Adobe Photoshop 2020 on desktop and iPad is a free download, and includes a 30-day free trial. After that it is $31.49 per month if you pay monthly. If you choose the annual plan, you can get more savings. The annual plan paid monthly will be $20.99/month. Also, there is a discount for students. If you can prove that you're a student you can get a fantastic discount – $19.99 a month on the all Creative Cloud apps. This includes Photoshop, Lightroom, Premiere Pro and more 20+ apps in fact.
Why Some People Hate Adobe Photoshop 2020 and Need to Uninstall It?
There is no doubt that Adobe Photoshop 2020 is still the leader and industry standard for image editing software, but there are times you need to uninstall Adobe Photoshop 2020 from your machine. Some people uninstall it because they think the Adobe Creative Cloud app itself is buggy and intrusive, and sucks down computer resources since it is always running in the background. And they feel disappointed with Adobe Systems' switch to sell most of its software exclusively through subscriptions. Yes, Photoshop is expensive and not everyone can afford it. Therefore, after a 30-day free trial ends, a number of people choose to remove Adobe Photoshop 2020 and find other cheaper alternatives. When Adobe Photoshop 2020 becomes useless for you, or you just need to re-install it for some running problems, it is important to learn the correct way to remove the app completely on the computer.
Adobe Photoshop 2020 can use as much as 2GB of RAM, so completely removing t Adobe Photoshop 2020 is usually not a piece of cake for many reasons. That is why Adobe promotes another tool called Creative Cloud Cleaner to help people get rid of their Adobe products permanently. Commonly, you might encounter the following problems during the uninstallation process:
Can't uninstall Adobe Photoshop 2020 in Programs and Features because of unexpected errors.
Uninstall Option is grayed out in Windows Control Panel Add/Remove Program.
Adobe Photoshop 2020 traces left behind after the uninstallation.
Creative Cloud Cleaner doesn't work to remove Adobe Photoshop 2020.
It's frustrating when you are having any of the above problems while uninstalling Adobe Photoshop 2020. Adobe Photoshop 2020 takes up a lot of space inside your system. If you decide to no longer use it, you can follow the below instructions to clear it away completely.
Best Ways to Uninstall Adobe Photoshop 2020
The following contains two methods of removing Adobe Photoshop 2020 – manually and automatically. The first method is a manual process and it involves in handling system files and registry entries. It requires you to have excellent computer skills. The second method is easier and it saves you time and energy by scanning removing Adobe Photoshop 2020's components and leftovers automatically, but you need to install a program first. Both methods are helpful when you attempt to perform the uninstall procedure outlined in using the Uninstall or Add/Remove Programs utility and it failed.
Uninstall Adobe Photoshop 2020 Manually on Windows 10 (For Advanced Users Only)
Step 1: Uninstall Adobe Photoshop 2020 program itself. (Choose one of the three options to follow)
a) Click on Windows Start menu -> Choose All Apps-> Locate Adobe Photoshop 2020. Right-click on Adobe Photoshop 2020 and choose Uninstall.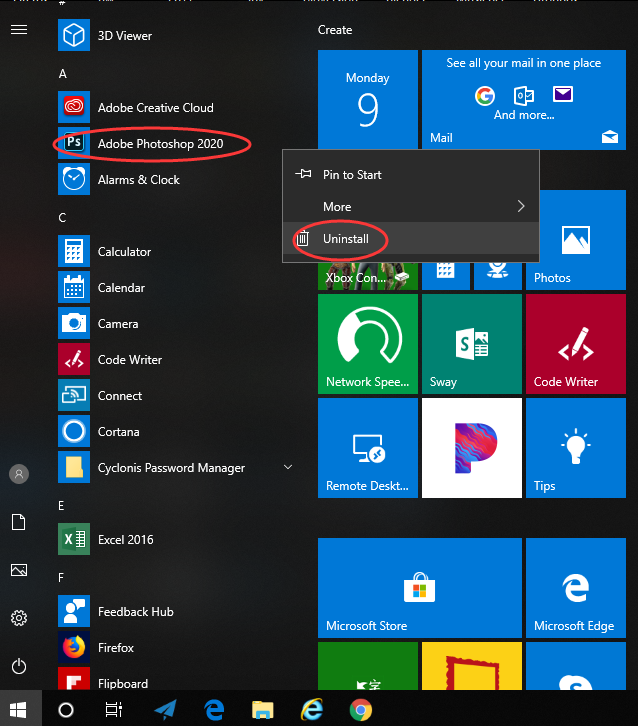 b) Or you can click Start menu -> choose Settings (the gear in the left) -> System -> Click Apps & Features. This will open a list of all your applications. Highlight Adobe Photoshop 2020 and select Uninstall. You will see a pop-up window informing you that the app and its related info will be uninstalled, then you just need to hit Uninstall to confirm the removal.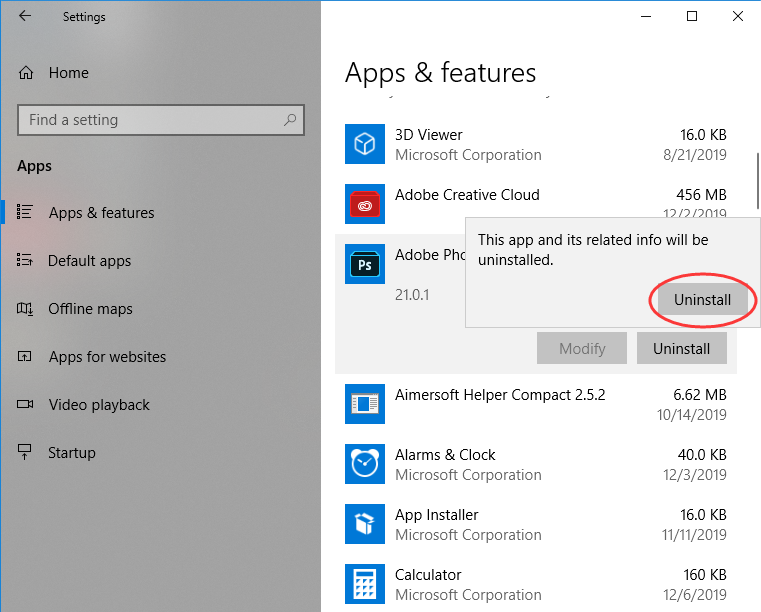 c) You also can uninstall Adobe Photoshop 2020 using Add/Remove Programs feature in Control Panel. To do this, Right-click on the Start button -> click Control Panel -> Click Programs and Features (or Uninstall a Program if your Control Panel is in the category view) -> Select Adobe Photoshop 2020 and click Uninstall. You'll see a pop-up window asking if you're sure you want to uninstall this program, click Yes and click through the uninstall wizard, if applicable.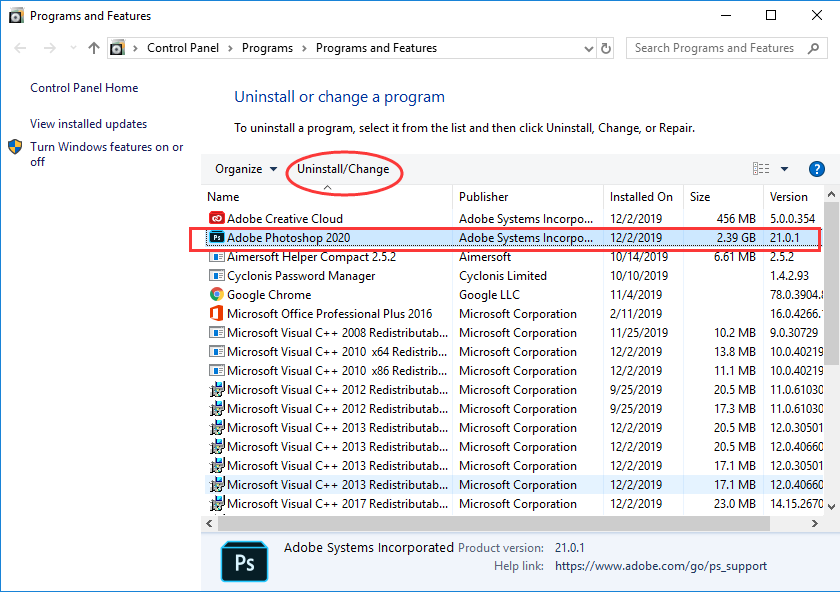 Step2: Uninstall Adobe Photoshop 2020 from Adobe Creative Cloud Desktop.
Launch Creative Cloud desktop app on your Windows.
Go to the Apps tab, select Adobe Photoshop 2020 on the list, click on the Gear icon, and choose Uninstall on the menu
Wait for the uninstall progress bar to get to the end and complete Adobe Photoshop 2020 uninstalling.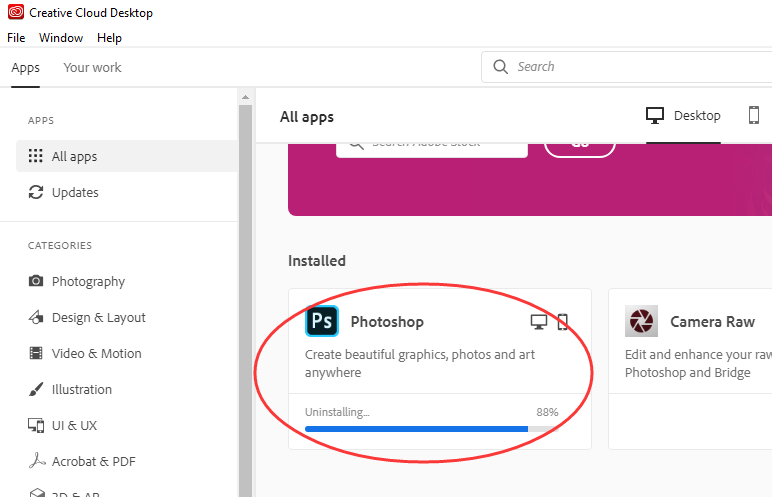 Step 3: Delete Adobe Photoshop 2020 leftovers manually. (IMPORTANT STEP)
Manually uninstalling ensures that Adobe Photoshop 2020 has been removed completely from your computer. Before you get started, you'd better back up any personal files you want to save from the following folders.
Check the following folders and delete associated files first.
C:\Program Files (x86)\Adobe\Adobe Photoshop 2020
C:\Program Files (x86)\Common Files\Adobe\Plug-Ins\
C:\Users\[Your User Name]\AppData\Roaming\Adobe\
C:\ProgramData\Microsoft\Windows\Start Menu\Programs\Adobe Photoshop 2020
Next, you have to delete Adobe Photoshop 2020 entries from Windows registry.
Press Windows + R, and type in regedit in RUN box, then press Enter. It'll open Registry Editor.
Before modifying the registry, please create a backup of the registry because Adobe doesn't provide support for problems that improperly modifying the registry cause. 
Locate the following keys:
HKEY_CURRENT_USER\Software\Microsoft\Windows\CurrentVersion\
HKEY_LOCAL_MACHINE\SOFTWARE\Adobe\
HKEY_LOCAL_MACHINE\SOFTWARE\Microsoft\Windows\CurrentVersion\Uninstall\ (For 32-bit system users)
HKEY_LOCAL_MACHINE\SOFTWARE\Wow6432Node\Microsoft\Windows\CurrentVersion\Uninstall\ (For 64-bit system users)
Delete any keys related to Adobe Photoshop 2020.
If you can't locate a particular file, folder, or registry entry on your computer, you can contact Experts for instant help, or you can consider a third-party uninstaller like Uninstallor to complete the Adobe Photoshop 2020 removal with just 3 easy steps.
Uninstall Adobe Photoshop 2020 Automatically with a Third-Party Uninstaller (RECOMMENDED)
Uninstallor is a powerful and effective uninstall utility, which provides a quick way to let you uninstall Windows apps, browser toolbars, bundleware and plug-in with no trace left behind, even when Windows "Add or Remove Programs" fails. It is lightweight and up and running quickly. Not only remove Adobe Photoshop 2020 program itself, it also scans and removes all leftovers easily and thoroughly with its powerful scan. Current version is available on both Windows and Mac.
1. Download & Install Uninstallor.
Uninstallor is quite lightweight and the installation is straightforward. The only option you have is to let you create a program shortcut to the desktop.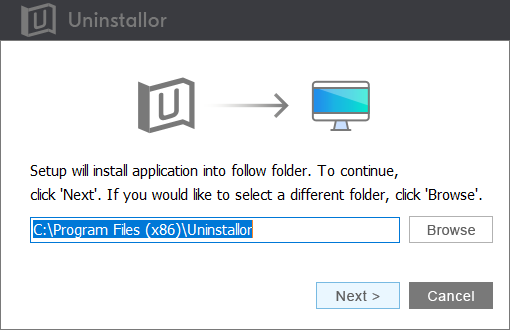 2. Analyze.
When Uninstallor is started, its main window fills with the programs installed on your computer. Select Adobe Photoshop 2020 and click on Analyze Now button, then it will analyze all the data associated with Adobe Photoshop 2020 and search for all its leftover files.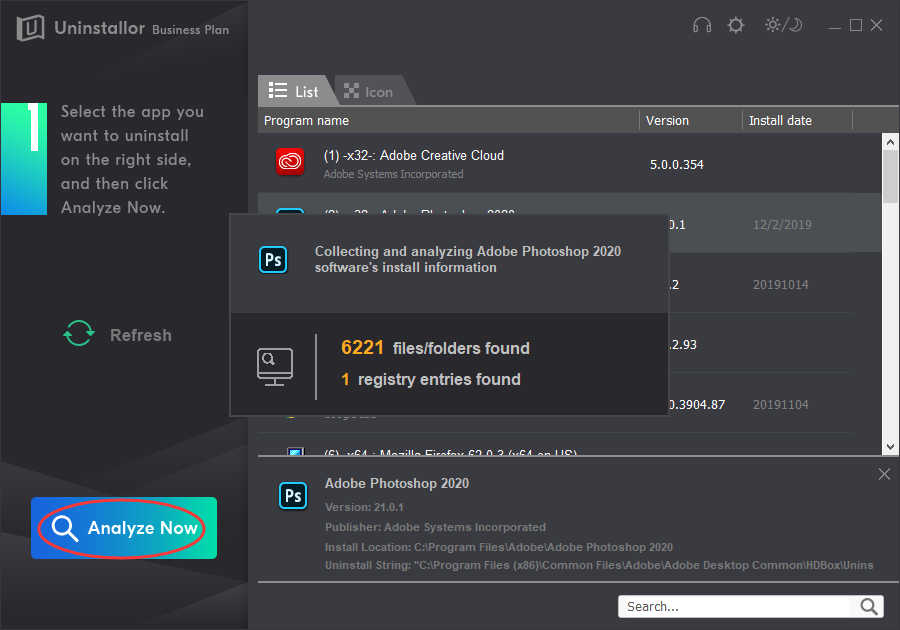 3. Uninstall.
Click on Uninstall Now button to uninstall Adobe Photoshop 2020 completely. Next, you need to click on "Yes" to confirm the removal.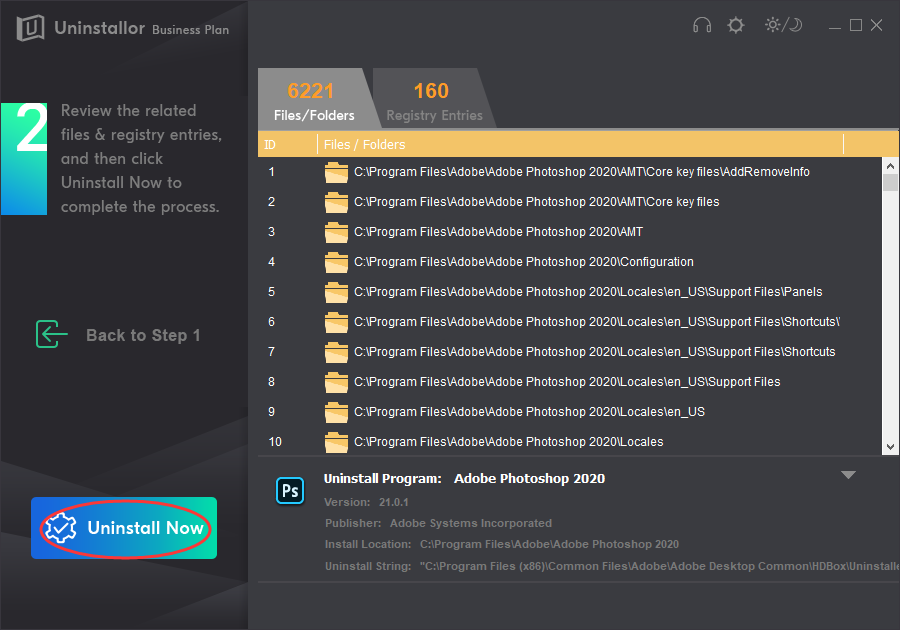 4. Remove.
Click Remove Now to clear all the components for Adobe Photoshop 2020.  You will need to click Yes again to confirm the leftover files and registry entries removal.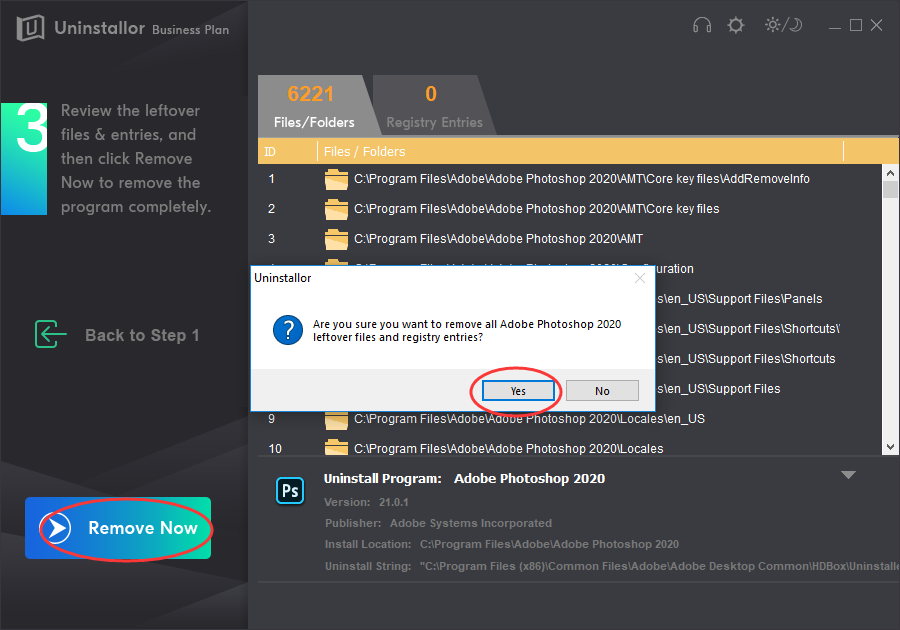 5. All Done.
When the uninstallation is completed, you'll see a page telling you how many items of Adobe Photoshop 2020 have been completely deleted and cleaned up. Roboot your computer to take effect.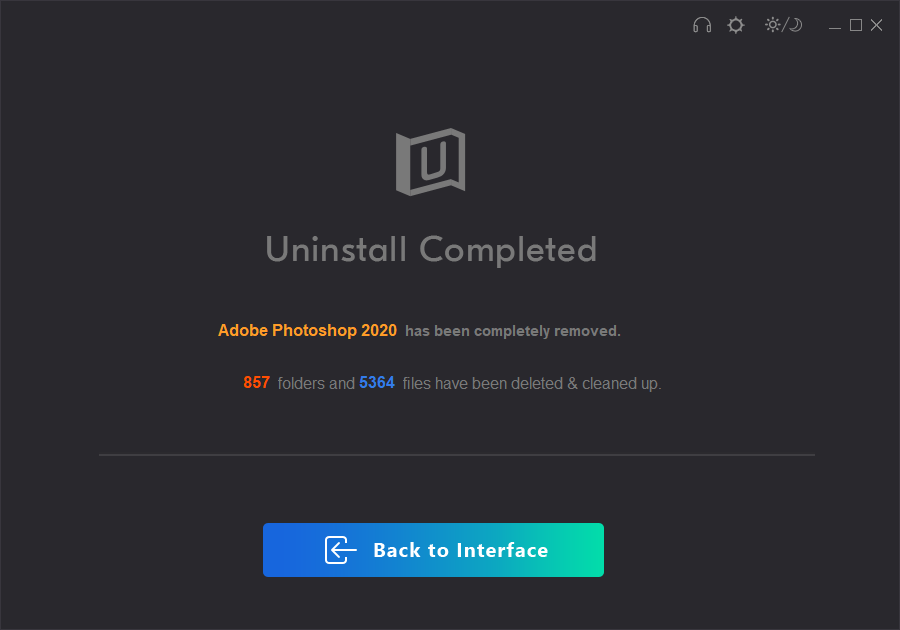 Video Guide on How to Uninstall Adobe Photoshop 2020
Conclusion:
For people who need to uninstall Adobe Photoshop 2020, they will normally choose to do it from Start menu, Apps in the Settings, or Program and Features in the Control Panel. Yes, in most cases these methods do work, but people don't realize even Adobe Photoshop 2020 has been removed from the program list in these ways, its residual files, folders, and registry settings still stay in the PC eating up system resources. If you want to keep your PC clean and tidy, then all those leftovers that make your PC slow, unresponsive, and even vulnerable to multiple threats should be removed completely together with Adobe Photoshop 2020. When you uninstall any unwanted programs, it is essential to know how to remove the apps' leftovers from your computer. There are basically two ways to uninstall Adobe Photoshop 2020 and sweep out its leftovers from your machine completely. First, you can do the cleaning manually by looking for program files folder, Windows registry and any other locations that have Adobe Photoshop 2020 associated files. This requires you to have excellent computer skills. Another method is to use special software to automate the process. Uninstallor is an all-in-one uninstallation utility that will be your best bet to uninstall Adobe Photoshop 2020 quickly and completely. It will save you a lot of time and effort to clean up your PC. Choose one that fits your need and we hope your uninstallation of Adobe Photoshop 2020 went successfully!
Published by Tony Shepherd & last updated on January 9, 2020 12:22 pm