How can I remove "See Similar" Pop-up? When I visit some web sites such as some online shopping web sites, a pop-up will show at the lower right  corner. It's very annoying. I don't need this adware. It says it can help me what I need fast and conveniently. I can't get rid of it. I even can't find where the related installation folder. What do I do now?
What is "See Similar" Pop-up?
"See Similar" is a pop-up adware which you may installed carelessly after you visited some malicious sites or installed some software if you didn't uncheck the bundled files. It will pop up a small blue window when you visit some online shopping websites. It claims that it can make your shopping more convenient or some other advantages. Don't believe it. This adware will leak your personal information such as your credit card information which is related to your personal interests. Don't use it. It's a dangerous malware that can put you and your computer in very bad situation.
If you got this "See Similar" Pop-up virus infection, that means your computer has been hijacked by a malware-a rootkit that hidden in somewhere of your operating system files. It can run automatically no matter you want or not. It will start as long as you started your computer. That's why when you are doing something on the computer, it can pop up to disturb you badly. At this time, you are not safe to visit web sites any more. You should remove the virus so that you and your computer can be safe again. Never try to click the "See Similar" Pop-up window to open the re-directed pages. It's dangerous. You must remove the virus as soon as possible.
Tips: Browser hijack virus removal requires professional skills. If you are not confident and don't want to waste your time, you can contact YooCare PC Online Service for help here:

Why Can't Anti-virus Remove or Uninstall "See Similar" Pop-up?
Before we discuss the reason, one thing we should be clear is that, no matter how clever an anti-virus is, it's created by human beings. So it can't be more clever than human beings. From the arising of a virus to human beings finding out the solution to clean the virus, it takes much time. So before an anti-virus can receive the instructions from the anti-virus company to remove the virus, the virus can't be removed unless you remove it manually. Often anti-virus companies need a lot of time to research the strategies to deal with the newly arising viruses. Anti-virus can remove most of common viruses but not including some very smart ones such as "See Similar" Pop-up. And usually anti-virus can't remove all the related files of the virus completely. That's why here we say manual removal is the best solution.
Manually Remove "See Similar" Pop-up with Sub-steps
Step 1: Try to plug out the internet cable then restart your computer normally. When you can see the desktop, plug in the cable again. If Protection System virus doesn't pop up, you can continue from step 3. (If it's wireless connection, turn off/on instead of plugging in/out cable)
Step 2: Restart your computer in safe mode with networking. To do this, please keep pressing F8 key before windows launches until you get there shown as below: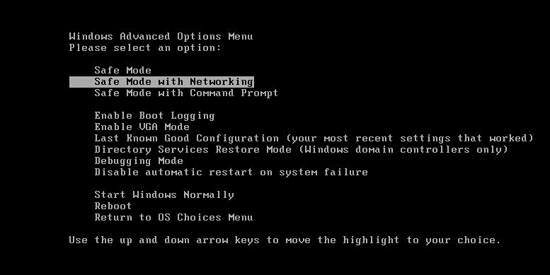 Step 3: Press Ctrl+Alt+Del keys to open the Task manager to stop the progress of "See Similar" Pop-up. Because the name will be changed fast, it will be displayed with different names with random letters.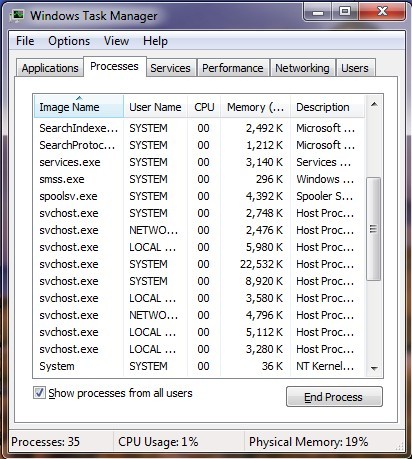 Step 4: Delete all the files related to "See Similar" Pop-up
Login profile in which you are getting "See Similar" Pop-up…
Go to my computer
Then press ALT button once
Go to tools on menu bar
Goth select Folder options…
Click on view tab
Select Show hidden files, folders, and drives
Click OK button
HKCU\Software\Microsoft\Windows\CurrentVersion\Run\Random ( it will be named randomly)
HKLM\Software\Microsoft\Windows\CurrentVersion\Run\Random ( it will be named randomly)
HKLM\SOFTWARE\Microsoft\Windows NT\CurrentVersion\Random ( it will be named randomly)
Video Guide to Remove Registry Entries That is Related to "See Similar" Pop-up
Kindly remind: Don't think that this notorious "See Similar" Pop-up will leave your computer as time goes by. And be aware that this fake malware cannot even provide your PC any protection. What it can give to you is only harm and damage. Don't waste even a penny on it. When you realize what it is one day, you will be very remorseful. Never believe those so called free software! Don't download to install those stuffs in your computer. They can not remove the Protection System for you, but bring you much more other virus such as "See Similar" Pop-up, scam virus even fake things. You may not be aware that those so called free software can be another cheater, which will make you gain just more loss. Please don't take a chance to have a try. It's nonsense. There is no free lunch! If you really can't remove it yourself, please find an expert for assistance. This is the best choice.
Anyway: To contact an expert such as YooCare/YooSecurity for professional service will make you at ease if you really don't know how to remove the "See Similar" Pop-up fake thing:


Published by Tony Shepherd & last updated on June 19, 2013 5:36 am