Does Xtron System Care keep popping up on your screen and stop you from doing anything? How to remove Xtron System Care from your system when it won't uninstall? Xtron System Care is a FAKE antivirus program that misleads users into believing there are malicious threats or fatal errors found on their computer, and then it extorts money from those innocent users by luring them into paying a fix for the 'threats and errors' supposedly detected. In fact, Xtron System Care provides limited or no security and it only generates erroneous or misleading alerts. If Xtron System Care suddenly appeared on your system scanning your computer for viruses and spyware without your knowledge, you should ignore the messages and take action to uninstall it from the system as quickly as possible. Follow the instruction below to uninstall Xtron System Care and remove all traces of this program from your Windows computer. 
What is Xtron System Care?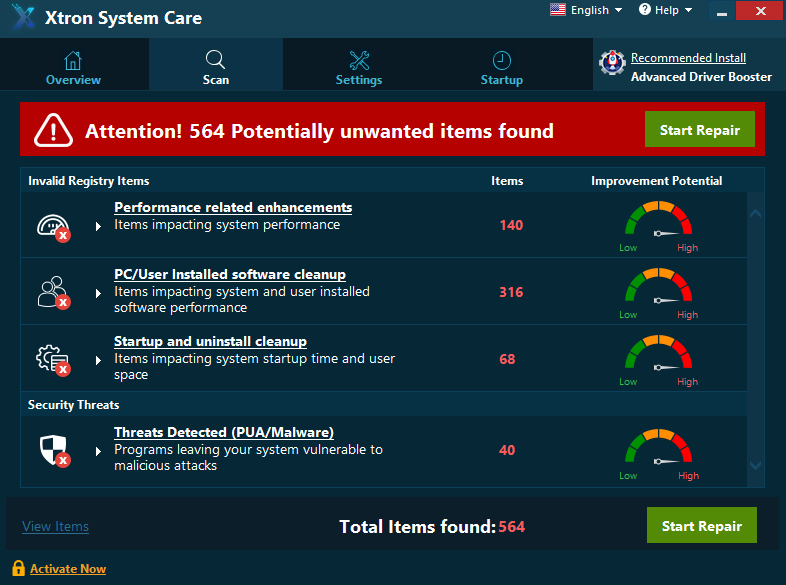 Xtron System Care is NOT a genuine security product. It belongs to fake or rogue antivirus adopted by cybercriminals and hackers to extract money from unsuspecting Internet users. Xtron System Care often downloads and installs on target PCs without asking for permission. And then it appears to scan your system automatically and generates a bombardment of pop up warning messages telling your computer is at risk and has many potentially unwanted items found, which makes using your computer quite difficult. Xtron System Care attempts to scare and intimidates the user in every way possible. When you go to the Internet, your favorite website won't load up and you will just be redirected to a page asking you to upgrade the Xtron System Care full version. It does the same malicious action even when you try to exit Xtron System Care. As long as you click on any buttons labeled "Cancel", "Exit", "Close" or the red-X button in the upper-right corner, the following pop-up messages will come up right away and stop you from getting rid of Xtron System Care: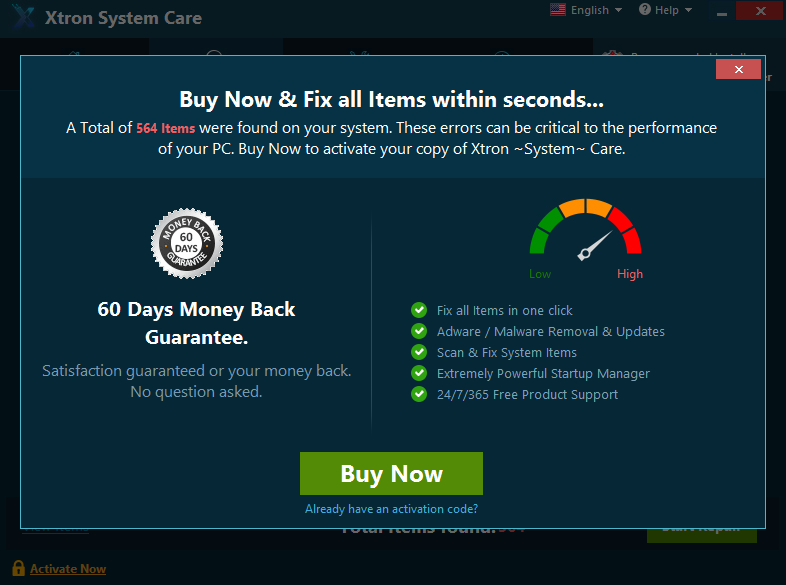 As you can see, the behaviors of Xtron System Care is just a rogue program that relies on scare tactics to compel you to buy their fake antivirus program. When your system is compromised by this kind of threat, you not only see constant pop-up ads, but also notice a significant decrease in network speed and PC performance because Xtron System Care proceeds to subtly introduce further malware and other viruses. The worse thing is, Xtron System Care can bypass the detection of the real antivirus program installed on your system. Xtron System Care has a high infection rate because it uses social engineering techniques to trick users into installing it, or worse still, handing over their credit card details to pay for a worthless subscription fee. Therefore, there is no reason for you to keep it in your system. Uninstall Xtron System Care as quickly as you can.
Why is It So Hard to Uninstall Xtron System Care?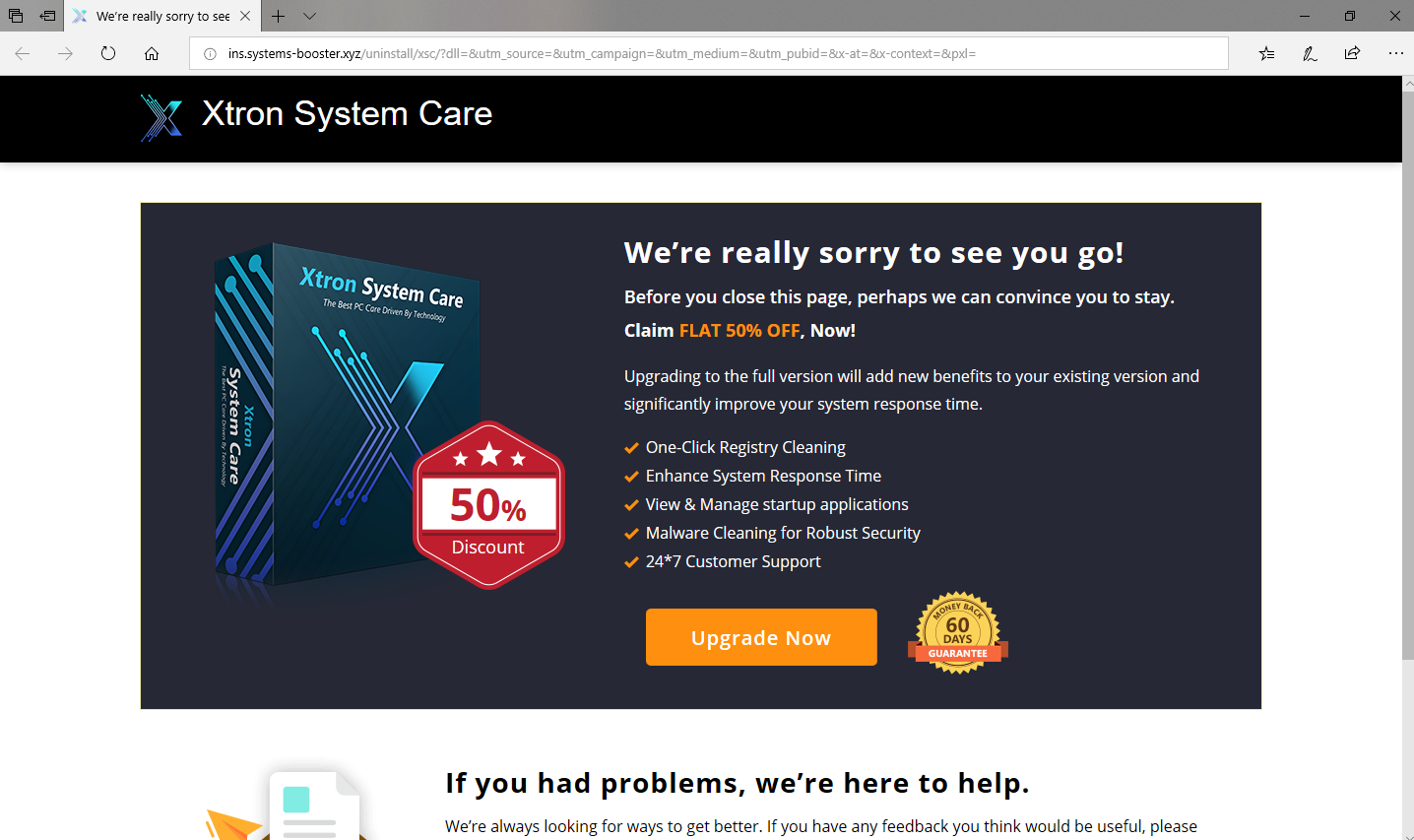 Unable to remove Xtron System Care from the Add/Remove Programs section in the Control Panel? What's the best way to uninstall Xtron System Care?  In fact, uninstalling Xtron System Care will be more complicated than uninstalling other regular software. That's because as soon as Xtron System Care finds its way to the target system, it modifies system registry and launches automatically without giving options for people to close it out. Its processes are running in the Task Manager, and its entries in the Registry Editor, as well as its files are all protected as if they are important system components. For newer and inexperienced users, it is hard to figure it out. Even the most reputable security tools, they could fail to catch Xtron System Care. Although some people might still manage to uninstall Xtron System Care using the Add/Remove Programs utility in the Control Panel, but this method could leave a problem to your system, which is the residuals of Xtron System Care still stay in the PC eating up system resources. Therefore, to completely remove or uninstall Xtron System Care, there are some special steps you need to follow. In this tutorial, we will teach you how to remove Xtron System Care without leaving a trace. You can choose to uninstall it manually, or rely on a third-party uninstaller for a quick fix.
How to Uninstall Xtron System Care? – Manual Removal Guide for Advanced Users Only
Here we take Windows 10 as example:
Step 1: Enter in Windows safe mode with networking.
Go to Windows 10 login screen. To access this screen, you can either log out, reboot your computer, or press the Ctrl+Alt+Delete keys a the same time. Next, press and hold down the SHIFT key on the keyboard and click the Restart option while still holding down the SHIFT key. When Windows 10 restarts, select Troubleshoot-> Advanced Options ->Start up Settings, click on Restart button. Windows will now begin to start, you will see the screen below, press the number 5 key on your keyboard to enter Safe Mode with Networking.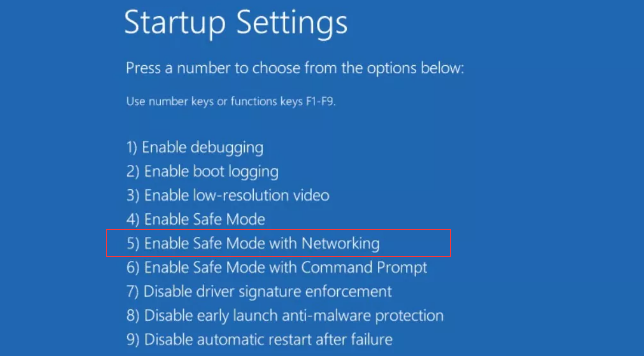 Step 2: Uninstall Xtron System Care.
For Windows 10, uninstalling a program is more straightforward now. You can uninstall Xtron System Care from the start menu, or using "Apps & Features" option.
From Start Menu:
To do this, go to Start > All apps and find Xtron System Care. Right-click on this program and click Uninstall from the drop-down menu that appears.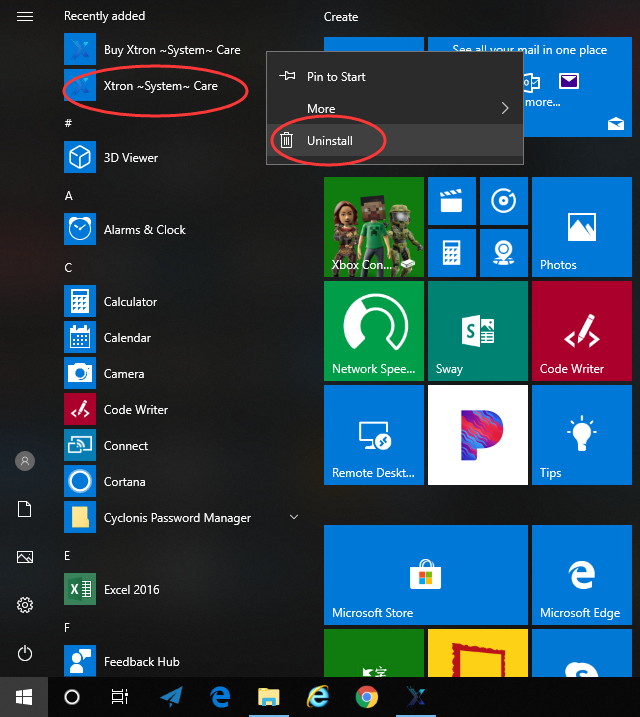 From "Apps & Features" option:
To do this, click Start menu -> Settings. Choose System and then click Apps & features. Scroll through the list and highlight Xtron System Care, click on the "Uninstall". You will see a pop-up window informing you that the app and its related info will be uninstalled. Hit Uninstall to confirm the removal.
Step 3: Remove Xtron System Care leftovers.
Common leftovers of Xtron System Care include its registration files, empty folders, dll files, invalid registry entries and more. These leftovers may not pose a major threat. But, they tend to slow down your machine and may interfere the functionality of other programs, so there is no point of keeping them.
So, in the next step, you have to manually delete leftover file system and registry items. Be sure to back up all your important data first in case incorrect changes to the registry result in permanent data loss or corrupted files.

Check the following folders and delete associated files first.
%AppData%
%Temp%
%ProgramData%
Next, you have to delete Xtron System Care entries from Windows registry.
Press Windows + R, and type in regedit in RUN box, then press Enter. It'll open Registry Editor.
Locate the following keys:
HKEY_CURRENT_USER\Software\Microsoft\Windows\CurrentVersion\
HKEY_LOCAL_MACHINE\SOFTWARE\Microsoft\Windows\CurrentVersion\
HKEY_LOCAL_MACHINE\SOFTWARE\Wow6432Node (64-bit system users will also need to check this extra key)
If you can find any keys with the name of Xtron System Care, just delete such keys.
Warning:
The manual method described above is designed for advanced users only. Manual removal of Xtron System Care involves a lot of knowledge, experience, intelligence and intuition. If you are not skillful enough to find what to delete, you'd better not do it yourself. There is a better alternative which you can use an easy-to-use and extremely powerful tool to remove Xtron System Care automatically. Uninstallor provides a fast, secure and convenient way to remove any unwanted applications for you. It is not just a uninstall tool, it also combines with premium support team, giving you the best service to clean up your PC. See how it works below and you can give it a try.
How to Uninstall Xtron System Care Using A Removal Tool (
Recommended

)

* Uninstallor is designed to scan through your system and clean unwanted programs without leaving any traces. Here is how it works:

1. Download & Install Uninstallor on your machine. Uninstallor is quite lightweight and the installation is straightforward. The only option you have is to let you create a program shortcut to the desktop.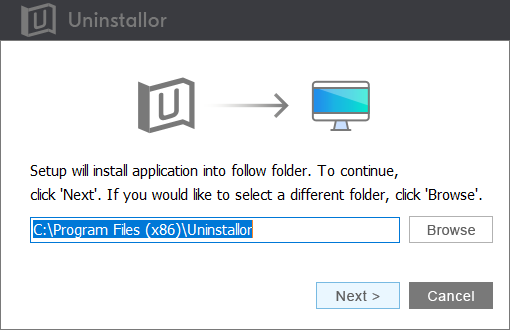 2. Launch Uninstallor. Uninstallor comes with an easy-to-use interface and it lets you switch to dark or light theme as you wish.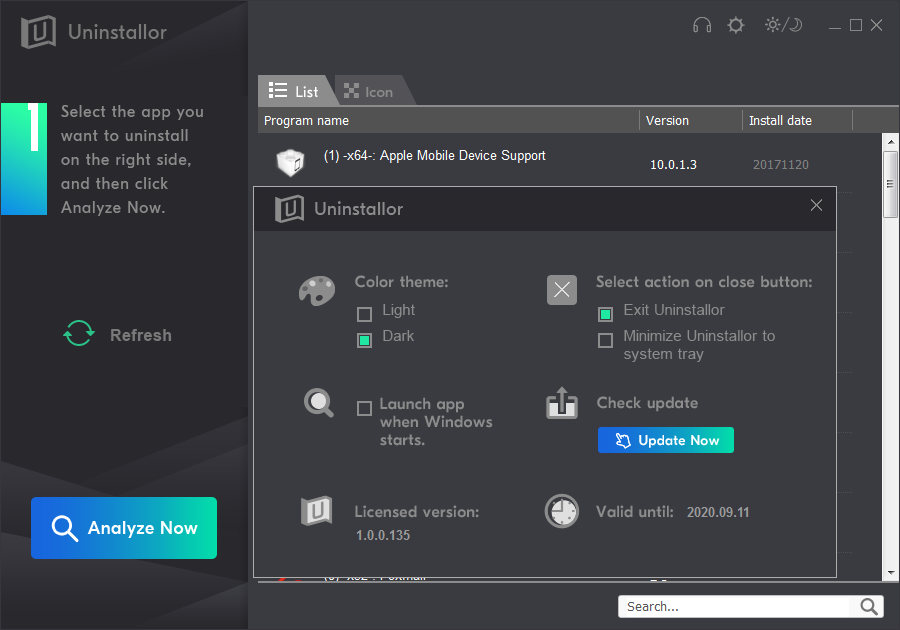 3. Scan for program components. Select Dropbox and click on "Analyze Now" button. All the Xtron System Care connections will be listed in the right panel automatically.
4. Delete leftovers. Click on "Uninstall Now" button to uninstall Xtron System Care's traces completely. Next, you need to click on "Yes" to confirm the removal.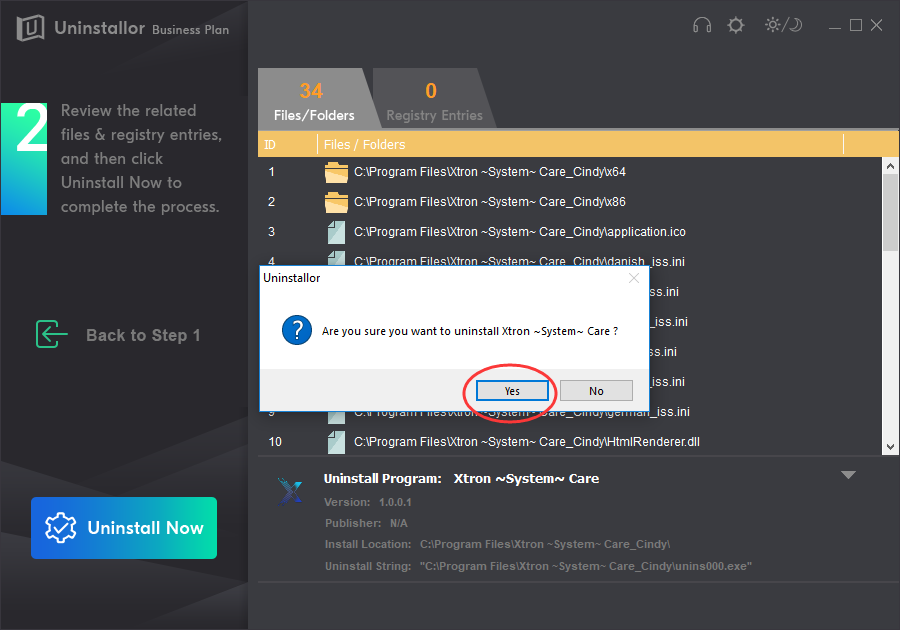 5. Uninstall completed. When the uninstalling process is completed, you will see how many items have been cleared. Just restart your computer to take effect.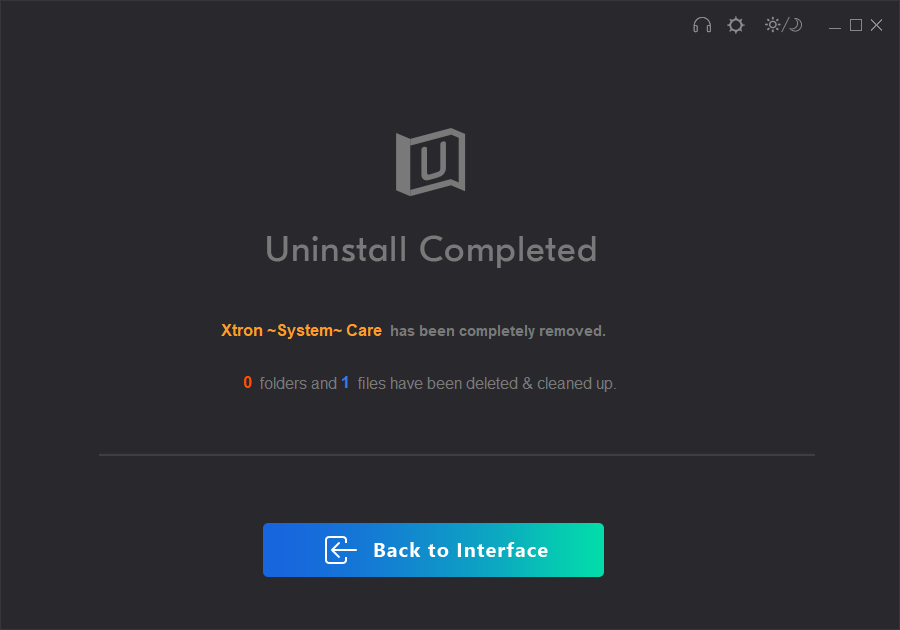 Video Guide on How to Uninstall Xtron System Care
Conclusion:
If you have the Xtron System Care malware or something similar installed on your PC and you don't know how to uninstall it, then you've come to the right place. Uninstalling a rogue program like Xtron System Care is not always as easy as it could be. You might encounter many problems. For example, Xtron System Care is not shown in the Programs & Features window, Xtron System Care blocks your current antivirus, or it leaves its trace like icons, folders, registry even after it is uninstalled. Fortunately, most companies provide tools and guides on properly uninstalling Xtron System Care and Uninstallor happens to be one of the best uninstallers that helps remove Xtron System Care and all its files without efforts. Uninstallor is proud to offer a 30-day money-back guarantee so you don't take any risk at all. What are you waiting for? Give it a whirl to remove Xtron System Care permanently!
Published by Tony Shepherd & last updated on November 29, 2019 2:10 am