I'm in a jam, please help, can anybody tell me something about Win 7 Antivirus 2014, is that a newly authoritative antivirus program? I just regularly browsed some website to read some information about new Iphone this morning! However, in the middle of something, a pop-up showed up in the lower right corner all of sudden, and it was a warning which told me that my PC have been exposed to a highly risk, there were too many system vulnerabilities exist in my computer, it suggested me to download Win 7 Antivirus 2014 program, otherwise my computer will soon suffer from more problems which may lead to system crash. Well, I got to say, I felt astonished at the moment, I don't know how to describe my mood, it's complicated, maybe a little numb, because I just bought a year protection plan from Kaspersky last night, I was confused, I did a full scan after I purchased the service, it said my computer is clean. But now my computer is full of risks and craps? Is that a joke? How things like that happen to me? No matter what, I'm in an awkward predicament here, I don't want to pay more money for Win 7 Antivirus since I already paid for Kaspersky, but I'm also afraid about the risk things in my PC might be true. I need some advices!
Brief Introduction to Win 7 Antivirus 2014
Win 7 Antivirus 2014 is a fake antispyware application like many others that already have been spread over times, they attempt to trick computer users in order to gain some money from them, this antispyware will be rampant and getting worse in the future. I believe people who have little experience about surfing the internet would saw this kind of trick from time to time. You will see a pop-up notification while you browse some web pages, that's a bogus notification, and it threatens you by telling you that your computer is under a awful situation. Some people will choose to ignore, some who had driven by curiosity and fear will click and download it. Win 7 Antivirus is promoted through fake online scanners which offer free system scan for viruses. Seems like it did you a favor, but the truth is, it turns out to be totally useless and even harmful. To make it more authentic, after it "scans" your disk, it will provide you a funny scan results which list a large number malicious infections and system bugs. In order to repair your computer, it recommends you to purchase a full version of Win 7 Antivirus 2014 before the so-called infections and bugs which are actually nonexistent ruin your computer. However, if you were unfortunately taken in this trick which means you already made a payment for this program, then not only will you lose your money, but also get no services for that.
Win 7 Antivirus 2014 Screenshot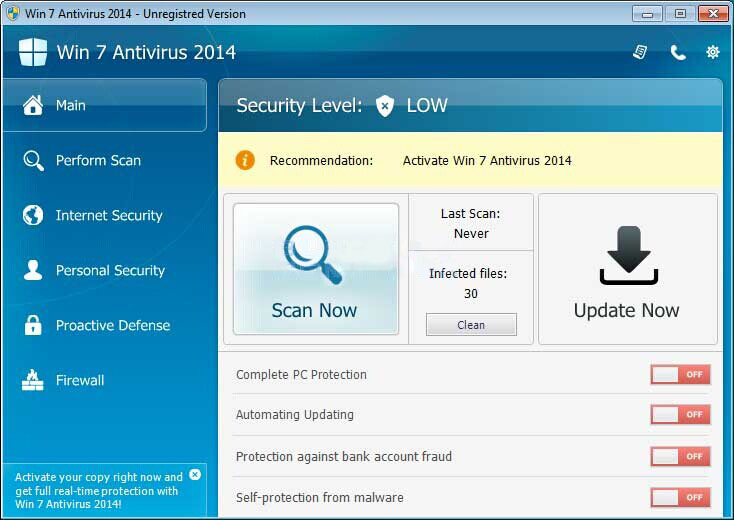 Win 7 Antivirus 2014 will automatic run every time you start your computer once your computer got infected, this antispyware uses Trojan viruses to hack in random computers surreptitiously, so that it can control the infected computer by occupying the Windows registry and making changes to the registry and deleting other system keys randomly. It shows you scan window like the normal antivirus program, after that you will see a warn about bulk of infections detected, just the heads up, all this is made up by cyber criminals, the information and data are fictional. Besides, it will also fright innocent users with other issues by displaying numerous pop-up ads, for example: Tracking software found! Your PC activity is being monitored. Possible spyware infection. Your data security may be compromised. Sensitive data can be stolen. Prevent damage now by completing a security scan. System Hijack! System security threat was detected. Viruses and/or spyware may be damaging your system now. Prevent infection and data loss or stealing by running a free security scan. The purpose of this malicious application, as you see, is hustling innocent computer users. The program is ready to do all it takes just to reveal your credit card details and charge it. If you have noticed any signs of Win 7 Antivirus 2014 on your system, make sure to remove it as soon as possible. Because many of your program and even your antivirus program will be prohibited to run, your system firework will be forced to turn off without your permission. At present, manual removal will be the most efficient way to get of Win7 Antivirus 2014.
The properties of Infection
-The program will run automatically each time computer reboot. Always pops up the bogus notification that your PC is in danger.
-Persuading you to buy a code to activate the program then it could take over with your problem.
-Your computer's registry has been changed. -Your legit program and antivirus program will out of run.
-Your CPU will be highly occupied, which will slow down the running of computer and even lead to blue screen.
Your computer will be infected by Win 7 Antivirus 2014 if you see those traits. Please contact YooSecurity Online Experts for manual removal guide.
NOTE: Being afraid to do any wrong operation during the process of removing this antivirus program? Please contact YooSecurity Online PC Expert, we are here to help you:


A Step-by-Step Removal Instruction for Rogue Antispyware
Manual Removal Steps: (For most Windows users)
1. Safe Mode with Networking/Safe Mode with Command Prompt.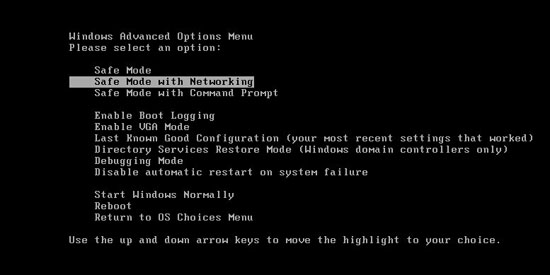 Restart the infected computer, tap F8 key constantly when computer is booting back up to get safe mode options on the screen, use arrow keys to highlight the option you want to enter then press E/Enter key. * Usually, this rogue program will be disabled from automatically starting in safe modes. Users will be able to fix the Win 7 Antivirus 2014 problem without constantly blocks from the fake AV.
2. Windows Task Manager.


Press CTRL+ALT+DELETE or CTRL+SHIFT+ESC; or pull up Run box from Start menu to type in taskmgr
Click on Processes tab
End process of the rogue virus
or
Click on Applications tab
Right click on tasks you want to end
Select Go To Process
End Processes
3. Delete Win 7 Antivirus 2014 files and registries from system.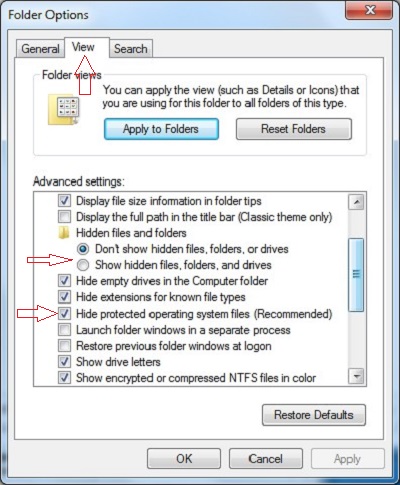 Click on Start button
Control Panel
Search for "folder options" on top right corner
Click on View tab
Show hidden files, folders, and drives
C:\Users\profile name here\AppData\random names
HKCU\Software\Microsoft\Windows\CurrentVersion\Run\rnd
…
Video guide to remove fake AV:

Alternatively, you can view this fake AV removal video guide directly on our website:
Conclusion:
This is not too alarmist if your computer got infected by this Win 7 Antivirus 2014, your info and data may get used by bad guys if you keep ignoring it. The best way to avoid Win 7 Antivirus 2014 happen to your computer is taking preventive measures. Always pay close attention when seeing the pop-ups about system security, it could be a fake antivirus program. Fortunately, at the moment, manual removal still can be the most effective way to get rid of this kind of fake antispyware program or other similar kind from computer. When things like this happen to you, just calm down; do not get scared by this false warning. Manual removal will be the best way to get rid of the Win 7 Antivirus from computer.  Manual removal will be the best way to get rid of the Win 7 Antivirus 2014.
Suggestion: To follow removal guide that mentioned above, a level of computer knowledge is needed. Still can't get out of this virus? Contact online experts for help now!


Published by Tony Shepherd & last updated on September 22, 2014 2:39 pm