How do uninstall Webroot SecureAnywhere software from Windows 10 on my Dell desktop as it won't get off from control panel? How can I completely remove all traces of Webroot SecureAnywhere from my system? I've had Webroot SecureAnywhere for quite some time and it never had issues with it before. But for some reasons, this antivirus program is constantly taking up at minimum 40% of my processor. The high CPU usage makes my system freeze all the time and I don't know what to do. So, I decide to uninstall Webroot from my system through control panel to see if it makes things better. It did go away from the program list, but in the startup tab within task manager I still see its startup item: Webroot Installer. I believe Webroot is still active. So, how can I completely remove Webroot SecureAnywhere and all its leftovers from my system? Does anyone know a cleanup or uninstall tool to completely remove all traces of that? If not, is there a way to manually remove all leftover entries? Any help will be appreciated.
This post is going to show you on how to uninstall Webroot SecureAnywhere completely and safely without leaving any remaining registry entries, files and folders. If you're experiencing some difficulty removing Webroot, just follow the guides below.
About Webroot SecureAnywhere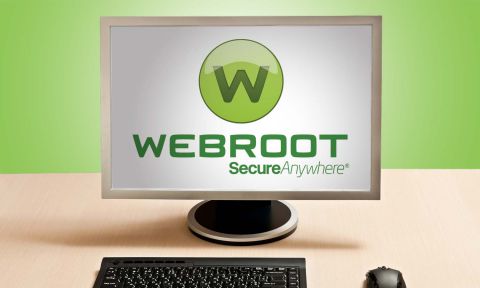 Webroot SecureAnywhere is a highly rated antivirus program designed by Webroot Inc – a private American company that has been around since 1997. As their core product, Webroot SecureAnywhere protects users from cyber security threats, viruses and identity theft, gives them the best protection and lets them stay safe online at all times. The software offers multi-device protection, and is considered to be the lightest and fastest antivirus product on the market. Rather than relying on and using up your system resources, Webroot SecureAnywhere is based around cloud detection and protection. And with over 20 years of experience in threat intelligence services, it stops millions of threats in real time quickly without slowing down the computer. Virus scans take seconds to complete and even full, deep scans can be done in just a couple of minutes. Compared to other security software, Webroot SecureAnywhere product comes with a good amount of online backup storage and advanced security tools, such as a firewall,  and a proxy server that helps protect your online movements. Overall, it is a good mix of excellent malware protection with light use of resources and an extra dash of advanced protection tools for a reasonable price.
Webroot SecureAnywhere Removal
Webroot SecureAnywhere won't uninstall from your PC? How to fully remove it? As we all know, the correct procedure to uninstall Webroot SecureAnywhere is from the program and features window in control panel. This launches the Webroot uninstaller which then proceeds with the uninstallation. However, uninstalling an antivirus is not as simple as uninstalling any other app. Webroot SecureAnywhere is tasked with the security of your system. To provide security, it needs to bring many more files and components on the computer than the general program. That's why Webroot SecureAnywhere removal process becomes to be a relatively difficult process. It could happen that uninstallation options for Webroot SecureAnywhere could be missing from the Control Panel or Start menu. Even sometimes you are able to uninstall it from control panel, it still leaves leftover remnants like the empty registry keys, folders in your C drive, program data, application shortcuts and more on your system. Those leftovers can generate installation issues for replacement antivirus utilities. As such, there are numerous third-party uninstaller software that also erase leftover files and registry entries, or you can choose to delete Webroot SecureAnywhere manually by yourself. However, care should be taken when cleaning entries from the Registry because a small mistake here might adversely affect the functioning of your machine. Now we will give you some of the known ways in which you can complete the uninstallation of Webroot without leaving residual files.
How to Uninstall Webroot SecureAnywhere Completely from Windows 10?
Method 1: Removal from Start Menu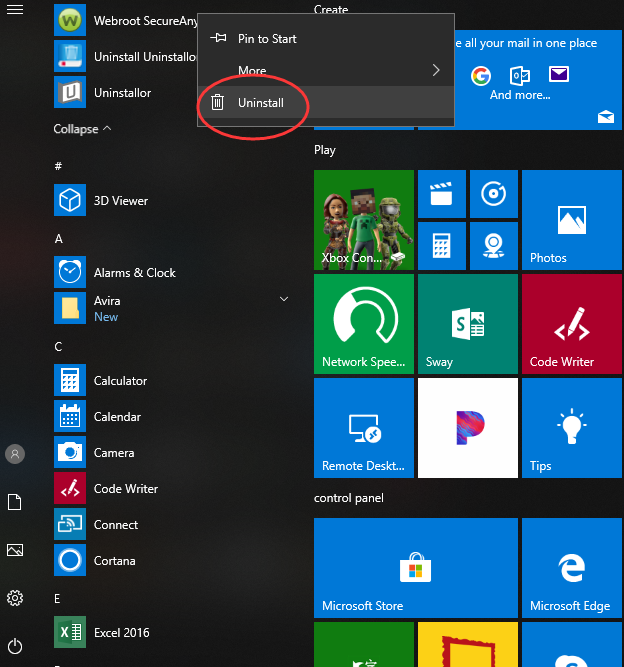 You can uninstall Webroot SecureAnywhere directly from the Start menu. To do this, go to Start & All apps and find the Webroot SecureAnywhere. Right-click on it and then click Uninstall from the drop-down menu that appears. If you can't find Webroot SecureAnywhere in the Start menu, you can try other methods listed below.
Method 2: Removal from The Settings Menu
In some cases, you cannot find an app or program that you want to uninstall in the Start menu. So, you can try this way to remove it from the Settings Menu.
Here's what you need to do:
1. Go to Start->Settings.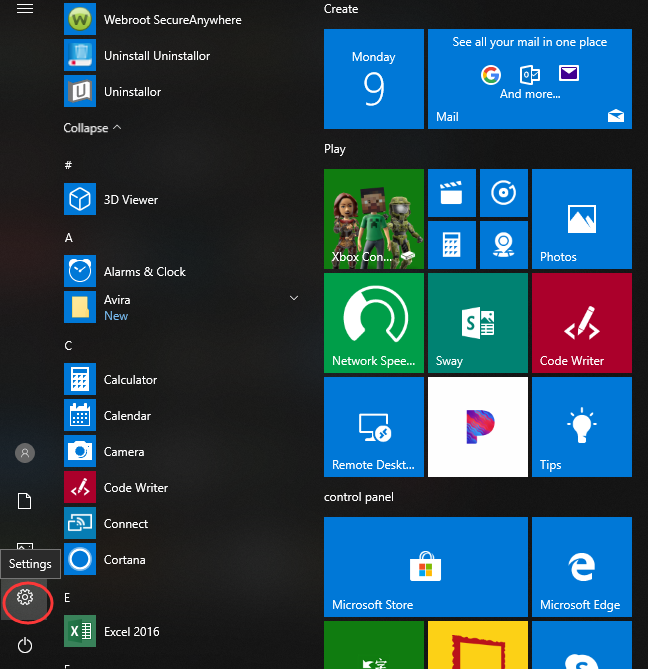 2. Choose System and then click Apps & features. Here, you'll see a full list of applications and programs on your computer, sorted by size. You can use the search box at the top of the screen to search for apps, and you can resort the list by name or by install date. Now, as you can see, Webroot SecureAnywhere is shown on the list.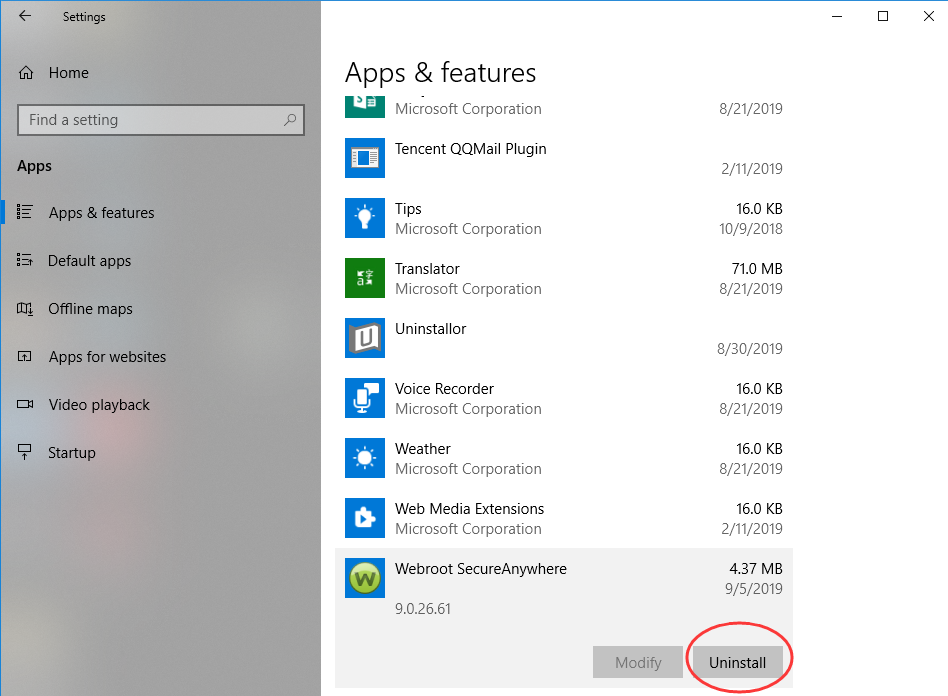 3. Click Uninstall to start the removal process. You will see a pop-up window informing you that the app and its related info will be uninstalled. Hit Uninstall to complete the process.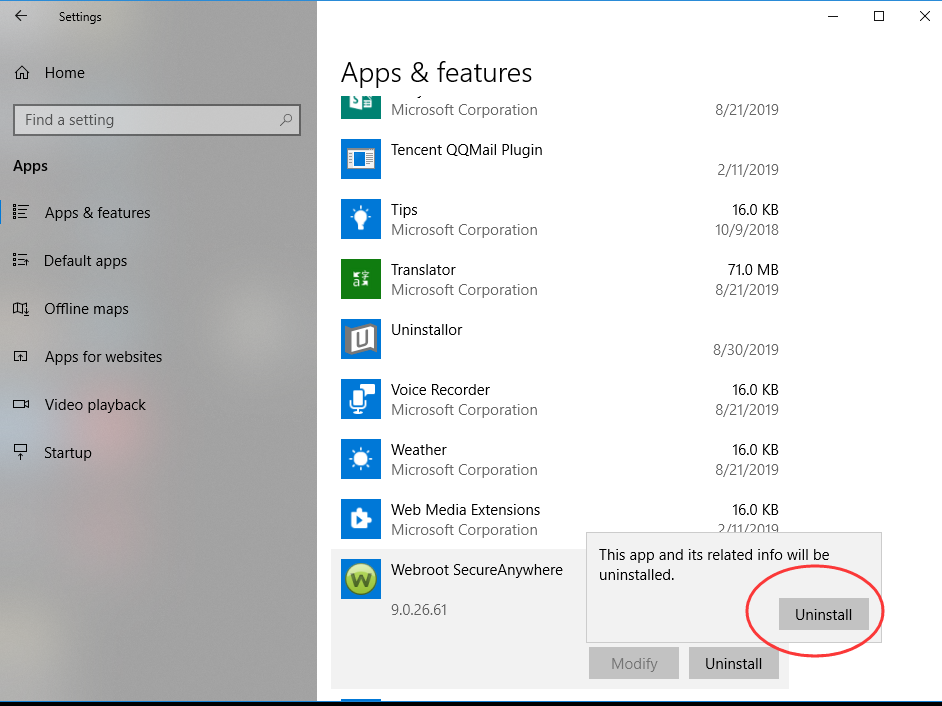 Method 3: Removal through the Add/Remove Programs Control Panel
If you prefer using Control Panel, that option is still available in the latest edition of Windows 10. However, from the Control Panel, you can only uninstall the desktop programs, not apps. Do the following:
1. Right-click on the Start button (Windows logo button at the bottom-left corner of the desktop) and then click Control Panel to open it.
2. Go to Programs and Features (or go to Uninstall a Program if your Control Panel is in the category view).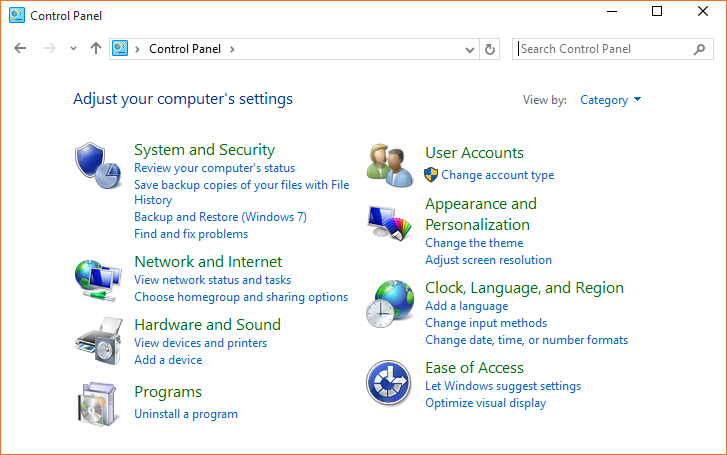 3. Find Webroot SecureAnywhere and click Uninstall. You'll see a pop-up window asking if you're sure you want to uninstall this program, click Yes and click through the uninstall wizard, if applicable. After it is done, it will prompt the user to Reboot their computer for the final removal of everything created by the Webroot SecureAnywhere software.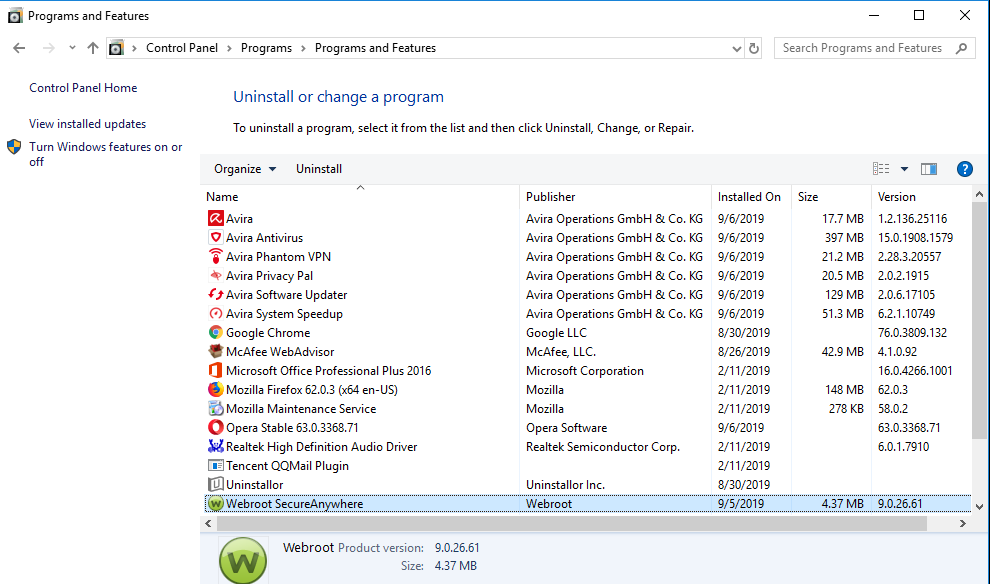 WARNING:
The above three methods may help you delete Webroot SecureAnywhere, but they may NOT clear it completely out of your system. So, in the next step, you have to manually delete leftover file system and registry items. It is important to do a backup before deleting anything from the Windows registry so that if something goes wrong, you can restore the system to its earlier state. Also, please make sure the files you are going to delete belong to Webroot but not any system files.
Check the following folders and delete associated files first.
C:\Program Files\Webroot

C:\Program Files (x86)\Webroot
Next, you have to delete Webroot SecureAnywhere entries from Windows registry:
Press Windows + R, and type in regedit in RUN box, then press Enter. It'll open Registry Editor.
Locate the following keys:
HKEY_CURRENT_USER/SOFTWARE/Microsoft/Windows/CurrentVersion/
If you can find any keys with the name of Webroot SecureAnywhere, just delete such keys.
Again, you should only attempt this if you are experienced at using the Windows Registry and know how to view and delete system and program files. For computer users who are not familiar with that, we recommend you use a third-party Uninstaller to complete the Webroot removal automatically in a few seconds.
Method 4: Uninstall Webroot SecureAnywhere Using A Removal Tool (Recommended)
If you don't want to rack your brains for searching Webroot SecureAnywhere remaining files and registry entries, and the manual guide above is difficult for you because you have never used the Registry Editor in the past, then you can consider installing third-party uninstallers to completely remove all the remnants of Webroot software with just one system scan.
There are many free and paid uninstaller programs that can get the job done instantly. Uninstallor is one of the best third-party uninstallers for Windows and Mac. It uninstalls programs the right way, wiping every trace of an app, even the leftovers that are usually overlooked. The program analyzes all of Webroot SecureAnywhere's connections and offers to delete each aspect: the program, its folders and files, and its registry entries. Even you are completely computer illiterate, you can use the program with no problems. Here's how it works:
1. Download & Install Uninstallor on your machine. Uninstallor is quite lightweight and the installation is straightforward. The only option you have is to let you create a program shortcut to the desktop.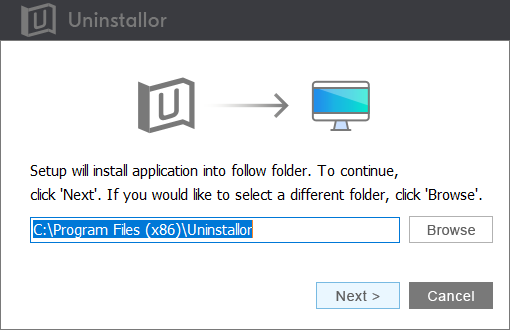 2. Launch Uninstallor. Uninstallor has a smart, clear interface that displays a list of all your installed software.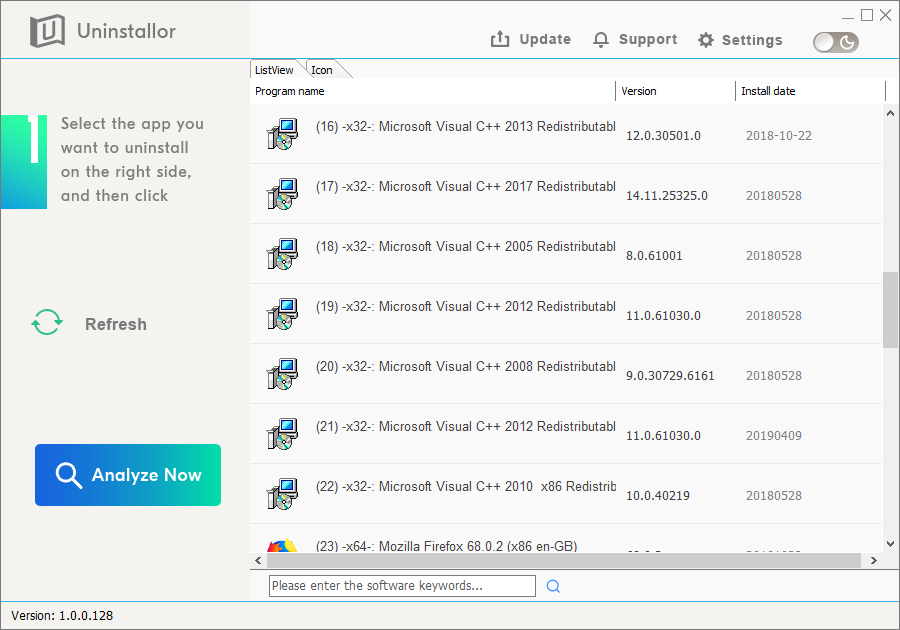 3. Scan for program components. Select the program that you want to uninstall and click on "Analyze Now" button. It will analyze all the data associated with the uninstalled program and searches for all leftover files.
4. Perform complete removal. Click on "Uninstall Now" button to uninstall Webroot SecureAnywhere completely.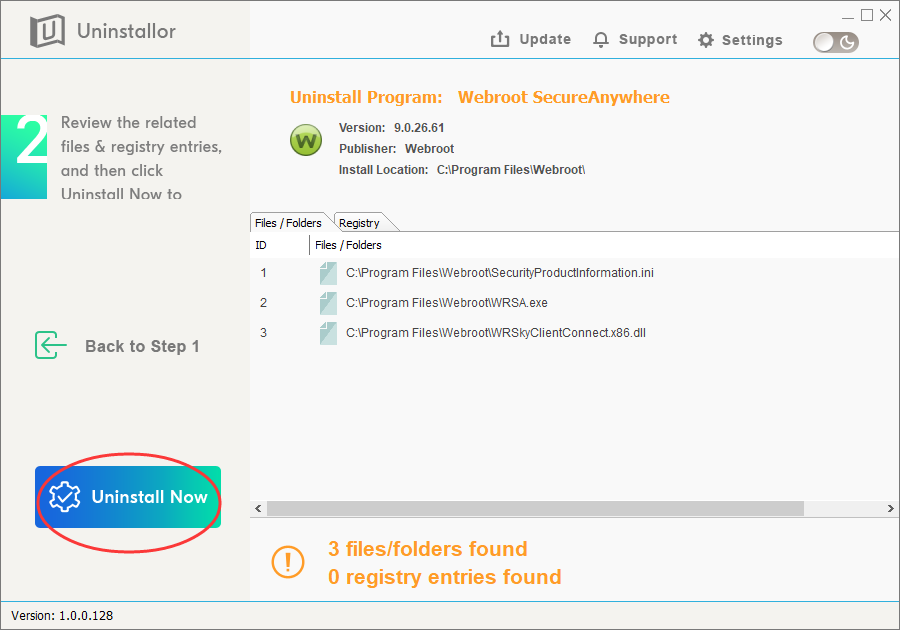 5. Next, you need to click on "Yes" to confirm the removal.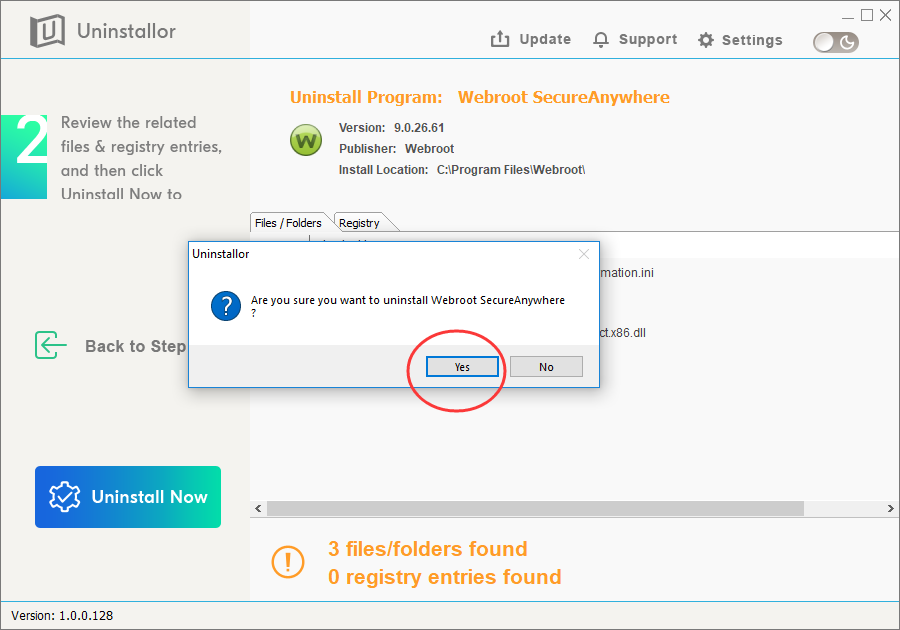 6. Wait until the uninstallation is completed. When the process is completed, restart your computer to take effect.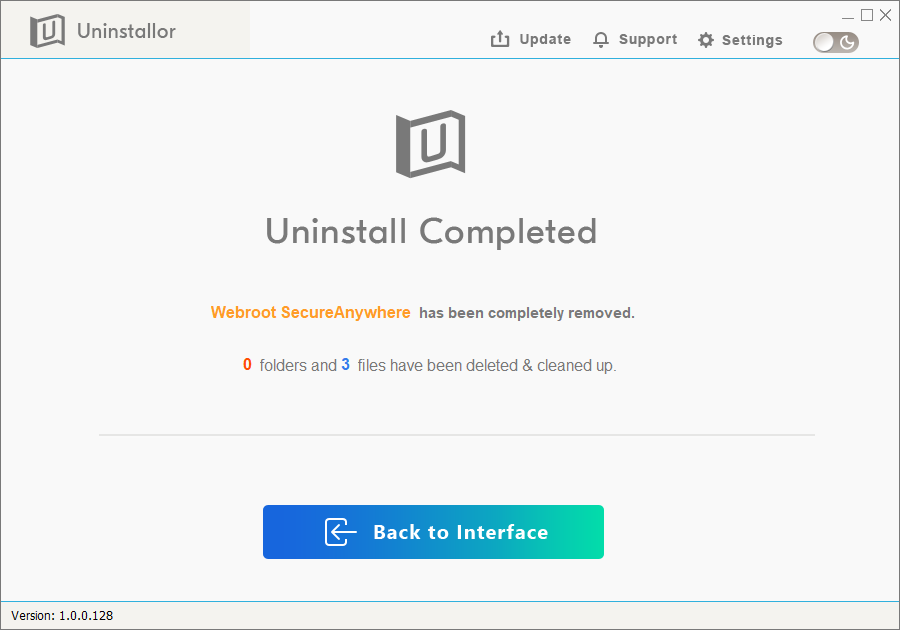 Video Guide on How to Remove Webroot SecureAnywhere in Windows 10
Conclusion:
Almost all of us use anti-virus program in our system and Webroot SecureAnywhere is undoubtedly one of the best choices because it's tiny, fast, and boasts lots of features like real-time threat protection, anti-ransomware, URL filtering, real-time anti-phishing and more. However, there are still chances you may need to uninstall this product from your system. For example, Webroot SecureAnywhere gives you unexpected errors every time you run it. Or your license expired and you need to switch to another security tool, and maybe you just want to uninstall Webroot SecureAnywhere temporarily while you refresh your hard drive. Whatever the reason is, you will find that the processes involved in uninstalling Webroot SecureAnywhere will be more difficult than deleting regular software. The traditional software removal solution via Windows Add/Remove program is insufficient because it always leaves things behind such as folders and registry entries, so you need to manually delete them all to ensure a complete removal of Webroot SecureAnywhere. As an alternative, you can use Uninstallor, which is a powerful uninstaller tool that lets you remove software leftovers and improve your computer efficiency with only a few clicks. It is by far the best third-party uninstaller offered in the market. Try Uninstallor now. Uninstallation can be completed in minutes!
Published by Michael Myn & last updated on June 8, 2020 9:40 am