My drives have been infected with shortcut virus, when I open a folder, there is a shortcut of the same folder present inside it, and tried removing it and when I restart it comes back. AVG does detect it and removes it but it comes again. Even in my USB flash drive, it goes away and then comes back again. My files don't get hidden but a shortcut folder of the same name gets created inside it. How to remove this? The virus was killing my brains out. Please help me, thank you so much.
What is Shortcut Virus and How does it Spread?
Shortcut virus is a popular virus infection in the world. In the age of the internet, as a computer user you can't avoid to copy the data to your external hard drive. External hard drive is a very common device to transfer data from one computer to another, also sometimes we get errors while connecting usbs to computer and during data transfer one of them is Shortcut Error, basically, this is a Virus known as Shortcut virus, it converts every file into shortcut in Pendrive / Hard drive. This virus infects a pendrive or any removable disk and when that particular disk is inserted into the system it affects the 'c:' drive. Once it affects the 'c:' drive of a system, all the removable media inserted in the system will get infected and through that infected media, it affects other systems and so on. So, even if it is detected and removed from a removable disk, it still stays in the 'c:' drive and affects all the removable media inserted into the system.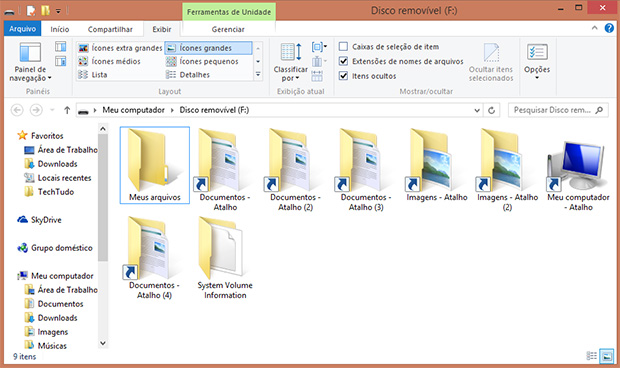 Once your computer infected with Shortcut virus, it will hide your original file first, and then create the same of the folder shortcuts name in the same position. Once your click on those shortcuts, the virus will be run. You might think that this shortcut virus isn't so harmful for your PC or your system but you're wrong. Initially, it doesn't harm your files but later on, it may make them corrupt or even delete all the files. It is terrible if the virus diffuse from External hard drive to your computer, and then running on the background furtively. the system registry can be modified by this virus with its malicious data. Some system setting can be changed as well. In order to avoid being detected or removed by anti-virus programs, this virus can corrupt system related files and disable security systems on the infected machines. Your personal information, data and the online account will likely be stolen.
Warm prompt: If you got the Shortcut Virus, Antivirus software is difficult to help you get rid of it, Manual removal as the only effective way to fix your problem. But if you are not a computer savvy, please contact YooSecurity Online PC Experts to help you.

Manual Removal Guide of Shortcut Virus (For Computer Literate)
Step 1: Put the system in safe mode. You can do this by simply switching OFF (Long press the power button) the system without shutting it down. Now, if the system is switched ON you can find an option to login through safe mode. You can also do this through control panel.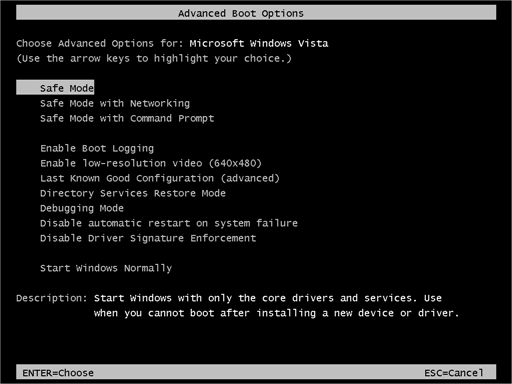 Step 2: Remove the infected removable disk, if it is connected to the system.
Step 3: Press Windows + R key, type "msconfig" into the run dialog box and hit OK, it will open System Configuration.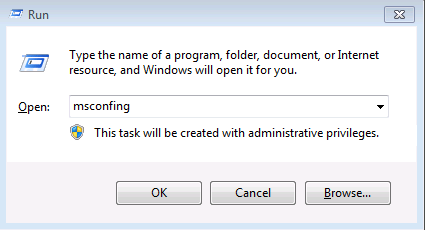 Note: If you do this without starting up in safe mode, the msconfig window will close automatically.
Step 4: In the msconfig window, go to 'Startup' tab.

Step 5: In the stratup tab, find the files which have java extension '.js' (from the command). It will have "Startup Item" name like '7sbd' or some similar meaningless names. The Manufacturer will be 'Unknown'.
Step 6: For such items, note where it is stored (The path can be found in the Command).
Step 7: Go to the location shown in the command path.
Step 8: Permanently delete the file.
Note: If it is not found in the location, try these steps. Press F10 key and go to Tools -> Folder options. In the Folder options window, go to 'View' tab. Check the box "Show hidden files, folders and drives". You can find this in the 'Advanced settings' area. Now, you can find the virus file in the location shown.
Conclusion
Shortcut Virus can affect any external storage like Flash Drives, External Hard disk or any Memory Stick, this is an anonymous malware which initially released online and spreading from one computer to another and we got Shortcut of files which are in USB drive if you try to open any file you will get error message. This virus can help cyber hackers steal personal information saved on the infected computers. Sensitive information such as bank details and credit card passwords are the main things for hackers to record. If your financial information is leaked out, you will suffer from money losses and keep getting errors on your computer. Your computer can be aimed by more malware coming from web if you don't remove this virus in time. There's no wiki definition as such; but, as the name suggests, a shortcut virus is a virus (a malware) that hides your original files inside shortcuts. The way it hides the file remains unknown though the effect is quite visible. To protect your data, this virus must be eradicated as quickly as possible.
Suggestion: To follow removal guide that mentioned above, a level of computer knowledge is needed. Still can't get out of Shortcut Virus? Contact online experts for help now!

Published by James B. Gonzalez & last updated on October 22, 2016 5:47 am