In fact, when people get infected redirect virus, they can do something to delete something. However it appears that they can't reset their homepages to original one again whatever method they try. So such virus is not so simple as we imagine it. I do believe when you get infected browser redirect virus, you may try to solve the problem yourself at first. But usually you are not able to get rid of it perfectly. Why? here you may learn more about what you want.
Quick learning of Search-jzip Redirect Virus
Search.jzip Redirect Virus is a small one but can be a  nightmare to you. Before introducing this kind of virus, there are two responses from two victims to share with you.
I just encountered a nightmare by installing a software jZIP intending to be my WinZIP alternative. However, the software includes a bunch of trash spywares which changed my preset browsers' homepage and prefered search engines, including IE and Firefox.After tedious process of manually deleting the software, and associated add-on, and changes the homepage setting to Google.com, I still cannot restore the homepage in Firefox, (but I can restore in IE)Now whenever I open Firefox, and open a new tab, it still loads search.jzip.com as homepage. I have used numerous spyware detecting software to check and try to solve the problem, including spybot, Ad-aware, CCcleaner, but all cannot rectify the problem.

I have removed all traces of jzip from my computer and no matter what I do it, I cannot reset my home page away from http://search.jzip.com/ and back to my original Mozilla Firefox we page.
From the two victims' words, we know how does Search.jzip Redirect Virus work.
Firstly, it can hijack your Internet browser, which means it can change the default setting of your browser to occupy the browser's authorization, alter your home page without your permission. What's worse, it will affect the web search navigation. Secondly, you will fail to get access to certain web resources, since Search.jzip Redirect Virus block up your search. Thirdly, it may install other sorts of spyware/adware to mess your PC system up. In addition, it will redirect your search results to other dangerous sites when you use your search engine like Google, Bing. At the show up page, there are numerous ads pop-ups, unsafe links and floored with mal-ware. As a result, it will slow down you PC performance. So we should be careful in our web activities and keep the antivirus permanently updated. Be cautious while browsing!  Ways to be infected with Search.jzip Redirect Virus are a lot as long as you are surfing the illegal websites or downloading unidentified files and programs, you will be exposed to numerous risks. A browser hijacker as Search.jzip will change your home page without any permission and you cannot change it back to what you want. All the other settings such as favorites or bookmarks will be different. Furthermore, when you are searching for online resources with the search engines that are familiar to you, this malicious hijacker will stop you from accessing to those pages you want to see and redirect the searching results to other websites and containing thousands of virus and malware. If you do not take fast actions to remove it, the general speed of the operating system may go slower as time goes by. For the worst part, it might download and install some other rogues to further damage your computer. Get it off your computer once found it.
Please remember: If you feel it's too troublesome to remove Search.jzip.com browser hijacker, please feel free to get YooSecurity online PC service here:

Picture of the browser hijacker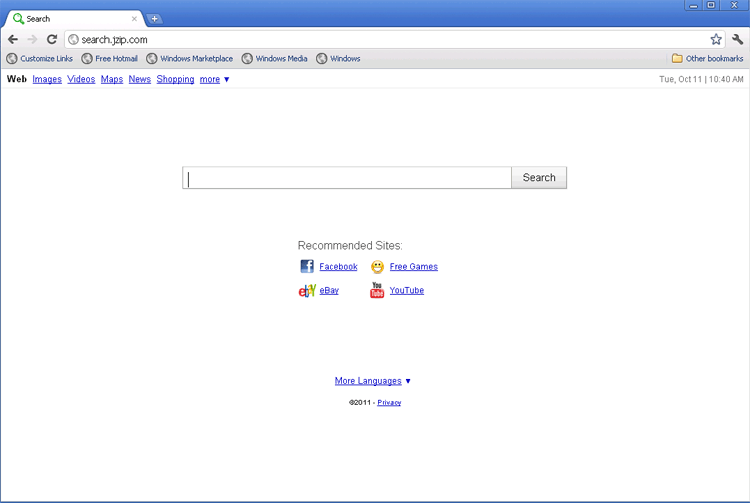 Why manual removal can really help you get rid of Search.jzip.com Redirect Virus?
There are not any antivirus tools that can detect and eliminate all infected items. The virus can change your browser settings, damage your system, processes and files and even disable your antivirus software. Therefore, manual removal is the best choice for you to terminate the annoying redirection virus. In fact, manual removal with the help of tech experts 24/7 online is taken as the most effective one for it is better than in-store repair which takes you too much time and money. Moreover, this virus manual removal job can also help you recover your data, files and folders and speed up your PC system performance after the virus is eliminated.
Key Sentences to Judge If your PC Has Been Infected with Search.jzip.com Redirect Virus

Your Internet Options has been reset and the homepage has been changed to Search.jzip.com or other dangerous sites.
You are always redirected to some odd websites which are full of unknown virus or malware
Stop you resetting your Browser to the primary configuration you set before.
Bring in many pop-up advertisement, fake information or phishing websites.
Self-assertively add some site links in your Favorite or search engine keywords.
Hands on Teaching You to Delete Search.jzip.com Browser Hijacker
A: Press Ctrl+Alt+Del keys together and stop Search.jzip.com Browser Hijacker processes in the Windows Task Manager.
B: Let's open the Registry Editor, search and remove related registry entries of Search.jzip.com Browser Hijacker, to do this, you have to open regedit like this: Press Win+R key at the same time and input regedit in the box then click OK.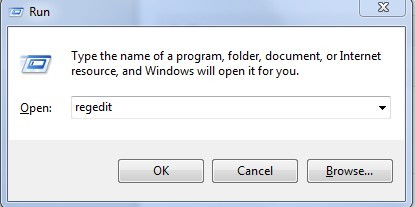 HKEY_LOCAL_MACHINE\Software\random things
HKEY_CURRENT_USER\Software\Microsoft\Windows\CurrentVersion\RunOnce\random things
HKEY_CURRENT_USER\Software\Microsoft\Windows\CurrentVersion\RunServicesOnce
C:
All associated files of Search.jzip.com Browser Hijacker should be removed.
Search for file like %PROGRAM_FILES%\random things\ and delete it manually.
Search for file like c:\Documents and Settings\All Users\Start Menu\random things\ and delete it manually
Search for file like c:\Documents and Settings\All Users\random things\ and delete it manually
Video Tutorial On How to Modify or Change Windows Registry:
Note:Don't have enough confidence to remove the Search.jzip.com Browser Hijacker? Please contact with computer experts Online for help to safely and completely remove it.

Published by Tony Shepherd & last updated on November 14, 2012 7:20 am