Hijacked by babylon search virus? I am being blocked from seeing my emails because of a transfer search page called Search.babylon.com. How do I get rid of it? Still it seems i can't uninstall Babylon Toolbar from my computer as well. Is there a easiest way to resolve the problems?
Kept redirecting to Search.babylon.com search engine and Babylon Toolbar installed itself on your computer?
The Babylon Toolbar is more often than not downloaded unknowingly through software that is bundled with the Babylon program, though it can be downloaded directly from the Babylon website as well should someone seek it out specifically. Babylon is translation software that provides built-in dictionaries and thesauri in over 30 languages. Babylon software has been lauded as ranking in the top 100 translation programs and was recognized by the Guinness Book of World Records as the most downloaded translation software.
Though it may seem convenient enough, elements of this program, most specifically the Babylon toolbar itself, have annoyed users worldwide in every language.  Once installed in the users' computer system, Babylon software automatically changes the users' default search engine to search.babylon.com and all searches are redirected. The search engine itself is frequently labeled as bogus and has no concrete claim to any decent search results. Effectively, the Babylon Toolbar hijacks the computer system and redirects web searches according to its own less-than-stellar internet browser, which is the reason why it is widely known as the Babylon Redirect Virus.
In many ways it has the same characteristics of a virus. As already mentioned, it is most often bundled into other completely unrelated software downloads without the user realizing that it's being installed. It automatically changes default browser settings and redirects searches without the approval of the user and to no apparent gain in search efficiency. It is listed as PUP by multiple anti-malware programs, although search.babylon.com malware very often is equipped with a rootkit component that will conceal it and potentially disable security programs so that it remains undetected or at least unrecognized as a threat. Finally, perhaps its most annoying trait is that this Babylon toolbar does not uninstall fully and in no way stores any of the users' previous search engine and browser settings so all prior settings must be completely reset.
To save your computer, Live Chat with YooSecurity Expert Now, or you can follow the manual removal guide below to get your problem fixed. (For advanced computer users)

Search babylon Redirect Virus ScreenShot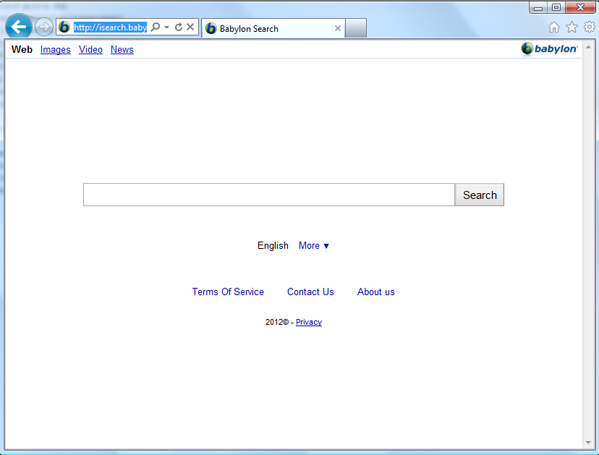 Although the program has been circulating in various versions since the late '90s, in 2010 Microsoft antivirus products recognized the Babylon program as malware. This prompted the Babylon company to modify the program enough so that it was no longer recognized by these products as a threat, though it remained malware by many users' definitions and an all-around controversial product. In 2011 CNET's Download.com issued an apology to its users due to the high volume of complaints CNET received about the program. As it is most often distributed, the Babylon program was bundled in other free downloadable software on their Download.com website and users were very frustrated to have the nuisance program automatically downloaded on their personal computers.
Although it is not explicitly categorized as malicious spyware, it is highly recommended that unless it was a lucid and intentional choice to download the Babylon toolbar, a cautious computer user should remove Babylon toolbar.
How to Manually Remove Search.babylon.com Redirect Virus:
As this software is in fact very deeply embedded in your computer the full removal of the program is not without great risks. It is possible to manually remove the Babylon Toolbar though it is highly recommended that most users seek the guidance of an IT professional. Professional assistance will ensure that it is completed properly and does not put any other aspects of the system at risk. This website offers plenty of tips, advice and the option to contact experts to assure that no further harm is done to your computer.
The Babylon Search Toolbar functions in all major internet browsers. The basic components of the Babylon Toolbar are installed the old-fashioned way through Add/Remove programs from the Windows Control panel. Add-on files and web browser settings are the lingering components that are not removed completely and need to be eliminated manually.
1. Open Task Manager (Press Ctrl+Alt+Del)
2. In Task Manager, go to Processes and find the search.babylon.com process. Highlight search.babylon.com and select 'End Process'
3. Go to Windows Control Panel Add/Remove Programs to remove search.babylon.com redirect virus
Remove Babylon Toolbar and in Internet Explorer:
1. Select Control Panel Add/Remove Programs from Start Menu
2. Uninstall all items related to Babylon from the list
3. Under Search Providers choose an alternate search engine provider as your default, then select Search the web (Search.babylon.com) and click Remove
4. Under Tools, open Internet Options and select General tab and click Use Default button
5. Click OK to save the changes.
6. Go to Start menu and type regedit in the search window to open Registry Editor
7.  Find the key:
HKEY_LOCAL_MACHINE\SOFTWARE\Microsoft\Internet Explorer\AboutURLs
Choose alternate entry to the Babylon URL
Remove Babylon Toolbar in Mozilla Firefox:
1. In Mozilla Firefox, under Tools select Add-ons
2. Select Extensions and uninstall extensions: Babylon, Babylon OCR, Babylon Spelling and Proofreading
3. At the top right corner click on the magnifier icon and select Manage Search Engines from the list
4. Select Search the web (Babylon) and click Remove button. Click OK to save the changes.
5. Under Tools, go to Options and select the General tab to reset your homepage
Video Tutorial On How to Modify or Change Windows Registry associated with Search.babylon Virus:
Please note: It is advisable that after steps are taken to remove Search.babylon.com redirect virus and uninstall Babylon Toolbar from the computer system that the user should run an anti-malware program to be sure that all various components of the Babylon program are completely eliminated. Never assume that it is removed 100%, always confirm with anti-malware software to provide the confirmation of complete removal. There are several programs available on this website that are very effective in scanning computer systems for these kinds of suspicious, albeit not blatantly malicious, programs.
To avoid contracting another similar irritation, computer users should never blindly trust software providers when they are downloading content to their computers. Users should remain attentive to optional installs that may accompany their target download. Instead of rushing through the installation users should select the custom installation option and deselect unwanted, unrelated and unfamiliar programs that try to install. But what you need to do is to completely remove Search.babylon.com redirect virus and uninstall babylon toolbar. If you are not sure which files to delete or failed to do it, please contact YooSecurity Expert for instant help.

Published by Tony Shepherd & last updated on October 30, 2012 11:23 am