My Windows7 getting the RegSvr32 error message when start. And all other processes have almost ground to a halt. No matter how many times I try to end that process, it comes back up again in a few minutes. I just want to stop the error message from appearing every time on start up. Thanks in advance for any suggestions or solutions.
What is RegSvr32 Error?
RegSvr32 Error is a problem about DLL registration service of Microsoft. It used to register the Windows operating system dynamic link library and ActiveX controls, and it is very important to guarantee the normal operation of the program. But why do we need to register a DLL? You need to use regsvr32.exe when registering COM components. By registering the DLL, the relevant data will be added to the application to the Windows registry. The data is usually and easy to access the name of the component, and then makes it used in another application more convenient. DLL or .Ocx files almost include components of executable code. If don't registered DLL files in the computer system, it may cause RegSvr32 Error problems. In most cases, a registry problem is the reason for this error. In simple terms, the registry can control the start of the Windows, hardware driver loading and some Windows applications running directly.
If the registry suffered damage due to mistaken delete or virus, it can make the Windows startup process abnormal or lead to the Windows system paralyzed completely. Registry is the most critical component of Windows that stores every data and configuration of your computer, every hardware/software needs to connect to registry to function properly. However, the everyday regular use of computer will keep creating wasted/invalid/obsolete entries that could corrupt the registry and cause registry malfunction, eventually, it could lead to RegSvr32 Error. When you start Windows in a normal way, multiple application programs and services will start automatically, and then run in the background. These projects include basic system process, antivirus software and other software applications. Sometimes these applications and services result in interference systems when you install or run a program.
NOTE: RegSvr32 Error has affected your computer work properly. Being afraid to do any wrong operation during the process of removing this browser hijacker? Please contact YooSecurity Online PC Experts, we are here to help you.


Screenshot of RegSvr32 Error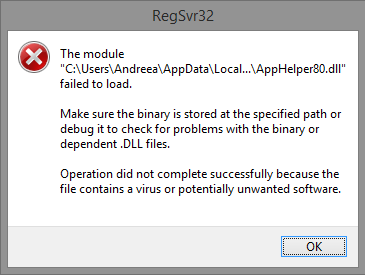 How do I get RegSvr32 Error?
1. Drive is not stable, and the system is not compatible.
2. The system installed one or more rogue software, so that lead to Internet explorer or system crash, and it also lead to RegSvr32 Error.
3. It is conflict about the load program system or running system. Especially the part of the antivirus software monitor program.
4. System loophole, it is under attack to cause the network easily.
5. The system infected with the virus.
6. If get the RegSvr32 Error when playing games, it is most likely the graphics card driver doesn't fit.
7. Download some problem software.
8. The problem of computer memory and motherboard compatibility.
Manual Removal Guide of RegSvr32 Error
Please note that you have to log in as an administrator account to operate the following steps. Some programs may lose their function temporarily when you perform disable operations.
Step1. Enter "msconfig" in the search box, and run it.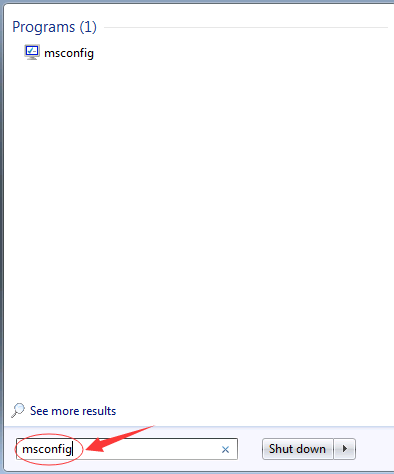 Step2. In the "General" option, choose "Selective startup", check "Load system services" and "Load startup items".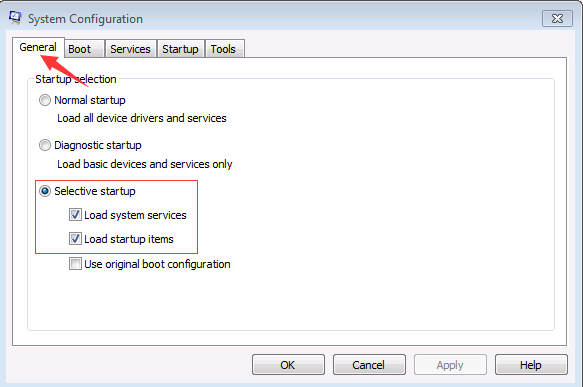 Step3. In the "Services" option, select "Hide all Microsoft services", and click "Disable all", and click "Ok".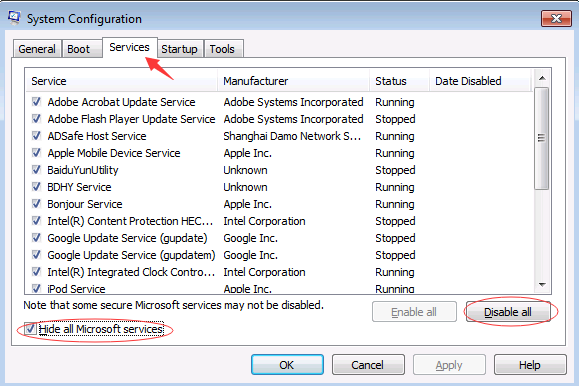 Conclusion
You may get RegSvr32 Error because of corrupted Registry, and caused either by a bad software or malware or any other reason, can lead to your Windows being unable to open a particular file type. When file associations for executable, batch or COM files are changed it could cause your executables to not start. RegSvr32 Error can not be called a virus, but also can't deny the problem results from the virus. How do you know if the kind of Error you are seeing is related to virus behavior or not? Unfortunately, these files are prone to errors without the presence of nasty viruses. This can make it difficult to determine if your system is under attack or if Windows has a kink to work out. Regardless of the source of the problem, the action you need to take is the same: fix RegSvr32 Error right away before your computer has any serious damage inflicted on it.
Warm prompt: This is just one way to fix RegSvr32 Error. If you don't want to waste time playing trial and error with every possible solution for this Error messages, welcome to contact our PC security team. Our professionals will locate the problem and work quickly to eradicate the Windows error for good. You may not realize exactly how the virus operates and aims to destroy your system one file at a time.

Published by Tony Shepherd & last updated on September 13, 2016 6:43 am