Holy moly! Is that real I got a wanted poster from Royal Canadian Mounted Police from my smart phone? It asked me to pay $300 for breaking same laws. It's something about copyright which I don't comprehend very much; otherwise the police will put me in jail. Well, first of all, I have to confess, I did download some free German songs from a site that claim all songs are free when I answered a call of nature.That was a unintentional behavior, I'm always fiddling with my phone in the bathroom, you know, it's the best way to kill time. And this time, I was visiting some music website to search information about new songs; I could not remember how many sites I browsed, and which one leaded me to Royal Canadian Mounted Police. I don't want to get into trouble; normally I will pay for the music copyright for the songs, but these German songs I could not find any download resource in each big famous website, forum or anything else, so I made a mistake to trust the free download site. Anyway, I don't know what to do at the moment, it really upsets me, I don't want to be a poor gullible person who pays for the money, but I'm also afraid if the RCMP thing is true. seriously, what should I do? Please help!
Brief Introduction to RCMP Virus on Phone
RCMP Virus not only can affect your Mac or computer, but also screw up your phone as well now. It has been widely infected in North America, mostly in Canada. Now RCMP virus is already spreading to smart phones. It'll be rampant and getting worse in the future. Both computer users and phone users, when get infected by RCMP virus, will have the similar warning page on their screen. If you are seeing an "Your phone has been blocked up  for safety reason!" notification that pretends to be from the Royal Canadian Mounted Police, then your phone has probably locked by this virus. That's a bogus notification, and it threats you by telling you that you had violated laws with the distribution of pornographic materials, SPAM and copyright content. In order to make this bogus notification more real, there will be some private information about users on the screen, such as IP, which some people may really think that's true. Well, I would like to teach you a lesson here, the message displayed by the threat can be localized depending on the user's location with text written in the appropriate language. And you may also read from the screen that, when you pay the fine, your phone will be unblocked in 3 to 12 hours after the money is put into states' account. Let me tell you something, even you really pay for the money, your phone will still be locked, nothing really changed, no matter you wait for that long or not. Cyber criminals often updated the design of the lock screen. However, I have to remind all innocent victims, you should not pay any money which the page asks you to at no circumstances, even if you thought you actually did something wrong. There's no such thing like the government or Police will ask you to pay 300$ from the internet, anyway, the Royal Canadian Mounted Police will never lock down your computer or monitor your online activities.
There are several ways for your phone to get this virus, for example, malicious websites, or legitimate websites that have been hacked, and some unknown Apps from unusual android market, once your phone had been infected by this virus, your phone will be completely locked and you can do nothing about it. If you are familiar with FBI virus and GVU virus, then you'll not be surprised by RCMP virus, they are tricks designed to blackmail people by using fake information and the name of other fake department. After that, this ransomware will threaten you to pay $300 through recommended payment scheme, then it will randomly give you a so-called unlock code which will not help at all.
RCMP Virus may also use spam email messages to spread a copy of the malicious code. These email probably contain many malicious links which you don't know that's dangerous, and it also persuades phone users to open and download it. Once you follow what it told you to do, it automatically runs a script that forces affected phone to download and execute malware from a remote server. Most of the users got this virus is because they can't resist being curious as to what the email is referring to – and click on a link embedded inside the email. For example, after you click the link, the website will trick the users into installing some disguised regular Apps, but they are actually bogus update for Adobe Flash Player or another piece of APP. And with that, your phone is infected with RCMP virus.
The properties of Infected Phones
-Completely lock the phone screen, you can't do anything about it.
-Provide you using Ukash or some other ways to avoid from any copyright disputes or being punishment for against the law by visiting illegal information online.
-You are charged by so-called illegal act in the internet which you didn't.
-You have been warned by recording your phone activities and encrypting your files.
-You'll see your IP address and basic information on this page.
Your phone will be infected by RCMP Virus if you see those traits. Please contact YooSecurity Online Experts for manual removal guide.
NOTE: Being afraid to do any wrong operation during the process of removing this virus? Please contact YooSecurity Online PC Expert, we are here to help you:

Manual Removal Guide of RCMP Virus 
Note: There is a removal guide provided here; however, expertise is required during the process of removal, please make sure you are capable to do it by yourself.
Step 1: Try to access the safe mode on the infected phone.
What is safe mode on an android phone?
Just like the safe mode on Windows computers, the safe mode on android phone is a diagnostic mode. It is intended to fix the issues that happen on the problematic phone. In safe mode, the phone will reduce functionality. Typically, the safe mode loads as few executable modules as possible and disable all the non-core components to run. In one word, safe mode only runs the system without the third-party software.
How to get the safe mode on an android phone?
There are too many brands of android phones in the world, so the way to get the safe mode can be various. We will only take a group of them as examples, if you can't follow the tips to get the same mode on your phone, please go online to find the right way to access the safe mode as the safe mode is premise to remove this infection from your phone.
For Samsung Galaxy S4: 1. Power down. 2. Turn on and repeatedly tap the soft-button for "Menu."
For Samsung Galaxy S3 and others: 1. Power down. 2. Turn on, then press and hold Volume Down (Galaxy S3 and others), Volume Up (HTC One and others), or Volume Down and Volume Up together (various Motorola devices) when the vendor's logo appears.
If you have managed to select Safe Mode, you will see the text "Safe Mode" at the bottom left corner of the screen.
Step 2: If you can find "Safe Mode" on the left hand corner, that means your phone is in safe mode already, please contact our expert for further removal instruction.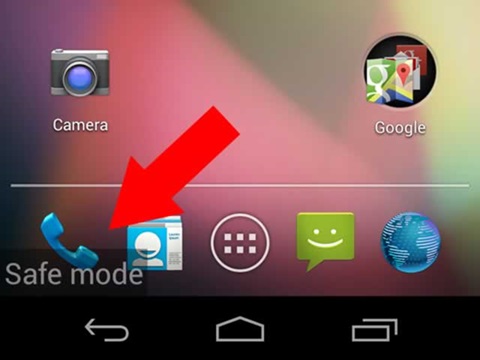 Conclusion:
If your smart phone got this RCMP virus, it can't even let you call or text, how would you think about spending hundreds of dollar to buy a little brick, and actually not a solid brick. This is not too alarmist, your info and data may get used by bad guys if you keep ignoring this virus. The best way to avoid RCMP virus happen to your phone is taking preventive measures. We are living in a rapidly developing world, you can't be too careful. Don't download any Apps from unreliable resources and never open attachment from strangers, it could be a virus. Fortunately, at the moment, even you still have your phone got this virus by accident, manual removal still can be the most effective way to get rid of this kind of ransomware virus or other similar kind of virus from Android phone. When things like this happen to you, just calm down, do not get scared by this false warning, it is a clear scam. Police would never use systems like Ukash to get the fines paid . Manual removal will be the best way to get rid of the RCMP virus Lab from Android phones.
Suggestion: To follow removal guide that mentioned above, a level of Android phone knowledge is needed. Still can't get out of this virus? Contact online experts for help now!

Published by Tony Shepherd & last updated on September 22, 2014 2:40 pm