Got this Microsoft Essential Security Pro 2013 deal yesterday. I rebooting in safe mode with networking and reset all my setting and nothing help. I have anti-virus and it said I was still at risk, although I was able to run some upgrades,the warning alert still present. How to get rid of this rogue thing?  Step by step guide is below.

Is Microsoft Essential Security Pro 2013 Real Or Fake?
Microsoft Essential Security Pro 2013 is a rogue program that displays false security alerts which alarm your computer is encountering serious Trojan horses, worms, and backdoor viruses. It starts to do the system scan when you just boot up your computer. The victim has encountered with this problem all of a sudden. He said:"Today when I boot up my PC I got a "MSE Pro 2013″ pop up and it's making scared as it is telling me there are lots of infections on my computer. After some research I found out its a virus. How do I get rid of it?"
Specifically,  Microsoft Essential Security Pro 2013 Virus lurks in malicious websites, online movies or videos pages or some "free download" sites for your visiting. This type of attack typically takes place over the Internet as most of the people use the same network resource, they want to share their experience or some thing new, then hijackers will execute the action to steal user's private information by a master computer. Why MSE Pro 2013 keeps warning you there are many viruses, spyware on your computer even if you have cleaned out your PC for multiple time? Well, the aim of the evil is to scare you to purchase its activation code to register it so that you can get the "full version" to delete all threats. But this is not a really anti-virus software, in fact it is the malicious software. Once installed with fake Microsoft Essential Security Pro 2013 virus, your computer will be fully controlled by hackers, and a variety of sensitive user information will be sent out, and then to become criminals profit-making tool. So, don't be fooled by the scam. Take a quick action to get it off of your computer.
To save your computer, Live Chat with YooSecurity Expert Now. You can follow the manual removal guide below to get your problem fixed. (For advanced computer users)

ScreenShot of  Microsoft Essential Security Pro 2013 Virus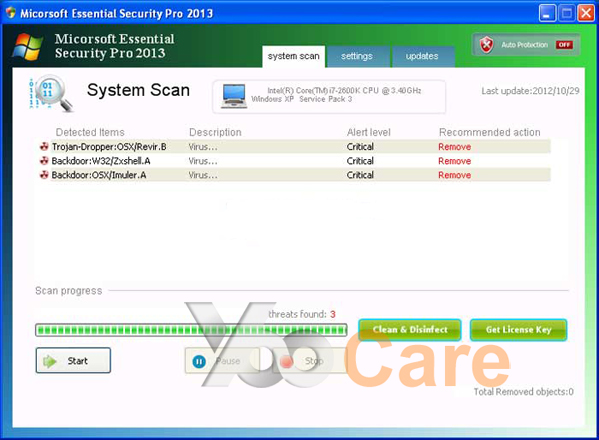 Symptoms or Harmfulness of MSE Pro 2013 Scam
It will attack your computer without your permission.

It pops up immediately after you log in Windows, and starts scanning by itself.

It shows you that threats found, and you need to clean on Clean & Disinfect button to clean out all viruses it detected.

Click Get license key to register your copy of rogue antispyware and perform threat removal on your system.
What if i have MSE Pro 2013 fake pop up on my computer?
You may receive a program called Microsoft Essential Security Pro 2013. It claims it is strictly an anti-malware program, providing detection and removal of computer viruses, spyware, and adware. It is available for all users who are using Microsoft Windows; you must have a validated copy of Windows for the program to install and run. Once installed, Windows Essential Security Pro 2013 virus disables Windows Defender, as it duplicates the anti-spyware protection offered by that program. Even if it acts as it is legitimate, it is not true. Recently, there is no anti-virus can deal with this latest virus scam malware. So manual removal of Microsoft Essential Security Pro 2013 virus  is the best way to make your computer clean.
Best Way to Remove MSE Pro 2013 Rogue Anti-virus Efficiently
You have anti-virus program installed on the infected computer but on your laptop which you are using to seek for help is an uninfected one. On infected PC when it goes on to windows everything comes up and then the ransom screen came up before, the whole it gives a screen of the ransom screen instead of the windows desktop screen and it won't go away. Well, YooCare experts can plan out a solution to access your computer in safe mode with networking at first. When it's possible to do that, their experts will do as follows:
Step A: Restart computer in safe mode with networking. To do this, just need to press F8 key before the system is started like this: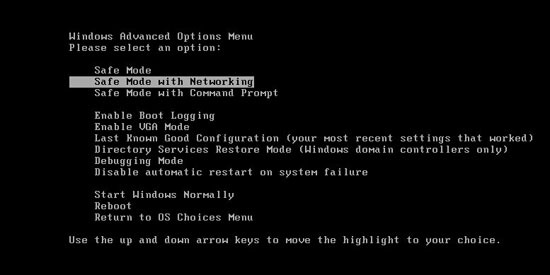 Step B: Press Ctrl+Alt+Del keys to open the Task manager to stop the progress of Microsoft Essential Security Pro 2013 Virus. Because the name will be changed fast, it will be show with different name.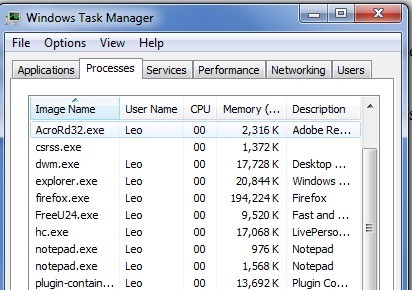 Step C: Delete all the files related to fake anti-virus.
Step D: Delete Fake  Microsoft Essential Security Pro 2013 register entries created in computer system.
By the way: I did not actually go through the process of removing I think and can't seem to figure out exactly how to do that??? Do you think i'm ok and Norton took care of everything??? Windows MSE Pro 2013 rogue is a stubborn virus and it can escape from virus removal tool. Manually remove this rogue anti-virus is a rather difficult work, if you are not a professional computer expert. We recommend you to get YooCare online service 24/7 in time. This is the real fastest and safe way to remove it.
Similar Video Guide to Remove Registry Entries That is Related to the  MSE Pro 2013
NOTE: If you have enough PC skills and followed the tips above then you have already managed to escape from the warning screen. But if you have spent the whole day to combat this malware, and it just come back after a while. Yes, if it hasn't been removed completely then the virus will be back to original status. Is this safe or should I shut down the computer anyway and go on to safe mode? No. All you need to do is to stop all processes and kill all entries associated with the Microsoft Essential Security Pro 2013 Virus. Are you trying to delete files from the virus, but unsure which to delete? The virus is more harmful than you expected.
Special tips: Spending a lot of time fixing your computer with no success and don't want to make things worse? Contact experts now to unlock your computer and remove  Microsoft Essential Security Pro 2013 virus safely and completely.

Published by Matt Johnston & last updated on June 4, 2013 6:37 am