I need help. My phone has been locked down by federalAustraliamail.com and says: "You device has been locked for illegal pornography, Sent email to XXXX for unlocking." But I have never watched any pornography. It is telling me to pay a 500$ fine within 24 hours or I will have criminal charges placed on me. It looks like real. I'm so scared and I don't know how I can take it off. I'm in need of serious help here. It won't me turn off my phone, go to my homepage, or do anything at all!! It just stays on that warning page. Please tell me how to do?
FederalAustraliamail.com Virus description
FederalAustraliamail.com Virus is a well-known virus in Australia that has been widely distributed on the internet. Once infected, you will be allowed to access your device because a message saying that your device has been blocked for safety reasons will pop up as soon as your device is on. The virus leads you to such a bad situation, and it offers you a solution to unlock your device and avoid all the violation to pay a fine via Moneypak within 24 or 48 hours. Please note that FederalAustraliamail.com Virus is a scam that is in no way connected to the police force. This virus can not only get into the computer, but also can attack your mobile device like smartphone and tablet secretly. No matter you are using an Android tablet, iPad, any smartphone or even Kindle fire, it displays a bogus virus message claiming that you have violated federal law found your device has been involved in illegal activity and demanded a penalty fine of $100, $200, $300, $500 or more to be paid in order to unlock your device.
Cyber criminals have localized ransomware viruses that target mobile devices. Therefore, users from different countries see fake screen-locking messages displayed in their local language and exploiting names of authorities from their countries. Ransomware infections have become a profitable business for cyber criminals who continue to search for various ways of infecting mobile devices across the world. Recently, security research began showing a rise in Android-based mobile ransomware infections. Commonly, ransomware viruses exploit the names of authorities including the FBI, USA Cyber Crime Investigations, and The ICE Cyber Crime Center – making fake claims that users must pay an amount of money (for supposed law violations such as watching pornography, using copyrighted files, etc.) in order to unblock their devices.
NOTE: Being afraid to do any wrong operation during the process of removing this virus? Please contact YooSecurity Online PC Experts, we are here to help you:


Characteristic of FederalAustraliamail.com Virus:
It will block your Internet access once it is downloaded.
It will pretend itself as a legitimate warning to lock you out of Safari or Chrome browser.
It will not let you exit the blocked page even you have restarted the device a million times.
It can block all types of antivirus apps.
How to Prevent Your Devices from warning scam?
Since viruses are quite inevitable, there are some tips you can avoid being fallen into FederalAustraliamail.com Virus Warning Scam in the future:
1. Be careful of downloading applications in the internet because many of them are just cloned applications. Visit legitimate app stores like Apple Store because it filters out the reliable application from what's not reliable. Most viruses are from gaming and anti-virus applications which are forged. Before downloading an application, try to read some customer reviews so that you will be assured that it is truly a trusted app. Stick with apps from App Store and don't jailbreak your device and install apps from third-parties.
2. Be cautious at opening attachments thru MMS, SMS messages and e-mails because you might open an unknown attachment from unknown sender. Never open any attachments which are suspicious to you.
3. Don't open your Bluetooth connection when not in need. It would be easy for the virus to go inside the phone's application and destroy the phone's performance.
4. Read the permissions. Every app you install has to declare its permissions, meaning the app lists what it will have access to on your phone. Don't just click OK without reading what the app will do.
Manual Removal Guide on Android device
Step 1: Put your Android device into safe mode. Turn off your device, and then turn it on. When you see a logo appear during boot-up, hold down both the Volume Up and Volume Down buttons at the same time. Continue holding the two buttons until the device boots up with a Safe mode indicator at the bottom-left corner of its screen.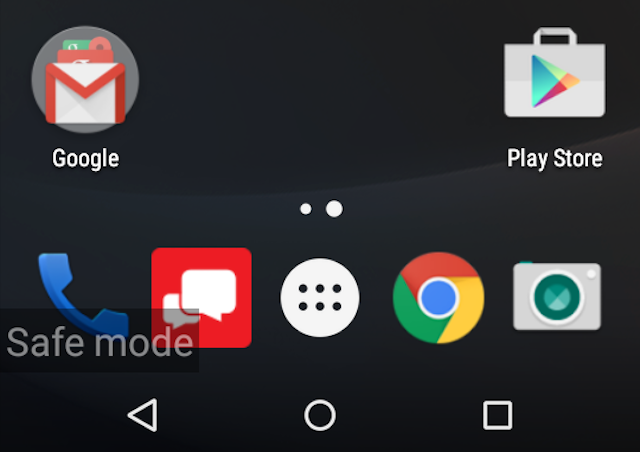 Note: You'll only have access to the apps that came with your device in safe mode. Apps you've installed will be disabled and any widgets you've added to your home screens won't be present.
Step 2: Remove suspicious file (the file is random change, In order to avoid mistakes damaging on your phone, please ask YooSecurity Online Experts for help).
Summary
The FederalAustraliamail.com Virus like a bandit who was going to run on apple system, it can prevent users Internet access and Surf the Internet. Unfortunately the antivirus software can't detect or remove the malware so far and the virus will not disappear completely, unless you have removed all the relevant components. Even in some cases it may disappear for a period of time to let you get to the Internet, but your device is still not safe, and all of your contact information and your online banking payment information will be in danger, so you have to get rid of the virus as soon as possible. As long as you take actions to effectively remove virus from your iPhone or iPad, you won't get any further damages.
Suggestion: To completely get this off iPhone or iPad, you can contact YooSecurity Online PC Experts for help right now.

Published by Tony Shepherd & last updated on December 12, 2016 8:25 am