Can the FBI Reloadit Pack Virus block/lock your computer? I was looking up vaginal warts and it went to porn and got a message that says computer locked by FBI pay 0 to unlock and it want do anything it this real? How can I take it away and unlock my computer when I have a page that says it is from the FBI that has taken over my computer demanding payment through Reloadit Pack? I'm trying to get the Federal Government virus block from my computer, what do I do when FBI ReloaditPack Virus blocked my laptop? This morning, I recently had a junk email, and accidentally clicked on a link to a site I had no wish to visit, then it came up with FBI or something and to pay a fine which I didn't and I did not click on the pop up either. My computer did not lock as they said, is this because I shut down and did not click on the pop up? It worried me but having had a virus before of a website pop up I took caution and rather than click on it, I shut the computer down from what I read online, it is a scam just hope shutting down stopped it from happening?

How to Unlock Computer From FBI Reloadit Pack Virus Scam Warning Screen Notice?
FBI Reloadit Pack Virus is a ransomware attack hoax that freezes or shuts down users PC and then begins to display warnings that "Your Computer Has Been Blocked Due to At Least One Of The Reason Specified Below!". One of the most convincing ransomware attacks that cyber criminals are using to extort money is the department of homeland security virus, this one is very similar to FBI Virus. The FBI Reloadit Pack Virus is a computer infection that locks the computer screen until you send the hackers a $300 payment in the form of a Reloadit Pack, which is like a prepaid credit card. The thing wit this payment method is that it can not be traced and once the computer user finds out that they have been a victim of a cyber crime it is too late and there is no way to recover the money that was sent.
What to do when FBI Reloadit Pack Virus Scam $300 blocks your laptop? This is a virus that only attacks PC systems that run a version of Windows. The alert is disguised to appear to come directly from the FBI (Federal Bureau of Investigation) and they claim that they have detected that the computer contains illegally downloaded software. It then goes on to explain that because of this violation the computer has been locked, but access will be granted once the "fine" is paid. To further scare the user they state that if the money is not paid within 72 hours the FBI will take legal action.
To save your computer, Live Chat with YooSecurity Expert Now. You can follow the manual removal guide below to get your problem fixed. (For advanced computer users)


Screenshot of Fake FBI Reloadit Pack Virus Scam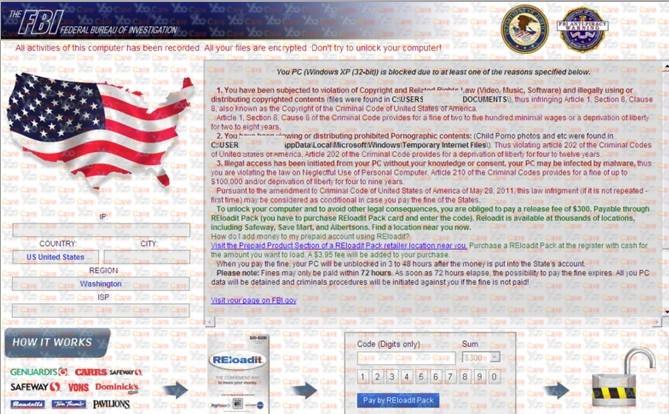 Symptoms or Harmfulness of FBI ReloaditPack Virus Malware Scam
The reason that the FBI Reloadit Pack Virus scam fools so many people is because so many people participate in illegal file downloading and sharing, so there is a very high probability that they have some form of illegally downloaded software or music on the computer. Out of pure fear they quickly run to the store to obtain a  ReloaditPack and then return home to pay through the locked computer screen.
The virus is set up to keep popping up and running the same script until they receive payment. While the screen will remain locked there is no need to pay the fine. It is fraudulent and there is no such thing as an FBI alert like they claim. There is also an audio recording that plays alerting the user that the computer has been locked for violating federal law.
To unlock the computer you are obliged to pay a release fee of $300. You must pay the fine through Reloadit Pack.
To unlock your computer and to avoid other legal consequences, you are obliged to pay a release fee of $300. Payable through Reloadit Pack (You have to purchase reloadit pack cared and enter the code). Reloadit is available at thousands of of locations, including safeway, Save Mart, and Albertsons. Find a location near you now.
You have 72 hours to pay the fine. If the fine has not been paid, you will become the subject of criminal prosecution without the right to pay the fine. The Department for the Fight Against Cyberactivity will confiscate your computer and take You to Court.
Best Way to Remove FBI ReloaditPack Virus Scam Efficiently
Since the FBI Reloadit Pack Virus places itself into the PC system and totally blocked your computer. Removing the virus manually is always the best option as you can't do anything at the moment. YooCare/YooSecurity provides the most professional online PC service. YooCare experts can plan out a solution to access your computer in safe mode with networking at first. When it's possible to do that, their experts will do as follows:
Before all you people who are going to get in safe mode with networking or safe mode with command prompt, you need to keep hitting F8 key, where is the key?

Step A: Restart computer in safe mode with networking. To do this, just need to press F8 key constantly before the system is started like this: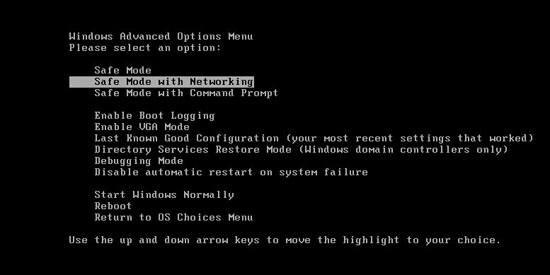 Step B: Press Ctrl+Alt+Del keys to open the Task manager to stop the progress of FBI Reloadit Pack Virus Scam Malware. Because the name will be changed fast, it will be show with different name.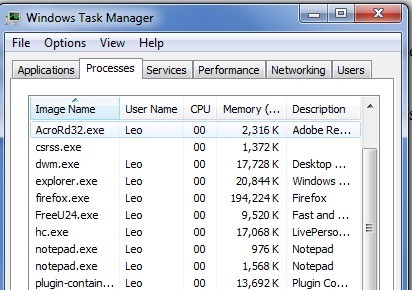 Step C: Delete all the files related to FBI Reloadit Pack Scam Malware.
Step D: Delete registry entries of FBI ReloaditPack Virus scam created in computer system.
The FBI Reloadit Pack Virus scam malware doesn't attempt to destroy the computer system like many of the other viruses. The hackers have just one goal with this virus, and that is to infect as many computers as possible in an attempt to get a large percentage to send them the money. This virus alone is responsible for scamming millions of dollars from unsuspecting PC users that fall for the scam each year.
Video Guide to Remove FBI Reloadit Pack Warning Virus
Note: The reason the hackers still continue to use the FBI Reloadit Pack Virus scam ransomware is because it still to this day tricks computer users into sending them money. They will continue to do this until they no longer make money. It is important that payment is not sent for this fraudulent threat. It is best to manually remove all of the virus files, as there are both regular files as well as an audio files that need to be removed. Following the removal instructions are fairly simple with some basic computer knowledge, but for those that are not confident in their ability there is professional help available.
Special tips: Spending a lot of time fixing your computer with no success? Don't want to get things worse, please contact PC experts now to unlock your computer and remove FBI Reloadit Pack Virus scam safely and completely.

Published by Tony Shepherd & last updated on March 4, 2015 7:47 am