I have the Adware Generic_r.KG alert that I cannot get rid of on my PC. How can this virus affect my computer system? Can one receive annoying pop ups on random webs when getting this virus on the PC? Tried several security programs to get rid of the adware but failed with the virus coming back each time the PC is rebooted. Can system restore delete the threat off of the system? What other options do I have to get the problem fixed?

Adware Generic_r.KG – How to Remove
Adware Generic_r.KG is a pop up threat which can be reported by AVG. It can be categorized as a Trojan virus for it's capable of getting other PUPs on the affected computer systems without consent. This particular type of threat, however, cannot be deleted by many antivirus programs. Users will have it come back on the PC constantly causing a lot more troubles. It is believed that the install of this infection can be achieved in a bundle with any unfriendly freeware users download online. It automatically modifies the system defaults to provide convenience for other potential malware or adware. This passage contains an instruction on how to remove the adware infection manually.

The Adware Generic_r.KG threat is found to attack Windows OS (including Windows 8, Windows 7 and Windows Vista) so far. It hasn't reached to Mac users yet. This Trojan virus can drop unwanted malware or adware on the infected system to cause more problems. Browsers can be hijacked and lots of annoying pop ups can be expected all over the webs. The programs including unknown extensions on browsers that sneak onto the computer are usually unfriendly to the system. The infected PC can be running at 100% usage of disk space because the PUPs have taken up lots of space on the memory. Further consequences can be caused:
System defaults can be automatically adjusted to provide convenience for other threats.
Numerous security popups can be seen on the computer constantly.
Unknown downloads can be automatically started without consent.
System becomes rather sluggish.
BSOD can be expected.
Computer automatically shuts down every once in a while.
…
How to get rid of Adware Generic_r.KG virus completely without reappearing?
This Trojan virus is not only a master in hiding itself on the infected system to avoid any attempt of removal, but can slow down the computer causing a hard time for users to operate. While antivirus removal cannot get rid of this nasty Trojan virus fully, manual removal is introduced. Different program files and registry keys will be dealt with which will require expertise. Any mistake during the manual removal could cause unpredictable consequences on the system. Hence, certain computer skills in dealing with computer viruses are required during the manual removal process.
Suggestion: If you are not qualified with advanced computer skills and don't want to make things worse, contact YooSecurity Online PC Experts now to get help to get rid of the Trojan virus popup:


Guide to Remove Adware Pop-up Alert Manually
Step-by-step manual removal guide:
*Special hints: Below are some general steps on how to get rid of Adware Generic_r.KG virus pop up manually. But as mentioned before, the virus files and locations can change from time to time in order to hide itself deep inside the system. If you are having troubles identifying the files to delete, look closely and pay attention to those similar system files with different paths. This Trojan horse is capable of renaming its files quite similarly with system files. Confusing letters or digits like "1" and "I", "0" and "o" may be used.
1. Windows Task Manager.


Press CTRL+ALT+DELETE or CTRL+SHIFT+ESC; or pull up Run box from Start menu to type in taskmgr
Click on Processes tab
End process of items related to the Trojan virus
Or
Click on Applications tab
Right click on the items you want to End
Go To Process
End Processes
2. Delete virus files and registries from system.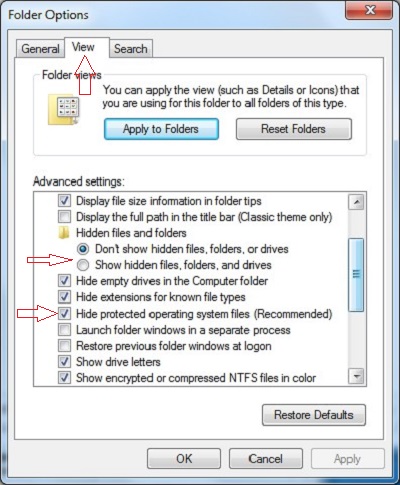 Click on Start button
Control Panel
Search for "folder options" on top right corner
Click on View tab
Show hidden files, folders, and drives
C:\Users\user name\AppData\local\temp\-
C:\Users\user name\appdata\local\-\cache\random.exe.
HKCU\Software\Microsoft\Windows\CurrentVersion\Run\-
…
Similar video guide to modify Windows registry:

Conclusion
The nasty Adware Generic_r.KG virus is a pain for many PC users as they can't get rid of the threat via running security scans. And it keeps causing a lot of problems on the computer and giving you a difficult time to run on the PC. Generally, the infected PC will become very sluggish as lots of unwanted programs and processes have taken up most of the memory space. These PUPs are mainly dropped onto your computer with the help of this Trojan threat without your knowledge. The longer the virus resides on your computer, the more problems it can cause to eventually crash the system. To get rid of this stubborn infection, manual removal is efficient and it requires expertise to manually delete the Trojan off of the system.
Note: Don't have the same files or registries listed in the instruction on your computer? Can't risk to have important files deleted on the system? To save your PC from all the damages, Contact YooSecurity Online PC Experts to get help now to completely remove the nasty Trojan virus:


Published by Michael Myn & last updated on April 26, 2014 10:19 pm