I got a error saying that start menu isn't working, how can I fix this? I just upgraded my computer from Windows 7 to Windows 10 and then when I restarted my computer, I got this error. I have been experienced this error for four days, for now I still can't find a effective solution. My computer is useless now and I am so regretting making the decision to upgrade to Windows 10. Is there any ways to fix this? Could you please help me? Thank you in advance!
Error : Your start menu isn't working
New operating system is not always perfect. There are still some problems occurred. Many people who have upgraded their operating system to Windows 10 got this Critical Error: Your start menu isn't working/ start menu and cortana aren't working. Some people consider that upgrading system to Windows 10 is the reason. Other people think that they may install the unbefitting software, but after they uninstall the suspicious software, the error occurs again. So why many people got this error? Here list two possible reasons for you. First, third-party software causes this problems. Second, Windows 10 has some related bugs that cause this error. How can we fix this problem and be able to use computer again? The answer is the following.

Way to fix this start menu error
There are millions of people facing this annoying problems and they all want an effective solution. To fix this complicated issue, you need a level of computer knowledge. It looks like an easy work, but actually it isn't. Please bear in mind that if you are lack of enough computer knowledge, don't tried to fix it by yourself or you may get other serious problems.
First of all, to fix this " your start menu isn't working" problem, you need to get safe mode first. When you are in safe mode, your computer only has the essential services and drivers. Here will offer 2 ways to get safe mode.
1) Press "Windows" key and "R" on your keyboard together>> type "msconfig" in the text field>> press "Enter", then you will get safe mode.
2) Click on "Start">> press "Shift" key and click on "Restart" at the same time>> select "Troubleshoot" >> select "Advanced options" >> select "Startup settings" >> click on "Restart" >> press "F5" on the keyboard to choose "Enable Safe Mode with Networking", then you will get safe mode.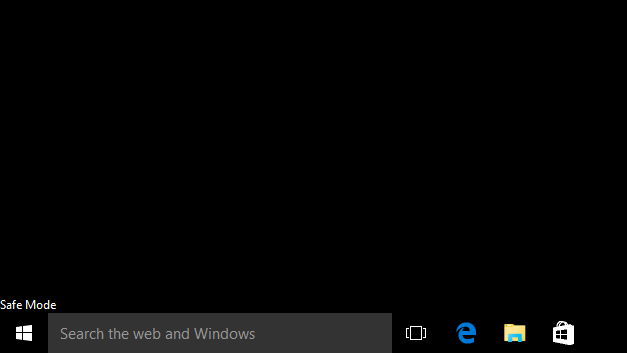 After getting safe mode, I advise you to contact an expert to help you finish the rest of steps. Many people have tried to fix this issue by themselves, but most of them always can't fix it completely. Obviously it is difficult for many people to fix this Start menu issue. So it would be better for you to ask an computer expert for help.
Conclusion
This "Start menu isn't working" or "Your Start menu and Cortana aren't working. We will try to fix it next time you sign in" error can't be fixed easily. It is quite technical. Most of windows 10 users experienced this error and they can't fix it. It looks like a simple problem. In fact, it is a difficult one. To fix this issue, you need to get safe mode first, then the rest of procedures are more technical. It indeed needs high level of computer knowledge. Contacting a computer expert to help you is a better choice for you.
NOTE: Have tried millions times to fix this start menu issue but still can't fix it? Or don't know how to fix this problem? Contact our online expert now!


Published by Tony Shepherd & last updated on September 12, 2016 8:13 am