Hello, do you guys know this error happening with WhatsApp? It says "Your phone date is inaccurate! Adjust your clock and try again.", and due to this error message, I can't use my WhatsApps at all. Some of my friends and workmate would be worried if they have something urgent to contact me. I usually use WhatsApp to contact with friends and colleagues. I don't why this problem would happen, i swear I didn't do anything wrong to mistakenly delete some files of WhatsApp. So how can I get it back to normal?
WhatsApp has a great feature allowing users to send instant messages, picture and video messages, and to do group chats and voice calls. People can use to keep in touch with others internationally. As what Wikipedia introduces, WhatsApp Messenger is a proprietary, cross-platform, encrypted instant messaging client for smartphones. It uses the internet to make voice calls, video calls, send text messages, documents, PDF files, images, GIF, videos, user location, audio files, phone contacts and voice notes to other users using standard cellular mobile numbers. Millions of people are using WhatsApp Messenger to communicate with their friends, relatives and colleagues. WhatsApp can be compatible with smartphone and tablet based on android system like Samsung, LG, HTC, Motorola and iOS like iPhone and iPad. Because of its multifunction and fresh experience in chatting and messages, it is very popular with more and more people. Without WhatsApp, life seems to be very bad for those people who live on network and social tool like WhatsApp. If there is problem with their WhatsApp Messenger and they can't contact with friends and colleagues, they will become anxious. So if WhatsApp Messenger is blocked by error "Your phone date is inaccurate! Adjust your clock and try again.", it will upset people a lot. But many people don't know how to solve such error and how to prevent it happening again.
Usually WhatsApp error "Your phone date is inaccurate! Adjust your clock and try again" occurs on older version of WhatsApp in android device. Here below is a similar screenshot of such a error screen. If you see this error screen on your device, you don't have to be anxious, as our expert here gives some solution to correct this error soon.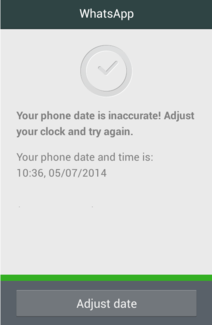 How to Fix WhatsApp Error:  Your phone date is inaccurate!
Solution 1 : Adjust data&time settings on your device
When this error displays, there should be something wrong with your date&time settings of your device. In this case, you should first check data&time settings and see if the data and time can automatically renew. So you can try:
1. Go to Settings >Date & time
2. If you find "Automatic date & time" and "Automatic time zone," isn't on, please toggle it on; If your device is on automatic but your Google Play Store is still not working then you should manually set up the date and time. Turn Automatic date and time off. Then start by entering the date and time as accurately as possible.
Solution 2 : Update WhatsApp
If adjusting data&time on your device still can't solve this error "Your phone date is inaccurate!, you can try following way to update your WhatsApp to the latest version. Please note that in case there is insufficient space to install latest version of WhatsApp, you should first check your internal memory and space storage of your device first. If there is insufficient storage, please clear some data and useless apps to free up space so that you can download and install the latest version of WhatsApp successfully. If there is no problem with your device storage space, you can go ahead as following instructions:
1. Open Google Play Store on your android device or iTunes on iPhone/iPad
2. Write "WhatsApp" in search bar to search
3. Open WhatsApp page from search results, then you will see two option buttons Update and Uninstall
4. Tap on Update button, then it will automatically download and install the latest version of WhatsApp Messenger
5. After finishing updating, open WhatsApp to see if error "Your phone date is inaccurate! Is still there. If the error screen is still there, please follow this way below.
Solution 3 : Uninstall WhatsApp and install it back
If you have tried updating WhatsApp, but error is still there, you can try to uninstall WhatsApp from your device and install its latest version. Uninstalling WhatsApp will lose all data and messages, but all your data and message like contacts chats, status messages, images and videos will be back and restored automatically when you install new version of WhatsApp back.
♦ For android device:
1. Go to Settings > Apps or applications or Application Manager > WhatsApp > Uninstall >Reboot your phone.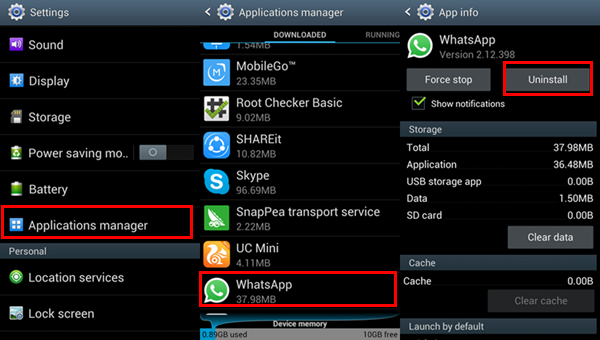 Or Open Google Play Store > search "WhatsApp" > tap on Uninstall button.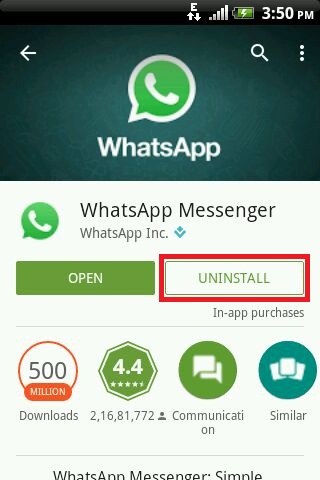 2.Next install the latest version of WhatsApp from Google Store. Open the "Play Store" icon. Tap on it to go to Google Play Store. If this is your first time opening Play Store, you will be required to login with using your Google Account Parameters.
3.Once you are on Play Store, search for Whatsapp. For the most part, this is going to be the first entry on the result page. Just install it.
♦ For iPhone and iPad:
1. Touch and hold the WhatsApp icon on the Home Screen until the icons start to wiggle.
2. Tap the gray X in the corner of the WhatsApp icon.
3. Tap Delete to remove the application and all of its data.
4. Press the Home button.
5. Re-download WhatsApp from the App Store.
Kind Suggestion: if you need someone to guide you to perform all steps above or you still can't fix error "Your phone date is inaccurate!" on your device by following above steps, you're suggested to contact our Yoosecurity Online Tech Support Expert.

Published by Tony Shepherd & last updated on November 23, 2016 1:03 pm