My computer crashed by nvlddmkm.sys. When I play game, I normally manage to get from 1 minute to 10 minutes of game time before the screen locks up and has a grainy effect to it. I can sometimes hear a little sound but then it will eventually go to a BSOD. I have the most up to date drivers and this doesn't happen on other games, such as Borderlands 2, League of Legends, Final Fantasy XIV and so on. I have checked online for fixes and I am out of ideas. But this hunk of junk won't stop blue screening during gaming or when I'm watching flash videos on full screen. I've scoured the web and tried pretty much every fix suggested, and nothing seems to work. Can you help me please?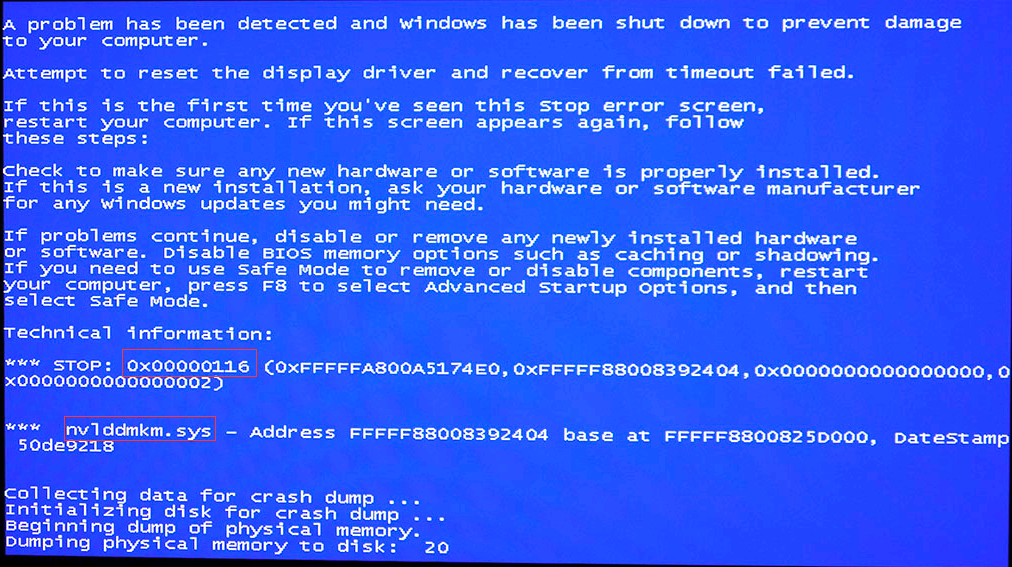 Why do I get Nvlddmkm.sys Error? How to fix?
Are you crazy to get nvlddmkm.sys error on your computer when play? If your computer crashed by this kind of error, you may know that a bad driver could be at the root of the problem. This error occurs on systems containing the NVIDIA graphics card. It is likely that the error message you are seeing reads: "display driver nvlddmkm.sys stopped responding…" The primary cause of the error is one or more misplaced files. Generally, the cause of Nvlddmkm.sys Error is hardware driver or new hardware installed driver lead to conflict or incompatible situation. And often Nvlddmkm.sys Error will be associated with software/BIOS problems which can be fixed be yourself or someone, but in some cases you'll have hardware issues which can't be fixed without a physical warranty replacement of your faulty hardware.
Do you get a blue screen and showe about Nvlddmkm.sys Error? Most of them show an Error Codes that can be used to help figure out the root cause of the Nvlddmkm.sys Error. A stop error code usually occurs when there is an underlining software or hardware issue on your computer. The system shuts itself down, and you will lose any unsaved data when Windows displays a stop error screen. In order to accurately fix your computer, you need to find the root cause of the problem in the first place. Below we will go through them and give you a few pointers to try and work out the problem. Remember, every system is different – and no matter how similar your system might be to another, there could still be variances in driver or even software.
The ways to fix Nvlddmkm.sys Error:
1. Hardware Issue
You should check if the new hardware is inserting or not. This issue is often ignored by many people and lead to many puzzling problems on computer. If the hardware is inserting firmly, you can try to put it out and change a slot, and then install a new drive program, and check whether the hardware and operating system is compatible with Microsoft's website compatible hardware category.
2. Drive or software Issue
Go on safe mode and uninstall the display adapter driver. As your computer restarts but before Windows launches, tap "F8" key constantly. Then choose "Safe mode with Networking".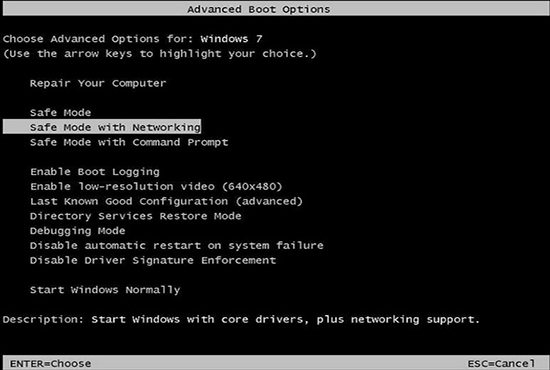 3. Virus
Virus can break through the firewall, and install some malicious programs and disrupt your system program. So you need to find the malicious programs and remove it as soon as possible. First, open "Running" window, then enter "sfc /scannow", and run it to perform system scan, check whether the file system is replaced or not, and then use system installation disk to recover.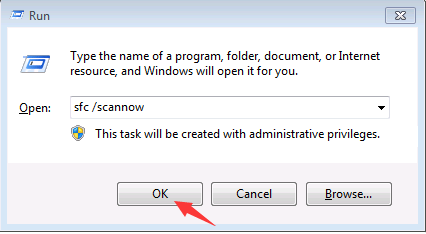 Note: Fix this issue need professional knowledge of computers. If you haven't sufficient expertise in dealing with program files, processes, .dll files and registry entries, it may lead to mistakes damaging your system. If you don't want to waste time playing trial and error with every possible solution for it, welcome to contact Yoocare online Expert. Our professionals will locate the problem and work quickly safe your computer.

Published by Tony Shepherd & last updated on October 8, 2016 10:00 am