Don't know How to Fix High CPU Usage of System and Compressed Memory? I have a trouble that is the process called System and compressed memory started acting up, when I'm browsing demanding sites CPU usage spikes to 40%-60% causing my sounds to get crackles and freeze for a split second. It's extremely annoying and was not happening before. It started this week when I came back after a few weeks and my PC updated many programs and the system too I guess. It happens when I'm using Chrome, Vivaldi, Steam, even when Before Experience is downloading new drivers… I don't know what this thing does and where it came from but I want it gone obviously it's not working the way it's supposed to. I haven't found much useful information on how to get rid of it and what I found either didn't apply or didn't work. Can you help me fix this problem?
High CPU Usage of System and Compressed Memory Description
High CPU Usage of System and Compressed Memory is a common problem in windows system. System and Compressed Memory is s process responsible for various functions related to system and memory. This process is mostly responsible for the compression of files and folders and the management of RAM. System process issues are mainly a result of conflicting applications running on your PC. You may use an executable file from your web browser, word processor, spreadsheet program, etc. CPU as the core of computer parts, the stand or fall of it directly affects the performance of the computer. CPU Usage refers to a computer's usage of processing resources, or the amount of work handled by a CPU. Actual CPU Usage varies depending on the amount and type of managed computing tasks. And if the computer got the virus or Trojan, the malicious programs are likely occupy CPU resources, some stubborn Trojan virus have been malicious activity, and then infect various kinds of system files. But if the file is located in Windows/system32, it's more than likely not a virus. You have to note that your computer is meeting a big trouble when the CPU Usage rises too higher. On average, the system and compressed memory process is only supposed to take up a small amount if CPU and Disk. However, in some cases, the System and compressed memory process starts using up 100% of affected user's Disks, causing their computer to become incredibly slow and hindering the duties and responsibilities of other processes and tasks.
The harm of high CPU Usage of computer
1. Lead to the CPU temperature higher and shorten the life of the CPU.
2. Affect the normal use of other software, even can't run.
3. Lead to computer froze completely and cannot use anymore.
Manually Fix High CPU Usage of System and Compressed Memory
First, you need to figure out the real cause of the high disk usage and then solve this problem. We recommend you use "msconfig" command to run in safe mode with networking and also disable all non Microsoft service processes in the service tap from task manager and then see if it solves the issue, if it does then start enabling once service at a time to find out which causes the problem to appear again.
Step1: Press the Ctrl+Alt+Delete keys at the same time, and then click Star Task Manager. One-click "Processes" tab on top, then find relevant process and click "end process". You can trim down unneeded services by disabling or stopping the services that don't absolutely need to be running. Additionally, if you are noticing very heavy CPU usage on a single svchost.exe instance you can restart the services running under that instance.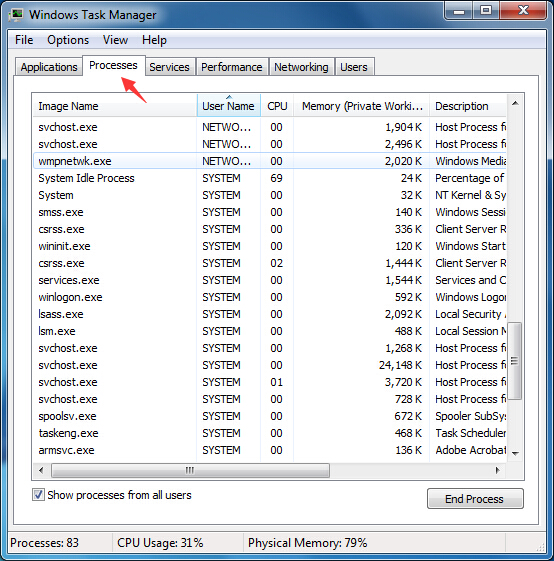 Step2: Enter "msconfig" in the search box, and run it.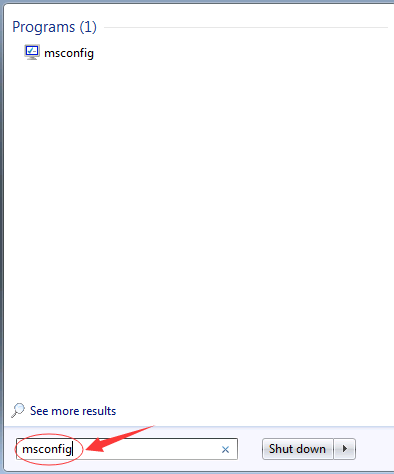 Step3: On "Services" and "Startup" option, disable some needless program.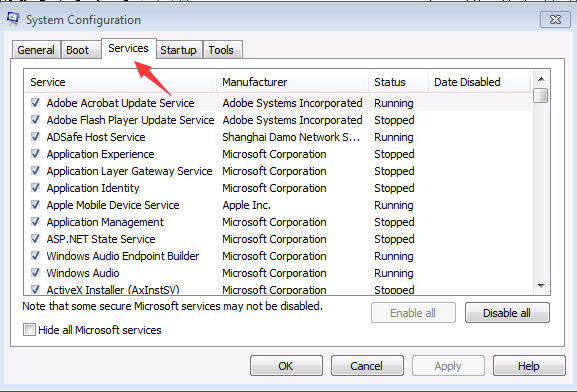 Do you know how to Fix High CPU Usage of System and Compressed Memory right now? If not then please contact an online expert for instant support.
Warm prompt: Fix this problem need professional knowledge of computers. If you don't want to waste time playing trial and error with every possible solution for it, welcome to contact our PC security team. Our professionals will locate the problem and work quickly to eradicate the Windows error for good.


Published by Tony Shepherd & last updated on January 24, 2017 8:21 am