Hi. I keep getting a dllhost.exe error on my pc and I can feel my pc is running slowly when the error appears. To tell the truth, I downloaded a game on yesterday, the game ran properly. But this morning I logged into my pc and the desktop icon vanishes again and again. All the opened folders become closed. Even, I'm now unable to uninstall any program from my PC through 'Start Menu' cause start menu gets closed after that 'refresh'. And a dialogue box appears- ' dllhost.exe – Application Error pops up. How do I fix the problem?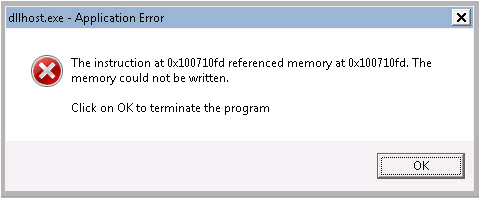 What is Dllhost.exe? How do you get this error? Is it a virus?
Dllhost.exe is not a virus, it is a trustworthy process published by Microsoft. Dllhost.exe is very important for the normal running of the system, as a part of windows system, it is used in managing the DLL applications. Under normal conditions, it is created automatically during the installation of the operating system, which can end autonomously when not being used. Normally, it is not recommended for the computer users to modify it causally, because Dllhost.exe is very important for keeping the stability of the computer system. Since it plays a vital role in keeping the stability of the computer, dllhost.exe would also be welcomed by various viruses; it can also be misoperated casually. Anyway, many kinds of faults would lead to dllhost.exe errors.
When a dllhost.exe error occurs on your computer you are generally notified via a pop-up style error message that will tell you what kind of DLL error you have. Some of the more common types of DLL errors include Corefoundation.dll error, Leframe.dll error, 3dx9_x.dll error and Kernal32.dll error. No matter what caused the dllhost.exe error you are experiencing, the result can be a slow PC that may freeze or crash, and an overall decline in user experience. dllhost.exe errors may occur for a variety of reasons. One of the more common causes is the dllhost.exe file being overridden or shared with an older version of a program across other applications. Another possibility would be the installation or un-installation of a program conducted incorrectly. Ignoring dllhost.exe errors may eventually lead to PC slowdown or a full system crash, so fixing the error is important to maintaining optimal computer performance.
The harm of Dllhost.exe error
If you got Dllhost.exe error, you may encounter things including – a pop up with a windows error message stating that a dllhost.exe file is missing or some similar wording. As a side effect of this error a user may notice some applications not working properly, the computer freezing from time to time or some other malfunctions. In the most severe cases, this error may lead to a Blue Screen of Death, or the windows stop error, which means a full system crash.
Manual Guide to fix Dllhost.exe Error on PC
Step 1: Press "Windows+ R" key at the same time and enter "CMD" to run it.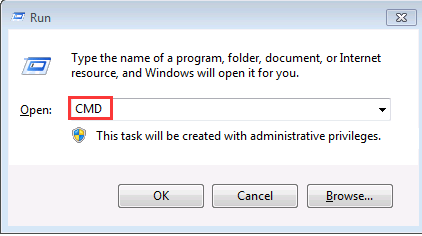 Step 2: Make sure that your window system is belong 32-bit or 64-bit. If it is 32-bit, please enter "for %1 in (%windir%\system32\*.dll) do regsvr32.exe /s %1" command, and press "Enter" key.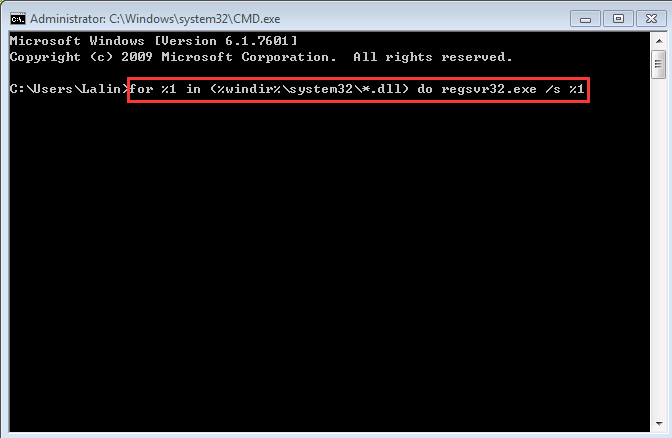 Step 3: You will see the following window, and then began to register system DLL file completely.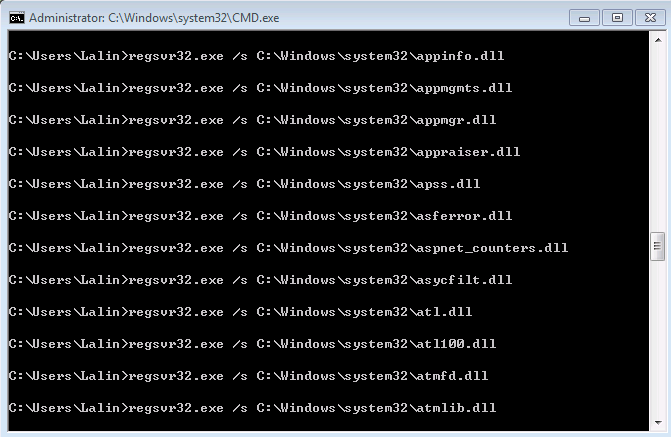 Warm prompt: Fix this error need professional knowledge of computers. If you don't want to waste time playing trial and error with every possible solution for this Error messages, welcome to contact our PC Security Team. Our professionals will locate the problem and work quickly to eradicate the Windows error for good. You may not realize exactly how the virus operates and aims to destroy your system one file at a time.


Published by Tony Shepherd & last updated on November 16, 2016 12:39 pm