I recently started having with the constant 0xc00000142 error when I opened my Google Chrome on my Windows 10 laptop. I try my security tool to fix the error and system things, but nothing helps, this error still happens when opening Google Chrome. What can I do? Can you help me with this issue?
Why 0xc00000142 Error (Can't Use Google Chrome) Occurs?
0xc00000142 Error is a Windows error. 0xc00000142 Error would happen when you open Google Chrome, Powerpoint, Excel, Microsoft Word and other applications on your computer when an unexpected condition occurs or when a desired operation has failed. You may get the popup saying "The application failed to initialize properly (0xc0000142). Click on OK to terminate the application." You might also get another error code saying (0xc0000005). This kind of error code takes time to fix and it is a tough work. When 0xc00000142 Error occurs, you will not be able to use the damage application, that's why you can't use Google Chrome. A Windows error is an error that happens when an unexpected condition occurs or when a desired operation has failed. Windows error or system error mat be fatal and trigger your programs or application like Google Chrome to freeze and crash or it may be seemingly unstable, run more slowly and crash more frequently. Anyway, you will not be able to run the programs and application at all.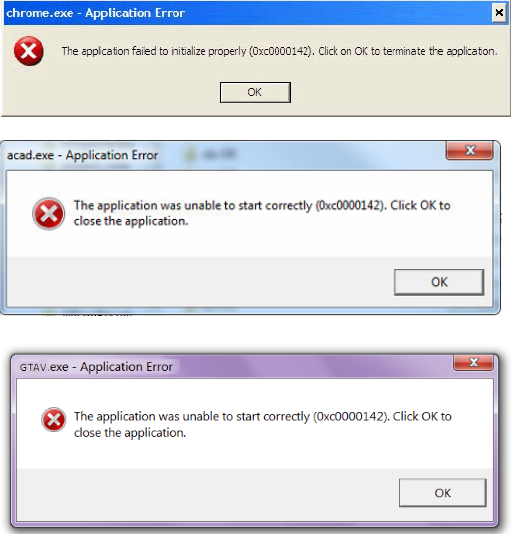 How to Fix 0xc00000142 Error (Can't Use Google Chrome)?
0xc00000142 Error is caused by a malfunction or a corruption with the program you're trying to use. It's mainly down to corrupt or damaged files generated by various applications you use. And you should notice that the fix methods are different from one case to another. You should know that if the error message listed on your Windows PC is caused by virus or other damaged system component or hardware issue. You can try the following methods to fix this error:
Method 1: Repair Google Chrome
1. Close other tabs, extensions and apps
Your computer may have run out of memory, and can't load the site while also running your apps, extensions, and programs. To free up memory:
Close every tab except for the one that's showing the error message.
Quit other apps or programs that are running.
Pause any app or file downloads.
Uninstall extensions you don't need.
On the erroring tab, try reloading.
2. Restart Chrome
Quit Chrome and reopen it: Press Ctrl + q, then try loading the page again. You can reopen any tabs that were open before by Pressing Ctrl + Shift + t.
3. Restart your computer
Programs or apps sometimes get in the way of a page loading correctly. Restart your computer then Try loading the page again
Method 2: Run the Application in Compatibility Mode
Run the application in compatibility mode and always start the application as administrator.
1. Right click on file (giving application error 0xc0000142).
2. Click on Properties and then click Compatibility tab.
3. Click on "Run Compatibility Troubleshooter" if the games work save the settings if not continue.
4. Put a check mark on Run this program in compatibility mode for.
5. Select the operating system to which the driver is available.
6. Put a check mark on Run this program as an administrator under Privilege Level.
7. Click on Apply and then exit. Check again if you Fix Application Error 0xc0000142 or not.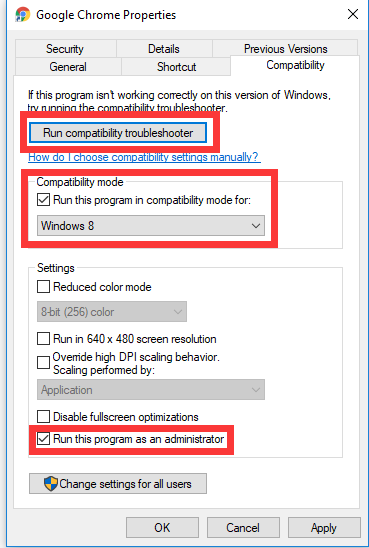 Method 3: Run SFC (System File Checker)
Run sfc /scannow command so it scans all protected system files and replaces incorrect versions with correct Microsoft versions.
1. Right click on the Windows button.
2. Click on the Command Prompt(admin).
3. It will prompt so click on yes and the command prompt with admin rights will open.
4. Type sfc /scannow and wait for the process to finish.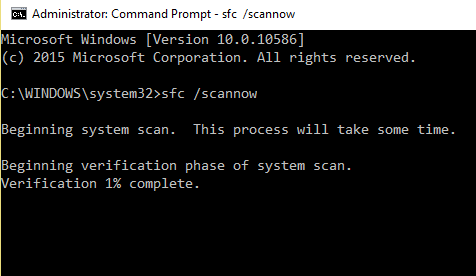 Conclusion
0xc00000142 Error occurs and blocks your access to Google Chrome, so that you can't use Gogle Chrome. You should figure out the effect methods to repair this error, or other applications may get the same damages and same error happens. Even computer security becomes more vulnerable and gets infected with spyware and malware. Windows and other critical errors can occur when your Windows operating system becomes corrupted. Opening programs will be slower and response times will lag. When you have multiple applications running, you may experience crashes and freezes. There can be numerous causes of this error including excessive startup entries, registry errors, hardware/RAM decline, fragmented files and so on. In a word, to completely fix 0xc00000142 Error (Can't Use Google Chrome) is something best done by professional technicians.
Warm Prompts: If you can't figure out Fix 0xc00000142 Error (Can't Use Google Chrome), you are suggested to contact our professional PC Technician by clicking the LiveChat button below, the technician will take care everything!

Published by Tony Shepherd & last updated on November 6, 2017 7:17 am