Hi, I have a problem with Government Malware Virus on android phone.  My 13 year old son just tried to download something on the internet onto his Samsung Galaxy phone.  He got a message that he was violating the law and that it was porn.  This message is supposedly from the FBI, but I'm fairly sure it is not.  Anyway, his phone is now locked on their notification screen, and the only thing he can click on is a link to a site where he can purchase a $500 Green Dot card to pay them the "fine"    How do we get rid of this and get his phone unlocked?
Government Malware Virus on Android Phone
Government Malware Virus is actually designed by cyber criminals to pretend to be government department or law enforcement to scare and scam people out of money. All those warning notification showing on your android phone screen is fake and not from the government department as it mentioned there. Government Malware Virus is actually the ransowmare like FBI warning scam virus, US Marshals Gov virus, NSA cyber police virus, Interpol virus, British Police virus, RCMP Interpol virus, ICSPA virus, or AFP virus. And this government malware pretends to be government department like FBI, US Marshals Gov, US Department of Justice, Metropolitan British Police, Royal Canadian Mounted Police or Australian Federal Police to display warning alert saying your mobile device is blocked up for safety reason and you're suspected of violation of government laws involving with activities like watching and distributing prohibited pornographic material, using or distributing pirate contents like music, video or software and so on. It says you're accused of committing the crime and you break some criminal laws articles. The Government Malware virus warning message looks like the one below:
ATTENTION! Your phone has been blocked up for safety reasons listed below.
All the actions performed on this phone are fixed.
All your files are encrypted.
CONDUCTED AUDIO AND VIDEO.
You are accused of viewing/storage and/or dissemination of banned pornography (child pornography/zoophilia/rape etc)…

Government Malware Virus blocks the internet access on android phone but most of case, it totally locks the whole android phone. And then you will not be able to use android phone to make phone call, send message, and open Settings or open internet browser or doing anything other things on android phone. In this case, this government malware has inserted the virus into deeply the android system. But many innocent and inexperienced victims don't know their android phone is actually locked by virus, instead they think it is blocked by the government department or law enforcement, as the warning message looks very genuine. On government warning alert screen, is has all victims' information like IP, country, region, city and all their contacts websites even phone number. And this government malware virus demands victim to submit a penalty of $500 or £100 via moneypak, itune gift card, Paypal My Cash card, Paysafecard or Ukash within 24 or 72 hours. Government Malware Virus just uses the logo and face of government department to make the warning notification looks more genuine to mislead people. If your android phone gets this kind of government malware warning alert, you should search around its information online before you do any decision.
If your mobile device like android phone/tablet is infected with Government Malware, it will be hard for you to remove it with security tool completely, because there is no perfect antivirus to kill threats on android phone mobile and also this virus is very tricky and can escape from security apps. And how to unlock your android phone from Government Malware Virus? In this case, removing it manually with sufficient expertise online is the best way for mobile users to completely eliminate it from android phone or tablet.
Main Traits of Government Malware Virus Android Phone or Tablet
1. The Government Malware Warning is designed to lock your mobile android phone and tablet asking that you need to pay for a fine $100-$500 or £100 to unlock your mobile device. In fact, it is just a big scam.
2. It locks your android phone or tablet, claiming that you've violated the law of local office by visiting illegal information online.
3. Soon as the Government Malware ransomware targets your mobile phone or tablet, it blocks your mobile device and prevents you from doing anything there.
4. It allows remote access to your mobile android phone or tablet for your personal information and other sensitive information.
If you find any symptoms listed above showing on your android phone or tablet, then your mobile device must be suffered with a malware infection(which can be this Government Malware Virus, FBI scam virus, Mandiant U.S.A. Cyber Security virus, FBI Moneypak virus, Prism virus, U.S.A Cyber Security virus, AFP Crime Commission virus and GVU Ukash Virus etc.) that blocks your access to your smartphone or tablet. Welcome to contact YooSecurity Online Experts for manual removal guide. Also, we will provide a short removal guide below for phone and tablet literate.
NOTE: Being afraid to do any wrong operation during the process of removing fake RCMP Interpol Warning message on tablet or phone? Please contact YooSecurity Online Experts, we are here to help you:


 Similar Screenshot of Government Malware Virus on Android Phone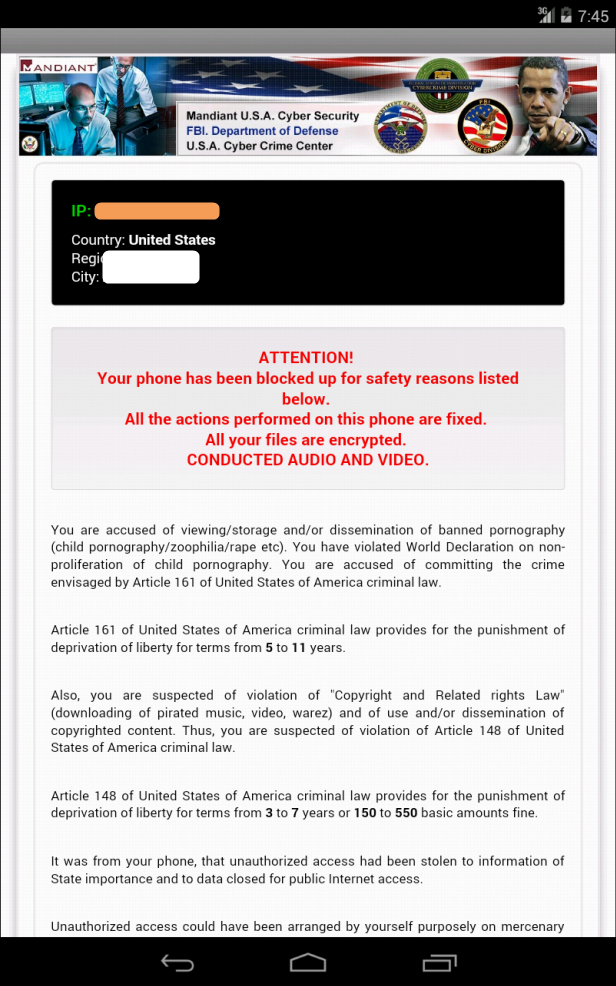 Government Malware Virus Manual Removal Guide on Android Phone and Tablet
1. Since your android phone or tablet is blocked by this Government Malware Virus, you will need to restart your mobile phone or tablet to safe mode which starts up without loading any third-party add-ons. By this way, you are capable to carry out malware removal steps on your device. Here are two examples for you to put the android phone and tablet to safe mode. The method mentioned below is also applied to most android phone. Take Dell Tablet as an example:
For Dell tablet: 1) Power down. 2) Turn on till you see the Vendor's logo, press and hold Volume Down key till you access to safe mode.
Note: Samsung, Sony, HP and other brands' tablet users can also try the same way as Dell's to put your tablet to safe mode. If you have put your tablet to safe mode successfully, you should see a text "Safe Mode" at the bottom left corner.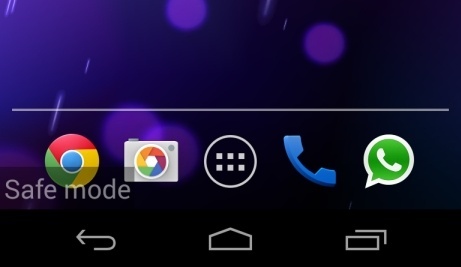 2. Once you have put your mobile in safe mode, you are capable to uninstall malicious apps of your android phone or tablet. However, the manual removal process of harmful apps requires sufficient expertise. To safely deal with this kind of ransomware and other hazardous apps, you had better contact an expert online for further removal help.
Conclusion
Ransomware like this Government Malware Virus usually extort people out of money by using its own tricking tactics to masquerade itself as FBI police, US Marshals department, NSA cyber police, PCeU, Australian Federal Police, RCMP Interpol or ICSPA etc to display fake government warning alert accusing you of illegal activities involving with viewing and distributing prohibited pornography, child pornography, using and disseminating pirated contents like music, video or software. For those safety reason, your android phone is blocked up and you have to send a fine of $500 or £200 by enter a code of moneypak, paypal, itune gift card, my cash card or paysafecard or ukash. Once you receive such warning message asking a fine, you should first think over logically do a searching online but don't rush to submit money, or you will just fall into a scam trap and your android phone is still locked up by Government Malware Virus there.
Suggestion: Have spent a lot of time but can't get out of Government Malware on your mobile device? Contact online experts for tech support now!


Published by Tony Shepherd & last updated on June 20, 2016 3:16 am