"I got pop up block that state fine of £200 GBP. I can't open my safari, I don't know what to do next?"
"I have this virus on my phone that just popped up and after doing some research concluded it is absolute BS but it won't go off my Safari, I can't use my safari now, and all the instructions say my safari browser has been blocked up for viewing and distributing illegal materials prohibited by the law. I swear I didn't do anything violating the law and I have not watched the child pornography. Don't know what happened to my phone? It just appear and I did nothing wrong. That is crazy that telling me to pay for the thing I never did. please help."
Description of HTTP://POLICE.UK Popup Block On Safari
This illegal pornography HTTP://POLICE.UK Popup is such disgusting that can block your browser. They invade your system because they're sneaky. They use every known trick in the book to slip past you, and dupe you into allowing them in. Yes, you read it right. You allow them into your safari. If you find that confusing, it's rather simple. Hijackers have to ask whether you agree to install them. Only after you confirm that you do, can they proceed with installment. So, remember or not, you complied with the threat's install. You can't close it and can't do anything on your browser. Generally, it always says that your device has been locked for porn reason or something. If you get this Trojan virus, you should think about this and google it. After you google it, you will find that this is actually a virus and scam. The hacker just wants to get money from the victims. This Trojan virus aims to infect online user's device to cheat them into believing that if they pay the money, their devices will be unlocked. Unfortunately, paying to NSA won't help to unlock your device.
This HTTP://POLICE.UK Popup has numerous ways to get to computer, phone or tablet system. Usually, it is put in the porn websites, when you visit the porn website, you will get the virus silently. And this virus also hides in the attachment of some spam emails, when you get spam email and click the attachment, you will get the virus. If this scam message pops up on your iPhone or iPad and you had a javascript alert to pay a fine, your device is infected with a dangerous scam virus, it will be hard for you to remove it with antivirus completely, because there is no perfect antivirus to kill threats on iPhone or iPad and also this pop-up virus is very tricky and can escape from security apps. In this case, removing it manually with sufficient expertise online is the best way for iPhone, tablet or iPad users to completely eliminate it.
NOTE: Being afraid to do any wrong operation during the process of removing this HTTP://POLICE.UK Popup from iPhone or iPad? Please contact YooSecurity Online Experts, we are here to help you:


The Screenshot of This Similar Disgusting Virus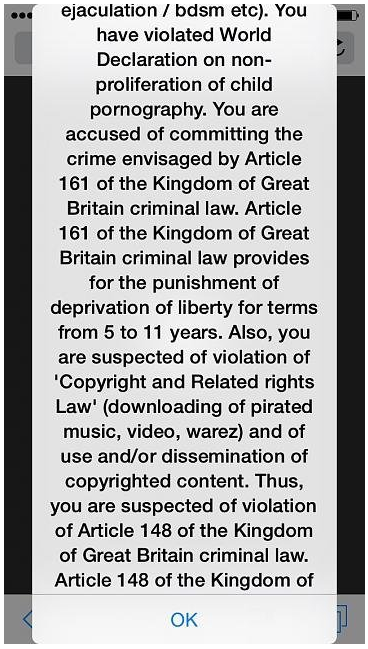 What Happens if I Don't Remove This Virus?
The virus will stay in your phone and block your safari until you get it removed, means it won't be removed by itself if you just power off the phone and just put it on the side. You get forced to endure endless intrusions when browsing. Each click brings in money for the cyber criminals behind the HTTP://POLICE.UK Popup. So, they make sure everything you see counts. Don't expect to get flooded with random pop-up ads or pages. he hijacker studies your online activities until it gets a grasp of your interests. Then, the bombardment of 'appropriate' intrusions begins. What's worse, though, it doesn't just monitor your browsing. The hijacker keeps a thorough record of every move you make. Then, after it gathers enough data, sends it to the people behind it. That's right. Cyber criminals with malicious agendas get a hold of your private data. If you get this HTTP://POLICE.UK Popup virus, you need to remove it manually instead of paying to it to unlock your iPhone or iPad.
Why You Need to Remove This Virus on Safari Manually?
The Popup virus is upgraded by hackers to target more and more iPhone or iPad or other Mac OS X system product to get more illegal profits. Now it can hide Safari and make victims believe that Safari has really been deleted. We used to believe that Apple products with Mac OS X system is greatly immune to viruses and malware. However, since this version of virus is improved to attack iPhone/iPad, this malware will easily spread online and hits Apple iOS device.
1. Once you see HTTP://POLICE.UK Popup message on your iPhone or iPad, please get this ransomware off your iPhone/iPad manually.
2. This virus will pop up and lock your iPhone/iPad, you could get this virus by visiting a phishing site, opening a junk e-mail attachment, clicking on an unknown link or downloading an application from an unsafe source, especially after you jailbreak your device.
3. Currently no app is able to detect or remove this malware scam, even for preventing the virus from attacking the mobile device again.
4. Manual removal process requires sufficient expertise. To safely deal with the Scam from iPhone/iPad, you are recommended to Contact an Expert .
Conclusion
HTTP://POLICE.UK Popup is a kind of Trojan virus. You should know that this virus is scam. Once your iPhone or iPad gets this virus, you need to remove it from your device instead of paying the virus. As soon as your iPhone or iPad gets this virus, your safari will be blocked and you can't use your safari normally. This virus tells the victims that they have many illegal activities on their device and their devices have been locked. They need to pay the money to unlock their device. This virus says you have visited some illegal websites or illegally downloaded on the Internet. In fact, this is a big fraud. This virus just wants to get money. You should know that if you pay to the virus, your device will still be locked. It won't help to unlock your device.
Suggestion: To follow removal guide to get out of this virus that mentioned above, a quite level of knowledge is needed. Please make sure you are capable of dealing with this. If not, please Contact online experts for help now!

Published by Tony Shepherd & last updated on February 27, 2017 3:49 am