This year, Golden Frog held their annual Take Back Your Internet panel and party on March 9th during the opening night of SXSW. Their guests and panelists discussed a few key questions about the repeal of Net Neutrality, data as property and the state of Internet Freedom and what it means for Internet users going forward.
This year's panelists included:
Philip Molter, Co-CTO, Golden Frog
Rachel Wolbers, Policy Director, Engine
Joseph Lorenzo Hall, Chief Technologist, Center for Democracy and Technology (CDT)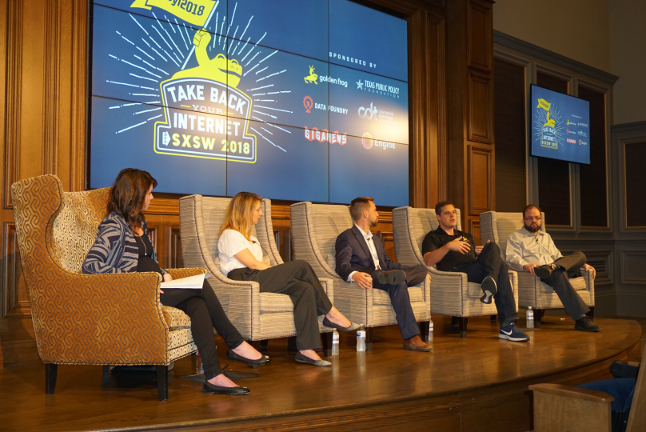 FCC Commissioner Mignon Clyburn, a longtime supporter of an open Internet and outspoken champion for smart, targeted regulatory action, joined them for introductory remarks. Then, Moderator Ellen Troxclair was diving into the big questions with our panelists: what is next after Net Neutrality, whether personal data should be considered personal property, and what their thoughts were on the worrisome decline of worldwide Internet freedoms.
The Continual Decline In Freedoms Around The World.
For most people with their finger on the pulse of global Internet policies, another great concern looming on the horizon is the continual decline in freedoms around the world. A good barometer for how limited Internet freedoms are in a country is the amount of energy that government invests in restricting or outlawing VPN services within their borders. China and their development of the great firewall to use advanced forms of machine learning was one such example.
Molter spoke of the rise of VPNs to circumvent those blocks anyway, and how it isn't limited to countries we typically consider staunchly restrictive. "VPN use is increasing not just in places we think of as autocratic, but in places we think of as free," he said. "You ask what can people do? Go out and get a VPN."
Golden Frog At Ghostery's Official SXSW Event – Ghostery Goes Open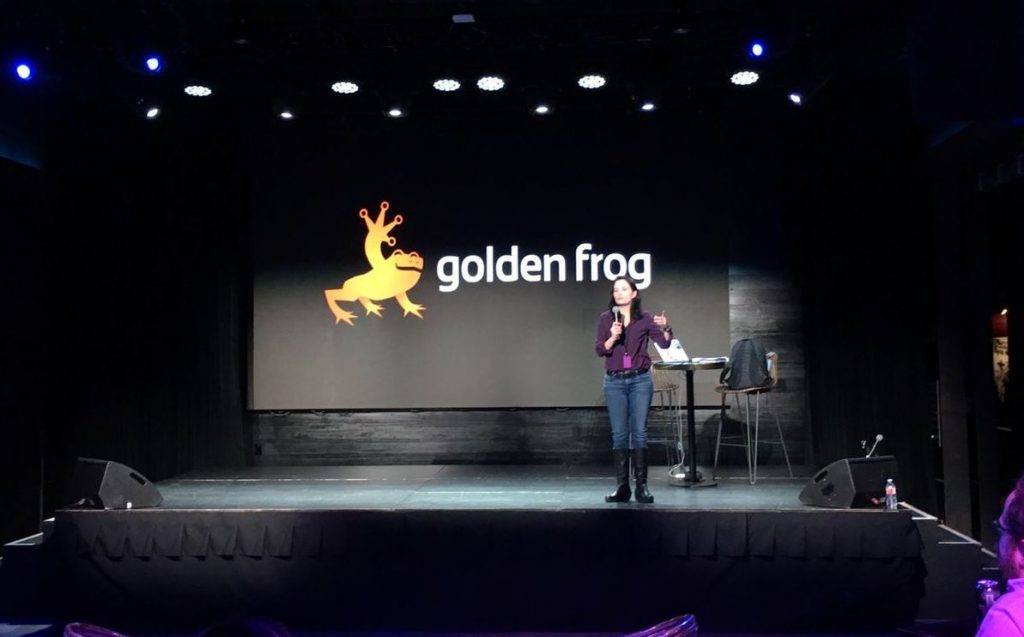 Golden Frog was also present at Ghostery's official SXSW event – Ghostery Goes Open – in celebration of Ghostery's product going Open Source. As a product focused on providing faster, safer browsing by identifying and blocking third-party data trackers, Ghostery wanted to showcase this to the masses at this year's SXSW. Golden Frog's own Liz Kintzele (pictured above) attended the panel to discuss the history of Golden Frog and how VyprVPN is a valuable resource for consumers looking to protect their personal data. High praise was given during the event for Ghostery's shift to being more transparent, including on the Terms of Service and Privacy Policies, both of which can be very cagey from brand to brand. Also in attendance was Matt Erickson with our good friends at Spideroak and Digital Privacy Alliance.
Golden Frog Continues To Advocate For A Free And Open Internet.
Working alongside the Center for Democracy and Technology and other partners, Golden Frog is helping to establish a best practices guide for VPN companies regarding standards for the VPN industry to empower consumers to select providers they can trust.
Unlike a lot of other VPN companies that are shrouded in mystery, Golden Frog remains transparent and will continue to publicly fight for a free and open Internet.
Top 10 Best VPN Services Worldwide
| VPN Provider | Server | Jurisdiction | # of Connections | Price(USD) | WebSite |
| --- | --- | --- | --- | --- | --- |
| | 1500+ VPN servers in 94 countries. | British Virgin Islands | 3 | $6.67/Month (Save 49%) | Best Deals |
| | 1,000+ VPN servers in 60+ countries. | USA | 5 | $6.49/Month (Save 46%) | View Deals |
| | 2643 servers in 56 different countries. | Panama | 6 | $3.29/Month (Save 72%) | View Deals |
| | 750+ VPN servers in 140+ countries. | Hong Kong | 5 | $2.04/Month (Save 79%) | View Deals |
| | 70+ global servers in many countries. | Switzerland | 3 / 5 | $4.16/Month (Save 50%) | View Deals |
| | 700+ VPN servers in 34+ countries. | Israel | 3 | $2.49/Month (Save 75%) | View Deals |
| | 30+ locations in many countries. | Malaysia | 5 | $4.99/Month (Save 50%) | View Deals |
| | 3000+ Servers in 55+ Countries. | USA | 5 | $5.95/Month (Save 50%) | View Deals |
| | Over 200 servers in 69 countries. | Bulgaria | 6 | $4.92/Month (Save 50%) | View Deals |
| | 300+ VPN Servers in many countries. | Seychelles | 3 | $3.33/Month (Save 34%) | View Deals |
Warm Prompt: If you don't know how to select the best VPN or how to set up VPN on Macbook, Windows PC, android smartphone, tablet, or iPhone/iPad device, you're recommended to live chat with Yoosecurity Online Expert for instant help!

Published by Tony Shepherd & last updated on March 15, 2018 5:10 am