Hi! I've had this weird message came up on my phone while I was surfing the net and it directed me to a pornography page and blocked my phone. Also it is saying I must pay fine for breaking the law when I wasn't on any type of website that they had listed. Saudi Cyber Crime Scam? What is that? I never heard it before. What should I do now? How can I get it off my phone? Please tell me what to do. Please help!
Did You Hear About Saudi Cyber Crime Scam Before?
Get Saudi Cyber Crime Scam on your phone or tablet? Don't worry. This is one kind of virus which familiar to US Department of Justice Virus. This virus locks your phone or tablet and don't let you do anything except turning your phone or tablet off and on. You may see the message told you your phone has been locked up for safety reasons. And it says that you have violated some laws, the police will come if you don't pay xxx dollars. Please don't be scared. This is scam. And the police won't come. Please take a deep breath and calm down. This virus is created by Cyber hacker to make illegal money. They just make use of the technology to cheat many people who don't know anything about virus through the Internet. They intimidate you then ask you to pay them. Then your device will be unlocked. Please don't trust them. Your device won't be unlocked after the payment. The virus will still lock your device until you remove it manually. So don't be fooled to pay them, please remove it as quickly as you can.

The "Saudi Cyber Crime Scam" virus infected people's computer some time ago, but now it also infects phone and tablet, too. This virus will lock you out of your device and you can't get into system and can't do anything. And if you pay the virus, your device won't be unlocked. It will still let you pay. So please be more intelligent to get it off your device.
The hackers have many ways to disperse their viruses, like putting the links which contain viruses to the website, when you click on those links, your device will get virus and be locked. The virus page just came up and you even don't know what happened. It may tell you that you get this page by visiting the illegal websites or watching pornography, but you never did this before. And it tells you that you need to pay to them or the police would come. The hackers just cheat you and make you feel scared. For not getting trouble with police, you may pay them without hesitate.
Or the hackers would attach the virus to an e-mail, if you click the attachment, the hackers will be happy, because you have fallen into traps, your device will be locked by their viruses. The hacker would send an E-mail with bogus header information to you and make you believe that it is from a shipping company like DHL. The E-mail tells you that they failed to deliver your packages to you. Sometimes it has attachments which contain further information about your packages. And you may can't resist this temptation then click on that attachment. Unfortunately, once you click on that attachment, your device will get virus and be locked.
Similar Screenshot of Fake Police Message on Mobile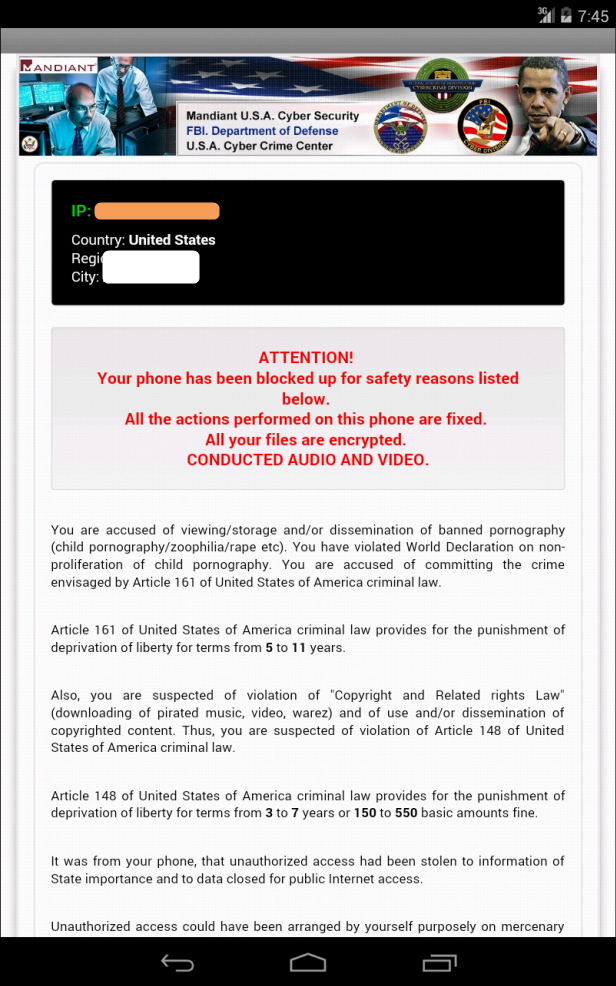 For making more money, the cyber-criminals would figure out more ways to distribute their viruses. So please be more careful when you surf on the Internet. You should not visit some unknown websites and you should think twice when you want to click on the attachment in a weird e-mail.
Some specialties of Saudi Cyber Crime Scam

Lock you out of your phone/tablet, and you just can turn your device off and turn it on.


Saying that you have visited some illegal websites or watched porn or something like that, but you never did before.


Asking for payment to unlock your device in a limited amount of time. And says if you don't pay, you might get police trouble.


It can remotely access to your phone/tablet and get your personal information.
If you find any symptoms listed above showing on your cellphone or tablet, then your device must be suffered with a malware infection(which can be United Kingdom Police virus scam, FBI scam virus, Mandiant U.S.A. Cyber Security virus, FBI Moneypak virus, Prism virus, U.S.A Cyber Security virus, AFP Crime Commission virus and GVU Ukash Virus etc.) that blocks your access to your smartphone or tablet. Welcome to contact YooSecurity Online Experts for manual removal guide. Also, we will provide a short removal guide below for phone and tablet literate.
NOTE: Being afraid to do any wrong operation during the process of removing Saudi Cyber Crime Scam on tablet or phone? Please contact YooSecurity Online Experts, we are here to help you:


How to unlock my phone/tablet from Saudi Cyber Crime Scam? Here are the guides
1st. Since your phone or tablet is blocked by this malware, you will need to get your phone or tablet first then turn it on to safe mode. By this way, you are capable to carry out malware removal steps on your device. Here is the example for you to put the android phone or tablet to safe mode. The method mentioned below is also applied to most android tablets.
Take LG Phone as an example: 1) Power down. 2) Turn on till you see the LG's logo, press and hold Volume Down key till you access to safe mode.
Note: Zte, Sony, Samsung and other brands' phone users can also try the same way as LG's to put your phone to safe mode. If you have put your phone to safe mode successfully, you should see a text "Safe Mode" at the bottom left corner.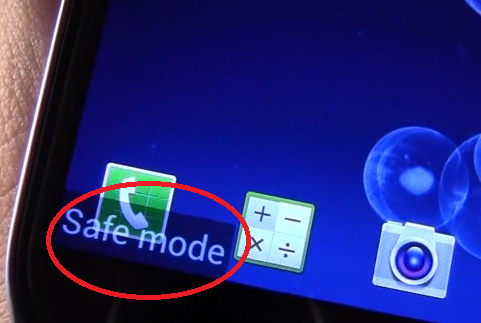 2nd. Once you have put your phone in safe mode, you are capable to uninstall malicious apps of your phone. However, the manual removal process of harmful apps requires sufficient expertise. To safely deal with this kind of ransomware and other hazardous apps, you had better contact an expert online for further removal help.
Conclusion
The Saudi Cyber Crime Scam can lock your whole mobile or tablet and you cannot do anything except turning it off and turning on. This virus will cover your all screen and say you are accused of watching porn or something and your phone or tablet is locked because of the spam and copyrighted content which you never read before. It asks for payment and if you don't pay, you will get police come. Please keep in mind that police won't ask money in this way and that is scam. All they wanted is your money. And they may get your information. So you need to remove the virus as soon as possible. If you don't know how to get rid of the virus, you are welcome to contact Yoosecurity experts for help.
Suggestion: Have spent a lot of time but can't get out of Fake police Message on your mobile device? Contact online experts for tech support now!


Published by Tony Shepherd & last updated on March 2, 2016 2:25 am