I think I might have been hacked on my iPhone about that FBI blocking my phone then I have to pay $100 to unblock. To make a long story short. I was reading comics on my phone then I think I got transferred to another site but it had porno on it. I tried to get off but then that thing happened and it said I was goanna be in trouble and have to pay and etc. Do you know how to get rid of it?
Safari's locked by FBI Pop-up Ads – Is it a Real FBI Cyber Crime?
FBI Pop-up Ads is classified as a risky browser hijacker which hijacks Internet browsers Chrome and Safari. It can install in the computer automatically and launch as a startup process. The target browser will be taken over by this hijacker infection whenever it is launched. This annoying pop-up ads come to Safari screen, and accuses user of watch or viewing illegal porn material and demands users to pay a penalty amount to $500 with an iTunes Prepaid Card.. Great chaos will occur to computer users during their web browsing tasks. To illustrate, whenever you click on a web link or search for favorite key words, you will be typically redirected to other pesky web pages which belong to browser adware or notorious third parties. This message is not a real thing that coming from the police. It is an evil product made by cyber hackers to attack iPhone and iPad products all over the world. Also, Android devices can be attacked by this scam virus as well. Once your iPhone or iPad encounters this virus, you will notice that when you open your Safari or Chrome, this page can always pop up in no time.
Similar Scam Viruses Screenshots on Phone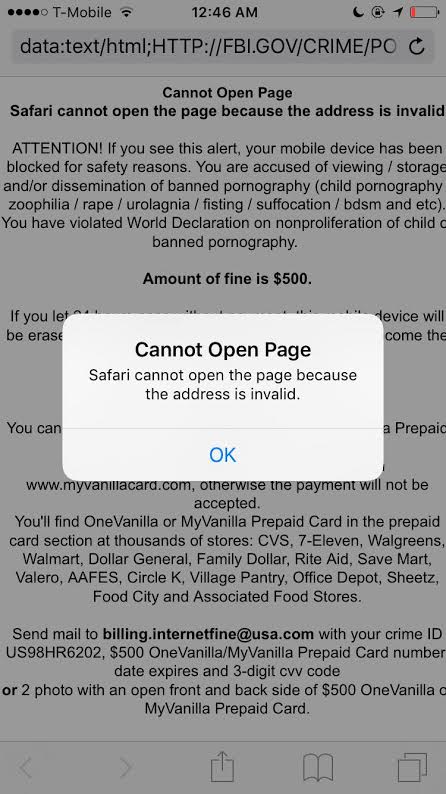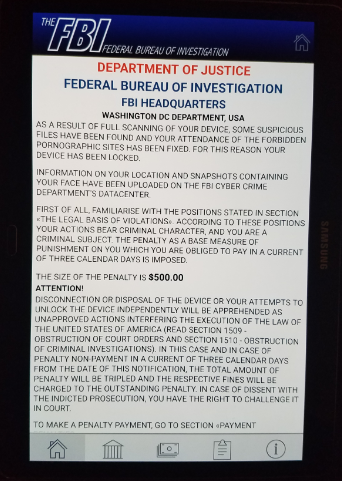 Cyber hackers who make this FBI Pop-up Ads can forge the message really misleading. Hackers can design it to record the accurate IP address and the victim's location on the page, also, the device information can be listed. On the page of this scam virus, hackers can decorate it with the real police logo and the articles of laws. It is easy to deceive victims to judge it as a real message from the police. Under no circumstance, should people trust this message. It has nothing to do with the police, it is a malicious scam infection made by hackers to get illegal benefits from innocent people.
This FBI Pop-up Ads can threaten people by accusing them for watching children pornography or other illegal materials on the infected devices. It blocks the Internet access on the infected devices and demands a 500$ payment as a fine. This scam message can scare people that if they don't pay the penalty, they will face further punishment which can be 5 to 8 years jail sentence. Don't be fooled by what this message says to you. If you pay to this virus, you will get nothing. Your device can still be locked and you can't get your money back. We have learned that some victims pay the money required by the scam but the virus still pops up. In order to solve this issue, what you need to do is to get rid of this virus from your iPhone or iPad completely so that your device can be back to normal.
NOTE: Being afraid to do any wrong operation during the process of removing this FBI Pop-up Ads from Safari? Please contact YooSecurity Online Experts, we are here to help you:


Manually Remove FBI Pop-up Ads on Safari
The Virus is upgraded by hackers to target more and more iPhone or iPad or other Mac OS X system product to get more illegal profits. Now it can hide Safari and make victims believe that Safari has really been deleted. We used to believe that Apple products with Mac OS X system is greatly immune to viruses and malware. However, since this version of virus is improved to attack iPhone/iPad, this scam will easily spread online and hits Apple iOS device.
1. Once you see FBI Pop-up Ads on Safari, please get this ransomware off your iPhone/iPad manually.
2. This Warning scam will pop up and lock your iPhone/iPad, you could get this virus by visiting a phishing site, opening a junk e-mail attachment, clicking on an unknown link or downloading an application from an unsafe source, especially after you jailbreak your device.
3. Currently no app is able to detect or remove this malware scam, even for preventing the virus from attacking the mobile device again.
4. Manual removal process requires sufficient expertise. To safely deal with the scam from iPhone/iPad, you are recommended to Contact an Expert .
Conlusion
Up to now, you realized the Law of loyalty to the people locked your safari police cybercrime investigation department and FBI Pop-up Ads is a popular virus. Also, hijacker likes dress up as legit warnings from the nations. And they are all related to laws mostly Copyright and Related rights Laws. By stating that your online activities have been violating certain rules of laws and threatening to you about the criminal cases that might be initiated against you, it tries to deceive you into paying the requested amount of fines. Through this way, hackers not only get the fines but also collect your personal information at the same time. It is very dangerous! Some people may still wonder how they can get their money back. It is believed that the possibility is rare since it's not legit payment processing. The most important things to do are 1) to renew the related personal information immediately; 2) to get rid of this Police Cybercrime Investigation Department Virus manually as soon as possible. Even though you will not be in any legal troubles if you don't pay the fines, it is still dangerous to leave your safari unlocked. It can help other viruses and malware sneak into your apple device without permission and can drop infected files to take places of authorized system files.
Special tips: Having trouble to deal with this scam on your safari? Be confused with the whole removal processes of FBI Pop-up Ads? To safely and completely get rid of it please contact YooSecurity experts for further help:

Published by Tony Shepherd & last updated on April 1, 2017 1:44 pm