My TV screen stuck on FBI popped up and I can't remove it and do anything on my Kodi TV Box. I don't know how to do, please help me if you know the way to fix this problem. I will highly appreciate.
Description of FBI Malware
FBI Malware is a common scam and usually infects any kind of Android device, apple device, windows system and TV Box. it always tells victims that they have violate some laws because of watching some porn videos and their device have been lock. If they want to unlock their device, they will need to pay a big fine using inactivated onevanilla or other ways like paysafecard. The victims will be told that if they don't pay the fine, the police would come to their home and they will be accused. In addition, generally this virus will ask victims to pay in 24 hours or XXX days. If the victims don't pay in time, they will also be accused. Thus if your device gets infected by this virus, please keep your mind clear that it is just a scam virus that want to get money from you, just don't believe it and don't pay to it. What you need to do is to remove it from your device without delay.
With the internet overrun by spam sites and illegal content, it's only a matter of time before the deadly Police Cybercrime Investigation Department virus pays your system a visit. The reason the virus is so deadly is that, it doesn't just steal content or disk space or slows your system down. Instead, it locks you out the system completely and blocks every possible means of accessing your system. Known also by its other name – the Cybercrime virus displays a bogus lock screen on the startup, preventing you from accessing the applications in your system. The bogus display page of the FBI malware virus might display a message stating that you have been locked down by the Police crime department. It might state a variety of reasons such as spreading of pornographic content. Mailing of Spam messages. Usage of copyrighted content etc.
Warm prompt: To safe your computer and data, we kindly suggest you remove the virus as soon as possible. If you have any problems, welcome to click on the Live Chat button and tell us your question. We will provide you with 24 hours online service.

The Screenshot of The Malware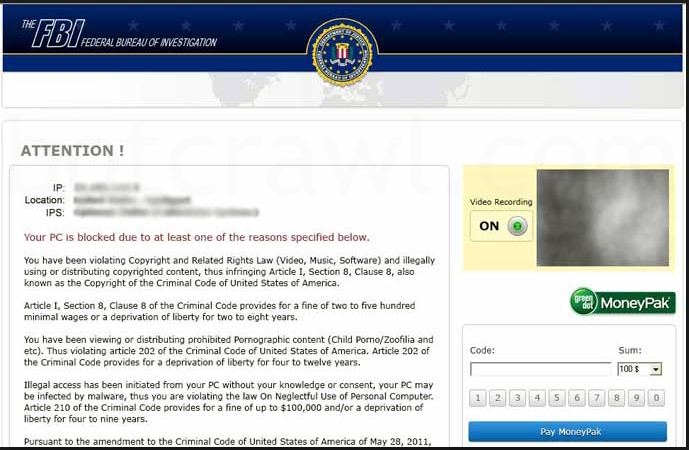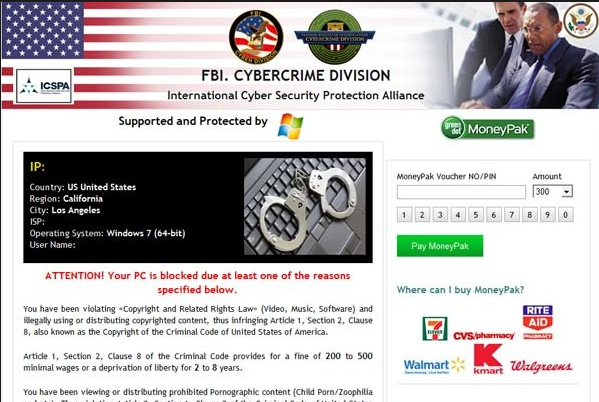 How Did I have this FBI? Is it real?
Before you crap in your pants, know this – by the rules of the constitution, no investigation department is allowed to search through your files without a warrant. So unless, you have an actual officer sitting in your living room, you can be pretty sure it's a fake FBI cyber crime police virus.
So how does it hack in to the system? Well, the most common known reasons are:
• Accessing malicious websites
• Accessing seemingly legitimate websites that may have been compromised
• Downloading untested software or unverified content
• Accessing peer – peer file sharing websites, etc.
But till now the exact reason is quite unknown, since the virus enters the system stealthily, even when working offline. And the Police Cybercrime Investigation Department virus is almost never detected by the Anti-virus package as well. Even if it did, it would be too late, since the whole system would have been compromised by then and you would have been locked out. And they are all related to laws mostly Copyright and Related rights Laws. By stating that your online activities have been violating certain rules of laws and threatening to you about the criminal cases that might be initiated against you, it tries to deceive you into paying the requested amount of fines. Through this way, hackers not only get the fines but also collect your personal information at the same time. It is very dangerous! Some people may still wonder how can they get their money back. It is believed that the possibility is rare since it's not legit payment processing. The most important things to do is 1) to renew the related personal information immediately; 2) to get rid of this Police Cybercrime Investigation Department Virus manually as soon as possible. Even though you will not be in any legal troubles if you don't pay the fines, it is still dangerous to leave your computer unlocked.
Manual Guides to Remove FBI from Kodi TV Box
Step 1: Set your TV Box on Safe Mode.
Use a slim stick to press the reset button at the back of box, then hold the stick and plugin the power until the screen appears the pictures says being restored to factory settings. According to our developer, during the process of power on the box, if the menu button is pressed, then the box will go to 'Safe Mode'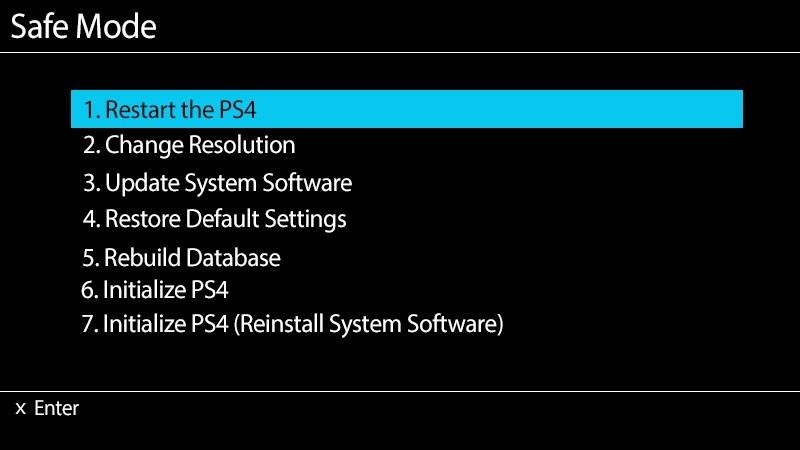 Step 2: Remove the dangerous APP.
● Press the "Home" button on the remote control of the TV to open the home menu
● Open [General Settings] > [Android Settings] > [Apps]
● Choose the app to uninstall from the list on screen and press OK
● Choose the Uninstall option
● Press "OK" to confirm
Conclusion
There is no doubt that FBI Malware is a malicious virus and should be removed without hesitate. Once your device gets infected by this virus, your device will be locked soon and you will not capable to use your TV Box. You may just can turn it off then turn it back on then get the virus page again soon. In some case, you will even have no ability to turn the infected device off. In this situation, you need to remove the virus immediately. By and large, this virus would tell you that your device has been locked because of the porn video you watched and you have violated some laws. And you need to pay a fine to so-called police or others to unlock the device in xxx hours or you will be arrested. The virus always tells the similar things to make victims believe it is a real and legit one. However, it is just a virus that wants to cheat people to pay. Therefore, as soon as this virus appears on your device, you should remove it instantly and completely.
NOTE: To follow removal guide that mentioned above, a level of computer knowledge is needed. Still can't get out of this malware? Contact online experts for help now!


Published by Tony Shepherd & last updated on July 17, 2017 10:20 am