F-Secure mainly provides products and services in internet security like virus protection and malware removal. F-Secure offers virus and malware protection for PC, Mac and mobile. F-Secure antivirus and other internet security products can primarily protect user's devices from viruses, spyware, malware and other online threats. And their virus removal tool can scan and remove virus and other advanced malware threats completely from the infected devices. F-Secure offers advanced virus protection and malware removal technologies. F-Secure has such popular and useful products and packages including premium cyber security package, internet security for all devices, FREEDOME VPN, advanced protection plans for PC and unlimited password manager called F-Secure Key, virus and malware protection packages, F-Secure SENSE router. F-Secure gives internet security products and services for home use and business use. Here you can find that F-Secure offers products and services covering internet security, VPN, password manager and for home and business. F-Secure is usually treated to be a one-in-all service. You even can integrate many different products and services into your package to protect your online security, personal information and other data. F-Secure not only can prevent your devices from online attacks like virus, ransomware and spyware but also can help manage your passwords and other personal data. The FREEDOME VPN from F-Secure can make customers access any blocked websites. You can choose your favorite software and tools from F-Secure.


F-Secure Different Security Solutions and Products
For home use, F-Secure provides such products as F-Secure TOTAL, F-Secure SAFE, F-Secure FREEDOME VPN, F-Secure Internet Security, F-Secure Key, F-Secure Anti-Virus, and F-Secure SENSE router. Different Products have different advantages and features. All these products are usually used by personal and family. They all provides excellent protection and virus removal thing. If you would like a VPN together with other internet security protection, F-Secure can do a great match for you as they also provide VPN service and password management service.
F-Secure TOTAL
Up to 3 Devices/Year $99.99
Up to 5 Devices/Year $109.99
Up to 7 Devices/Year $129.99
F-Secure TOTAL is a premium cyber security package for personal and home use. If you are a new customer of TOTAL, you can get a free SENSE security WiFi router which is worth about $199. But this special offer is valid ONLY for NEW CUSTOMERS in USA. F-Secure TOTAL includes these products like SAFE Internet security, an antivirus, FREEDOME VPN, KEY password manager and SENSE home protection. F-Secure TOTAL mainly devote effort into cyber security, so this product has a stronger ability to avoid being scammed by fraudulent websites. It can protect your identity and privacy on the internet. Your personal sensitive information like credit card number, bank details, passport, logins and others will be kept in a secure vault. F-Secure TOTAL has anti-virus feature which mainly protects your device like PC from virus, malware, ransomware, phishing attacks, identity theft and other internet threats. Then your device can be free from different kinds of online threats. Cyber hackers spread different online threats to attack victim's device in order to use the cyberattacks to steal personal sensitive information. The most annoying attack is identity theft which can be spread through spam email. Usually the spam email would be mixed with malicious contents which lure you into clicking something, and then you are redirected to fake website, and then you will be asked to enter your sensitive information. If you do that, cyber hackers will soon collect your sensitive data for illegal profits.
Besides, you also can use their FREEDOME VPN to protect their network security. FREEDOME VPN is also included in this F-Secure TOTAL. VPN is a tool to create an encrypted and secure tunnel to protect user's internet traffic and transmitted information over the public network. You also can use the KEY password manager which is also created and developed by F-Secure to store your passwords, logins and other personal data. Password manager also can protect all your staff things from hackers and snoopers. Therefore, when you use the antivirus tool, FREEDOME VPN and KEY password manager at the same time on your device, all your information going though network or just stored in the local device will be protected completely from any online threats and hackers. F-Secure TOTAL is the most popular plan and chosen by the most people due these excellent advantages and features.
F-Secure SAFE
Up to 3 Devices/Year $69.99 $34.99
Up to 5 Devices/Year $89.99 $44.99
Up to 7 Devices/Year $109.99 $54.99

F-Secure SAFE is a professional internet security suite. First, this security suite shields your device from virus, ransomware, malware, Trojan horse and so on. The most distinctive feature provided by this SAFE is online banking protection and parental supervising mode. The antivirus feature in this F-Secure SAFE also prevents your device from these online attacks like virus, ransomware and spyware. SAFE even is strong enough to detect and check if your device is infected with newest threats which has not been yet classified as virus. That means any potentially malicious and suspicious cyberattacks will be caught and detected by this sharp F-Secure SAFE. If your downloaded files act in an unusual way, SAFE still can uses the advanced DeepGuard technology to analyze the files, and block the suspicious files. Malware or other identity theft like phishing attack is usually spread through the downloading files, email attachment or browser extension. But if you run this F-Secure SAFE on your device, SAFE will surely block these kinds of malware.
F-Secure SAFE has a special feature called banking protection which protects the connection between you and your online bank. You may do online shopping often with different payment modes like credit card, bank account, PayPal and others. But these important and sensitive information especially about financial data would be preferred by cyber hackers and other snoopers, because hackers even can defraud more money from you if your sensitive information is exposed outside accidentally. Therefore, your bank information must be securely protected especially when you are connecting with public network like free WiFi hotspot. Low-security network is easily hacked by cyberattacks and cyber criminals. If you make payment under this low-security network, your bank information would be in a big risk of exposure to cyber criminals. However, if you run F-Secure SAFE on your device, you will be rest assured that you can do any online shopping with any payment methods, because SAFE's banking protection can surely protect the connection between you and your online bank.
F-Secure FREEDOME VPN
3 Devices/Year: $49.99 one-time charge ($4.17/month)
5 Devices/Year: $59.99 one-time charge($5.00/month)
7 Devices/Year: $79.99 one-time charge($6.67/month)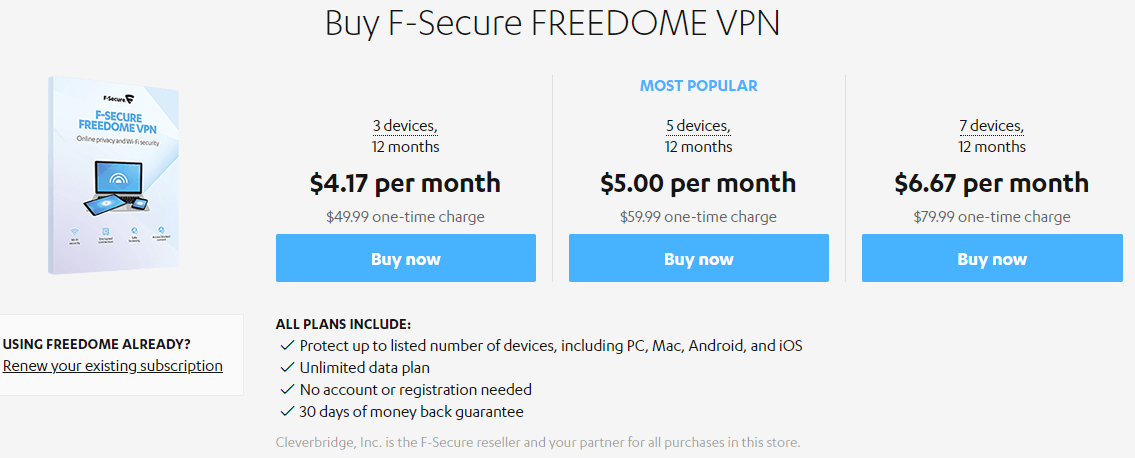 VPN is usually a tool for internet user to protect their online privacy and security. Besides, VPN can be used to unblock internet restrictions and access any blocked websites and stream restricted contents by censorship. F-Secure FREEDOME VPN is created to help customer to achieve more privacy and security on the internet. And customers of F-Secure usually would match one security solution with this VPN solution to protect their device, personal privacy and online security. F-Secure FREEDOME VPN can work on major operating systems including Windows PC, Mac, Android and iOS. There is unlimited bandwidth. F-Secure FREEDOME uses the most advanced even bank-grade encryption mode to protect and encrypt the connection between you and the server. The encrypted tunnel created over the public network will be protected by this F-Secure FREEDOME VPN. And all internet traffic and personal information going through the secure and encrypted tunnel will never be spied on anyone. Customers can achieve complete privacy and security online. FREEDOME VPN locates the fast server in United States, United Kingdom and other popular locations and countries. You can switch to any server without any additional charge. You can surf online anonymously with FREEDOME VPN. This VPN can change your actual IP address and hide your real location, so others and websites will not know your real IP address and location. FREEDOME VPN can let internet users access any blocked websites and contents. Your personal information and other data will never be exposed in public even you are using the lower-security network. No one can track what you do online and any online activities. In a word, you can browse securely with F-Secure FREEDOME VPN.
F-Secure KEY

F-Secure KEY is an unlimited password manager which can remember and protect all your passwords and other personal data. Users can use this F-Secure KEY to store logins, passwords, credit card info and any sensitive information. You can synchronize all your password across all your devices. And only you know your master password which is an important password to encrypt and decrypt your KEY account. F-Secure KEY is compatible with Windows, macOS, iOS and Android. You can store your passwords into this KEY password manager across all these devices, and F-Secure KEY can update your newest stored passwords through all devices simultaneously. So, you can access your stores passwords, logins, and other sensitive information no matter where and when you are. F-Secure KEY utilizes the strongest and most advanced encryption method to protect all storing passwords in KEY account. Two-factor authentication is also applied in F-Secure KEY to increase one more layer of security to customer's passwords and sensitive information. Customers can use the password or other information faster and easier and also pay securely on the internet.
F-Secure Internet Security

F-Secure Internet Security is also a powerful security solution to let people browse, bank and online shop securely. This solution can protect your PC or other devices against malware, virus, ransomware, phishing attacks, identity theft and even cyber hackers. Cyberattacks usually is spread via the internet on malicious websites, popups, ads, email attachments, downloaded files, installing extension and so on. If your device like PC is compromised with these online threats, it will become weak in performance. Online threats can first damage the system and disturb normal-running programs, files and applications. Some online threats has the ability to inset tracking cookie to spy on what you do on the local computer and your online activities all the time. The malicious tracking cookie can collect your important information and transfer to the remote hackers. In fact, cyber criminal designs internet threats to target compromised device in order to steal some precious information which can be sold for illegal profit. F-Secure Internet Security is a protection not only for PC but also your personal information. It protects customer's privacy.
Besides, this F-Secure Internet Security has a family protection which is actually a parental control to protect all the activities performed by children. Children actually have a strong awareness to safely and privately surf online. They would browse any contents and websites as they like. However, it may be dangerous if they visit malicious and unsafe websites. But if parents can supervise them when they surf on the internet, it will be better to protect their online activities actually. But parents may have no much time to spare with their children as they need to work every day. In this case, it is better to use parental control solution from F-Secure. The parental control allows parents to monitor what children are doing on the internet and any suspicious action would be soon stopped by this feature and send their parents a warm note. Therefore, Parental Control is a very important solution to safeguard their children's online activities. F-Secure Internet Security is powerful enough to make you get online security and privacy.
F-Secure Antivirus

F-Secure Antivirus is a simple-to-use antivirus solution which specializes in virus protection and removal. F-Secure Antivirus mainly protects PC from virus, malware, ransomware and other infections. It can scan and detect if your device is infected with online threats real time. What's more, F-Secure Antivirus has an advanced malware removal feature. Malware removal is different from basic antivirus tool as it can detect and remove all newest advanced malware. Some malware even has not been found by other security solution and classified into virus or malware list. But the antivirus tool just can delete and detect those basic and typical viruses and malwares. Therefore, malware removal feature is more powerful than basic antivirus tool. F-Secure Anti-Virus provides an advanced detection and protection technology to protect your PC from advanced and complicated malware, virus and other threats.
Summary
F-Secure provides many different internet security solutions and technologies for customers. F-Secure products ranges from antivirus, malware removal, internet security to VPN and password manager. All services and products offered above are suitable for personal use and home use. And F-Secure also provides products and solutions for companies, small business and corporation. Internet users can choose whatever internet security solutions they want. F-Secure also do regular and timely update to make their products more powerful to block latest virus, malware, ransomware and other threats. F-Secure software and tool will not take up computer's system and space too much, so F-Secure product will not slow down computer performance. It is worthwhile using F-Secure security solutions to protect PC against virus, malware, ransomware, phishing attacks and other internet attacks.
Published by Tony Shepherd & last updated on February 22, 2019 2:49 am