What can i do if i failed to uninstall RealPlayer completely from my Dell laptop in Windows 10? It seems it is not easy for computer newbie like me, is there a removal tool can do the job for me?
A detailed review about RealPlayer
The RealPlayer is a cross-platform media player application from the RealNetworks. This application is well-compatible with different container file formats of the multimedia realm like MP4, MP3, Windows Media format, QuickTime File format, and other things. This app is available for various operating systems like the Unix, Linux, Palm OS, and Windows Mobile.
As a beginner to the media player apps, you may get confused with different choices and think about how to pick and use one of the best media player apps. You can choose and use the RealPlayer right now. You will get the complete assistance and make a well-informed decision to use this app.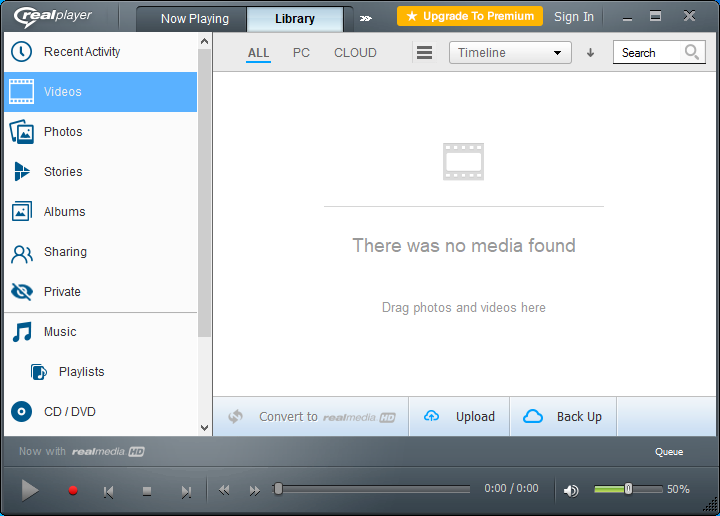 About the RealPlayer
RealPlayer is an awesome player and designed to play the most audio and video formats. Users of this app can locate web videos, create music playlists, convert big video files to the compressed high definition format, and download online files. The core feature of this application is to play the audio and video files. This software works well with the most popular formats and codecs. This software has the best stuff to play videos in the high definition format. This tool lets its users to take advantage of organized media files in its library. This software adds and organizes all audio, video, and image files by folder, name, or date.
Attractive features of the RealPlayer
The best-in-class features of the RealPlayer supports users to access and watch a selection of web-based videos, add music files to its library, create multiple playlists, burning pictures, songs, and videos to a CD/DVD, and download the video files on the most video sites to the computer.
Every video on the website can be downloaded by this software as an MP4 and saved locally on the computer. This software comes with a built-in format converter for successfully converting files to alternate formats. Users of this software can choose a file format from a list of formats and convert the files in the desired way. They are happy to use this facility and save memory space. If you are going to uninstall RealPlayer away from your computer, keep your mind when you do the decision.
Free and premium versions of the RealPlayer
The free version of the RealPlayer loads of basic features. If you like to keep away from ads and use extra features like the high-quality streaming, cloud storage, playing DVDs, making videos private, and other things, then you can choose and use one of the most suitable premium options.
You may consider the safety while downloading the RealPlayer. This safety is mainly depending on the type of websites. You can download an official version of this software from its official website. RealPlayer can convert video to various formats like as follows.
• RealMedia HD
• 3GP
• MP4
• RealVideo
• WMV
The RealPlayer can convert the audio file to different formats as follows.
• AAC
• MP3
• RealAudio Lossless
• RealAudio10
• WMA
• WAV
New and regular users of the RealPlayer can download videos from other websites without any difficulty and delay. They are happy and comfortable in their way to download videos from the video websites such as the YouTube. The latest updates of this software support users to download videos to their personal video playlist. You can grab any number of videos from thousands of reliable websites with a one click and watch such videos regardless of your location and time.
Get 100% satisfaction from RealPlayer
A hassle-free method to burn the greatest video content to DVD gives you an array of favourable things. This software supports different video formats include, but not limited to the Windows Media, Flash, Real, and QuickTime. There are so many things associated with the RealPlayer. This software provides the single-click and innovative method to download and save videos for later entertainment without delay and complexity.
Users of this software can download several videos simultaneously and save both time and efforts. They get more than expected benefits from this multitask. They can download the video while watching it and get the entire video downloaded. They can burn videos to the CD or DVD. They can play the video CD format in any leading DVD player. They can send links of their favourite videos to kith and kin with the facility "Share with a Friend". This facility supports you to send the video link to your friend's email and ensures a good support for your friend to download the video content on online.
RealPlayer is designed to download and record the video which is not protected by the digital rights management systems. This software features an enhanced look and feel. You can make use of the streamlined installation process and the fast video playback as per your wishes. Everyone with an interest to download and install a good media player can directly choose and use it hereafter. They get the desired enhancement in their level of entertainment and make use of every chance to fulfil wishes about an efficient use of advanced features of the user-friendly media player. You may seek how to be successful in your way to play videos with this software from different channels. You can simply drag and drop any MP4 video to this software to watch it. You can also use this software to play videos from the Facebook, YouTube, and other video websites. For example, you can download and install this software at first. The next step is to access Library > Facebook Video Library. You must already have accessed Facebook and connect RealPlayer to the Facebook account. You can get the message "Fetching latest videos" when this software detects the video on the Facebook.
Advantages
• A simple interface
• Offers solid performance
Disadvantages
• No powerful features like the advanced sorting, video editing, and photo effects
If you won't need it and like to uninstall RealPlayer completely from your computer, you can follow the removal methods below.
How to Uninstall RealPlayer from Windows Operating System
Manually Uninstall RealPlayer from Windows 10 (For Advanced Users Only)
Step 1: Uninstall the RealPlayer from startup.
a) Uninstall it from Start menu by clicking on start icon, right click on it on the pop-up window, last click "Uninstall".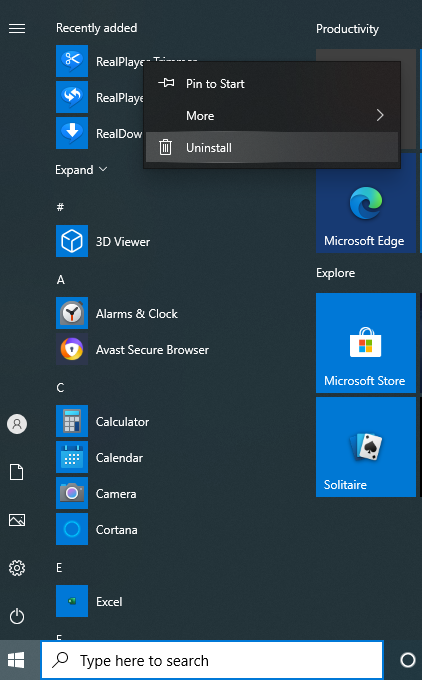 b) Uninstall the RealPlayer via the Apps & Features. Just input Apps into search box, then choose "Settings", and then click on "Apps", select the app then click on "Uninstall".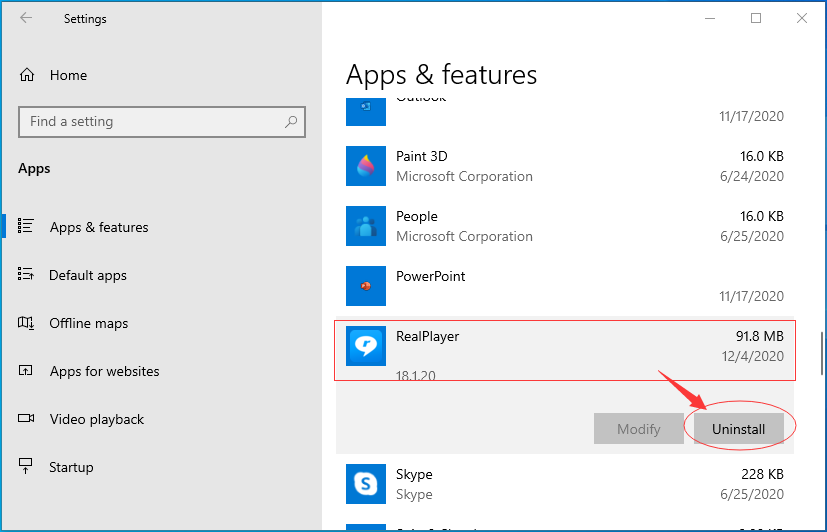 c) Uninstall it via Control Panel. Input "Control Panel" into search box then click on it, click on "Uninstall a Program", click on it then click on "Uninstall".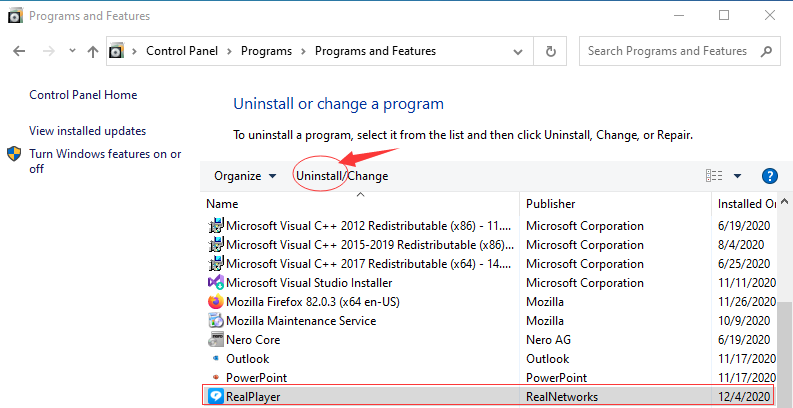 Step 2: Manually clean all leftovers from regedit. (IMPORTANT STEP)
*For added protection, please back up the registry before you modify it.*
Check the following folders and delete associated files first.
C:\Program Files (x86)\RealPlayer
C:\Users\[Your User Name]\AppData\Roaming\
C:\ProgramData\Microsoft\Windows\Start Menu\Programs\Startup
Next, you have to remove all its entries from Windows registry.
Press Windows + R, and type in regedit in RUN box, then press Enter. It'll open Registry Editor.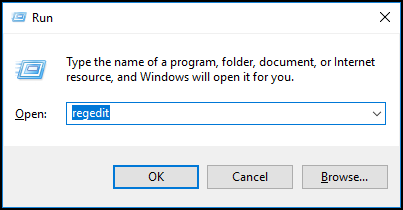 Navigate to the Registry key: (You do this by clicking on the plus sign next to each key in the path to expand the path below it. )
HKEY_LOCAL_MACHINE\SOFTWARE\Microsoft\Windows\CurrentVersion\Uninstall\ (For 32-bit system users)
HKEY_LOCAL_MACHINE\SOFTWARE\Wow6432Node\Microsoft\Windows\CurrentVersion\Uninstall\ (For 64-bit system users)
Kindly Reminder: You are welcome to contact online support if you need any assistance, just click the below button for help.
Automatically Uninstall RealPlayer with a Third-Party Uninstaller – Uninstallor (RECOMMENDED)
Step 1. Download and install Uninstallor, run it and select the RealPlayer, click on "Analyze Now" to start your removal.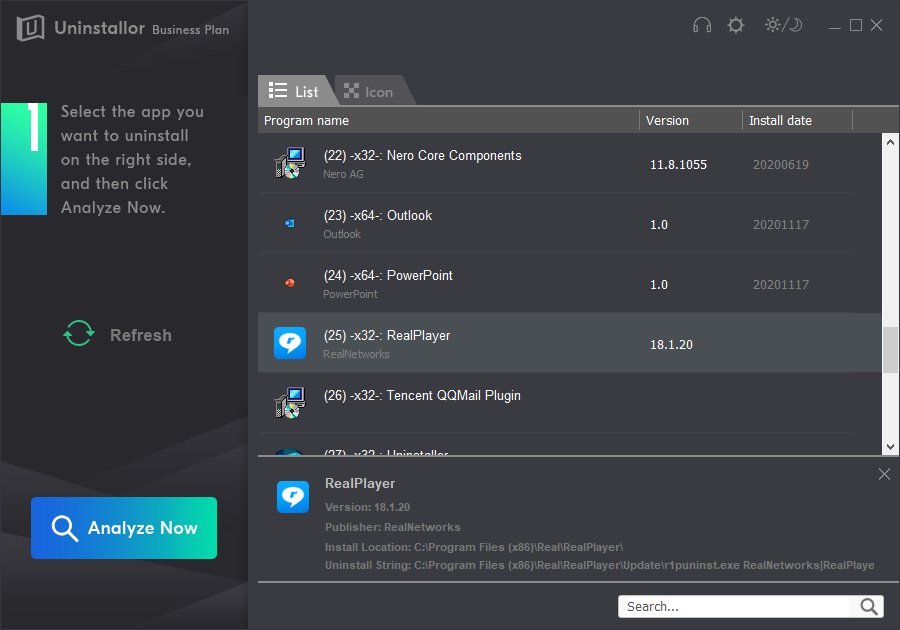 Step 2. Uninstall Now. Click the button to uninstall some files and folders.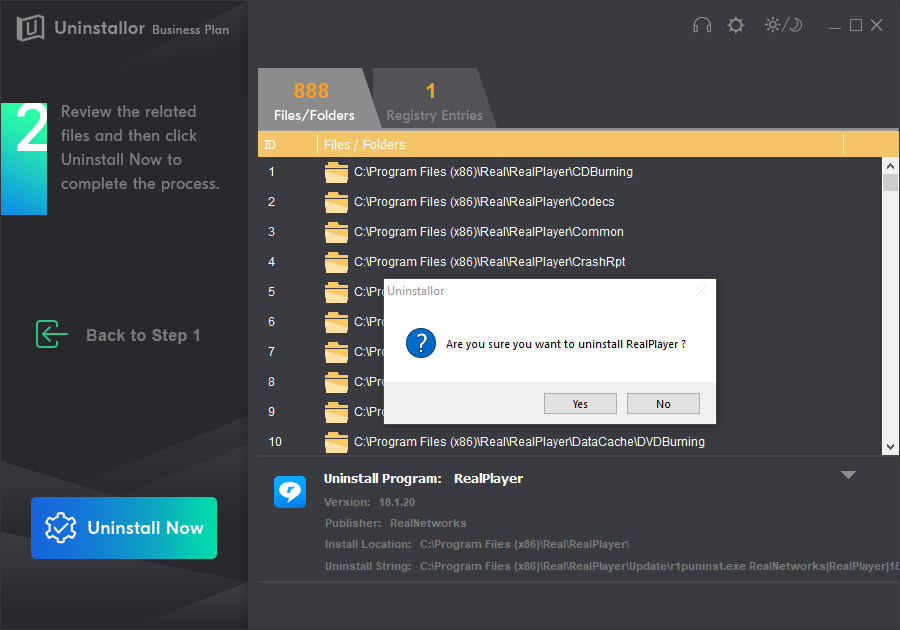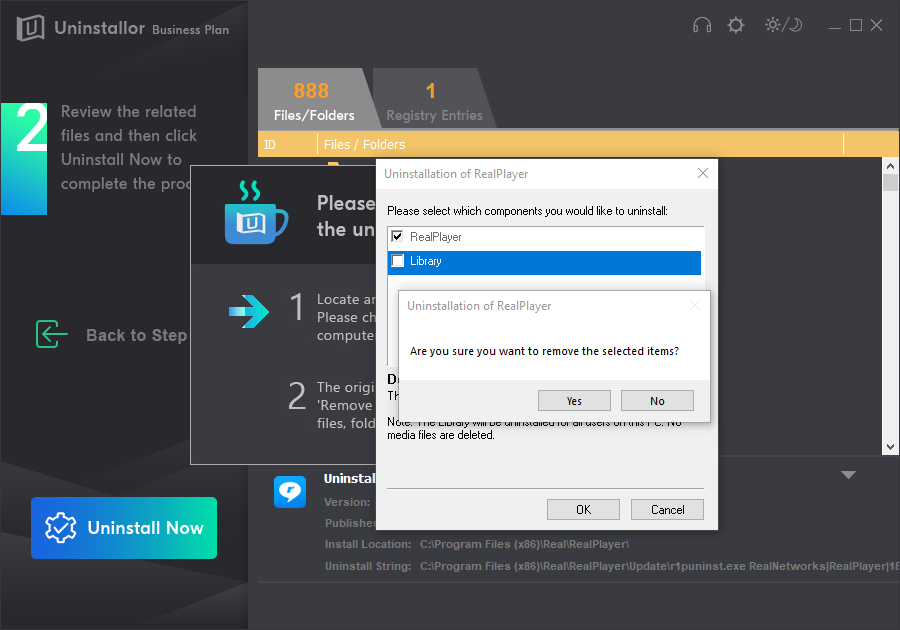 Step 3. Remove Now. Remove all leftovers of RealPlayer from your computer.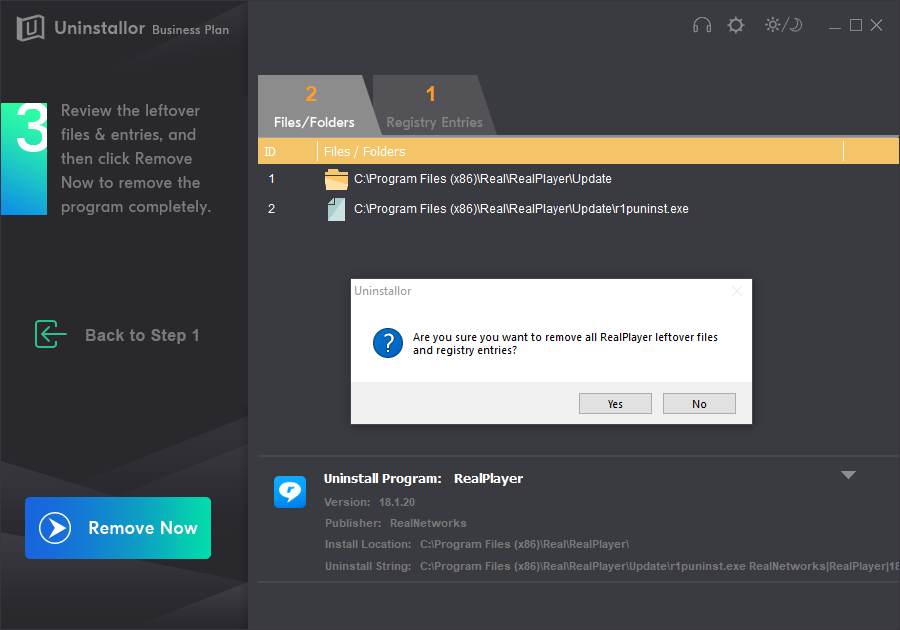 Uninstall Completed! RealPlayer has been cleaned completely from your Windows 10.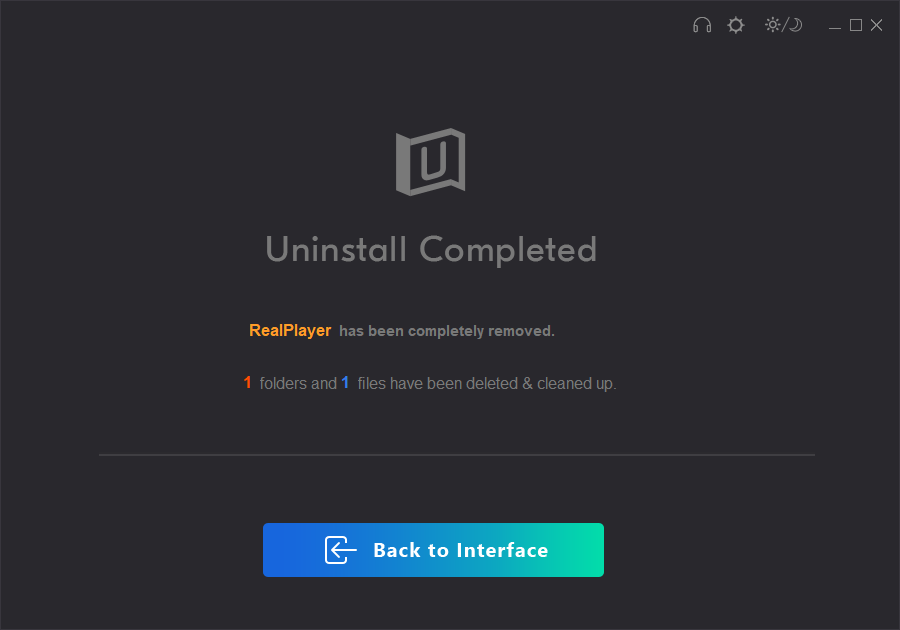 Conclusion
RealPlayer is a solid media manager and designed to offer a user-friendly interface for playing music, viewing photos, watching videos, and entertaining yourself in different aspects. This versatile media player has so many attractive things like the CD burner, media converter, RealCloud, and other features within the program. You can prefer and use this media player to get an array of benefits on a regular basis.
Kindly Reminder: If you failed to or don't know how to uninstall RealPlayer completely from your Windows computer or Macbook, you are suggested to use Uninstallor, which will help you do all things.
Published by Tony Shepherd & last updated on December 4, 2020 12:36 pm