Let's be social, securely, and feasibly with strong Dashlane password manager, the finickiest tool ever. Why? Because security on the web is very important to keep hackers and cyber thieves away from accessing sensitive information. Most people don't realize there are several common techniques to crack passwords and plenty more ways we make our accounts vulnerable due to simple and widely used passwords. As technology is getting advanced, there is a challenge to customer's information on the web secure. What does a password manager do? It boosts up online security and maintains strong and distinctive passwords. It generates and stores such password that you won't have to remember. Here you can take a look at Dashlane Password Manager review and see if it is a vigorous password manager.
More Than A Password Manager
Using the same password for multiple services is a dreadful idea. Password managers have a ton of great features like a security dashboard, password changer, and many things more. If one is serious about security, he will make it sure to use strong password everywhere, and for sure, the easiest way to manage them is Dashlane password manager. Here comes the need of a password manager. Dashlane password manager is no doubt the best option. It has easy access if you have more than one account with a website or more than one email address that you like to use at a time. Not only it stores the password, but it auto-fills logins, addresses, payment information, passport details, and more as you browse for anything. Dashlane password manager is quite easy by clicking the blue impala, that dropdown menu to choose your desired information. That's why the Dashlane password manager brings composure, contentment, ease, and happiness to its customers.

Salient Features
Dashlane password manager includes receipt capture, inbox scanning, and there is easy access to change the old password automatically or multi password at a time. When you pay for a premium subscription, you get the credit monitoring and identity theft insurance, as well as a built-in VPN. A built-in VPN is a convenient tool that protects your privacy on public WiFi. It secures your vault and adds a second layer of protection with 2-factor authentication(2FA). It has a very unique system that is called a zero-knowledge system where no one, not even Dashlane, can see your data. Dashlane password manager protect your identity with Dark Web alerts; that's why you can take action for the protection of your account. It monitors account security with Password Health Score. It has easy access of single -tap unlock with your fingerprint. It keeps information private by using the industry & apos;s leading AES-256 encryption.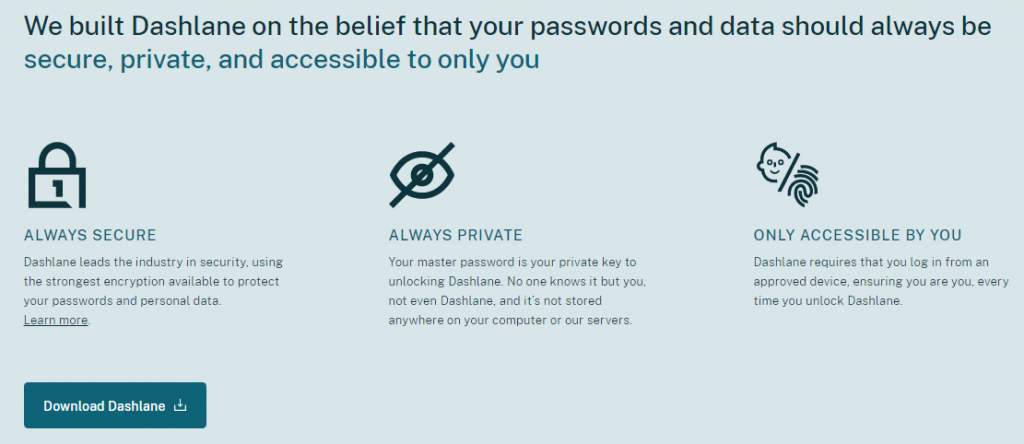 Compatibility
If you want a password manager that does a lot more than the just storage of your password, consider taking a look at Dashlane. Dashlane is officially compatible with Google Chrome, Mozilla Firefox, Apple Safari, Microsoft Internet Explorer and Microsoft Edge, and unofficially with Brave and Opera because both use the Chrome extension. Minimum system requirements are Windows 7, iOS 12.2, and Android 5.0 Lollipop Features such as Password Changer, where you can instantly change hundreds of passwords with a single click, are tremendous time savers and help set Dashlane apart from the rest of the pack. Its applications are well designed across every platform, whether it is desktop or mobile versions. Dashlane password manager is packed with exclusive features that are matchless as compare to other password managers. The master password is the one password that you'll have to remember after installing Dashlane. It must include at least eight characters, one uppercase letter, one lowercase letter, and one number. If you forget your master password, your only option is to wipe the account and start over; as part of its security model, Dashlane will not let you recover or reset the master password.
How to Update Dashlane
Dashlane offers both a free version and two premium versions of its service. The Premium plan will cost you $60 annually, and the Premium Plus plan $120. Both paid Dashlane options allow you to create and save an unlimited number of passwords and data to your account, and they offer security monitoring and breach alerts. The free plan restricts you to a single device and to a maximum of 50 saved credentials. Dashlane Premium offers a number of benefits, including syncing passwords and data across as many devices as you own, backing up your account, unlimited password sharing, priority support, and two-factor authentication.
Installation
It's beautiful and easy to use interface makes it unique among the other password managers. Its installation process takes you to step by step and with clear instructions and guidance. You can easily transfer your data to Dashlane password manager if you are currently using other password managers. Once a password is stored in dashlane password manager, it logs you in automatically. It syncs every 5 minutes nothing control or lessen its frequency. Unlike other password managers, dashlane password manager has a premium feature of cloud syncing and backup. The initial Dashlane setup process is best handled by downloading and installing the Dashlane stand-alone application from the Dashlane's website. During installation, the Dashlane extensions will automatically install on every compatible browser. You will then be asked to create a Dashlane account, which simply requires your email address and a master password.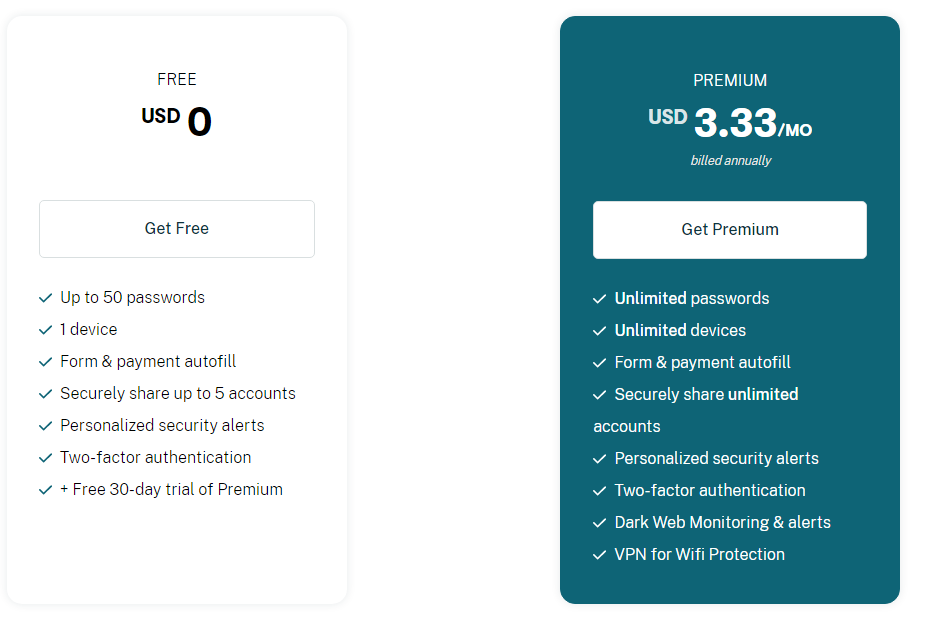 Worldwide Recognition
Dashlane password manager is widely trusted worldwide by 1+ million users across the globe. A 5-star review is the testimony to track Dashlane's performance, till now Dashlane password manager got more than 60,000 five -star reviews. More than 10,000 businesses rely on Dashlane. It has facilitated over 77 million checkout transactions. Its users are reside over 180 countries.
Award Winner
Awards are the token of recognition of excellence, Dashlane password manager is standing head above shoulders by holding the following excellence awards. The Awards say it all how Dashlane is committed to valuing the security of its customers.
 Winner of the 2018 Google Play Excellence Award
 PC Mag "Editors & Choice Award."
 Webby Award "People's Voice Best Mobile Services & Utilities App"
 Techlicious "The Best Security Apps"
 "Inc.com's Best for password and checkouts" … and many more.

Published by Tony Shepherd & last updated on April 13, 2020 5:01 pm