Your computer has been locked by Luxembourg Police Cybercriminailite Departement Virus? Can the Luxembourg Police Virus lock my computer until i pay 100 euros by Ukash or Paysafecard? Yes, it can. Warning your computer has been blocked for violation of federal law. What happens if my computer locks up because of illegal download? Luxembourg Police Cybercriminailite Departement Virus asking for €100 Ukash payment, how to remove Luxembourg Police Ukash Virus from computer and unlock it completely?

Your computer is being blocked by Luxembourg Police Ukash Virus and you have to pay €100 fine to unlock it via Ukash or Paysafecard?
Luxembourg Police Ukash Virus is the new variant of the infamous Ukash virus family. Luxembourg Police Cybercriminailite Departement Virus  is fake police virus and it acts as a successor to attack Windows computers especially for Luxemburg. This is a type of computer virus infection that makes use of  fake warning message about the local police and desktop lockup for cheating fines. The Luxembourg Police Virus is using  Trojan tactics to report your IP address referring to illegal online activities include improper content view and claims to fine you money by filling Ukash or Paysafecard.
Its contents start with "From this IP address it was visited sites containing banned scenes of violence against people, as well as viewing banned in the Luxembourg child pornographic materials." I was watching a movie, and from nowhere i got my pc blocked, i've read its a scam but i want to get rid of it. Victims are surprised to read this fake police alert for they haven't really done so called illegal activities. There is also scary information: "The computer has been locked to prevent your illegal activities on the Internet. To unlock the computer you are obliged, within 48 hours of receiving this notice, to pay a fine of 100 Euro". It looks like making sense to be fined and has desktop locked if there are real illegal activities found by police. But even if you paid the amount of money by Ukash, your computer still be locked up by hackers. So the only best way to save your computer is manually remove Luxembourg Police Ukash Virus and unlock your laptop/desktop with expertise.
To save your computer, Live Chat with YooSecurity Expert Now. You can follow the manual removal guide below to get your problem fixed. (For advanced computer users)

ScreenShot of Luxembourg Police Ukash Virus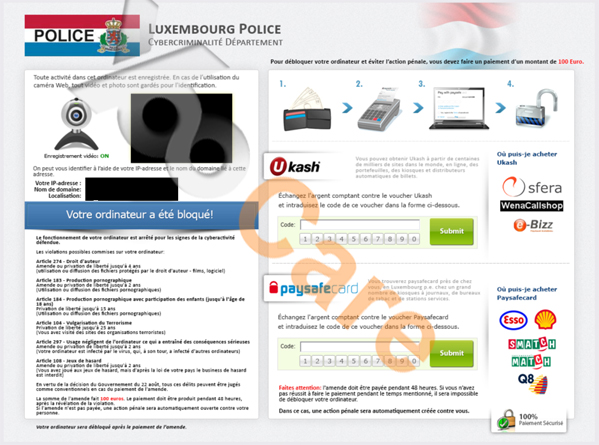 Symptoms or Harmfulness of Luxembourg Police Virus Scam
1. To unlock your computer you are obliged to pay a fine of 100 euro within 48 hours.
2. The fine must be paid with the help of Ukash or Paysafecard system.
3. To pay the fine you should enter digital code which is located on the back of your Ukash or Paysafecard in the payment form and press OK (if you have several codes, enter them one after the other and press OK).

You can buy MoneyPak card at the nearest stores: Walgreens, Kmart, Walmart, CVS/pharmacy, SevenEleven, Rite Aid and etc.
Luxembourg Police Ukash Virus Locked Your Computer Asking For 100 Euros?
Have a Luxembourg Police Cybercriminailite Departement Virus block on computer asking for 100 euros to remove block for watching porn? Any idea how i got this ukashVirus?  When viruses install on your computer, they always add some entries into the Registry of your system. Recently, there is no anti-virus can handle this latest scam malware therefore the only effective solution is manual removal. So manual removal is the best way to remove Luxembourg Police Cybercriminailite Departement Virus permanently from your PC.
Best Way to Remove Luxembourg Police Malware Efficiently
I have got the ukash virus on my computer when i was trying to watch live cricket, it has locked my computer and is asking for payment of euros 100. What to do if you get caught in a Luxembourg Police Ukash Virus?  YooCare experts can plan out a solution to access your computer in safe mode with networking at first. When it's possible to do that, their experts will do as follows:
Step A: Restart computer in safe mode with networking. To do this, just need to press F8 key before the system is started like this: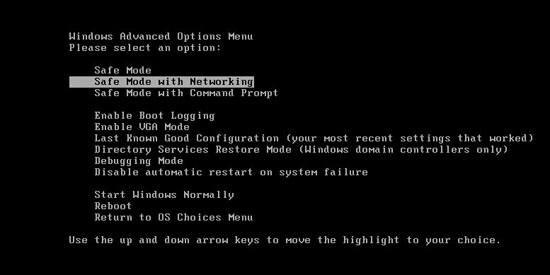 Step B: Press Ctrl+Alt+Del keys to open the Task manager to stop the progress of Luxembourg Police Ukash Virus. Because the name will be changed fast, it will be show with different name.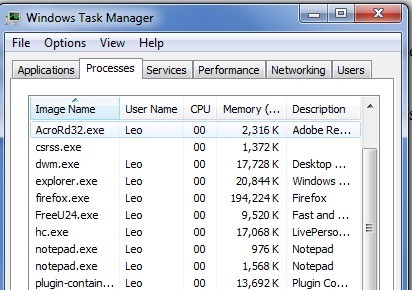 Step C: Delete all the files related to Luxembourg Police Ukash Scam.
Step D: Delete Luxembourg Police Ukash Scam register entries created in computer system.
By the way: Woke up to find out Luxembourg Police Ukash Virus screen saying to pay a fine of 200 dollars within 48 hours? I don't think it's legit or is it? It is fake. Manually remove Luxembourg Police Virus is a rather difficult work, if you are not a professional computer expert. We recommend you to get YooCare online service 24/7 in time. This is the real fastest and safe way to remove it.
Video Guide to Remove Luxembourg Police Warning Virus
NOTE: This is a horrible Ukash virus that locked your computer asking for 100 euro payment. Never fall for "Luxembourg Police Ukash Virus Fake warning message screen", it just means your Windows XP, Windows Vista or Windows 7 has suffered the "Police Ukash virus" which hijacks your computer and blocks you to do anything  to unlock your CPU. Since the Luxembourg Police Ukash Virus has taken over your screen and it really can lock up the desktop, since no anti-virus software can handle this nasty virus. So, the best way to make it gone completely is to get help from computer experts who can help you safely and quickly.
Special tips: Spending a lot of time fixing your computer with no success and don't want to make things worse? Contact experts now to unlock your computer and remove Luxembourg Police Ukash Virus safely and completely.

Published by Tony Shepherd & last updated on January 18, 2013 1:42 am