Never thought that one day the Bundesamt für Polizei would look you for trouble? Feel scared to death and worried that you would be jailed once you got a warning from the police office? Do I have to worry about that? Is it legitimate all just a scam? If not, what do I do to get rid of it? Well, this is the right post for you to read.
Is This Virus Really Related to Bundesamt für Polizei?
If you are freaking out for Bundesamt für Polizei virus and about to pay €100 as the "fine", you can relax now and should not be worried too much. The warning is completely not from the police office. It's nothing associated with any law enforcement police and officers but a ransomware which can lock your computer and cheat you into paying money to unlock your computer. You might heard of that in USA, a similar scam called FBI Moneypak Virus is rampant. Many computer users across the nation have been afflicted. Most of them would pay the $200 "fine" via Moneypak or Ukash as required since they thought it was really from the police office. If they didn't pay, they will be prosecuted. This unethical social engineering technique has made a good fortune for the malicious hackers in the past few months. And it is storming other countries around the world with country-specific variants.
Why would so many PC users rather believe Bundesamt für Polizei virus is real and legitimate than did some search to lay bare the truth ? The main reason is that the ransomware is really not easy for people to distinguish whether it's legitimate or not. The cyber criminals just designed this virus well. With the emblem of Bundesamt für Polizei and the appalling clauses on the message page, it's impossible to doubt it. Even on the message page, there are instructions to tell users how to pay the fine in details with graphic interpretation. Usually, Bundesamt für Polizei virus or scam malware will let you pay via a particular method. For example, in USA, this virus will ask people pay by Monaypak. And in some other countries, PayPal or Greendot are also common methods required. The scam program will threat you that if you don't pay €100 in 72 hours or 48 hours, the police will Bundesamt für Polizei will knock your door and arrest you. Never believe this. Even if you pay the money as required, your computer will be still locked after 72 hours or 48 hours.
Actually, there are some difference between different versions of the virus in different countries. The first difference is that all the versions of the scam may be released with different languages. And Bundesamt für Polizei virus was obviously programmed in German. This of course can cheat more people. But no matter in what countries, this virus will claim it is from the local government department such as police office. What is worst, the virus can't be removed by anti-virus. Many users have tried their Norton, AVG or McAfee without any luck. Obviously, when you get such virus in your computer, to find a safe method to remove the virus is extremely urgent.
Tips: A manual removal guide will be listed below. However, the steps can only tell you the basis of the removal work. If you are not confident to get rid of it, you can contact YooCare/YooSecurity for help:

The First Impression of Bundesamt für Polizei Ransomware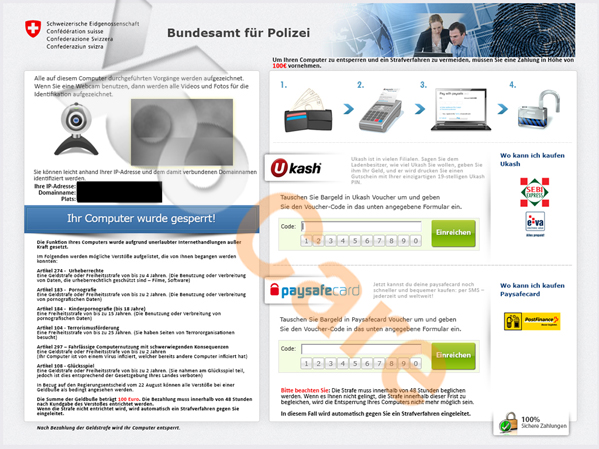 Detailed Steps to Remove Bundesamt für Polizei Virus or Fake Program Manually
Step 1: Try to plug out the internet cable then restart your computer normally. After you can see the desktop, plug in the cable again. If the virus doesn't pop up, you can continue from step 3. (If it's wireless connection, turn off/on instead of plugging in/out cable)
Step 2: Restart your computer in safe mode with networking. To do this, please keep pressing F8 key before windows launches until you get there shown as below: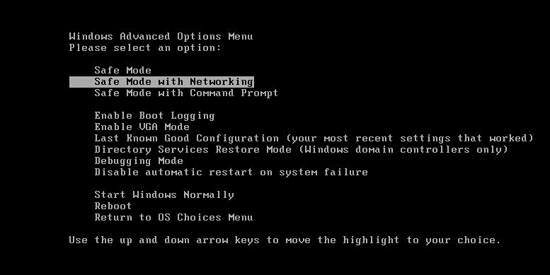 Step 3: Press Ctrl+Alt+Del keys to open the Task manager to stop the progress of Fake Bundesamt für Polizei Scam. Because the name will be changed fast, it will be displayed with different names with random letters.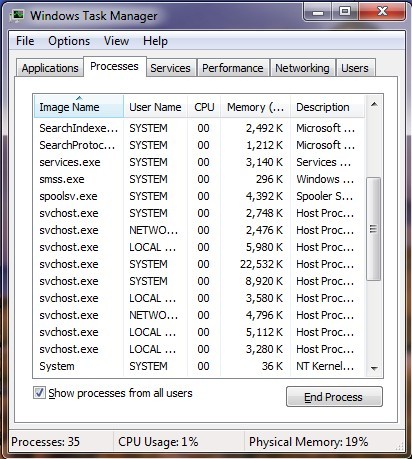 Step 4: Delete all the files related to Bundesamt für Polizei virus
Login to profile in which you are getting Bundesamt für Polizei Ransomware…
Go to my computer
Then press ALT button once
Go to tools on menu bar
Goth select Folder options…
Click on view tab
Select Show hidden files, folders, and drives
Click OK button
HKCU\Software\Microsoft\Windows\CurrentVersion\Run\Random.exe
HKLM\Software\Microsoft\Windows\CurrentVersion\Run\Random.exe
HKLM\SOFTWARE\Microsoft\Windows NT\CurrentVersion\Image File Execution Options\UDFrun.exe\
Video Guide to Remove Bundesamt für Polizei for €100 Fine from Registry Editor
At last but not least, never believe in those so called free software! Don't download to install those stuffs in your computer. They can not only remove the Bundesamt für Polizei virus for you, but also bring you much more other virus such as ransomware, scam virus even fake things. You may not be aware that those so called free software can be another cheater, which will make you gain just more loss. Please don't take a chance to have a try. It's nonsense. There is no free lunch! If you really can't remove Start.Search.us.com yourself, please find an expert for assistance. This is the best choice.
Kindly remind : Only those who have been well trained in Windows registry and networking knowledge can easily follow and complete the steps to remove Bundesamt für Polizei virus. For safety and feasibility concerns, YooCare/YooSecurity online malware removal service is well recommended. Click Live Chat with Support Now to consult your specific problems with our experts.

Published by Tony Shepherd & last updated on May 30, 2013 7:58 am