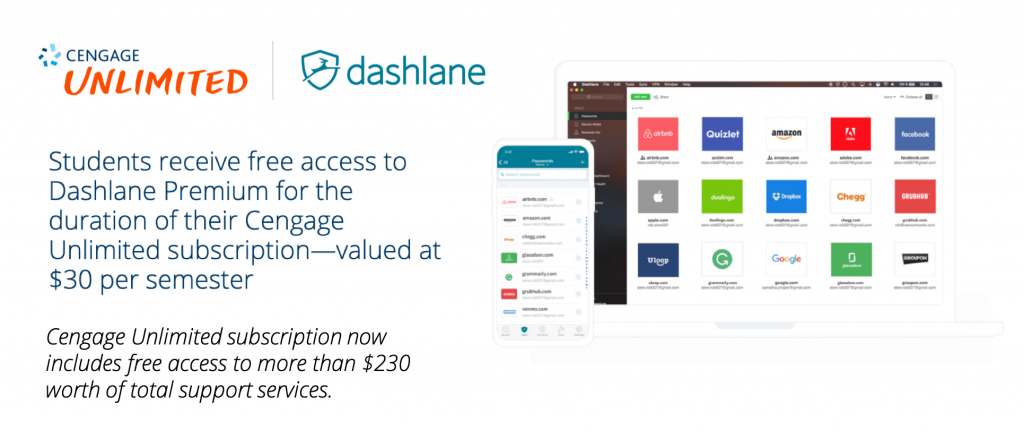 Cengage, an education and technology company built for learners, announced that it will partner with credential Dashlane password management protection to help students keep their personal information secure.

Dashlane is a leading credential and digital identity management solution that helps protect personal data by securing and strengthening personal passwords. The tool allows users to create strong and unique passwords for every website or application they log in to while saving the user from having to memorize each password. Due to the partnership, semester-based subscribers to Cengage Unlimited will receive six months of free access to the Dashlane app, while annual subscribers will receive 12 months.
"Adding Dashlane to Cengage Unlimited addresses one of the top concerns of the digital era: data privacy and security," commented Judah Karkowsky, senior vice president of corporate & business development for Cengage, in a statement. "Today's students are digitally savvy and rely heavily on cloud applications, making it important they take steps to ensure their data and personal information remain secure. With students having many accounts to track and manage, Dashlane's premium service simplifies the process to protect their personal information online."
In addition to Dashlane, Cengage Unlimited includes free access to resources from Evernote, Kaplan, Quizlet and Chegg to support learning and improve student experiences.
Published by Tony Shepherd & last updated on August 14, 2019 4:26 am