Are you looking for the top best uninstaller in 2020 in order to save yourself a huge amount of time and hassle while uninstalling unwanted app and bloatware from your Windows PC? In the present trending market, there are plenty of uninstallers available, free and paid-for, and almost all of them claim to be the ultimate program uninstaller for Windows. But, how do you know which one lives up to its claims that can do a good job in uninstalling unwanted program while also removing every last trace of a program? Which one can do better than the built-in Windows uninstaller does? In this post, we are going to list the best uninstaller for Windows in 2020 to help you keep your system clean and trim.
What is Uninstaller Software & Why You Need One?
Uninstaller Software, just as the name implies, is software that helps you to uninstall any programs that you don't want, including regular software, pre-installed OEM bloatware, crapware toolbars  or browser plugin etc. Nowaday, everybody has been a victim of a stubborn program on more than one occasion, regardless of whether you have installed it on purpose, or it has just comes bundled with other installed software. Third-party uninstaller software lets you get out of frustration because it can completely remove any unwanted programs from your hard drive, with none of the usual Registry clutter and junk files often left behind.
Most people still use the built-in Windows uninstaller (Add/Remove Programs) to remove software they don't need anymore. Yes, the feature is functional but it rarely tells you enough information about the program you're trying to remove, and the worse thing is program can not be fully uninstalled in this way, leaving Windows files and registry entries behind to crud up your hard drives and clutter your system registry. In fact, the best approach to uninstall software completely from Windows computer is first uninstall the software itself, and then remove all its residual files. But who would like to take the pain of doing this manually? So, a dedicated third-party uninstaller comes in handy.
The best uninstaller for Windows should be fast and effective. It can help you uninstall any hard-to-remove programs that Windows built-in uninstaller can't do, and is much easier to use. In addition, it also provides a handy way to manage browser extensions and plugins. And considering many people expect apps that work across all devices and platforms, a cross-platform uninstaller that works on multiple operating systems or devices will be welcomed. Most importantly, it should have the feature that searches your entire system for redundant files and registry entries and lets you clear up all the junks with one click. Therefore, you won't have to spend a ton of time trying to figure out what files to remove or what boxes to check. All you need to do is select the program you don't want and hit "uninstall" option, and the uninstaller will take care of everything. Below are the best Windows uninstallers in 2020 for your needs.
Top Best Uninstaller for Windows in 2020: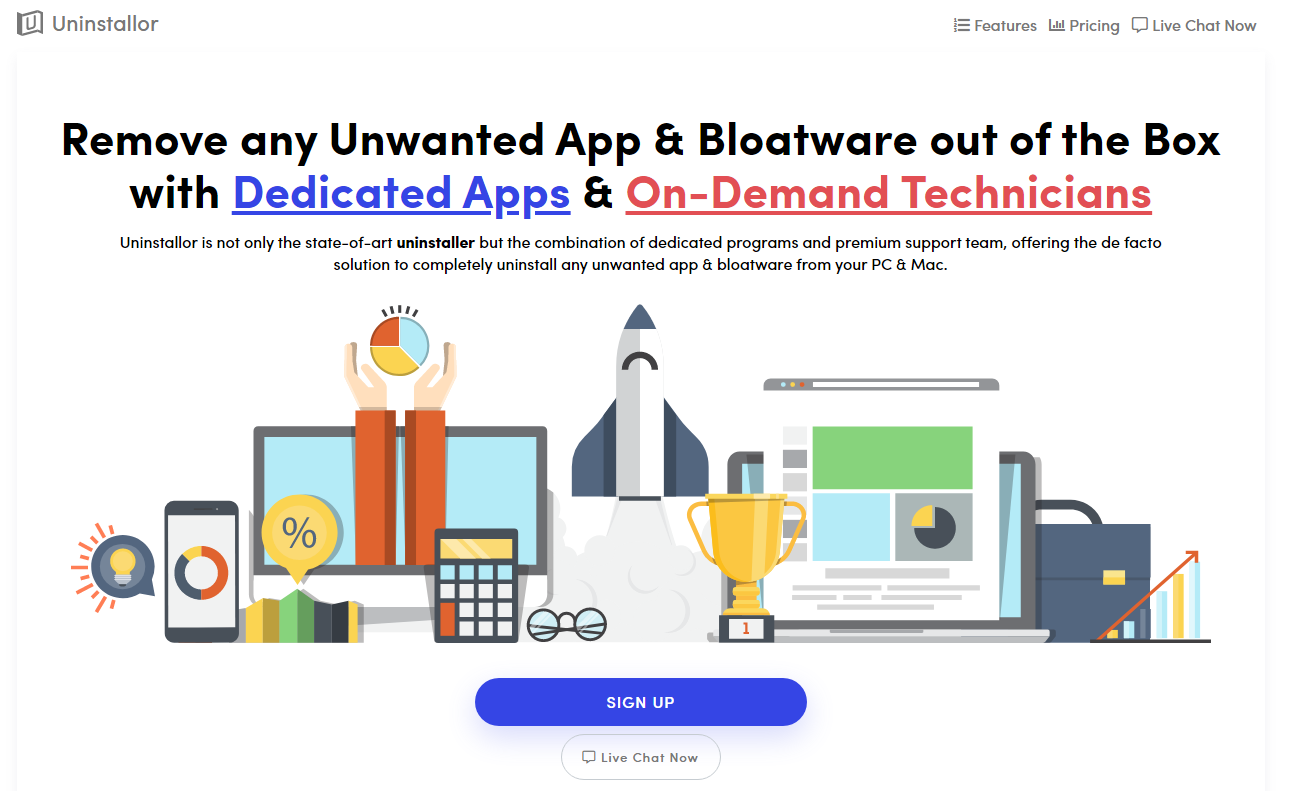 Uninstallor is one of the most effective and powerful uninstallers that we have ever seen for Windows. It is also the best alternative to Windows built-in uninstaller. Uninstallor is lightweight, that means it is designed to have a small memory footprint (RAM usage) and low CPU usage, so it will not affect your system performance. It's a tiny download of less than 5 MB, and ads-free. So, you could easily carry it on a pen drive or even keep it in your Dropbox. Installation is very simple and straightforward. The only option you have is to let you create a program shortcut to the desktop. No other software or toolbar is hidden or bundled. Uninstallor comes with a modern, simple, and user-friendly interface, with light theme and dark theme available to choose from. So, depending on what time of day it is, how long you have been staring at an obnoxiously bright screen, or simply just your preference, you can select your favorite theme to adjust brightness, reduce eye strain, and get the best experience while using this software.
Now Uninstallor is available on Windows and Mac. Its Android and iOS version are coming soon. Compared to Windows built-in uninstaller, Uninstallor works with surprising quickness. It can wipe a program from your hard drive in just a few minutes, even it is the most stubborn one, with no trace or any supporting files left behind. Once Uninstallor is launched, it displays a list of all the programs that you have installed, sorted alphabetically. Therefore, you can scroll down from the list and easily find the program that you need to uninstall. Uninstallor also supports instant searching of installed software. There is a search bar at the bottom letting you locate the specific program quickly by typing in the keywords. Once the unwanted program is selected, all you have to do is to click one button, and then from there on, Uninstallor will take care of everything. The smartest feature of Uninstallor is, it uses advanced algorithms that are fast, precise, and effective in scanning your hard drive and searching for any residual files and broken registry entries. It even gives you an analysis of what was done, like how many items have been deleted, and if some files will be deleted after the next restart of the system and so on. It is a one-click solution for removing any unwanted app out of the box.
Uninstallor is a perfect tool for anyone who wish to remove unwanted programs, leftovers, extensions, unwanted service files, and toolbars in an easy way. It is probably everything that a Windows user would ever wanted and dreamed of. Not only because it is 3 times faster than standard removal program to clean up everything with only one click, but also because it combines with the premium support team. In case you can't uninstall some stubborn programs with Uninstallor, you can submit custom removal request via live chat or support ticket for help with a confirmed schedule, or demand remote removal request from Uninstallor technicians. Uninstallor offers a 30-day money-back guarantee for its subscribers. If for any reason you are not completely satisfied with your purchase, they will refund your subscription within 30 days of the purchase date. No question asked. Give Uninstallor a whirl for 30 days. Uninstall unwanted app/bloatware in an easy way!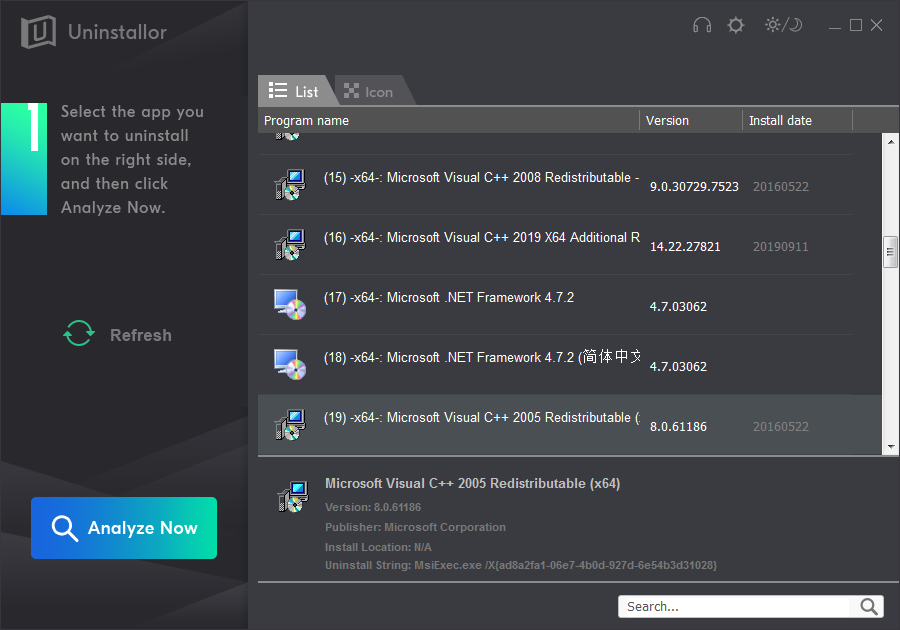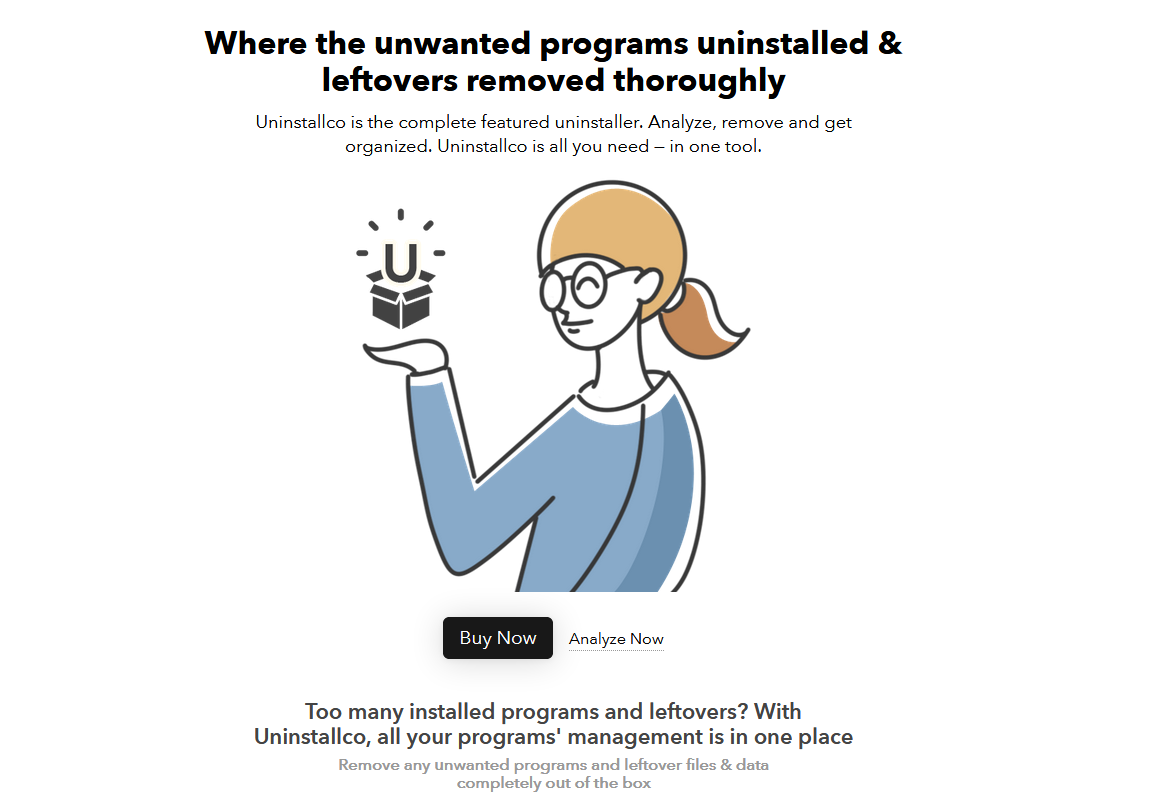 Uninstallorco is another great program remover that can be used to uninstall unwanted applications and remove leftover files to free up valuable disk space. It is designed by in-house technicians with more than 10 years of experience in app analysis and development. Currently, Uninstallorco is available on Windows and Mac. With only one valid license, you can use both apps for the operating systems of your choices. Uninstallorco has a clear and easy-to-understand interface that lets you sort all the installed software by name, version number, and install date. It is completely portable, less than 5 MB in size. With one click, Uninstallorco takes care of the whole uninstallation procedure by first analyzing all of a program's connections and next offering complete removal without traces like registry files or program folders left behind. It is very helpful especially for those with minimal experience and unable to uninstall programs manually.
Uninstallco is lightweight but it has everything placed under a single platform for one-click operation. It includes everything you would expect from the top uninstaller: a search bar to locate unwanted program, an advanced and fast algorithm to analyze a program's associated data before uninstall, highly-engineered removal capability, and many extras like custom fix or remote help in case you fail to uninstall some specific programs. Its goal is to help you clear undesired apps, pre-installed OEM bloatware, toolbars, and extensions away, and in turn, improve your PC overall health. Uninstallco is really good at uninstalling stubborn programs that you cannot uninstall from the Add or Remove Programs control panel, or those preinstalled applications that can't be removed easily. With it, no more partial removals or worse, being stuck with a program that doesn't have its own native uninstaller tool. Overall, Uninstallco is a multi-functional application that helps you keep your computer neat without cluttering your PC with leftovers. Download Uninstallco to ensure your uninstall process is safe and efficient. Easily remove any leftover files and registry items that the regular uninstaller might have missed!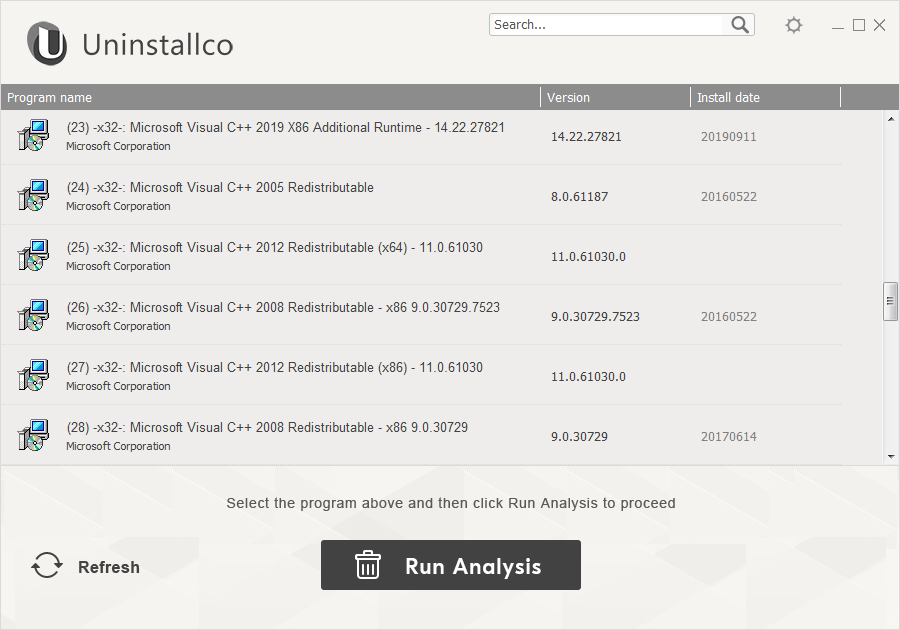 Bottom Line:
We've listed the top best uninstallers for Windows in 2020. If you are now looking for a great replacement for Add/Remove programs in Windows, I believe you have found it. All the tools presented above will do a fantastic job of removing unwanted software from your computer. They will not just simply help you get rid of the main application itself, but also will clear out all the associated preference and registry files, cookies, extensions, library files, unnecessary files, folders and more. Even you are not good at computers, you can easily handle the software and rely on it to remove any unwanted software, browser extensions or toolbars with a single click. Both Uninstallor and Uninstallor.co can help you free up more valuable disk memory to speed up your computer and improve you system performance. They make your digital life easier by removing unwanted programs as quick and effortless as possible. Do give them a try.
Published by Tony Shepherd & last updated on December 30, 2019 7:04 am