The holiday season is fast approaching, there is no better time than now to get multiple layers of protection from the security software giant AVG. Currently, AVG is offering an exclusive 20% OFF ALL PRODUCTS for both Home and Business users. With the best deals on AVG, you can get AVG Internet Security for $71.99, AVG Ultimate for 95.99, AVG Antivirus Business Edition for $43.19, and AVG Internet Security Business Edition for $61.59. In addition, you can take advantage of the AVG Promo Code provided here to enjoy an Additional 15% OFF all AVG products. Just use the promo code at checkout to receive your discount to save maximum. Please note that the AVG promo code for an extra 15% off is valid for a limited period of time only. Better don't miss out on AVG's biggest deal here!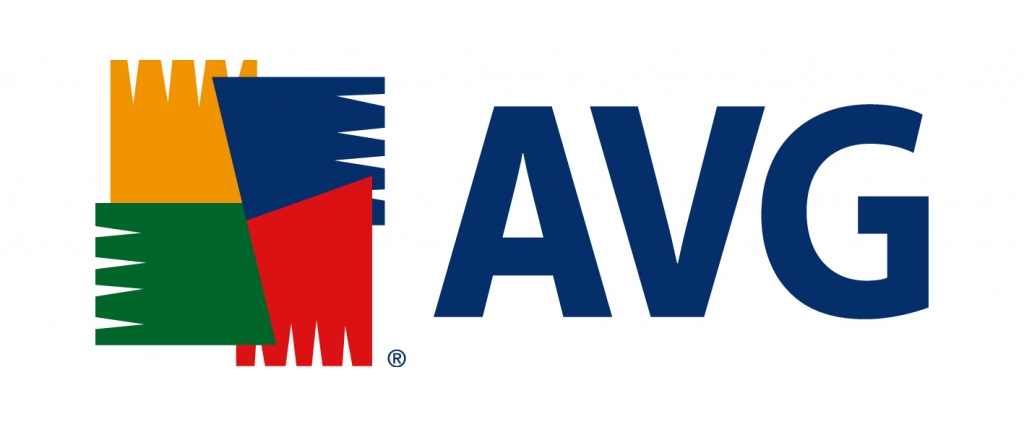 About AVG:
AVG (as known as AVG Antivirus, AVG Security) is an industry-leading antivirus and security tool that enables you to stay safe online and protects you against viruses, ransomware and other threats for all your devices with multiple protective levels and several shields. AVG was founded in 1991 and launched in the Czech Republic the following year. In July 2016, AVG was acquired by Avast – one of the largest security companies in the world – for $1.3 billion. Since then, the combined companies have been protecting over 400 million endpoints. As one of the biggest labels in the cybersecurity market, AVG achieves high score on malware detection and it gives you the most powerful protection and performance for your PC and beyond. From Malware and Ransomware protection to PC tune up, or to data transaction and file server security, AVG has all covered that fits your security needs.
AVG offers a variety of protection plans, including full-fledged free versions for Windows, Mac, and Android. Each product offers a mix of features and services. For example, AVG Antivirus Free includes real-time security updates, scans for both malware and performance issues, and it can block unsafe links, downloads and email attachments for you, giving the essential protection you want with no charge. If you want to take your security to the next level, you also can consider AVG Internet Security which contains an enhanced firewall and payment protection. It lets you shop and browse safely by blocking spam and scams for you, and preventing you from accidentally giving your passwords or credit card numbers to criminals. Besides that, there is a AVG Ultimate package for all your devices, which you will get all-in-one and best-in-class antivirus and tuneup combo. This single subscription covers your personal devices with AVG Tuneup (Unlimited) and AVG Internet Security (Unlimited for all windows computers, mac computers and Android devices). Extra security tools and services include AVG Secure VPN for PC, AVG Cleaner for Android, AVG Driver Updater, AVG AntiTrack, AVG Premium Tech Support, AVG Express Install, AVG Secure Browser and more. For business use, AVG offers 3 differnet solutions including AVG File Server Business Edition, AVG AntiVirus Business Edition and AVG Internet Security Business Edition. 600,000+ businesses have chosen AVG products for protection and you will get the top rated antivirus, instant email alerts and remote administration across your PC devices in your subscription.
Can't wait to join AVG now? Now, seize the last chance at the end of the year to GET 20% OFF ALL AVG PRODUCTS to save big on your subscription. Moreover, you'll get an EXTRA 15% OFF your order after a 20% discount with AVG promo code released here. Limited-Time Offer!
AVG Products & Pricing:
AVG For Home Users:
AVG Antivirus Free is enough to support most basic needs and is free to download. It now includes real-time security updates, scans for both malware and performance issues, and even catches malicious downloads before they reach your PC. The package is avaliable on Windows, Mac and Android. If you are looking for a free antivirus protection to basically protect yourself from a range of threats, then this zero-cost option is for you.
AVG Internet Security: $89.99/Year for 10 Devices  (30-DAY Free Trial available; No credit card needed)

— NOW 61.19/Year FOR SALE
AVG Internet Security, also called AVG Internet Security 2020  is the best all-round protection for all your devices. It covers an antivirus, a robust firewall, a simple spam filter, real-time security updates, webcam & ransomware protection, shopping & banking protection and a full of bonus features in its package. AVG Internet Security delivers increased peace-of-mind, performance and choice to consumers worldwide and lets them browse the web with confidence.
AVG Ultimate: $119.99/Year for 10 Devices 

— NOW $81.59/Year FOR SALE
AVG Ultimate is the combination of AVG Internet Security and AVG Tune Up ($49.99/year for unlimited devices) that gives not only the advanced, real-time security for all your devices, but also the premium tune-up apps to keep your devices running smoothly. Apart from everything you can get from AVG Internet Security, AVG Ultimate is also packed with features like Automatic Maintenance, Sensitive Data Shield, Anti-Theft, Browser & Disk Cleaner, Email Protection and more. You will get the ultimate security, privacy, and performance from this package, and this is the best solution for you and your family.
AVG For Business Users: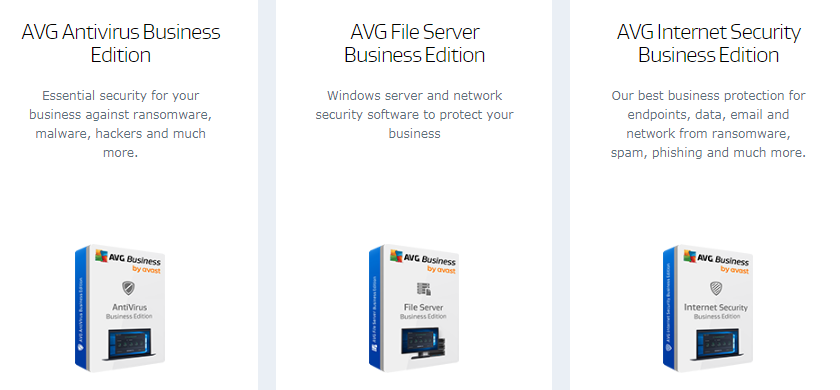 AVG Antivirus Business Edition:  $53.99 1 device 1 year

— NOW $36.71/Year FOR SALE
If you want to protect your business endpoints against today's cyberthreats, AVG Antivirus Business Edition is a perfect solution as it offers essential protection that every small business needs to stay safe in this connected world. From Malware and Virus Protection, to File Shredders and Remote Management, AVG Antivirus Business Edition has all covered. You will know the perfect way to store and destroy sensitive data, and never get the pain of suffering from a data leak or any other kind of cyber attacks.
AVG File Server Business Edition: $25.49 per 1 device 1 year 

— NOW $17.33/Year FOR SALE
AVG File Server Edition is one of the best tools designed by AVG to provides solid protection to your business and let your data to be safe, private and out of the hackers' hands. It gives you simple, complete control over your files while keeping out online threats and maintaining peak Windows server performance. You can efficiently manage network security from anywhere and get free email and phone support whenever you need. It's suitable for small businesses. Absolute security, no more breaches!
AVG Internet Security Business Edition: $76.99 1 year

— NOW $52.35/Year FOR SALE
AVG Internet Security Business is the best package that you can choose to protect your business Endpoints, email & network from ransomware, spam, phishing and much more. It includes: AntiVirus, Anti-Spyware, LinkScanner, Remote Administration Console, Rescue CD, File Server Protection, Email Server Protection, AVG Anti-Spam and more. The product is very easy to use, and even less tech-savvy employees wouldn't struggle with it. If you face any problems, you can easily get in touch with AVG 24/7 customer support. AVG got your back whenever you need.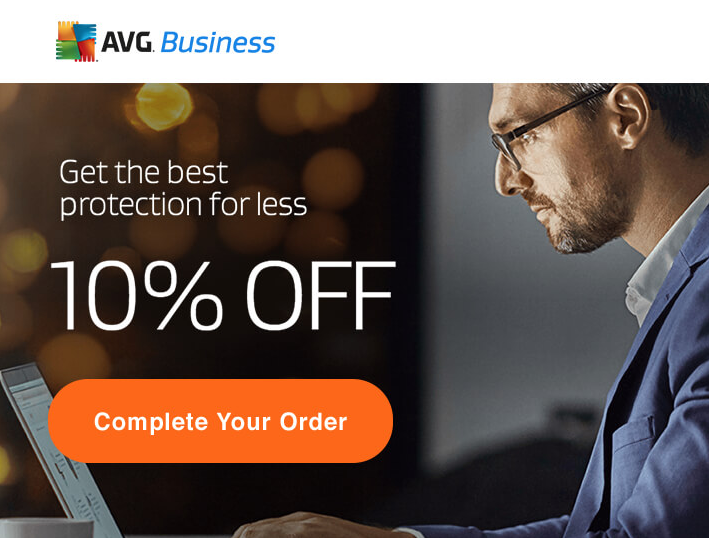 Other AVG Products:
AVG Secure VPN: $85.99/year for 5 devices simultaneously; $69.99/year for 1 computer 

—  NOW $61.19/Year FOR SALE
AVG Secure VPN encrypts your internet traffic and protects your online identity, letting you get privacy, secure browsing, and worldwide streaming in just one easy click. It keeps prying eyes off your information from the outside. Besides, AVG Secure VPN uses up-to-date protocols and robust encryption. This means that you will always stay safe whenever you're shopping online or using online banking. AVG Secure VPN offers you a secure and private internet connection without any restrictions.
AVG Tuneup: $49.99/year for unlimited devices

— NOW $33.99/Year FOR SALE
AVG Tuneup is a tune-up utility that lets you clean an unlimited number of Windows and Mac computers, as well as Android phones/tablets, from one easy-to-use dashboard. This well-designed and effective tool helps you uninstall any unwanted programs without leftovers, clears junk files and boosts the performance of all your devices with just a few clicks. AVG Tuneup contains features like automatic maintenance, disk and browser clean up, software uninstaller, software updater and more. It keeps your computer running like new, prolongs battery life & keeps your software up-to-date.
AVG Driver Updater:  $39.99/year for 1 computer 

— NOW $31.99/Year FOR SALE
AVG Driver Update is an outstanding driver updater that automatically keeps over 500,000 drivers up-to-date, so you will have less crashing, faster browsing, better graphics, richer audio and fewer device problems. It is light, operates fast and smoothly, keeping your drivers running their best without taking up your system resources. With AVG Driver Updater, you can reduce hardware problems and avoids conflicts.

How to Apply AVG 100% Valid Discount & Get AVG Promo Code for Money Savings?
Are you looking for the best AVG 2020 discount? Can't find a valid AVG promo code or coupon code? Take it easy! The latest AVG Antivirus promo codes, coupons & deals are available here!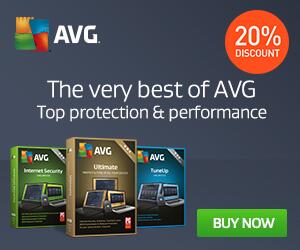 For a limited time, AVG is offering 20% OFF ALL Products, so you can click HERE or any blue promo button on this article to get your savings and redeem AVG Promo Code first. The 20% discount will be automatically applied on checkout and you'll see the discount reflected in your cart, and throughout the checkout process. In addition, the AVG Promo Code enables you to get an EXTRA 15% OFF your purchase after 20% off. Just enter the AVG Promo Code into the text field, and click "Apply". If the AVG promotional code you entered was applied successfully, you'll see the final discounted price like above. With the exclusive AVG deals and discounts here, you get the best protection on all your devices at a low price for the entire year. Don't miss out on these incredible deals!
Why Recommend AVG?
As cybercrime continues to evolve, malicious software and viruses are as prevalent as ever, it is necessary to invest in rock solid, reliable, and up-to-date antivirus software like AVG to protect ourselves from cyber attacks, data leak, identity theft, or other malicious viruses and threats like Ransomware, worms, trojans, adware, and more. AVG have been creating award-winning security software for over 20 years. The company have been protecting more than 110 million consumers and small business computer users worldwide. As one of the world's most recognizable names in online threat protection, AVG combines multiple layers of protection and offers a range of security suites to match your protection needs. Whether you are looking for comprehensive antivirus software, VPN, powerful software uninstaller, secure Internet browser or driver updater for personal use, and no matter what your business requirements or network structure, AVG always has a solution for you. You will get the most powerful protection and best performance for all your devices. All its security products help you safeguard against different kinds of malware threats including viruses, worms, ransomware, Trojans, etc. Save Big on AVG Now! Today you not only get 20% off all products on AVG, but you also get an extra 15% off AVG Promo Code to enjoy the biggest sale of the new year. 
Video Guide on How to Get AVG Promo Code and Discount
Conclusion:
Cybersecurity issues are becoming a day-to-day struggle for both home and business users, but AVG provides the best security solution for internet users with outstanding 100% malware detection rates. With AVG products, you can stop viruses, spyware, ransomware and other threats with real-time protection; block potentially malicious links, downloads, and email attachments; stay safe when you are using public Wi-Fi in shopping malls, airports, restaurants, coffee shops, libraries, and keep your PC updated and running smoothly. AVG offers solid protection against viruses, spyware, malware, rootkits and even ransomware which is a big topic now. Apart from highly customizable and top-rated antivirus software, AVG also provides AVG Secure Browser for safe browsing, AVG Secure VPN for increasing online security and bypassing regional blocks and firewalls, AVG AntiTrack to keep your identity safe from the latest online tracking techniques, AVG Tuneup to clear up your PC and boost performance and AVG Driver Updater to easily fix and update your drivers. AVG Internet Security provides both high performance and rich features. It will neither slow down your PC, nor drain your CPU and most importantly it will provide the needed protection to prevent any malicious activities and breaches. Now is the best time to join AVG. Enjoy 20% off all AVG Products & Save An Extra 15% with AVG Promo Code! This is the biggest deal of the year! Don't miss out.

Published by Tony Shepherd & last updated on February 10, 2020 4:00 pm