Is Avast free antivirus and reliable software? Are you familiar with Avast tools? If not, after reading this Avast Antivirus review you may get all information you need for this antivirus software. Avast Antivirus is a family of internet security applications developed by Avast for Microsoft Windows, macOS, Android and iOS.
Is Avast Reliable?
I think many of you have antivirus software installed in your computers. If you don't have it, your computer will be at high risk. Avast is a world-famous antivirus software. Avast is an anti-virus software from the Czech republic, and there are many versions for you to choose from. Avast antivirus is divided into free version and paid version, the free version has eight protection modules: file system protection, web protection, mail protection, network protection, P2P protection, instant message protection, behavior protection, script protection, and paid version can fully protect your computer from invasion, the function is very powerful.
Avast develops different features and technologies for internet security. Its Antivirus tool can scan files and programs before allowing them to open or run. The CyberCapture can send suspicious files to the Threat Lab for analysis. The Firewall filters network traffic and stops untrusted connections. Behavior Shield stops dangerous programs and applications on your device. Web Shield blocks dangerous websites before they open. Email Shield continuously checks for threats in incoming and outgoing emails. Anti-spam blocks unwanted spam and phishing emails. Smart Scan can quickly check for any performance or security issues. The Sandbox of Avast is a safe environment to test dubious files and programs. Wi-Fi Inspector can discover vulnerabilities in your network. real site feature keeps you away from fake sties designed to steal your data. Rescue Disk creates an external backup antivirus to savage compromised PCs. Software Defender automatically updates your installed software to help prevent hacks. Avast provides many different products and licenses for personal, home and business. It offers Ultimate, Premier, Internet Security, and Free Antivirus for personal and home use, Antivirus Pro Plus, Antivirus Pro and Antivirus for business. Avast also designs other services including SecureLine VPN, Passwords, AntiTrack and Secure Browse.
Avast Products and Pricing for Home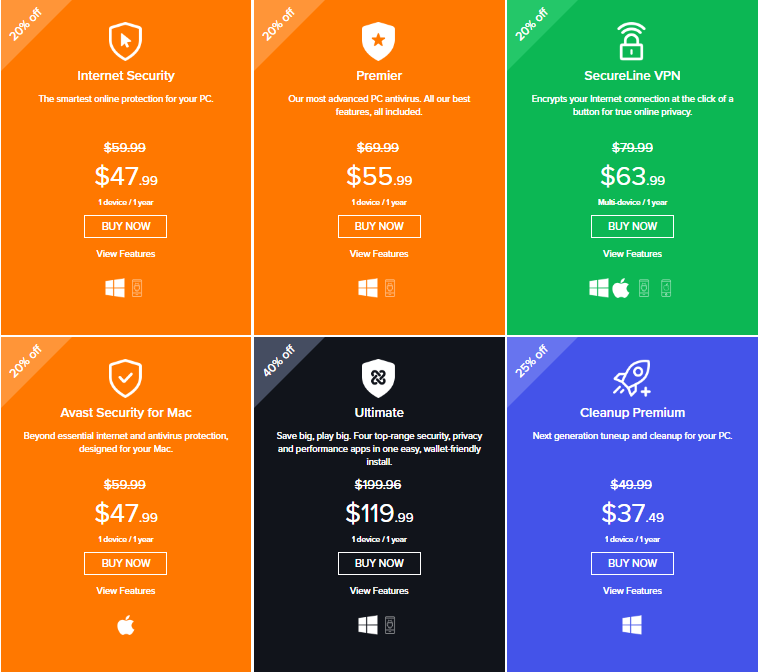 1. Avast Internet Security – now 20% off! 
1 device/1 Year $59.99 $30.00
1 device/2 Years $109.99 $50.00
1 device/3 Years $159.99 $80.00
2. Avast Premier – now 20% off!
1 device/1 Year $69.99 $35.00
1 device/2 Years $139.99 $70.00
1 device/3 Years $209.99 $105.00
3. Avast Ultimate – now 40% off!
Including Avast Premier, Avast SecureLine VPN, Cleanup Premium and Passwords Premium

1 device/1 Year $199.96 $119.99
All Avast home plans are offering 30-day Free Trial to users and all are 30-day money-back guarantee.
Features of Avast Products for Home
Block viruses and other malware: Detect viruses, ransomware, and other threats in real-time.
Scan for Wi-Fi security weaknesses: Expose intruders and security weaknesses in your network.
Secure your passwords: Lock your passwords in our vault and log in to sites with 1 click.
Avoid fake sites for safer shopping: Stop criminals from stealing your passwords and banking info.
Safely run suspicious apps: Sandbox any app to avoid affecting the rest of your PC.
Block hackers with advanced firewall: Stop hackers from sneaking onto your PC to steal your data.
Block annoying spam and phishing emails: Stop annoying junk mail for a safer, cleaner inbox.
Get an extra layer of ransomware security: Keep personal photos and files safe from unwanted changes.
Stop webcam spying: Prevent peeping Toms from watching you via your webcam.
Permanently shred sensitive files: Securely delete files to ensure that no one recovers them.
Automatically update apps: Reduce security risks by keeping your other apps up-to-date.
Includes Avast Cleanup Premium: Remove hidden junk, free up disk space, and speed up your computer.
Includes Avast SecureLine VPN: Encrypt your Internet connection for safer, anonymous browsing.
Includes Avast Passwords Premium: Be warned of leaked passwords and log in to websites with a click.
Avast Products and Pricing for Business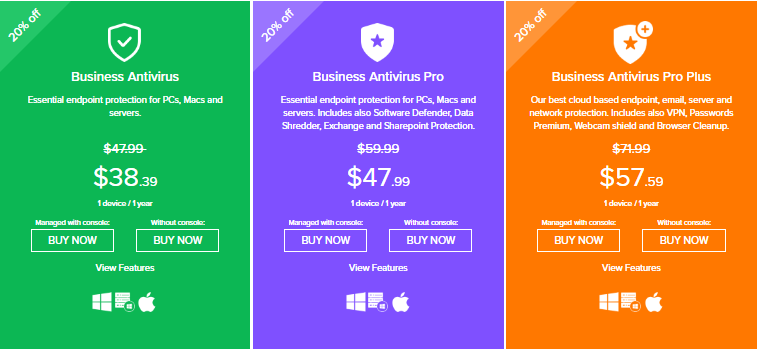 1. Avast Business Antivirus Pro – now 20% off!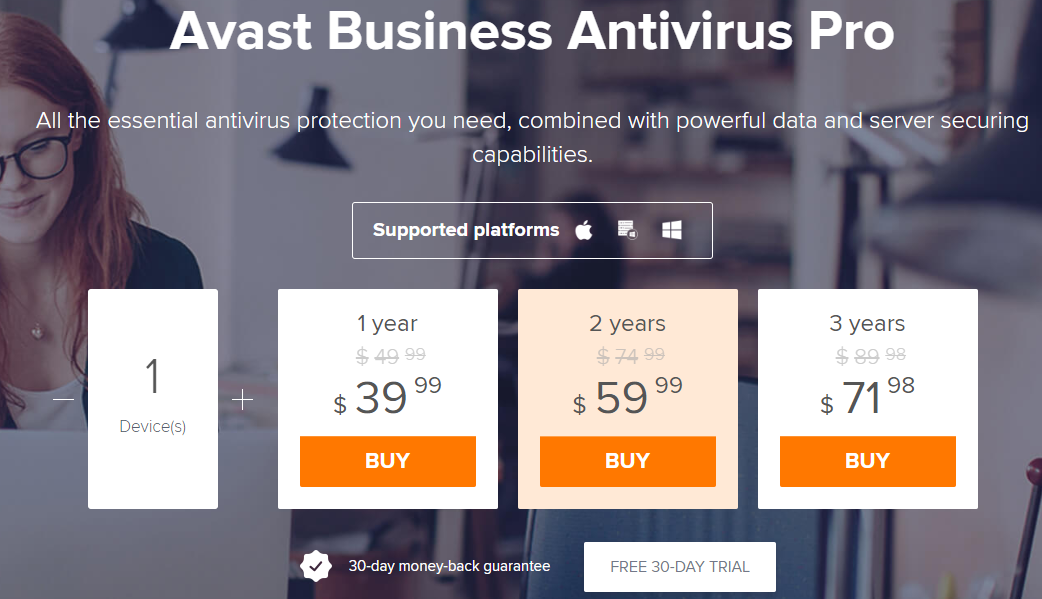 1 device/1 Year $49.99 $39.99
1 device/2 Years $74.99 $59.99
1 device/3 Years $89.98 $71.98
2. Avast Business Antivirus Pro Plus – now 20% off!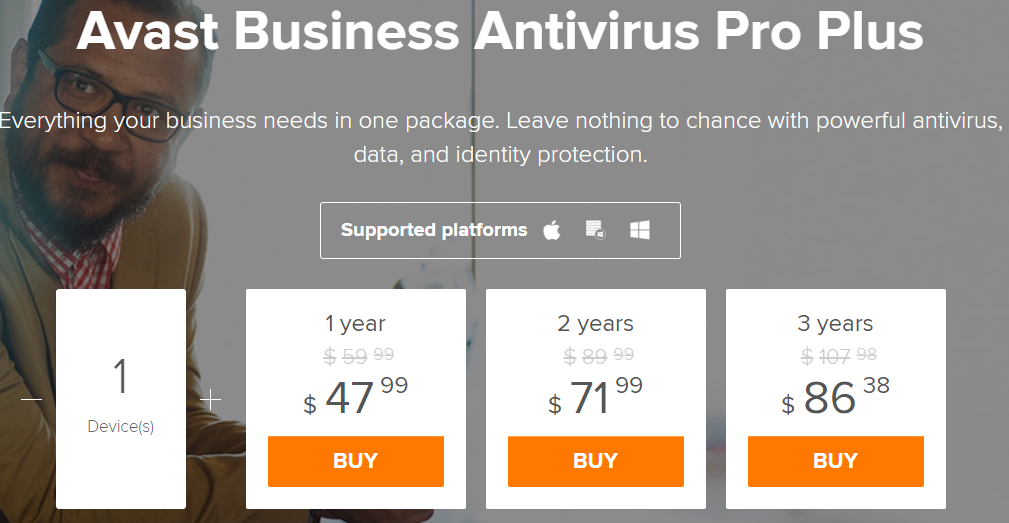 1 device/1 Year $59.99 $47.99
1 device/2 Years $89.99 $71.99
1 device/3 Years $107.98 $86.38
3. Avast Business Antivirus – now 20% off!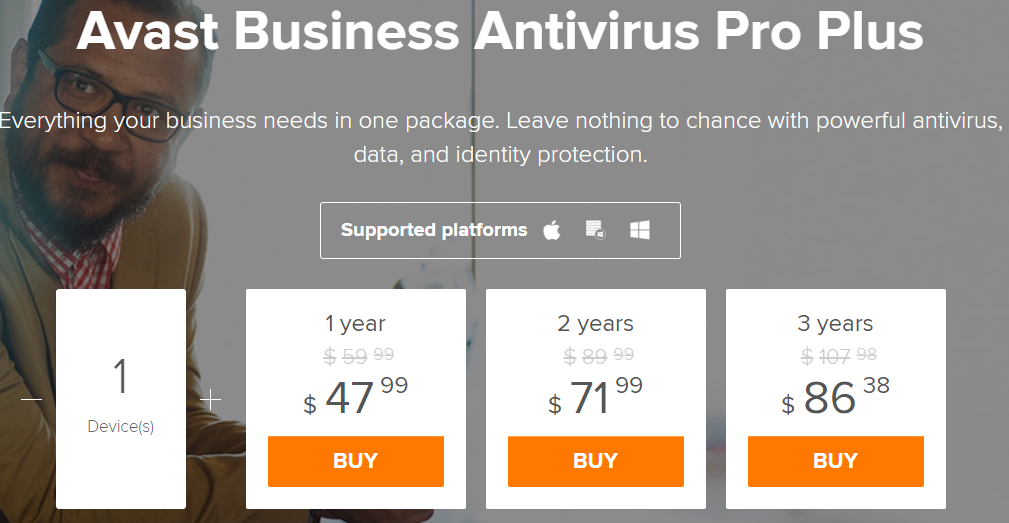 1 device/1 Year $39.99 $31.99
1 device/2 Years $59.99 $47.99
1 device/3 Years $71.98 $57.58
All Avast business plans are offering 30-day Free Trial to users and all are 30-day money-back guarantee.
Features of Avast Business Products:
Antivirus: Scans files and programs before allowing them to open or run.
CyberCapture: Sends suspicious files to the Threat Lab for analysis.
Firewall: Filters network traffic and stops untrusted connections.
Behaviour Shield: Stops dangerous programs and applications on your device.
Web Shield: Blocks dangerous websites before they open.
Email Shield: Continuously checks for threats in incoming and outgoing emails.
Anti-spam: Blocks unwanted spam and phishing emails.
Smart Scan: Quickly checks for any performance or security issues.
Sandbox: A safe environment to test dubious files and programs.
Wi-Fi Inspector: Discovers vulnerabilities in your network.
Real Site: Keeps you away from fake sites designed to steal your data.
Rescue Disk: Creates an external backup antivirus to salvage compromised PCs.
Software Defender: Automatically updates your installed software to help prevent hacks.
Data Shredder: Permanently deletes files you don't want recovered.
Browser Cleanup: Erases junk files slowing down your browser.
Webcam Shield: Alerts you before your webcam is turned on so as to protect your privacy.
Passwords: Protects your passwords and streamlines your online accounts.
SecureLine VPN: Makes open, vulnerable networks safe, anywhere in the world.
Avast Tools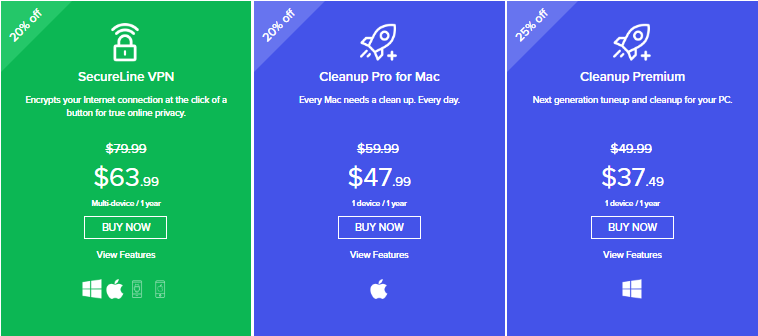 Features and Highlights of Avast Mobile Antivirus:
Antivirus Engine: Virus and malware scanner automatically scans for infected/dangerous apps and Trojans upon first use. Includes Web & file scanning for complete mobile protection, and also protects against spyware and viruses.
Clean Junk: Instantly cleans up unnecessary data, system caches, gallery thumbnails, installation files, and residual files.
Call Blocker: Keep your privacy. Add phone numbers to your blacklist and block callers you don't want contacting you.
Web Shield: Scans and blocks malware-infected links, as well as Trojans, adware, and spyware (for privacy and safe Web browsing, e.g. Chrome) and also fixes mistyped URLs.
Wifi Security: Check the security of each network and email, browse and make payments wherever you are.
Anti-Theft: Automatically lock your device on SIM change, and secretly capture photos and audio recording of the thief.
AppLock: retain security and privacy of sensitive content by locking any app with a PIN or touch gesture. Protect your most used apps and make sure nobody else can access them – not your child or even an intruder.
Photo Vault: allows you to protect access to your photos with a PIN code. After moving photos to the Vault, they are encrypted and hidden.
Power Save: reduces your device's battery consumption by adjusting set of settings such as the Wi-Fi, synchronization, Bluetooth and screen settings that drain your battery the most.
Remove ads: eliminate ads from your Avast Antivirus experience.
Avast Direct Support: contact Avast directly from the app to receive quick responses to your inquiries.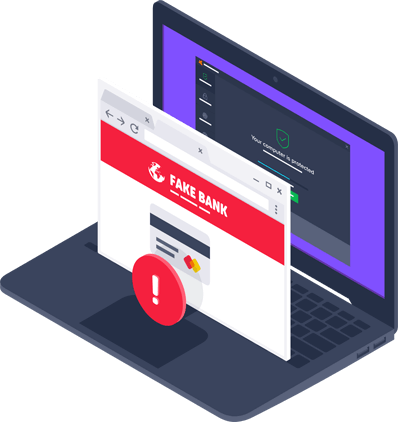 What Makes Avast Powerful and Excellent?
Avast now becomes one of the most well-known antivirus and security tool. So it has been listed on the top antivirus software that chose by more and more users, but many of them will take a look at Avast Antivirus review before they make a purchase. Avast is now trusted and used by over 400 million users all around the world. Avast is a high-performance antivirus with multiple features and technologies increasing more layers of security and privacy for customers. Avast give complete security and privacy on the internet, stops all kinds of online threats and prevents hackers. powerful and excellent features like Firewall, Wi-Fi Inspector, Real Site, Sandbox, Anti-Spam, Avast Ransomware Shield, Avast Webcam Shield, Avast data shredder… make Avast more powerful!
1. Avast Firewall Feature
A firewall is an essential piece of security software that monitors all incoming and outgoing traffic going through your network, checking for hackers, malware, unauthorized outgoing information, or anything that might put you or your PC at risk. Firewalls are often the first line of defense when protecting your data.
Hackers can use Trojan viruses and keylogging software to access your computer and steal your personal data such as your history, passwords, and banking details by recording your sessions and keeping track of your keystrokes. They can also harness the power of your computer to run illicit activities without your knowledge (yes, your PC can be a part of the problem – strange, but true).
Cyber criminals can use any internet connection or Wi-Fi network as an entry point into your computer. Firewalls block all unauthorized connections to your computer (including those of hackers who are trying to steal your data) and even let you select which programs can access the internet so that you're never connected unknowingly.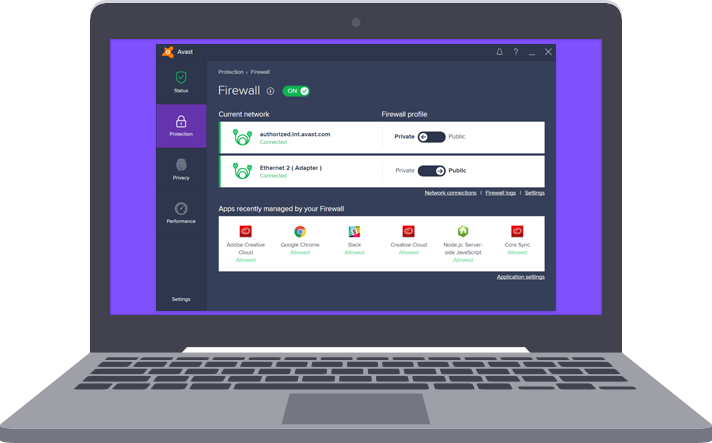 2. Avast Anti-Spam Feature
Spammers traditionally target email accounts, but spam can now be found on blogs, instant messages, social networking sites such as Facebook, and mobile phones. Your device receives unsolicited spam messages on a regular basis, often in large amounts. Spammers disguise themselves as businesses, friends, or family members.
Spam clogs and clutters your email, getting in the way of the emails that truly matter to you. It also can be used to phish for personal data or lure you to malicious sites that can infect your computer. Hackers use spam as a way to lure you to malicious sites or into financial scams. We've made sure Anti-spam filters and labels any spam in your email application, so you don't have to waste your time trying to keep your inbox clean and safe.
Both Avast Internet Security and Avast Premier allow you to download our Anti-spam, so you can stay safe from Phishing and not waste time with junk emails.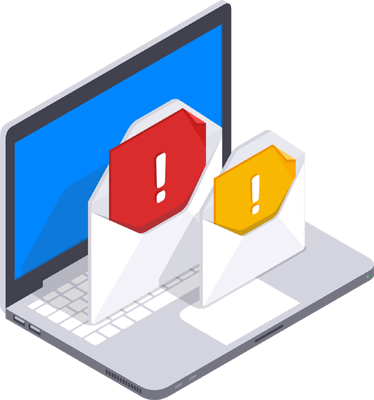 3. Two new shields Double protection with Ransomware Shield and Webcam Shield feature
Stop even the most determined hackers from getting their hands on what's yours. Webcam Shield protects your built-in camera from hidden spies. And Ransomware Shield ensures your files cannot be encrypted without your permission, so you don't get held to ransom.
It blocks all webcam-hacking, and stops ransomware before it starts. It protects your PC, home network, and passwords against zero-second threats with smart cloud-based detection. It updates your apps automatically and shreds your data permanently when you say so. That's why you've never seen protection like this before.
Keep spies and snoops off your webcam: Can hackers really hijack your webcam? Yes — until now. Webcam Shield makes anything and anyone get your permission before they can use it so nobody takes a peek unless you say so. You can even disable your camera for good — and enable it again. Go on, do your happy dance — no one's watching.
Keep hostage-takers off your files: Hackers demand an average of $643 from ransomware victims. Ransomware Shield keeps your most important files from being encrypted and held hostage, and lets only trusted apps alter them in any way.
Update your apps against security gaps: Automatic Software Updater keeps your apps and programs up to date with the very latest safety patches and performance upgrades, so you're not exposed to hackers finding security holes from out of date versions. Safe and convenient.
No data left behind: Thinking of selling your PC, or maybe lending it to someone? You'd be surprised at how easy it is for others to retrieve your "deleted" files and data. Your Data Shredder makes sure your personal photos, bank statements and other private documents get obliterated — for good.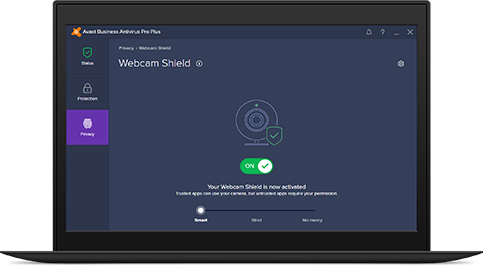 4. Avast Data Shredder feature
Data Shredder feature can Delete your files, permanently. It sounds strange, but deleting your data doesn't destroy it permanently. Data Shredder does. It overwrites files multiple times to make them irretrievable. Avast Premier comes with Data Shredder installed, to give you peace of mind, especially before selling or repairing your PC.
Emptying your PC's trash bin isn't enough to securely erase the data in those files. Anyone with access to your hard drive can recover that data with ease. So next time you sell, lend or repair your PC, make sure you get rid of your data permanently. Anyone with access to your hard drive can recover the data in your deleted files – which could be family photos or even videos. Data Shredder securely erases your deleted files by overwriting them with nonsense data. In other words, you can be sure your data has been fully destroyed.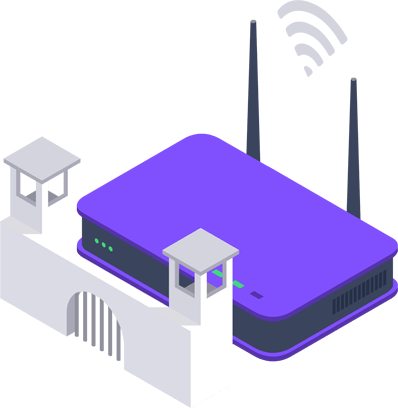 5. Avast Software Updater
Avast Software Updater keeps your software up-to-date. Outdated software is a potential risk for your computer since hackers can take advantage of unpatched vulnerabilities. Hackers love to exploit old software, as it's the weakest link in most people's security. That's why regular software updates are fundamental to your PC's security. Avast makes updating software a breeze and helps you avoid installing any unwanted software. Outdated software lacks the most current security measures and patches, leaving you vulnerable to hackers who know how to exploit these weak spots. To ensure that you're fully protected, you need to update your software regularly. All Avast security products for home PCs let you update your software with a single click. Premier users don't even need to do that, as software updates automatically in the background.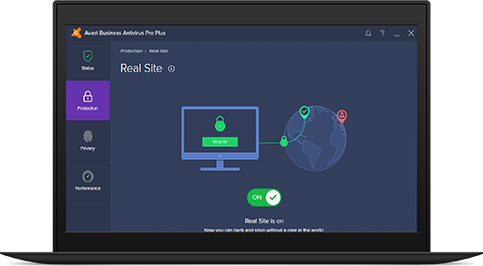 6. Avast Sandbox feature
Avast Sandbox feature let you run unknown programs with confidence. Sandbox lets you run apps, download files, and visit websites in a secure virtual environment isolated from the rest of your computer.
Running unknown software, downloading videos or other files from unknown sources, or visiting unverified websites could potentially infect your PC, allowing hackers to access your personal data. Hackers can use software, files, and websites to infiltrate and infect your PC. Sandbox lets you run suspicious files safely, in isolation from the rest of your computer. If everything proves safe, you can move them to your machine. If not, your computer is safe and you've risked nothing. All paid Avast PC products come with Sandbox, so you can run apps, download files, and visit websites without accidentally infecting your PC.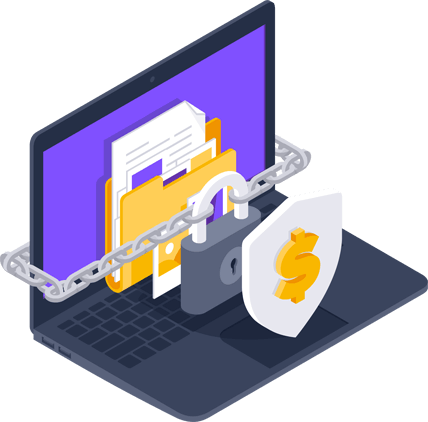 7. AntiTrack feature
Avast AntiTrack Premium is a privacy application designed to keep your identity safe from the latest online tracking techniques. Websites collect information on you to build a unique online profile that advertisers can identify you by. Avast anti-tracking software warns you when snoopers try to follow you and stops them. Avast AntiTrack Premium injects fake information into the data that make up your digital fingerprint. This action changes what information trackers and third-parties can see about you. Avast AntiTrack Premium also clears tracking cookies from your browser.
Online tracking is the process of gathering information about you and everyone else, through sophisticated analytics embedded on websites. Online tracking can affect you in several ways. For example, trackers can gather information about you without your consent and sell it to the highest bidder. Hackers can steal your passwords and bank information. ID thieves can even open fake accounts and ruin your credit score. Features of AntiTrack Functionality:
Know when you're being tracked When advertisers track your online activity, we automatically expose and block them.
Keep your true identity private When you're browsing, we disguise your online behavior so that no one can tell it's you.
Stop targeted advertising When you're shopping online, we hide your purchases so you don't see the same ads.
Erase your traces automatically When you're done browsing, we wipe your history so that your activity stays private.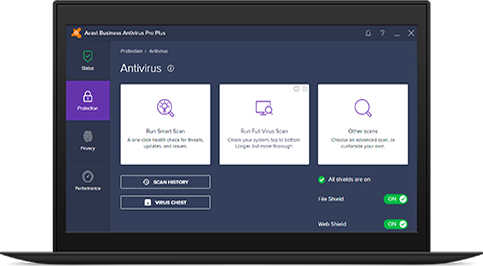 8. Avast SecureLine VPN
SecureLine Virtual Private Network creates a tunnel of powerful encryption, so no one can see what you're doing. And because the tunnel comes out of one of our secure servers placed strategically around the world, whoever you connect to sees our IP address, not yours.
Avast SecureLine VPN gives you real privacy by hiding your activities from your internet provider, advertisers, employers and more.
Avast SecureLine VPN provides secure connection to make you stay safe wherever you are: coffee shop, airport, or a train station.
Avast SecureLine VPN gets you around content blocks and lets you enjoy your favorite TV shows as you choose.
Avast SecureLine VPN picks from a broad variety of speedy servers all around the world.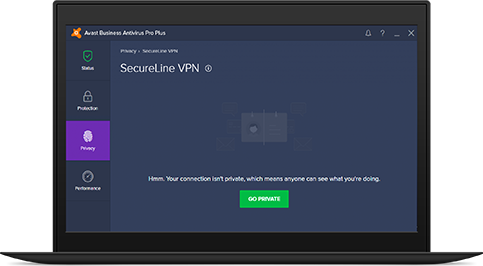 Video Guides Avast Antivirus Review
Summary
Avast protects your devices against viruses and other types of malware, ransomware, spyware and more. The interface of Avast is relatively simple, lightweight program, fast scanning speed, free version of the anti-virus ability in general, no count of infection file and scanning time statistics, virus library upgrade easy to fail, spend a long time in the test to upgrade the virus library. Avast gets alerted when you install spyware and adware apps that violate your privacy. Avast secures your devices against phishing attacks from email, phone calls, infected websites or SMS messages. Among many licenses and products, Avast Internet Security is the smartest online protection for your PC. You can use it to browse, tweet, shop, and bank safer with real-time threat detection and enhanced anti-ransomware protection. You have everything to protect, and Avast has the all-in-one solution ready to protect it. Avast makes the most of award-winning antivirus enhanced with server, email, and VPN protection for complete security, even on the go. Complete data protection takes more than keeping your PCs malware-free. Stop cybercriminals using vulnerabilities in out-of-date software to access your network, safely delete confidential documents so they can't be recovered, and protect inboxes and sharepoints from infection. Avast is a light and powerful antivirus with easy-to-use and friendly user interface. It protects PCs, Macs and servers by using advanced firewall, cybercapture, VPN, password manager and more.

Published by Matt Johnston & last updated on May 28, 2020 1:05 pm