In this digital world, backing up critical data, systems and applications becomes an unmissable insurance policy that every Internet user needs in the event of a disaster. Acronis True Image 2020 is one of the best backup tool in the market that not only ensures your data is backed up, but also provides ransomware protection, active disk cloning, backup statistics, activity logs and more. Is the software safe to use? Is it easy to set up and manage? How does it work? What kind of backup technique is used? In this Acronis True Image 2020 review, you are going to learn everything about this online backup tool, from its price, features, speed, to privacy, security and more.

Acronis True Image 2020 Overview:
Acronis True Image 2020 (as known as Acronis True Image 2020 Cyber Protection) is a fastest and most powerful backup solution designed for not only small, medium, and large businesses, but also for home users. This online backup tool helps store and recovers files, folders, partitions, and drives in multiple ways and it promises to "never lose another file." Now Acronis is trusted by more than 5 million consumers and 500,000 businesses worldwide. Being as the world's easiest and fastest backup solution, Acronis True Image 2020 does a good job in safeguarding your computer and data. It gives you everything you need to back up and protect all of your data. Its subscription combines full image backup, disk-cloning, rescue-disk creation, and more system utilities. Lately Acronis True Image even adds new features including complete cloud-to-cloud Microsoft Office 365 protection, enhanced ransomware protection, and a blockchain-powered data notarization and e-signature solution.
Acronis True Image 2020 protects all data in any environment, including physical, virtual, cloud, mobile workloads and applications. So it supports physical and hybrid cloud environments, and more than 20 platforms, including Windows, Office 365, Azure, Linux, macOS, Oracle, VMware, Hyper-V, Red Hat Virtualization, Linux KVM, Citrix XenServer, iOS and Android. With Acronis True Image 2020, you no longer have to worry about losing your data and files to a computer crash or virus. The software can back up your computer locally or to the cloud. And the best thing is that you don't need to spend hours in backing up the whole computer because the tool allows you to pick up specific files and folders that you want to back up, and it also offers recovery options to let you hand pick files if you don't need to recover everything too. All the backup will run in the background to make sure that you're not disturbed while you're working. Even better, it offers a new backup cleanup tool which allows users to free up drive space by removing unnecessary versions of a backup and deleting files no longer required. And its anti-ransomware feature, which protects user data from ransomware encryption, has been extended to also protect data on network drives and share. Acronis True Image 2020 has the ability to create a direct, cloud-to-cloud backup of personal Office 365 accounts – safeguarding your emails, attachments, contacts, tasks, group mailboxes, archive mailboxes and calendar.
In general, Acronis True Image 2020 covers all the tools you need for defending your data and all its features ensure online users safety, accessibility, privacy, authenticity and security. If you really want the maximum backup protection for your system, it will be your best investment. Explore the backup industry's only active, AI-based anti-ransomware solution now!
Why Use Acronis True Image 2020 Cyber Protection?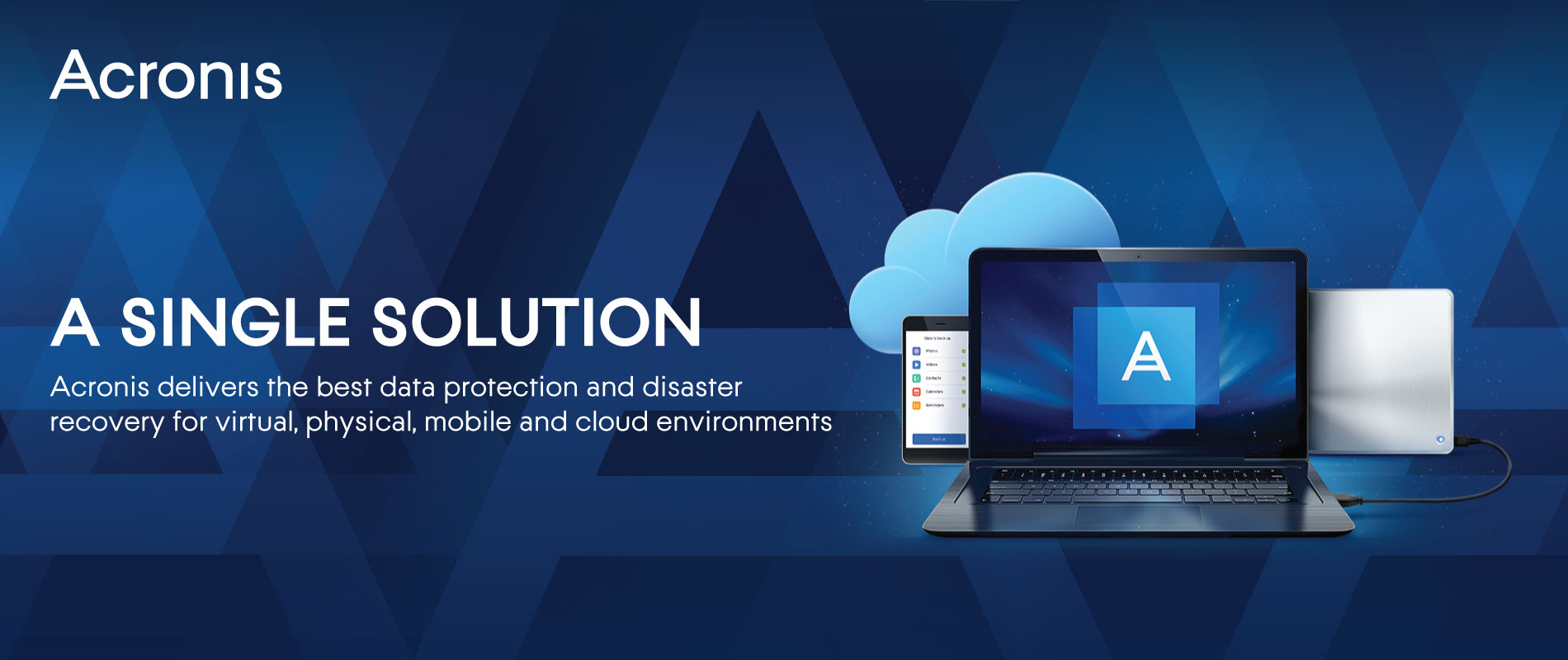 In the digital age, it is critical to ensure your data are backed up. An unexpected event, like hard drive failure, file corruption or a virus, could wipe out all your important files when you least expect it. No one would like to take the risk of data loss. Your family photos, financial records, school papers, work documents are very precious. If you don't want to lose your photos, documents, music, or other important files, it's time to consider an award-winning backup solution for yourself.
Acronis is founded in Singapore in 2003 and it has consistently led innovation in the backup industry with more than 15 years of experience in protecting user's data, apps and systems. This simple, cost-effective, and modern backup and recovery solution delivers complete cyber protection, combining easy-to-use, efficient backup with a proven AI-based defense against ransomware to create the most secure personal backup. It earns trust from more than 5 million consumers and 500,000 businesses nowadays. It safely protects your data wherever it lives and quickly restores it anywhere.
While using Acronis True Image 2020, it provides you with the ability to automatically backup your files, applications, virtual machines or servers and store them safely for disaster recovery purposes. You can choose to store your backup onto a local drive, or onto the cloud. In addition to creating a reliable back up, you will be impressed by a ton of useful functionality, including Cryptomining Blocker, Office 365 Backup, Active Disk Cloning, Active Protection from Ransomware and more. Acronis also offers Facebook and Instagram backups that capture your photos, videos, messages and more from your social media profiles, so you will never lose that content. In addition, Acronis True Image 2020 uses end-to-end encryption (AES-256) to protect your files and the company has zero knowledge about the content of your backups.  By reading most of the Acronis True Image 2020 review in this article, you must understand it is a powerful online backup software. Feel free to get Acronis True Image 2020 cyber protection to back up everything including operating systems, applications, settings, photos, videos, files, and social media accounts on your PCs, Macs, iOS and Android devices now!
Acronis True Image Pricing & Plans: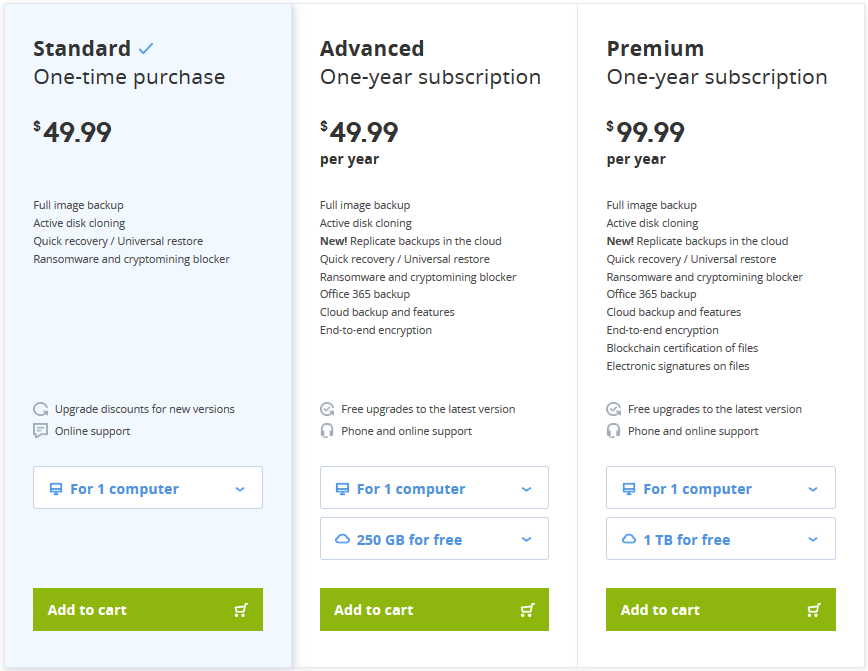 Standard (One-time purchase): $49.99 For 1 Computer.
Advanced (one-year subscription): $49.99/Year/For 1 Computer (250 GB for FREE)
Premium (one-year subscription): $99.99/Year/For 1 Computer (1 TB for FREE)
Acronis True Image 2020 offers all you need for personal data protection. Their Standard version starts at $49.99 for one computer. It is a perpetual license designed for customers who store their data on local drives only. No cloud storage or cloud-based features are included. The Advanced version, offers 250 GB of Acronis online storage, end-to-end encryption, and social media backup for Facebook and Instagram and access to all cloud-based features. Pricing starts at $49.99 per year for one computer. The $99.99 Premium version offers 1TB of online storage. It also offers blockchain certification and electronic signing of files. All versions include Acronis Active Protection against ransomware and cover an unlimited number of mobile devices. Subscription customers can purchase additional cloud storage as needed. If you need to back up more computers, it's an extra $30 per year to move to three machines, or $50 to cover five, but keep in mind that the storage cap stays the same.
Acronis Coupons, Deals, Promo Codes: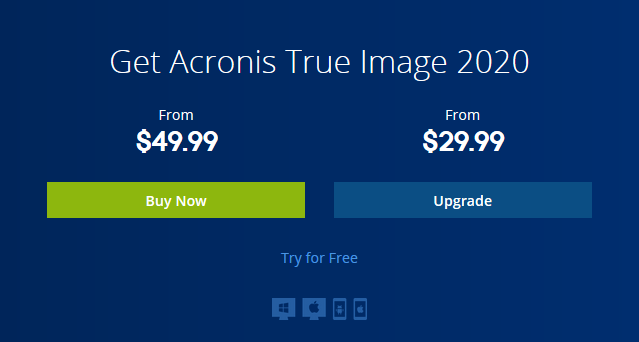 If you are looking a valid Acronis True Image 2020 coupon code for money saving, then you've come to the right place. We assure that you will find the best pricing possible for Acronis here. For a limited time, Acronis is offering exclusive deals for consumers and business users, alike. Get an extra 30% Off Acronis True Image 2020 Cyber Protection (Multiple PC/MAC Licenses) here. The new version now includes updated "Office 365 Backup" and "Cryptomining Blocker". Click the below button to redeem the coupon code and start your savings now!
Acronis True Image 2020 – Free 30-Day Trial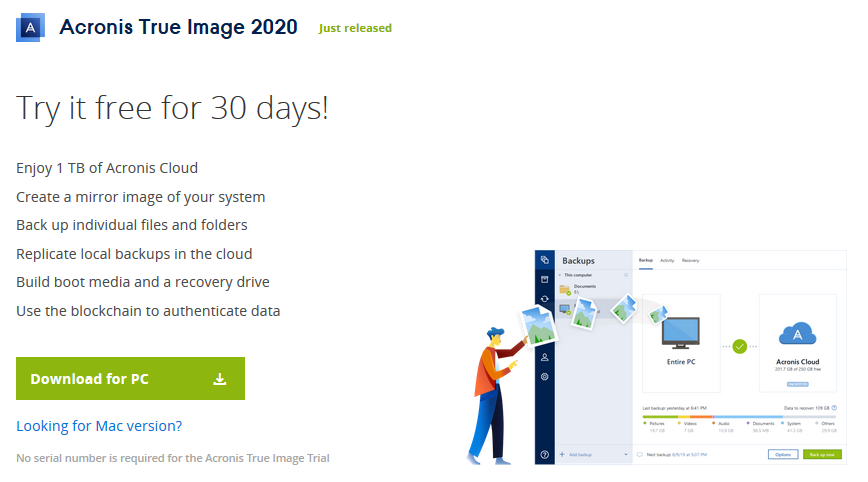 Acronis True Image 2020 Cyber Protection is the 1# personal backup tool that protects all data, no matter where it lives. The backup service is now generously offering a 30 days free trial so you get the chance to see how the product works and test it without any risk. A free 30-day trial period allows you to verify all Acronis True Image 2020 features and capabilities. Your free trial of Acronis gives you:
1TB cloud space
Back up every photo, document, video and song without worry.
Mirror imaging/full image backups
Back up specific data files (such as partitions, folders, or individual files)
Easy recovery
Restore a file, folder or your entire backup with a few clicks.
Individual file and folder backup
Easily find and restore individual files or folders from a local backup on an external USB drive using the virtual disk feature or from the secure Acronis Cloud backup.
Blockchain-based file authentication
Get an extra level of confidence to the authenticity of your personal and business data.

Note: Trial versions of Acronis products can only be installed once. If trial period expired, there is no way to re-use the trial version on the same computer. Try out the most advanced, powerful, and easy-to-use backup and recovery solution at no obligation to buy.
Features: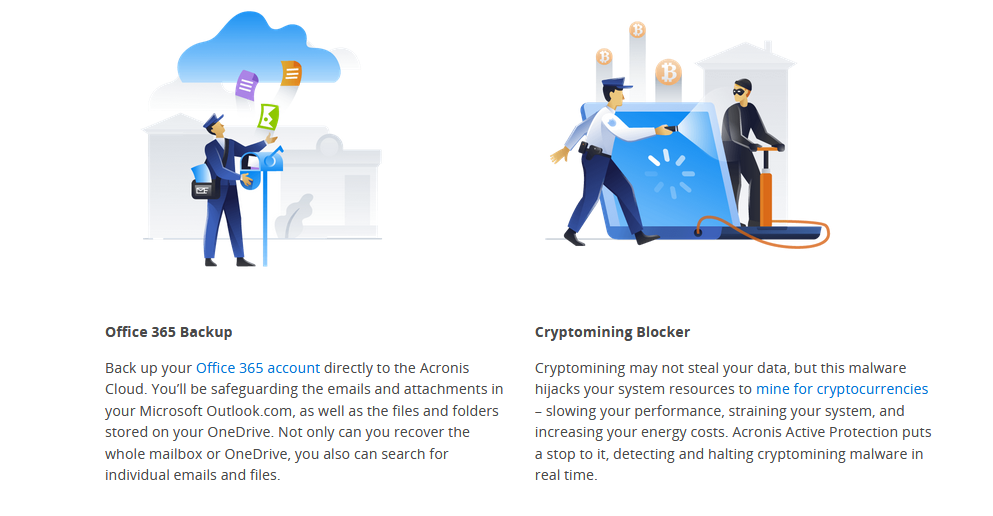 Unlike a traditional back up software, Acronis True Image 2020 is the only personal backup tool that ensures the integrity of data using blockchain authentication and uses AI to defeat the growing threat of ransomware. This solution gives tons of features and technologies to ensure the safety and security of your data, including Full image backup, Active disk cloning, Quick recovery / Universal restore, Ransomware and cryptomining blocker, Office 365 backup, Cloud backup and features, End-to-end encryption, Social media backup, Blockchain certification of files, Electronic signatures on files, Acronis Survival Kit, Clean Up Backup Versions, Active Disk Cloning for Mac, Active Protection from Ransomware, Parallels Desktop Backup and more.
For example, Active Protection, another recently added feature, is designed to prevent ransomware from encrypting your files, infecting your network, or crippling your system. The feature scans your backup constantly for known threats, as well as looks for any changes to your files that Acronis deems concerning. The software will prevent an action from happening if it could create a boot issue for your computer. And there's a new feature called "Survival Kit" which is a simple all-in-one recovery tool for external drive backups based on Acronis Bootable Rescue Media. It quickly creates a bootable drive to be used during emergency restorations. Acronis True Image 2020 also supports backups of Microsoft Office 365 data. With all the information stored in your Office 365 account, backups are critical. You can restore any piece of data right from the backup or restore it to your local infrastructure. This means your data is not only safe and secure, but that you can always access it. The new added feature called Cryptomining Blocker can help stop standalone cryptomining malware in a real time, keeping your system from being compromised. You also can take advantage of Backup Cleanup Utility feature to free up disk space by reviewing the backup files you have, manually selecting unnecessary versions, and deleting the files you no longer need. There are many more extra features and all of them ensure safety, accessibility, privacy, authenticity and security for you.
How Safe is Acronis True Image 2020?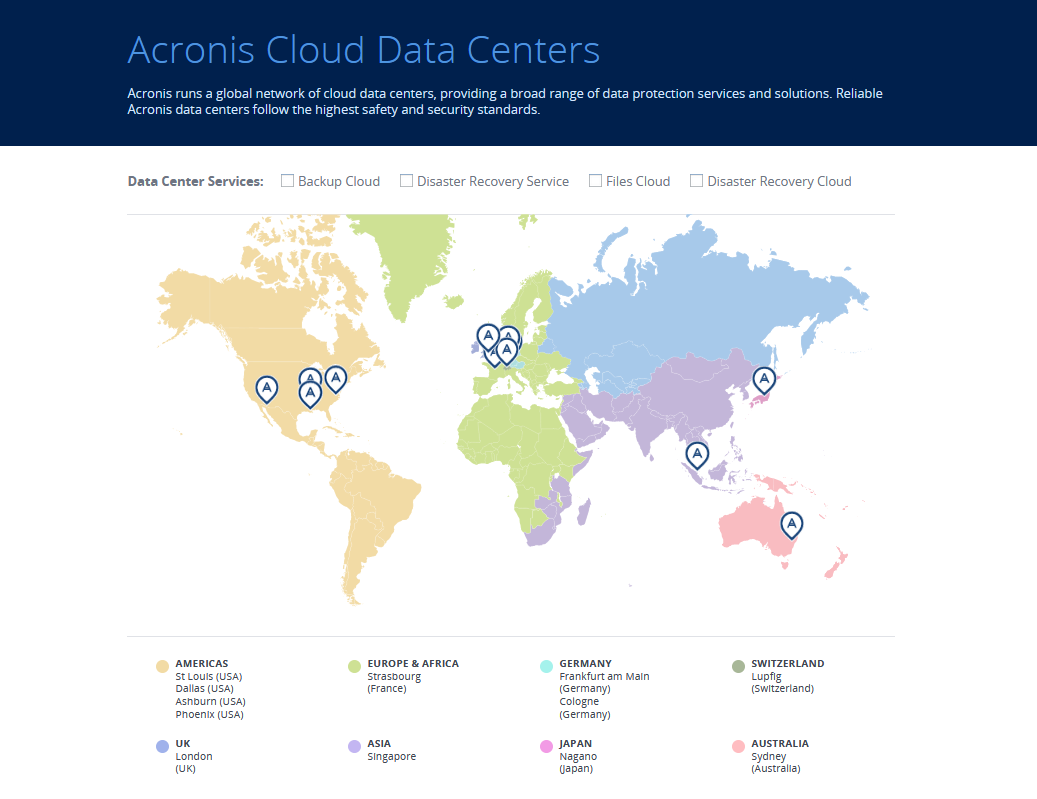 Tis the season for taking family photos and videos, reaching out to friends, and playing festive music. The good news is, we can help our customers protect those digital memories, contacts or playlists – and it doesn't take a holiday miracle to do it. By helping you take Acronis True Image 2020, which will help safeguard your entire digital life with reliable backups, easy recoveries, and integrated anti-malware defenses. Acronis sets the standard for cyber protection and hybrid cloud storage through its innovative backup, anti-ransomware, disaster recovery, storage, and enterprise file sync and share solutions. It utilizes the strongest and most advanced encryption method AES-256 which is an unbreakable encryption method to secure your backup. Whether your data is on-site, in transit, or in the cloud, you can be assured that you will be the only one who can access your critical information. All management communication between your systems and Acronis Cloud runs through secure channels with SSL encryption – at any moment in time all aspects of your data are secure. On the other side, Acronis True Image 2020 uses geo-redundant data centers for another layer of security. Meaning that they not only back up your files, but they also back up the servers to other data centers in a different location. Acronis runs a global network of cloud data centers, providing a broad range of data protection services and solutions. That should give you peace of mind that if something drastic were to happen to one of the data centers, your data is safe and secure at an entirely different location.
Acronis True Image 2020 Review Video Guide
Bottom Line
Everyone who uses a computer needs a dependable way to back up its data. Acronis True Image 2020 is considered as the most powerful and versatile online-backup solution available, with mobile-device and social-media backups, syncing and sharing options and even ransomware protection. The latest offer in 2020 even includes a "survival kit" which quickly creates a bootable file-restoration tool. Acronis encrypts all your data as well as offers a personal encryption key. To ensure files are intact, their Premium Plan includes Blockchain-based authentication and electronic signatures. The downsides are that Acronis can get expensive. A single payment of $49.99 lets you use the software to make local backups. To use the online backup capabilities, you'll need to pay a subscription. The cheapest Advanced plan starts at $49.99 per year. You can back up one computer and get 250 GB of cloud space. The Premium plan starts at $99.99 and it includes 1 TB of space. However, Acronis offers a first month free trial period, so you can give it a shot before committing to a long-term subscription. Whether you are looking to safeguard the new laptop you're giving as a gift, or you want your college student to start the new year protected from ransomware, we can make sure you cover all of your family's devices with the world's #1 personal cyber protection solution by getting Acronis True Image 2020.


Published by Tony Shepherd & last updated on January 23, 2020 8:22 am