In today's digital world, data security is critical for most businesses and even home computer users, especially if your data consist of highly confidential information that has been kept for a long time. Computer loss, theft, natural disaster, and accidental deletion, all are the possibilities where you can lose your important data. Traditional backup is no longer enough. So, it's time for you to consider a good backup software package to protect your precious data from loss.
Acronis True Image is a software product produced by Acronis for personal users that delivers the best data protection and disaster recovery for virtual, physical, mobile and cloud environments. With it, you can get peace of mind knowing your files including documents, photos, music and movies are always backed up securely. Get Acronis True Image free 30-day trial and learn why millions of customers use Acronis True Image to protect their most important data. Start your free Acronis True Image trial below!
Learn More about Acronis True Image: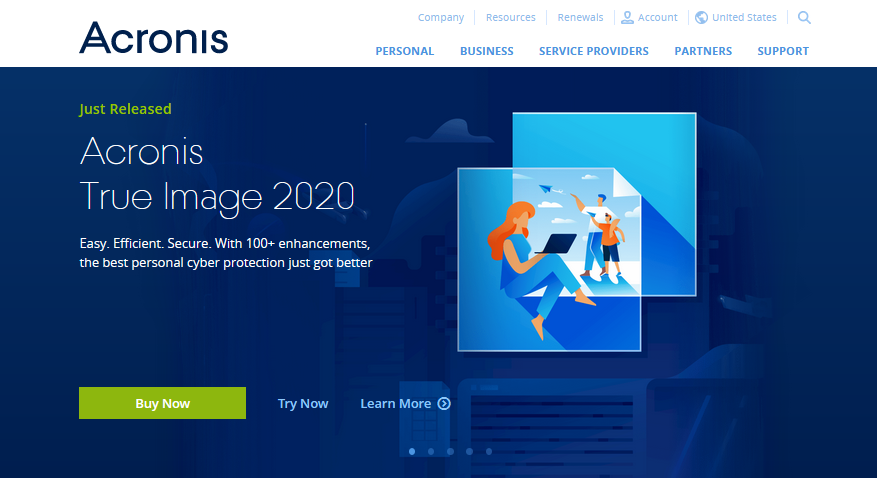 Acronis is a global technology company with Corporate Headquarters in Schaffhausen, Switzerland and International Headquarters in Singapore. Acronis targets consumers, home offices and SMBs with its True Image product which was the first cyber protection product to combine reliable backups with proven anti-malware defenses into one personal solution. Although the backup software market is quite competitive, Acronis True Image still stands out from its competitors with over 5.5 million active users. Acronis True Image 2020, the new version of Acronis's award-winning personal cyber protection solution, is one of the best backup apps on the market since it's very easy to use, full of advanced features and performs well. It gives you everything you need to back up and protects all of your data via your Mac or on Windows. Compared to the Acronis True Image 2019 version, Acronis True Image 2020 provides at least 50% faster backups and recoveries. It brings improvements and new features like automatic replication of local Mac backups to the cloud, the ability to choose what networks your Mac can use for backups, customizable backup schedules, and more. Another new feature for Mac users is the ability to set backups to run in Power Nap mode as well as customizing a schedule for backups, like based on your Mac's battery level. Considering that file ransoming which occurs when malware encrypts your files and charges a 'ransom' to restore them is an increasingly common type of hacking attack, Acronis also constantly enhances Acronis Active Protection to actively protect you against cyber attacks by monitoring your drives for unusual file modifications. Besides, Acronis True Image 2020 is the first personal cyber protection solution to enable people to automatically replicate local backups in the secure Acronis Cloud. It also lets you decide what networks are allowed to run backups.
With Acronis True Image, you will never lose another file. The software can back up your documents, photos, email, and selected partitions, and even the entire disk drive, including operating system, applications, settings, and all of your data. Whether your data is locally on an external hard drive, network folder or NAS device, off-site in the cloud, you get all the control over your backup. If you want maximum protection for your computer and data, then this slick backup solution which can handle full-image backup, active disk cloning, protection against ransomware, and quick recovery of your files from a local drive will definitely be the best option for you. Acronis True Image 2020 includes 100+ enhancements and all the great new features that ensure your backup and anti-malware defenses are ready for anything today's digital world throws at you. Just try it free for 30 days and see if it is worth the price.
Acronis True Image 30 Days Free Trial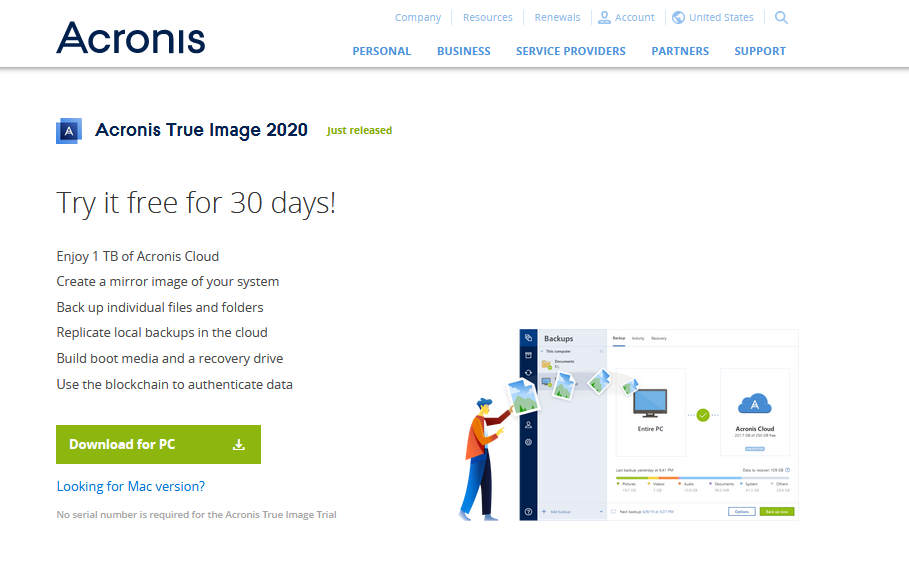 Now Acronis lets you try their reliable and professional backup & recovery tool Acronis True Image 2020 free for 30 days while most backup providers only let you test drive for 14 days. The tool enables you to protect files, partitions, disks and entire system via system backup, files backup with ease. During the trial period of 30 days, you don't even need to enter your credit card information and no serial number is required for the Acronis True Image Trial. Only a few clicks, you can easily realize complete data protection by recovering a backup of the entire system or restoring on new hardware. Acronis True Image 2020 comes with more than 100 enhancements designed to improve its performance and multiple new features that provide greater protection for you. No need for IT knowledge background.
However, for Acronis True Image free 30-day trial, there are some limitations. First, disk cloning is disabled during the trial period. This function allows you to transfer all the information (including the operating system and installed programs) from a small hard disk drive to a large one without having to reinstall and reconfigure all of your software. And the other limitation is for Windows PC, you can only recover (restore) a backup when booted from Acronis Bootable Media, other options are disabled. You will have 1000 GB of storage space on the cloud during the trial period so you can use the space to store your online backups, archives, and versions of synced files. But please note, after the 30 days free trial period ends, Acronis Cloud works in recovery-only mode for 30 days and after this period, you won't be able to use the Acronis Cloud service and all your data on the Cloud will be deleted. For data synchronization, there is no limitation. But what need reminds is, when Acronis True Image free 30-day trial period expires, your computer is excluded from all syncs. All the versions of synced files will be permanently deleted from Acronis Cloud. If you still want to connect to the syncs again, you have to activate the full version of Acronis True Image 2020. Trial versions of Acronis products can only be installed once. That is say, if trial period expired, there is no way to re-use the trial version on the same computer. So, simply download the software on your Windows or Mac computer, and start your free trial of the service. Get unlimited functionality for 30 days and use such an easy, efficient, secure personal cyber protection to safeguard your data on 21 platforms now. You are going to enjoy 1 TB of Acronis Cloud Storage!
How Much Will it Be if The 30-Day Free Trial Ends?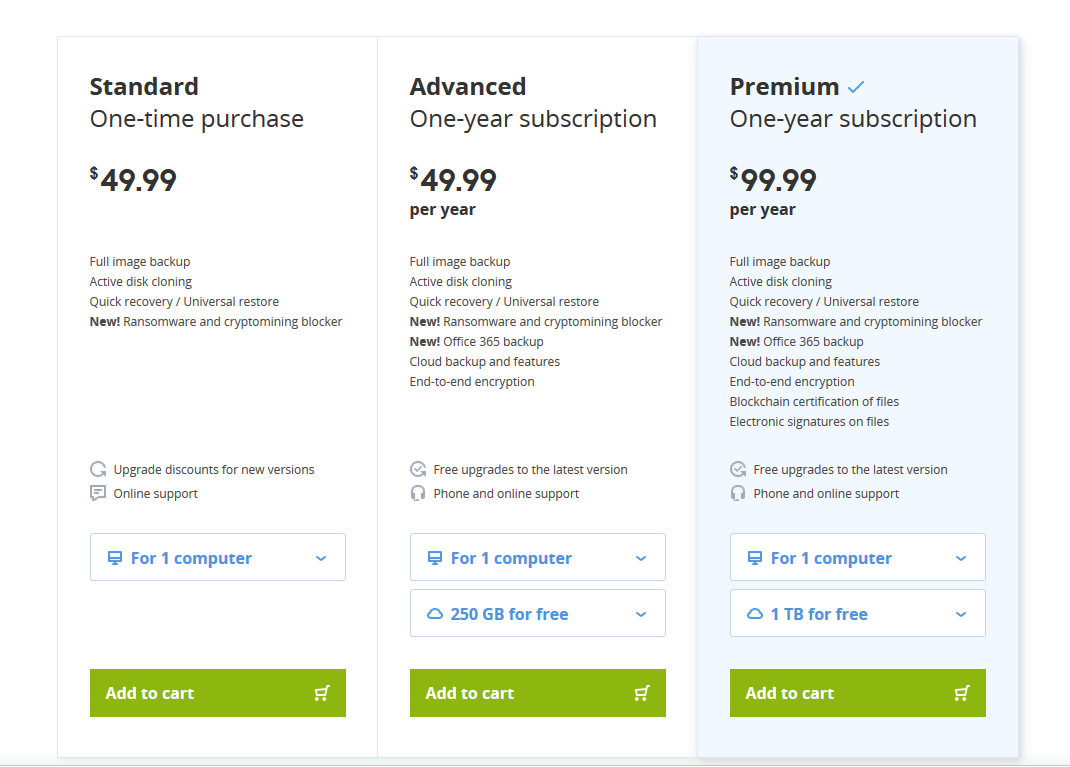 Acronis True Image 2020 delivers everything an individual needs to ensure they never lose another file. It is available in three versions, Standard, Advanced, and Premium., let's take a look for the pricing details:
Standard Plan (One-Time Purchase): $49.99 For 1 Computer
Advanced (One-Year subscription): $49.99/Year/For 1 Computer (250 GB for FREE)
Premium (One-Year subscription): $99.99/Year/For 1 Computer (1 TB for FREE)
Their Standard version starts at $49.99 for one computer. It is a perpetual license designed for customers who store their data on local drives only. No cloud storage or cloud-based features are included. But the Advanced and Premium tiers include the local and cloud backup features with end-to-end encryption. The Advanced version, includes up to 250GB of cloud-stored data, backed up online from one computer, end-to-end encryption, Office 365 backup and access to all cloud-based features. Pricing starts at $49.99 per year for one computer and you can upgrade to 500GB for an additional $20 per year. The Premium version costs $99.99 per year for 1TB of online storage for one computer. It contains everything you'll get from the Advanced version and adds blockchain certification and electronic signing of files. Of course, you can also upgrade this subscription tier with more computers or more storage.
Acronis True Image is on the expensive side for the amount of storage you get, even if you don't opt for the Premium version. However, its offerings are top-notch. Since the Acronis True Image free 30-day trial lets you test the waters before committing to any purchase, you will have nothing to lose. Subscribe to Acronis True Image 2020 to keep your important data backed up faster!
What's New for Acronis True Image 2020?

Acronis True Image 2020 is at the top of its game when it comes to safeguarding your computer and data. Since it is just launched, many people who looking for the most comprehensive and fastest backup solution are dying to give it a try, and test all its new features as it claims this new version brings over 100 enhancements. Thankfully, Acronis True Image 2020 offers a 30 days free trial to new customers. The 30 day trial period gives you plenty of time to test drive the speed, the interface, and all it has to offer.
Let's take a look at the new features that Acronis True Image 2020 brings to you:
Dual Protection:
In 2020, Acronis has enhanced its "Dual Protection" feature to allow users to adhere to its "3-2-1" backup rule easier. That rule implies that there will be 3 copies of each piece of data. Aside from the source location, you'd better store your copies in at least 2 types of storage media (local drive, network share/NAS, tape drive, etc.). The third copy of the data would of course be stored offsite (in the Cloud). With Dual Protection, your local backup and cloud replication occur simultaneously, making it easy and efficient.
Tray Notification Center:
A new addition in 2020 is the tray notification center. With Acronis True Image 2020, you always can stay informed about your system, your files, and your protection. Acronis' own notification solution delivers updates about the goings-on of your backups and lets you easily monitor the status of your backups, and then quickly respond to any issues.
Custom Power Management:
Acronis True Image 2020 lets you avoid draining your battery by efficiently managing laptop backups. With Acronis True Image 2020, you can get more control when backups run while the laptop is operating on battery power by setting a minimum power level or blocking backups on battery power. For example, you can customize a minimum power-level, like if the battery goes under 40% capacity, backups won't run.
Back up during Power Nap (Mac):
If your Mac supports Power Nap, then it is a good news for you that you can back up your machine's data even when it enters Power Nap mode with Acronis True Image 2020. Not only will your Mac's data be updated during its Power Nap, your backups will capture those changes too.
Backups are important because there are unpredictable scenarios that might cause files to become inaccessible. And the increase in ransomware attacks and high-profile data breaches over the last few years has reinforced the importance of data security. Of course, no one wants to lose their precious data. Like mentioned before, Acronis True Image 2020 features more than 100 enhancements designed to deliver the best personal cyber protection. Get Acronis True Image Free 30-Day Trial to explore all the other new features and improvement now. It's the most comprehensive backup solution that you've been looking for!
How to Get Acronis True Image 2020 Free 30-Day Trial?
1. Go to Acronis True Image website from here or click on the any button from our site. On Acronis True Image 2020 webpage, click on the "Try now" button to start a free trial.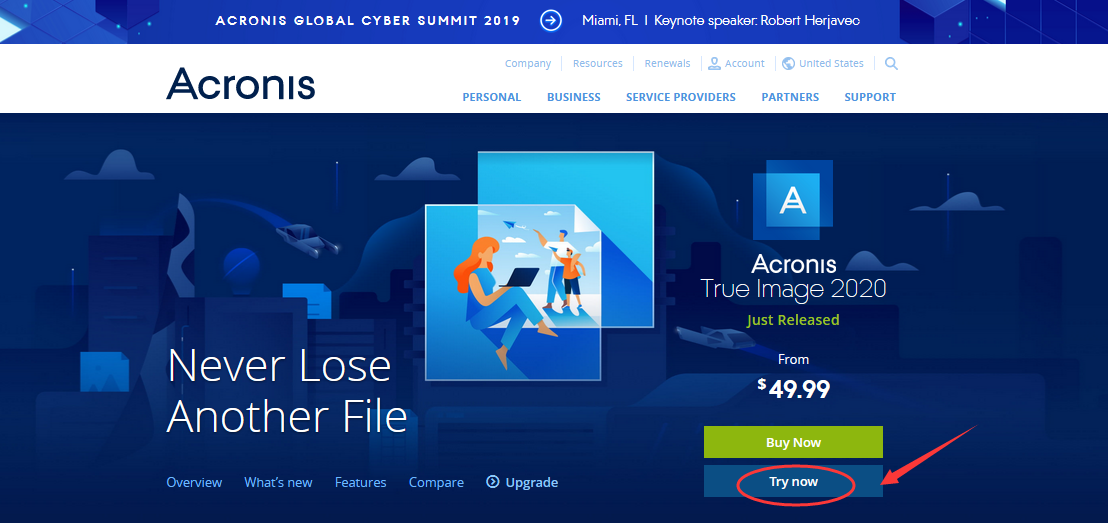 2. If you are using a Windows PC, simply click on the green "Download for PC" button to start downloading. If you are a Mac user, click on the below "looking for Mac version?" option instead. The download may take a while, so please be patient.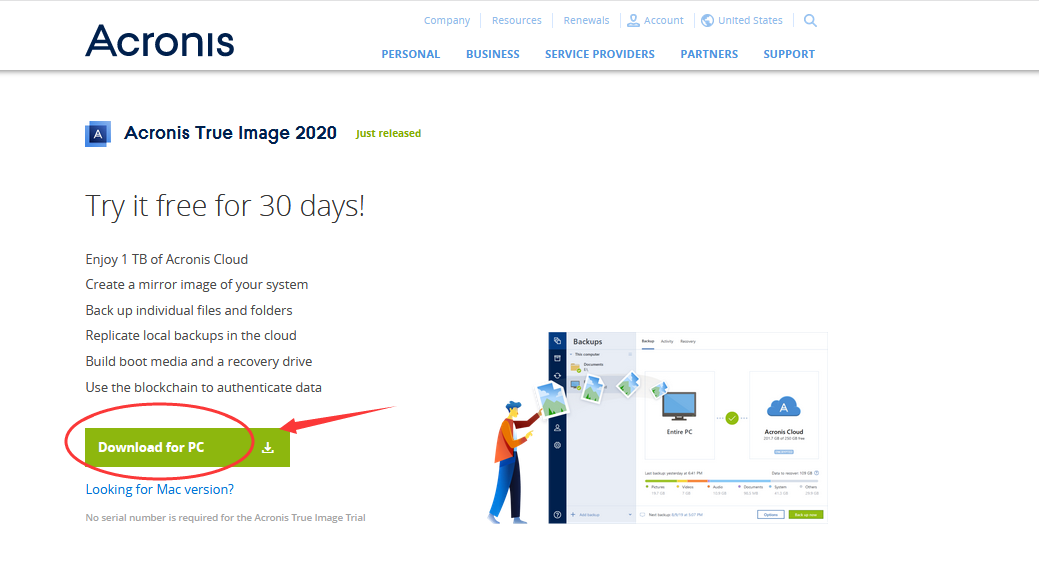 3. Once the download is completed, you will have to install and run Acronis True Image 2020 on your Windows or Mac computer. Just double-click the setup file and follow the instruction to complete the installation process, which may take a few minutes. When the installation is complete, click "Start application".
4. Before you go to the trial mode, you need to read and accept the terms of the license agreements for Acronis True Image 2020 and register an Acronis account. Sign in to your Acronis account and then the product will be automatically activated. Acronis True Image 2020 delivers the power of integration, with data protection, cybersecurity, and management features you control from a single intuitive dashboard.Now enjoy your 30 days free trial to fully test if Acronis True Image 2020 meets your expectation.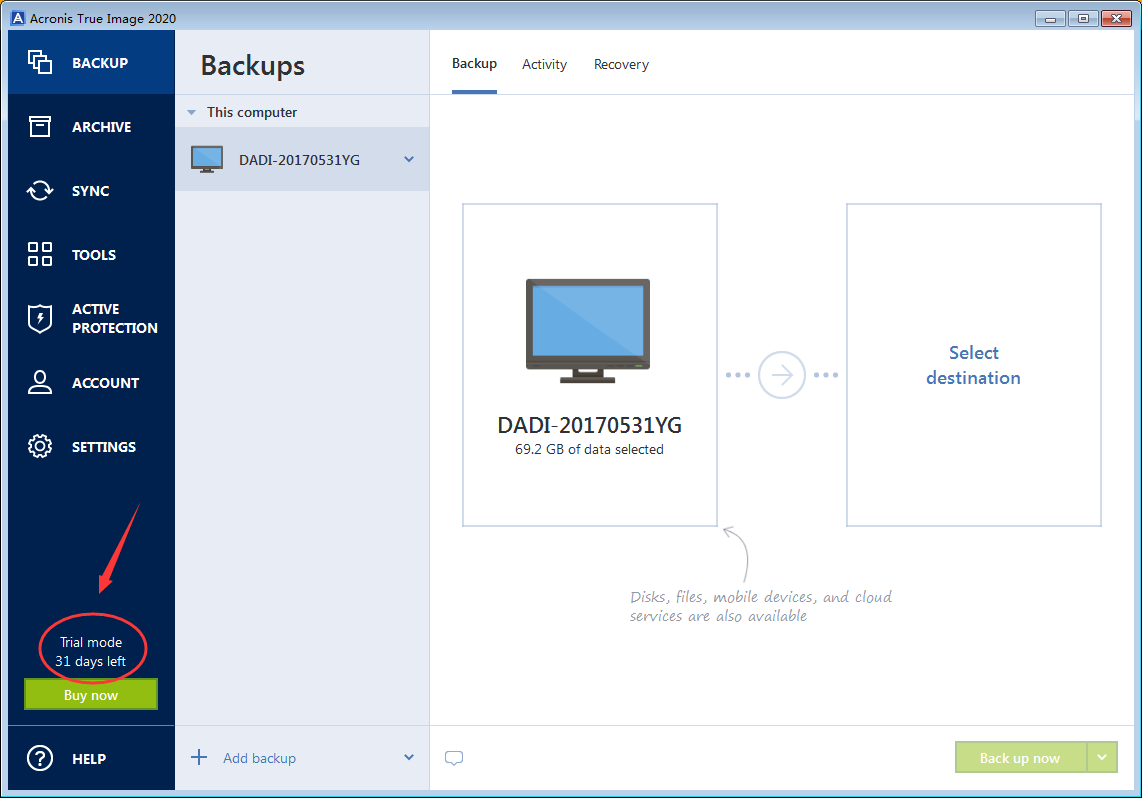 Published by Tony Shepherd & last updated on January 23, 2020 8:22 am