1&1 IONOS is a well-known and European largest hosting company. They have over 30 years of experience in hosting websites for individuals and businesses. Millions of users worldwide are now contracting and using 1&1 IONOS hosting service. 1&1 IONOS manages millions of websites and domains for customers. 1&1 IONOS Hosting Review will lead you to learn more details about their hosting services. 1&1 IONOS provides many powerful products like domains, email, security, hosting, website builder, cloud solutions, Microsoft Office 365, HiDrive Cloud Storage, VPS, dedicated server and cloud services. Besides, 1&1 IONOS offers different solutions for individuals and corporations. 1&1 IONOS gives such hosting services as Web Hosting, Cloud Hosting, Dedicated Hosting, WordPress Hosting, VPS Hosting, and more. 1&1 IONOS now provides their customers a personal consultant, and free of charge. 1&1 IONOS uses advanced and excellent data centers which can gives customers secure data, the highest performance and georedundancy. They give flexible scalability, and customers can freely upgrade or downgrade their packages anytime to meet their website requirement. 1&1 IONOS even gives 30-day money-back guarantee. If you are not happy with the service, you can get a refund in the first 30 days. 1&1 IONOS not only gives a reliable and high-quality service and product, but also a fair and transparent platform for customers.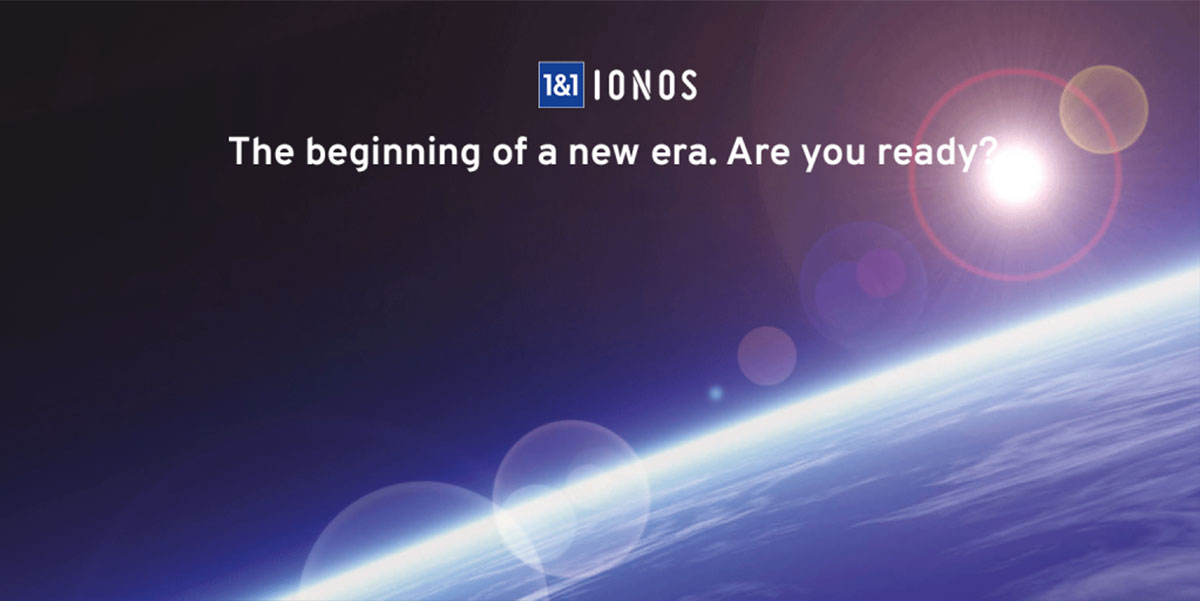 1&1 IONOS Hosting Service
1&1 IONOS is a solid hosting providers with over 30 years of experiences in helping customers host their websites. Currently, they are now managing millions of websites and domains for customers worldwide. As a noted hosting company, 1&1 IONOS keeps upgrading their hosting service and technique. Web Hosting, Cloud Hosting, Dedicated Hosting, WordPress Hosting, VPS Hosting are all 1&1 IONOS hosting services. All popular hosting services provided by 1&1 IONOS will be introduced in this 1&1 IONOS Hosting Review. You can compare to each other and choose your best hosting service from 1&1 IONOS Hosting.
1. 1&1 IONOS Web Hosting
Web Hosting provided by 1&1 IONOS always gives customers fast, scalable and secure service to host websites. Individual and business can choose this Web Hosting service. Web Hosting provides 3 packages: Business, Pro and Expert. Business plan is best for 1 website or project, Pro plan is best for people who want to host up to 5 websites, and Expert plan is suitable for people who have up to 50 websites hosted. Different plans provide different quantity and amount in storage, database, email accounts and performance level. You should select the appropriate plan to meet your website needs.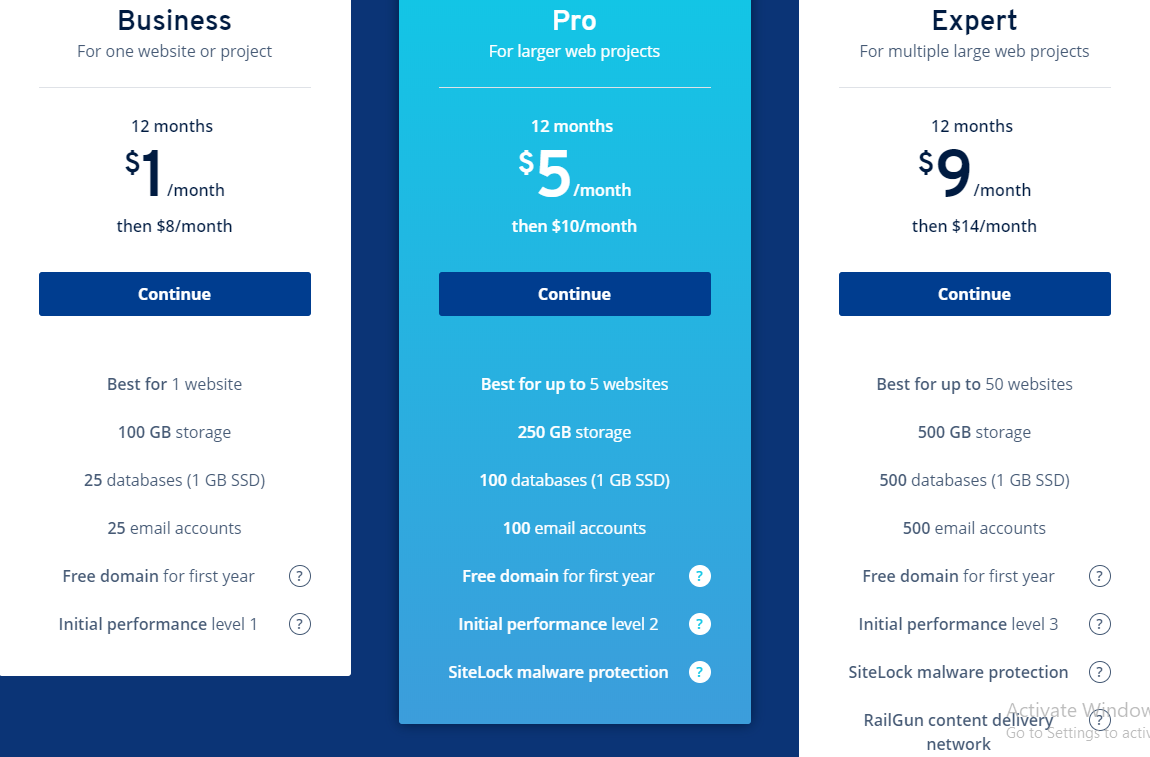 1&1 IONOS Hosting Review will give you brief introduce of Web hosting benefits. Web Hosting of 1&1 IONOS provides an excellent and smart Performance Level which is a flexible performance scalability. 1&1 IONOS give 5 different Performance Levels. Performance Level differs in RAM quantity. The bigger scale is the performance level, the more quantity of RAM is provided. The more quantity of RAM will give a Higher speed and faster page loading, but less delayed request. You can adjust the performance level within seconds to give your website some extra power to handle increased load. 1&1 IONOS scalable performance is a great measure to scale up memory, RAM, or parallel processing ability to meet increasing traffic of the website. It is also helpful to speed up your website's loading page. Besides, 1&1 IONOS arranges the web servers and storage on the same dual platform so that the website can load in a faster performance. HTTP/2 protocol is also used in this Web Hosting to speed up website network and page loading even though a huge perk of traffic comes, your site still runs fast.
1&1 IONOS Web Hosting uses DDoS protection, SSL certificate and more to make your site secure. DDoS (Distributed Denial of Service) mainly blocks incoming attacks to your site. This measure can prevent any kind of malicious online attacks to keep a safe online environment for you and your visitors. SSL Certificate is a free service used by every plan. SSL certificate is an encryption protocol which mainly encrypts the communication between an internet browser and a web server. SSL certificate give unbreakable encryption to protect the communication tunnel. If your site is protected by SSL Certificate, you will find there is a green lock icon showing in the address bar or browse bar, and the URL begins with HTTPS. SSL Certificate can protect visitor's sensitive information like credit card number, online banking, logins, passwords and others from being hacked and identity theft. What's more, if you use the Expert plan of Web hosting, you will be provided with SiteLock technology. SiteLock can first make a full scanning for your whole website to detect if there is possible vulnerability on your webpages in order to prevent malicious software utilize the website's bugs to insert anything related to identity theft.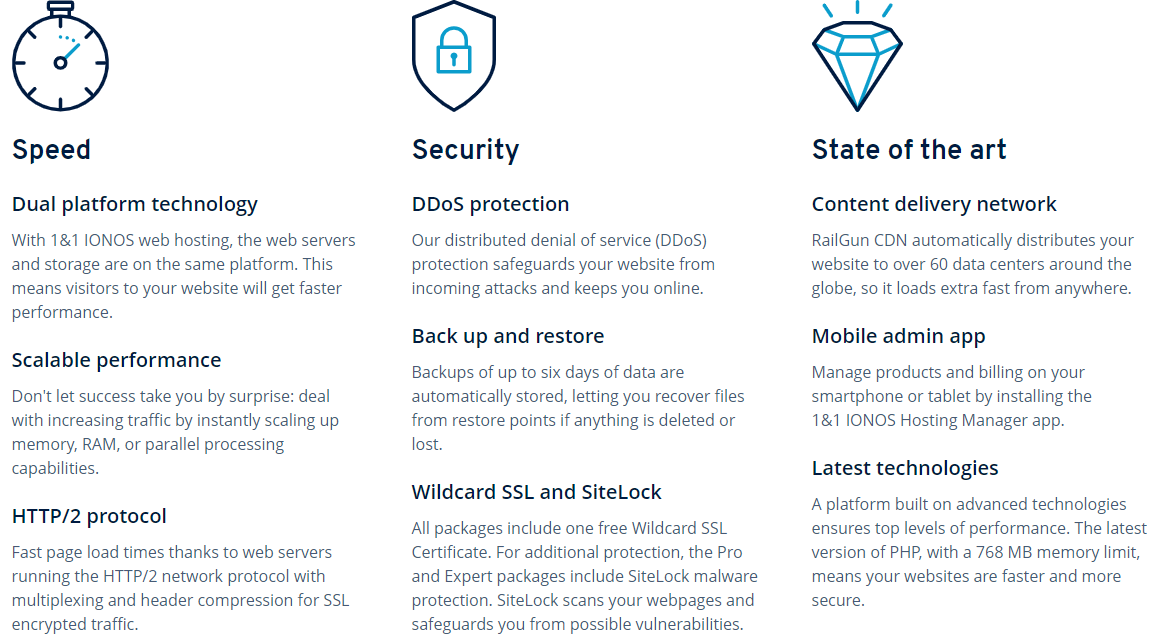 2. 1&1 IONOS Cloud Hosting
Cloud Hosting is based on cloud platform to offer powerful and flexible hosting service for people who need it. Cloud hosting gives such features and resources to customers: vCore CPU, RAM, SSD, unlimited traffic, free domains for first year, customizable stack, performance-optimized applications. Cloud Hosting provides 4 plans: M, L, XL, and XXL. M plan is best for people who have up to 4 web projects hosted, L plan is used to host up to 8 web projects, XL plan gives service for large web projects up to 16 web projects, XXL plan is best for people who need high performance requirements on large or multiple web projects, and almost up to 32 web projects.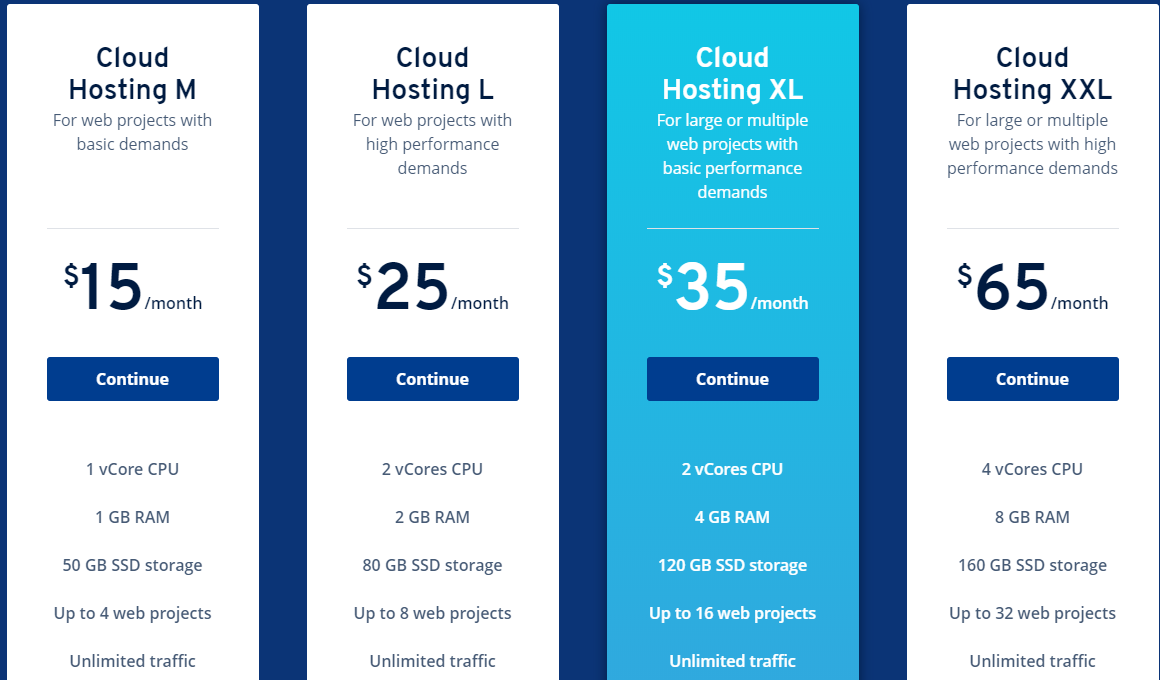 Cloud Hosting is an easily-scalable cloud platform to host large and multiple web project. This hosting service gives several useful and advanced applications like WordPress, Drupal and Joomla to manage and host your sites. 1&1 IONOS Hosting Review can give you a detailed introduction to let you make decision. All these easy-to-use applications mainly helps you design and manage your websites. It is intuitive and straight on the Cloud Panel. You can quickly start your web projects and adjust resources from the Cloud Panel. You can easily manage and organize infrastructure, operating system and software updates in order to make your web projects perfect. 1&1 IONOS gives Cloud Hosting many powerful and advanced hardware resources and system requirements like dedicated processor, vCores, memory, and disk space for storage. All these powerful and brilliant equipment can ensure a higher level of performance and strong operation for your website. 1&1 IONOS select SSD hardware as the data storage space as SSD is 10 times faster than standard HDDs. With SSD, all your contents and files of websites will be stored in it and run in a faster page loading speed. And meanwhile, your websites will be running in a secure and stable network with SSD equipment. Besides, you should notice that 1&1 IONOS utilizes upscale hardware including Intel® Xeon® E5 processors which is also the latest technology to make your site work in a faster way. In addition, 1&1 IONOS uses latest firewall solution like SIEM and IDS/IPS technologies to keep your data center in a higher security level. Cloud Hosting software and applications regularly are updated to keep your web projects running on the latest version and decreasing bugs.

3. 1&1 IONOS Dedicated Hosting
Dedicated Hosting is best for people who have a professional knowledge of website hosting and website building. Dedicated hosting service can greatly improve the performance your web projects. Dedicated Hosting even provides powerful hardware and system resources for customers. 1&1 IONOS gives 4 plans depending on storage amount of HDD, and 4 packages for SSD/NVMe hardware storage. 1&1 IONOS Dedicated Hosting provides powerful and advanced features and technologies like Intel®Atom, Intel® Xeon®, processor cores, DDR4 ECC RAM, disk space storage, unlimited traffic, free domain, SiteLock malware protection, and RailGun content delivery network.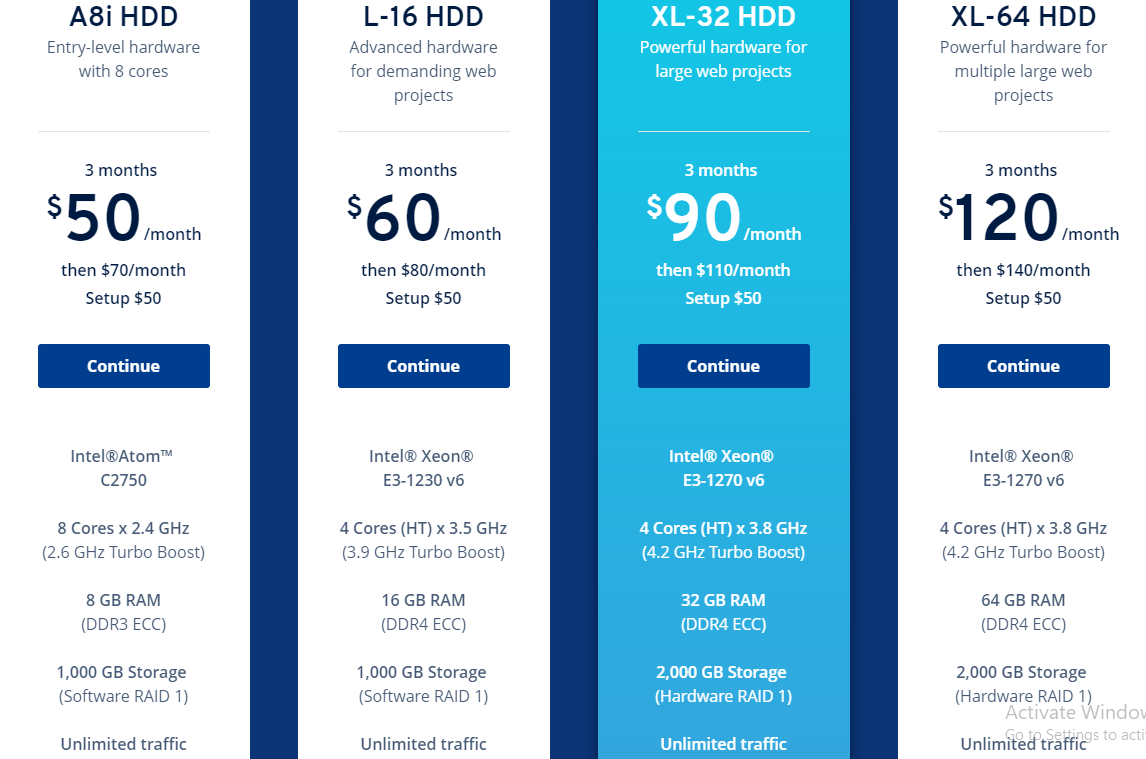 1&1 IONOS Hosting Review about this Dedicated Hosting will make you know about this hosting service. Dedicated Hosting has HDD and SSD, but they have differences. HDD gives higher capacity for projects, but SSD givers much faster data access times. Compared to HDD, SSD provides a more substantial performance boost than HDD. Dedicated Hosting gives dedicated hardware, so your website can run faster. You don't need to share system resources with other on a single server. Since your websites is hosted in a dedicated server, your website will experience a better and faster loading page speed. What's more, Dedicated Hosting service gives unlimited traffic and almost up to 1 GB connectivity. If you use Dedicated Hosting service of 1&1 IONOS, you will find it soon increase your websites' performance a lot. Also Dedicated Hosting gives HTTP/2 network protocol which can greatly increase the page loading speed. This protocol can soon enhance your webpage's uploading and downloading speed at the same time. 1&1 IONOS dedicated hosting offers automatic backups feature which can make copies for your data and files of websites six days. Automatic backups feature is a secure measure in case a sudden crash down happens. You can choose a recover point to recover your data and files. Cutting-edge technologies like SiteLock and Wildcard SSL certificate can ensure a higher level of security for your website. SiteLock can detect if your website has flows and protect against any kind of malware, phishing, identity theft and other online attacks. SSL Certificate is a necessary technology which can greatly protect identity theft and protect visitors' online activities. Websites with a green lock at browser bard and begins with HTTPS in URL are based on SSL Certificated and more secure to enter logins, password, email account, credit card number and other sensitive information. 1&1 IONOS Dedicated hosting even can be operated on your mobile app to access the Control panel to manage and host your site. It is easy and convenient a lot. 1&1 IONOS Dedicated Hosting is a great choice for people who want a more powerful website.

4. 1&1 IONOS WordPress Hosting
WordPress Hosting service is used by most users all around the world. It is suitable for bloggers, companies, agencies and eCommerce companies. WordPress is a flexible and easy-to-use platform and favorited by blogger, small and large companies and agencies. It is easy to write blogs and post them by click on a publish button. 1&1 IONOS WordPress Hosting gives affordable even unbeatable price for every package. WordPress Hosting has three packages: Essential, Business and Pro. Essential plan is as low as $1.00/month. Business Plan starts from $5.00/month, and Pro plan just costs $9.00/month. WordPress Hosting is an ideal who just start their business or blogs on the internet but with not so many experience in managing an online store. With WordPress Hosting, you can begin launching your website or blog quickly. 1&1 IONOS Hosting Review will describe more information and benefits about this WordPress Hosting.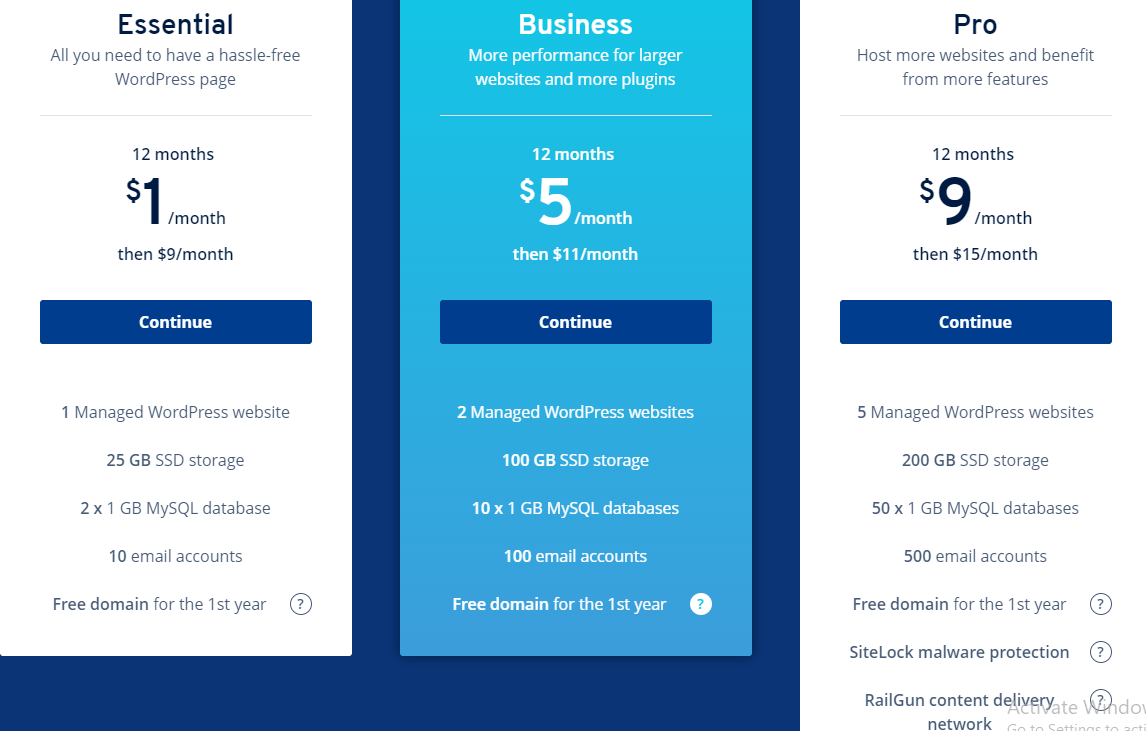 WordPress Hosting offers a platform to gives customers especially who starts their first online store the most secure solution. Customers say it is easy to set up their websites with this WordPress Hosting as the assistant of 1&1 IONOS can walk you through step by step to design and build your site. Tools, extensions and add-ons will also be utilized to simplify the process. And they also give you a useful wizard to guide you clearly how to use the design templates and plugins. WordPress Hosting gives updated version in order to keep your website secure as the newest version can modifies bugs of the old version to protect your site from hackers, malware and adware thing. But you don't worry if WordPress Hosting can offer security measure. This hosting service also gives DDoS protection which mainly prevent malware and identity theft and other malicious attacks. WordPress Hosting gives SSD storage to keep your webspace and databases. SSD also can give your website a higher performance to boost up to 50%. That means your webpage will load faster and faster. And faster loading page speed can help rank your page in a higher place on search engines. Once your webpage ranks in a higher place in search result, your webpage will be easily found by visitor who need your products or services. And your business will go further and flourisher. 1&1 IONOS WordPress Hosting gives many customers a lot help. With this hosting service, you can easily start your website and post your blogs. It is easy to create websites, online stores, and forums quickly with WordPress. You are allowed to choose the suitable themes, extensions, plugins, add-ons and widgets to make your websites beautiful and simple to use. 1&1 IONOS WordPress Hosting is a great option for people who start their business but with no much budget.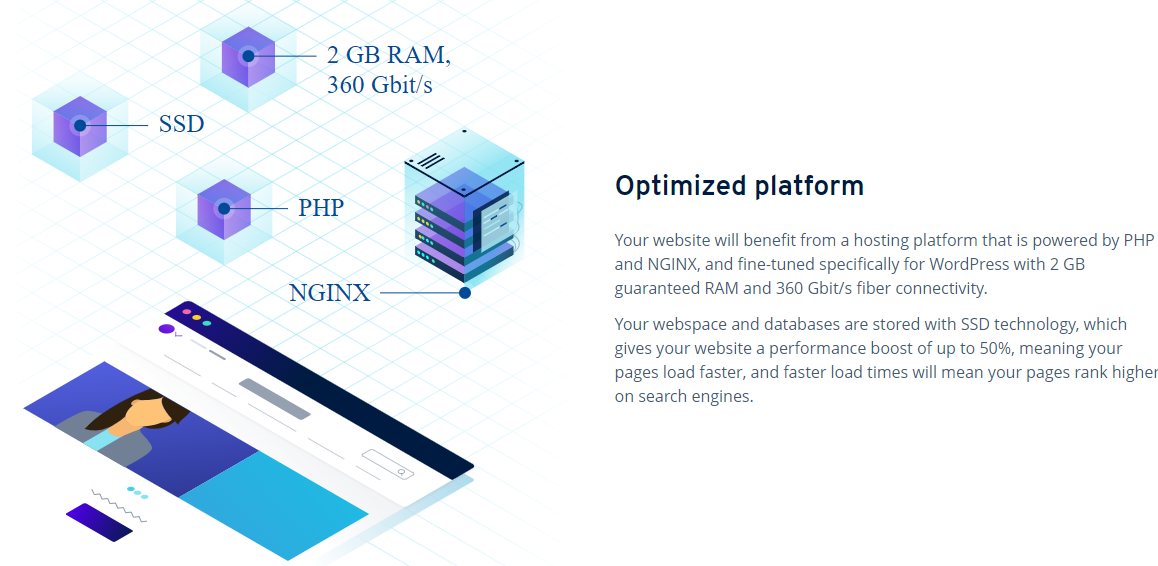 5. 1&1 IONOS VPS Hosting
1&1 IONOS VPS Hosting gives you more powerful server resources to provide a higher level of performance. You can get unlimited traffic. What's more, the VPS hosting of 1&1 IONOS allows you to choose data centers located in the UK, Europe, and the United States to host your site. VPS hosting gives four plans: M, L, XL, XXL. Different plans are offered differed quantity of vCOre CPU, RAM and SSD. And of course, they are set in different price and cost. VPS Hosting is suitable for people who want a more powerful and complex website or want to develop their large business. Here below in 1&1 IONOS Hosting Review will give you a more detailed information about this VPS hosting.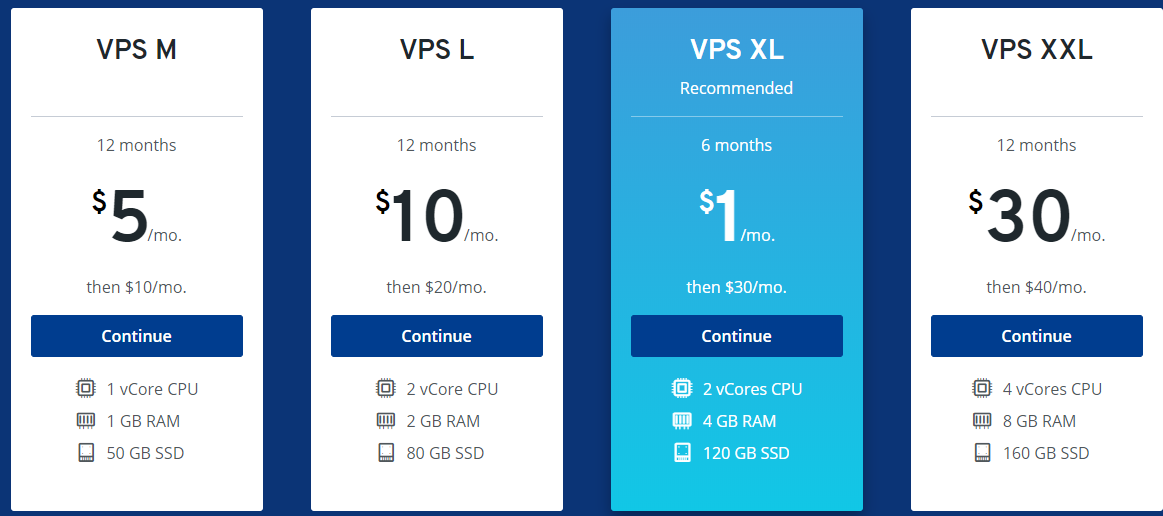 1&1 IONOS VPS Hosting gives a full flexibility as you can choose the server based systems like Linux and Windows. You can choose the suitable operating systems to manage your sites. With VPS hosting, you even can easily change file, applications and even customize your servers to meet your website requirement and project. VPS hosting uses the SSL encryption to protect your visitor from identity theft and online threats. With SSL Certificate, all your information and data delivered to and sent from your website will be protected from any third parties, hackers, malware and other prying eyes. SSL certificate has ability to protect your and your visitor's sensitive information like credit card number, logins, and passwords and others from phishing ads, malware and other online threats. SSL encryption is an unbeatable encryption method. No one can break into this strongest encryption to access visitor information and data sent and receives between your sites. Besides, webpages equipped with SSL certificates will rank in a higher place in Google search result. So your business will flourish quickly and be trusted by visitor a lot. 1&1 IONOS VPS Hosting is a great option for customers who want to upgrade their websites' performance and expand their business. With VPS hosting, your website will run faster and faster, and also ranks higher in Google search engine.

Video Guides 1&1 IONOS Hosting
Summary
1&1 IONOS gives many different kinds of hosting service for customers. According to this detailed 1&1 IONOS Hosting Review, people can choose their favorite and suitable plan to host and manage their websites. All plans of hosting services are offer free domain for first year, free Wildcard SSL Certificate and 24/7 support. 1&1 IONOS always gives powerful and advanced hardware equipment and device to help customer host their sites like vCore, CPU, RAM, SSD or HHD. 1&1 IONOS provides state-of-the-art technologies including Wildcard SSL Certificate, SiteLock, DDoS Protection, latest SIEM and IDS/IPS to increase more security for customer's website. 1&1 IONOS hosting services give customer more benefits. Your website will run in a faster speed even though a perk visitor traffic happens. 1&1 IONOS hosting platform is usually powered by PHP and NGINX technology so your website's loading page is faster. 1&1 IONOS provides such popular hosting services including Web hosting, Cloud Hosting, Dedicated Hosting, WordPress Hosting, VPS Hosting, and more. You should choose the suitable plan and service to help host and build your site. If you are a starter to begin business, you can choose WordPress Hosting to experience how to host a website and make website building. WordPress hosting just requires you make blogs and post your blogs online easily. If you want a powerful and advanced websites or want to upgrade your website to achieve a bigger business goal, the VPS Hosting should be a great choice. Anyway, through 1&1 IONOS Hosting Review, you should know that 1&1 IONOS hosting services can boost your website's performance and make a powerful website than before. It  is worthwhile to use one of the best hosting services from 1&1 IONOS to make website hosting and building. 1&1 IONOS hosting service is also helpful to boost up your business.

Published by Tony Shepherd & last updated on November 21, 2018 3:57 am