Have you heard of Windscribe VPN? Why you need a VPN? Getting tired of limitations? Well, a VPN service will help you browse on the web privately. Why not suggest free account? A Pro account which has unlimited usage and more locations to connect to. And Windscribe supports unlimited devices, you will get more details about this VPN provider after reading this Windscribe VPN review here.
What's Windscribe VPN?
Windscribe VPN is a tool that secures WiFi and helps you safeguard your privacy online. Windscribe provides free trial up to 10 GB of bandwidth per month. You can use this free trial to test all features of Windscribe VPN. It uses AES-256 encryption to encrypt all your data so nobody can spy on your internet activities. And it has a strict no-logging policy. You can access to servers in 60+ countries (including US, Canada, UK and more) and enjoy fast speed. There is unlimited bandwidth, unlimited connections. Windscribe VPN can prevent hackers from stealing your data while you use public WiFi and block annoying advertisers you online. Windscribe offers complete anonymity and it protects your browsing history from network administrator, ISP, or hackers. Windscribe uses the strongest AES-256 encryption to encrypt and protect all internet traffic. A range of ports and protocols including OpenVPN over UDP, OpenVPN over TCP, stealth and IKEv2. Since many networks have heavy restrictions on which ports you can use, Windscribe does not restrict you to a single protocol or port, in order to give you the best chance of connecting. Secure.link is a separate service operated by Windscribe. It works in a similar fashion to a URL shortening service, where you create a unique URL that points to any webpage of your choice. With Windscribe, you can have a complete anonymity internet and get entire privacy.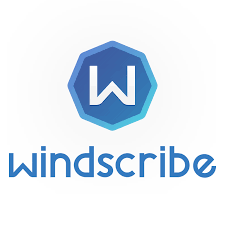 Windscribe VPN Plans and Pricing Overview
Windscribe VPN is a service offered by Windscribe Limited based in Ontario, Canada. This Canadian VPN service offers excellent value for money. Windscribe provides three plans: Monthly Plan, Yearly Plan (Pro plan) and Build A Plan.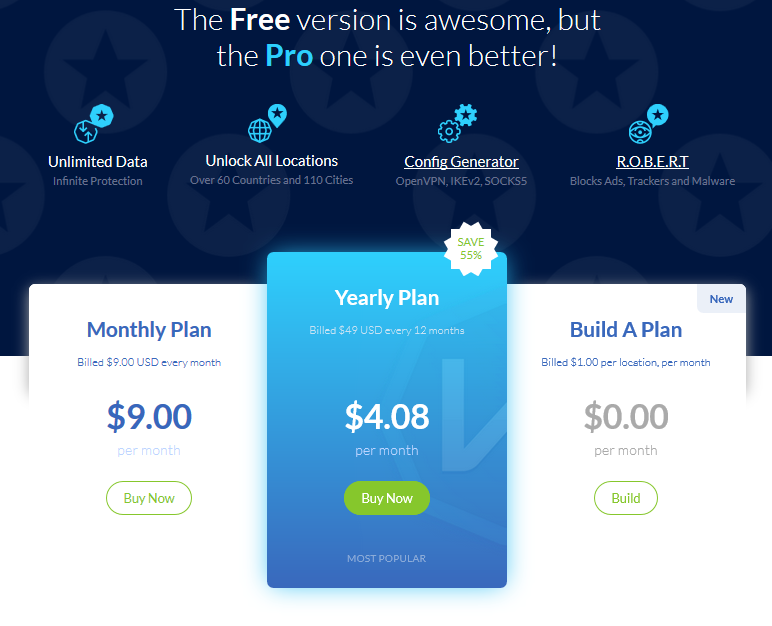 Windscribe FREE Plan (Limited):
Free to use
10 Server Locations: United States, Canada, United Kingdom, Hong Kong, France, Germany, Netherlands, Switzerland, Norway, Romania
Unlimited Device Connections
10 GB Bandwidth/month
No OpenVPN Configurations
Access to Firewall, Adblock and P2P Optimized Servers
Windscribe Pro Plan (Montly or Yearly):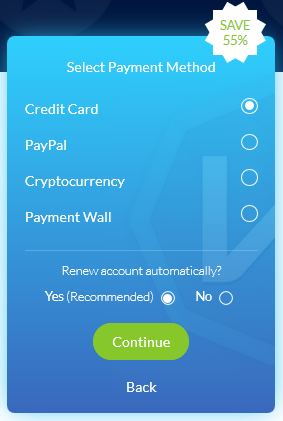 Billed $49 USD every 12 months ($4.08/month, save 55%) or $9.00 monthly
Servers in over 60 countries and 110 cities
Unlimited Bandwidth
OpenVPN Configurations
Access to Firewall, Adblock, and P2P Optimized Servers
Build A Plan: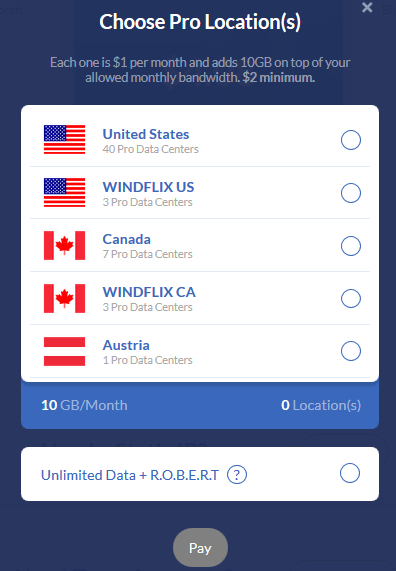 Billed $1.00 per location, per month
Each one is $1 per month and adds 10GB on top of your allowed monthly bandwidth. $2 minimum.
The Free version offered by Windscribe is awesome, but the Pro one is even better! Windscribe Pro is a full-featured service giving customers access to its servers all over the world, enjoy unlimited bandwidth, and achieve the ability to connect unlimited devices. Windscribe VPN works for all popular systems and platforms like Windows, Mac, iOS, Android, Linux and Routers, as well as extension for Chrome, Firefox and Opera.
Where are Windscribe Servers are Located in?
Windscribe VPN keeps spanning its huge network and improving the fast speed connections. Currently, Windscribe expands the network and scatter the ultra-fast servers in United States, Canada, United Kingdom, Hong Kong, France, Germany, Luxembourg, Netherlands, Switzerland, Norway, Romania, Italy, Mexico, Spain, Sweden, Ireland, Denmark, Poland, Austria, Czech Republic, Hungary, Finland, Bulgaria, Belgium, Latvia, Lithuania, Portugal, Moldova, Greece, Iceland, Ukraine, India, Russia, turkey, Azerbaijan, Israel, South Africa, Brazil, Australia, New Zealand, Japan, Singapore, South Korea, Taiwan, Malaysia, Vietnam, Thailand, Indonesia, Libya, Argentina. You can access to the servers anytime and anywhere to unblock any internet-censored or geo-blocking sites and services.

Does Windscribe Log My Browsing History or Collect Data?
NO, Windscribe DOES NOT and NEVER store any permanent access logs or monitor what their users do on the internet as it implements a Zero-Logging policy. Windscribe does not store any permanent logs. Windscribe doesn't keep connection logs, IP timestamps, or monitor your activity. Session data is discarded within 3 minutes of you disconnecting. But it keeps the total amount of bandwidth used in a 30 day period to enforce free tier limitations and prevent abuse. Windscribe suggests you sign up without an email address, or you can choose to pay with Bitcoin, so that WIndscribe would have no idea who you are. You can learn more details about Windscribe's data collection policy in Privacy Policy as following:
When You Use Our Service
We store total amount of bandwidth your account has consumed in 1 month period, which is reset every month on the day of your registration. This is used to enforce free tier limitations as well as prevent abuse. We do not store historical usage. We also store a timestamp of your last activity on the Windscribe network, this is done to weed out inactive accounts. We do not store connection logs, IP timestamps, or sites you visit (we are firm believer that one's browsing history should be taken to one's grave).
User Data Requests
Since we store the bare minimum for a customer to actually use our service, any request for user data would yield nothing of value. We do not store any logs on who used what IP address, so we cannot tie user activity to any single user.

How Strong Encryption Level does Windscribe Support?
Windscribe VPN uses best-in-class AES-256 encryption method to encrypt all your traffic and information completely. AES-256 cipher with SHA512 auth and a 4096-bit RSA key are adopted into Windsribe desktop applications. TLS 1.2, ECDHE_RSA with P-256 key exchange and AES_128_GCM cipher are added into browse extensions. 256-bit encryption is a data/file encryption technique that uses a 256-bit key to encrypt and decrypt data or files. It is one of the most secure encryption methods and used in most modern encryption algorithms, protocols and technologies including AES and SSL. 256-bit encryption is referring to the length of the encryption key used to encrypt a data stream or file. Let's say hypothetically all the super computers in the world (the ultimate brute force attack) decided to group up and tasked themselves to decrypt your AES-256 key so they could access your data. Assume they could look at 250 keys per second (which is approximately one quadrillion keys/second – a very generous assumption). A year is approximately 31,557,600 seconds. This means that by using the one billion super computers required to do this, they could check about 275 keys per year. A hacker or cracker will require 2256 different combinations to break a 256-bit encrypted message, which is virtually impossible to be broken by even the fastest computers.

What VPN Protocols does Windscribe Use?
OpenVPN is one of the most popular VPN protocols due to its open-source nature. It's used by many people and organizations for different purposes on many different systems and devices. OpenVPN is an open source VPN protocol. OpenVPN uses a custom security protocol that relies heavily on OpenSSL, similar to the encryption used on HTTPS websites. Because it can be configured to use any port, it can easily be disguised as normal internet traffic and is therefore very difficult to block. It supports several encryption algorithms, the most common being AES and Blowfish. OpenVPN allows users to protect their data using essentially unbreakable AES-256-bit key encryption (amongst others), with 2048-bit RSA authentication, and a 160-bit SHA1 hash algorithm. OpenVPN is also available to almost every platform: Windows, macOS, Linux, Android, iOS, routers, and more. Even Windows Phone and Blackberry can use it!
OpenVPN over UDP is often faster than TCP due to having no error correction. While lost packets are inevitable using UDP, certain web technologies are better experienced this way, particularly VoIP and online gaming, where real-time interaction would be interrupted by old, retransmitted data.
OpenVPN over TCP is the most popular and reliable VPN connection type. It uses error correction to prevent the loss of information packets during data transfer. These lost packets would ultimately lead to failed websites and incomplete downloads if not for TCP's automatic retransmitting of them.
IKEv2 is a protocol made available exclusively through IPSec, is used to configure the security association, or the specific approach to how the IP packets are encrypted over IPSec. While IKEv2 is only available in newer mobile devices, it is considered a more secure extension of the IPSec protocol because devices can switch between a Wi-Fi and cellular network without disrupting the VPN connection.
SOCKS5 A proxy server acts just like a VPN, but without the added encryption. A proxy server assigns you a new IP address as you connect to the server, and then routes you to wherever you're trying to go. The SOCKS5 protocol was originally a security protocol that made firewalls and other security products easier to administer. SOCKS5 proxy feature allows you to maintain your online privacy by hiding your real IP address while passing your P2P traffic through an anonymous server. SOCKS5 proxy servers use an SSH (secure socket shell) protocol, they can only be accessed through verification.
SOCKS5 proxies implement full UDP, they enable users to connect to all the peers in a swarm, which results in better download speeds and overall performance. Using SOCKS5 is a great option if the main goal is downloading torrents and P2P. A proxy server of SOCKS5 can easily help you bypass internet blockades and firewalls as your IP address is hidden from the firewall or the internet censor. SOCKS5 proxy servers use both TCP and UDP protocols (Unlike SOCKS4 which only uses TCP). TCP is an internet protocol that forms a physical connection between a client and a server, making sure that all the packets arrive from one side to the other. It requires fitting the content into a fixed format so that it can be transferred easily.
Stealth VPN has a strong ability and performance to hide data packer header to make the VPN traffic looks like normal HTTPS traffic, and meanwhile double encrypts OpenVPN payload with SSL/TLS encryption technology. Stealth VPN protocols and servers use SSL/TLS encryption that wraps the OpenVPN payload in a second layer of encryption through port #443 (this is the port that normal HTTPs traffic uses), which looks like a normal HTTPS traffic. 'Stealth' VPN technology scrambles or disguises your VPN traffic, making it unidentifiable as VPN traffic, or disguising it as regular TLS encrypted web traffic. Using a VPN service with obfuscation or 'stealth' technology allows your VPN connection to rewrite or obscure the packet headers, so it's unrecognizable.

What Advanced Features and Technologies does Windscribe have?
Windscribe adds many different advanced features and technologies including Firewall (also called kill swtch), Secure Hotspot, Double Hop, Ad Blocking, Cruise Control to make Windscribe VPN powerful and high-performance. That's why thousands of users choose to use Windscribe VPN.
1. Firewall Feature
Windscribe Firewall is built into the Windows and Mac applications. It blocks all connectivity outside of the tunnel to ensure there is zero chance of any kind of leak, including but not limited to DNS leaks, IPv6 leaks, WebRTC leaks, etc. Firewall (sometimes incorrectly known as a "killswitch") blocks all Internet connectivity that happens outside the connection to Windscribe servers, so data does not leak your ISP provided IP address. This is helpful if your Wi-Fi suddenly drops or you restart your computer. With the firewall enabled, you can be sure that your true IP address doesn't get exposed.
A firewall is a superior solution to a "kill switch". The "kill switch" is a snake oil feature and offers absolutely zero protection because it's a reactive measure. Between your VPN disconnecting and the program detecting that it did, packets can leave your computer over the default gateway (your ISP). A firewall blocks ALL connectivity outside of the tunnel. If the VPN connection drops, there is nothing that needs to be done, and not a single packet can leave the machine, since the firewall will not allow it. In geek terms it fails closed.
Windscribe VPN offers three Firewall modes and you can choose the mode that suits you best:
Automatic (Default) – Firewall will be enabled when you connect, and disabled when you disconnect from a location. It will remain on if your connection suddenly drops. You should leave it in this mode unless you know what you're doing.
Manual – You can toggle the firewall on or off whenever you want.
Always On – Firewall is always on, and cannot be disabled unless you change this setting. You will not have any Internet access when you're disconnected from Windscribe.

2. Secure Hotspot
Secure Hotspot is only available for Windows. It allows you to create a secure Wifi hotspot right on your computer (if you have a compatible wireless adapter). While Connected to Windscribe, you can allow others to connect to this hotspot and take advantage of your secured connection, without having them install Windscribe on their device.
3. Double Hop
Double Hop allows you to route your requests through ANY 2 locations on the Windscribe network. This is achieved by connecting to 1 location in our desktop applications, and a different location in the browser extension. Websites that you visit will see the IP of the server you're connected to in the browser extension. Proxy your connection through any 2 servers on the Windscribe network

4. Ad Blocking
Ad blocking feature can block ads and trackers that follow you across the web. Windscribe browser extension enables you experience enjoyable and private browsing. Windscribe ad blocking feature includes three separate components:
Ad Blocking – Removes ads from all websites
Tracker Blocking – Blocks trackers that could compromise your privacy
Social Network Blocking – Blocks Facebook "Like" buttons, Twitter "Tweet" buttons, Google+ and LinkedIn widgets all of which collect your browsing history.
Ab blocking adds a layer for you to keep your online activity private and secure. No one can track and monitor what you do on the internet. The malware bundled with ads will have no opportunity to sneak into your device and damage or steal your information stored in the device.
5. Cruise Control
Cruise Control is a unique Windscribe feature that automatically connects you to the best server which is closest to you, so you have optimal speeds, while at the same time automatically switches to a necessary location that you would need in order to bypass geo-blocked content. Windscribe browser extension will automatically connect to the best location in order to maximize your speeds. If you stumble upon a geo-blocked service, it will automatically change the connected location (in the background) to the one that's required to unblock the desired service.

6. Secure.link generator
Secure.link is a separate service operated by Windscribe. It works in a similar fashion to a URL shortening service, where you create a unique URL that points to any webpage of your choice. Secure.link generator allows you to create secure links right from your browser, as easily as right clicking on any page and selecting "Copy Secure.link" or by using the home screen of the extension. Secure.link will scan the destination page for known trackers and ad beacons, generate a screenshot of the page, and create a "report card" of the website you're linking to. You can then send this link to anyone in order to bring awareness to how much tracking happens on your favorite (and not so favorite) websites. You can add a password or even force people to install Windscribe to get to the destination page.
Video Guides Windscribe VPN Review
Top 10 + Best VPN Services Worldwide
View More Top 10 Best VPN Services Here »
Summary
By finish reading this Windscribe VPN review you understand Windscribe has servers in over 60 countries and 110 cities. Windscribe has one of the most diverse networks out there. All servers are physically in the countries that they are advertised to be in, unlike some competitors who have most of their servers in US and Europe, and simply fake the location with false IP WHOIS data to make it appear that it's elsewhere. You can use Windscribe VPN to unblock all websites due to internet censorship or geo-restrictions on the internet. To get the best speeds possible, you should connect to a location closest to you, geographically. The more locations Windscribe has, the better chances are of you getting good speeds while connected to one of our servers. You can use R.O.B.E.R.T. that a kind of customizable domain block tool released by Windscribe to blocks malware and ads on all your devices. Windscribe stops tracking and browse privately. Governments block content based on your location. Corporations track and sell your personal data. It is worthwhile to get Windscribe and take back control of your privacy.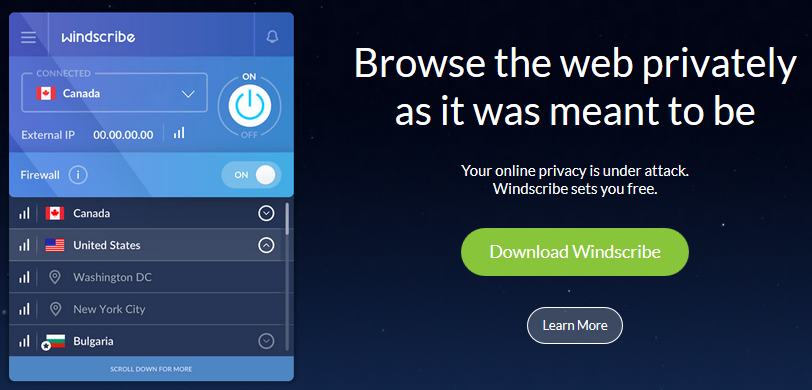 Published by Karen Lawrence & last updated on March 25, 2020 2:55 pm