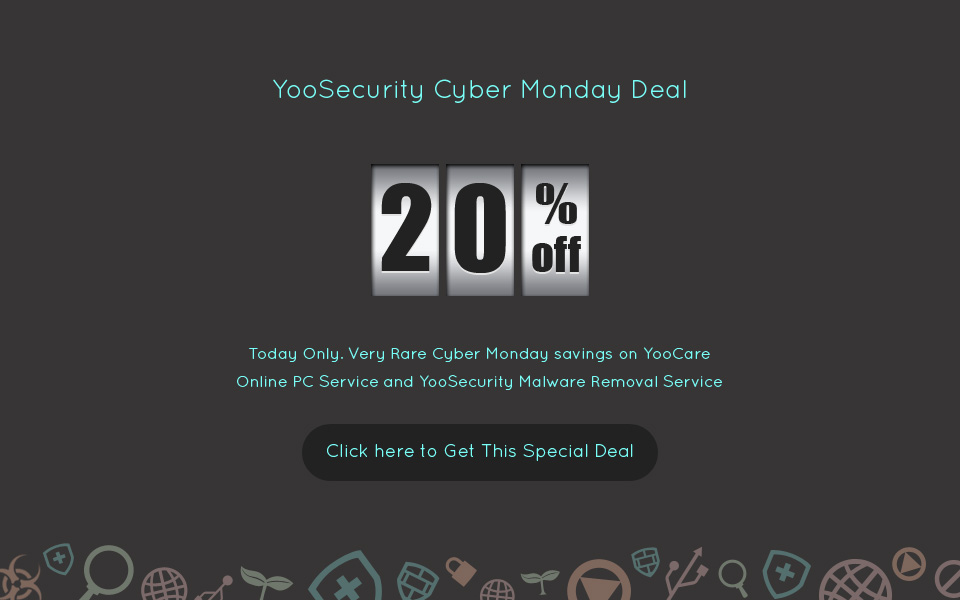 Hey, this is the time of the year! YooSecurity is offering a very rare chance for you to grab this 20% off saving on YooSecurity Per Incident service. This is valid only on Cyber Monday.  We have never offered this discount on the public. You can use this per-incident special offer to remove virus/malware or resolve PC problems like PC slow down with the help from our professionals. If your computer is infected with virus or any other malware, you can always count on YooSecurity service to remove it completely. If your computer is not running properly, please use YooCare service to resolve it completely.
YooSecurity provides  professional online virus and other malware removal service to remove the infections remotely via TeamViewer. We have been proven to be very professional and effective to remove virus, spyware, browser redirect and other malware online. You can always reach us online as our service centers are working 24/7 around the clock for your specific problems. YooCare is our parent company that offers complete PC solutions for home users and smalls businesses, including Computer Tune-up, Speed Up & Optimization Service, Computer Hookup, Diagnosis & Repair Service, Data Backup & Data Recovery Service as well as Virus, Spyware & Malware Removal Service.
If your computer has been infected with the infamous FBI virus, Google Redirect virus and other malware, you can always count on YooSecurity professionals to remove them completely and get your PC back work normally, at a very affordable price; if your computer is running slowly or with loads of error messages, you can use our computer service to boost up your computer performance and get your computer run error free. With this year's Cyber Monday deal, feel safer and more energetic while you are enjoying the biggest holiday shopping season of the year! Updated: this offer has expired and please stay tuned for further offers in the coming month.
Published by YooSecurity CTO on November 26, 2012